How to Ask Questions to Avoid Meltdowns (Peaceful Parenting Hack)
This post contains affiliate links. Please see our full disclosure for more info.
 I'm not the perfect peaceful parent. One of my goals is to parent peacefully, but that doesn't always come naturally to me. All three of my kids are pretty strong-willed, so I'm constantly learning new things. (They must get it from my husband's side, ha!)
One particular day, I was doing (another) load of dishes, when my five-year-old son came downstairs and told me, "Mommy, I need four leopards."
Immediately my mind started to race. I thought, "What?! Where did this come from? This kid has a million toys already, why does he need more? Where on earth am I going to find four leopards? Even if I did find four toy leopards, I bet it'd cost a fortune!"
I echoed back to him, "You need four leopards?"
His birthday was quickly approaching and I had already purchased all his gifts.
What about my other two kids? I can't get my son four leopards without getting them something. Ugh! I have to tell him no and he's going to throw a fit.
My son is a good kid. He really is. But when he gets something in his mind, he is very persistent.
"Yes, mommy. I need four leopards for my African Savanna I'm building upstairs," he replied.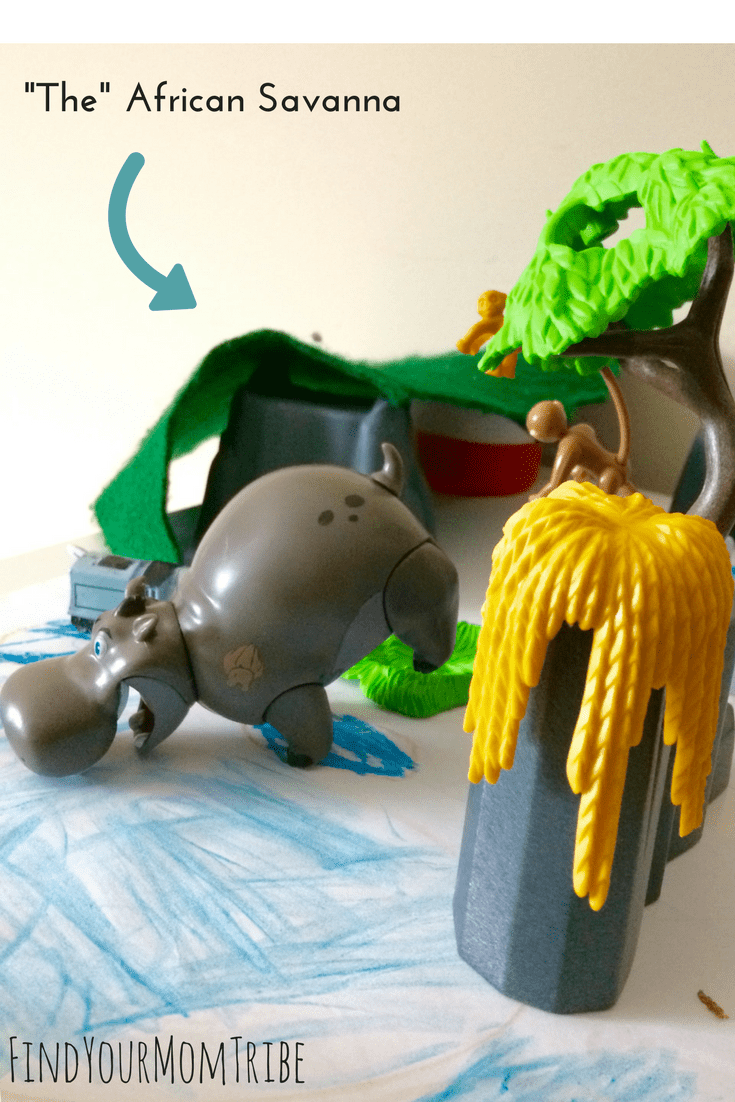 I stopped doing the dishes. How do I let him down gently? I needed to think of a response that wouldn't cause an epic tantrum.
Stalling, I asked him, "Where do you think we'll get four leopards, honey?"
My racing thoughts came to a halt when he shocked me with his answer.
"We'll cut them out of construction paper!"
I laughed out loud, partly in relief and partly at my own incorrect assumption. "That's a great idea! Of course, let's cut leopards out of construction paper," I told him.
This was another "ah-ha" parenting moment for me. My gut instinct was to tell him no. He couldn't have four toy leopards. We can't afford them. His birthday is right around the corner. I'm sorry, but we aren't making a trip to the store today.
If I had launched into that lecture I planned in my mind, he would have felt angry. Misunderstood. Perhaps felt like I wasn't really listening. Or that I didn't value his ideas enough to even entertain them.
Of course, he's only five so he wouldn't have been able to verbalize any of that, and it would have likely ended in a meltdown.
But… by asking him a question, it gave him the opportunity to clarify what he really meant. He never intended for me to purchase four leopards for him. The whole time, all he wanted was some paper cut-outs.
But I assumed wrong.
To be honest, me asking him a clarifying question was no genius thing on my part. Seriously, I was just stalling. But that unintentional question was a huge epiphany for me.
How often do we tell our kids "no" before really hearing their ideas?
How often do we prematurely launch into a lecture, driving a wedge between ourselves and our kids?
My lesson is learned. Next time, I'll ask clarifying questions.
Sample phrases for getting clarification from your child to avoid meltdowns
How do you feel about that?

Tell me more!

What's your idea?

Where should we go from here?

It sounds like…

I wonder…

I'm curious what you think about…

I want to hear more about this.

I'm listening.

What's another way you could…?

How'd you come up with that idea?

What do you mean by that?
Enjoy this article? Please pin it for later!