10 Can't-Miss Tips for an Epic Day Out with Thomas
This post contains affiliate links. Please see our full disclosure for more info.
Are you planning a Day Out with Thomas? Or wondering if a Day Out with Thomas is really worth all the hype? (Hint: It totally is!)
In this post, I'll share about our recent Day out with Thomas trip so that you can know what to expect, and share my top 5 tips for making the most out of your special day with Thomas the Train!
What is a Day Out with Thomas?
Any Thomas-obsessed kid has one dream: to "meet" or ride on Thomas the Tank Engine. My son's obsession with Thomas began around age two and lasted until age five.
When he was three years old, we took him on a Day Out with Thomas adventure for the first time. His reaction was priceless. I'm convinced he was the happiest kid in the universe that day!
During a Day Out with Thomas, you'll have the chance to see Thomas the Train and ride on train cars pulled by the number one engine. This event travels all over the US. Click here to find an event near you!
You'll also get to meet Sir Topham Hatt, play with wooden train sets, color Thomas pictures, and get a temporary tattoo. The event is really fun for any Thomas fan!
What to Expect at your Day Out with Thomas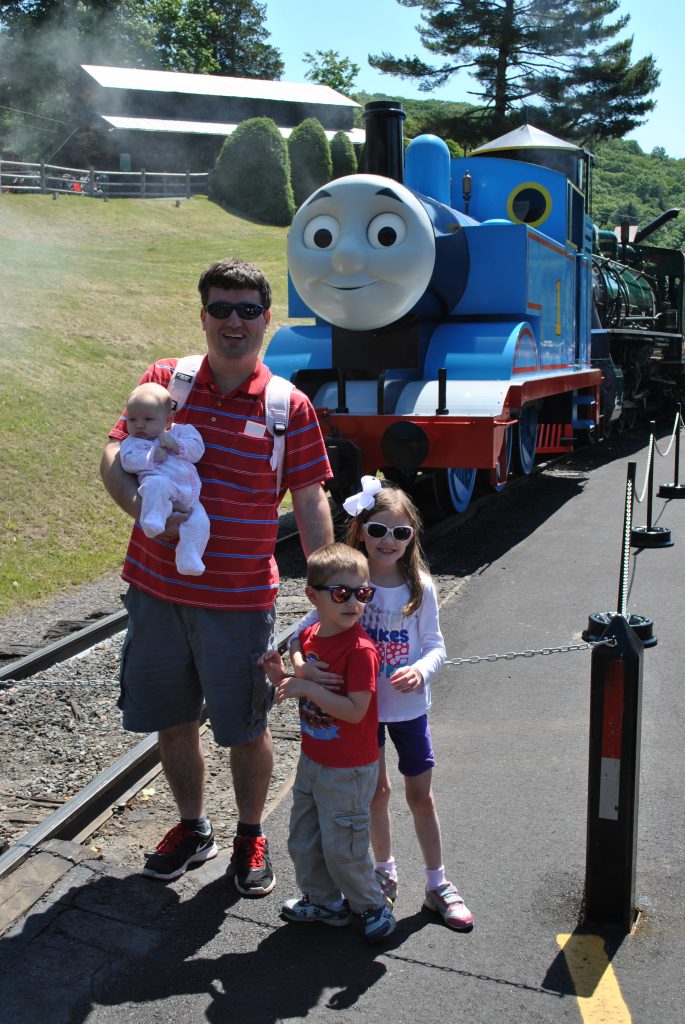 We did our Day out with Thomas at Tweetsie Railroad in Blowing Rock, North Carolina. If Blowing Rock is near you, I highly recommend making the drive to Tweetsie. In addition to all the Thomas activities, they have rides, games, shows, activities, food, and animals. You can make a whole day out of it!
When we first arrived, we were given a map of all the various Thomas stations. Each station has a different activity. When you visit an activity station, you get a stamp on your map.
If you visit all four of the stations, you can trade in your map for a prize. (The two times we went, it was a little cheap Thomas-themed hand clapper thingie. 'Probably worth about $0.50, but still fun.)
The activity stations are:
The Imagination Station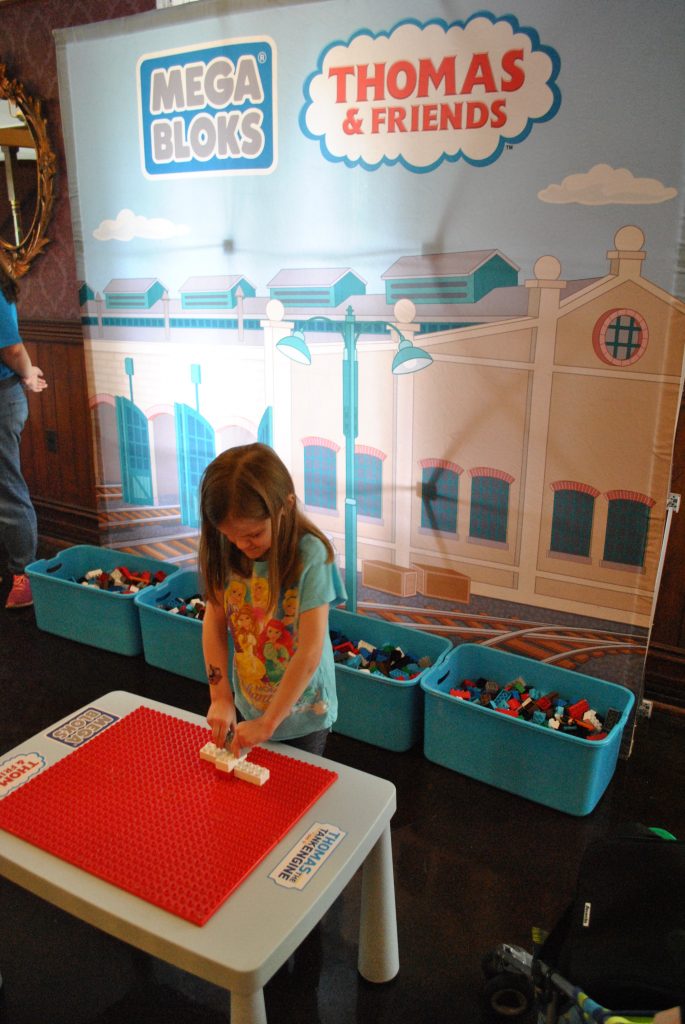 At the Imagination station, you can get a temporary Thomas tattoo, color a Thomas picture, play with Thomas wooden tracks and Mega Bloks. They also had a big Trackmaster display which was really fun to watch.
Our kids spent the most time at this station. It was super-fun!
Video Viewing Area
At the video viewing area, you'll be able to watch video clips and/or have story time.
Sir Topham Hatt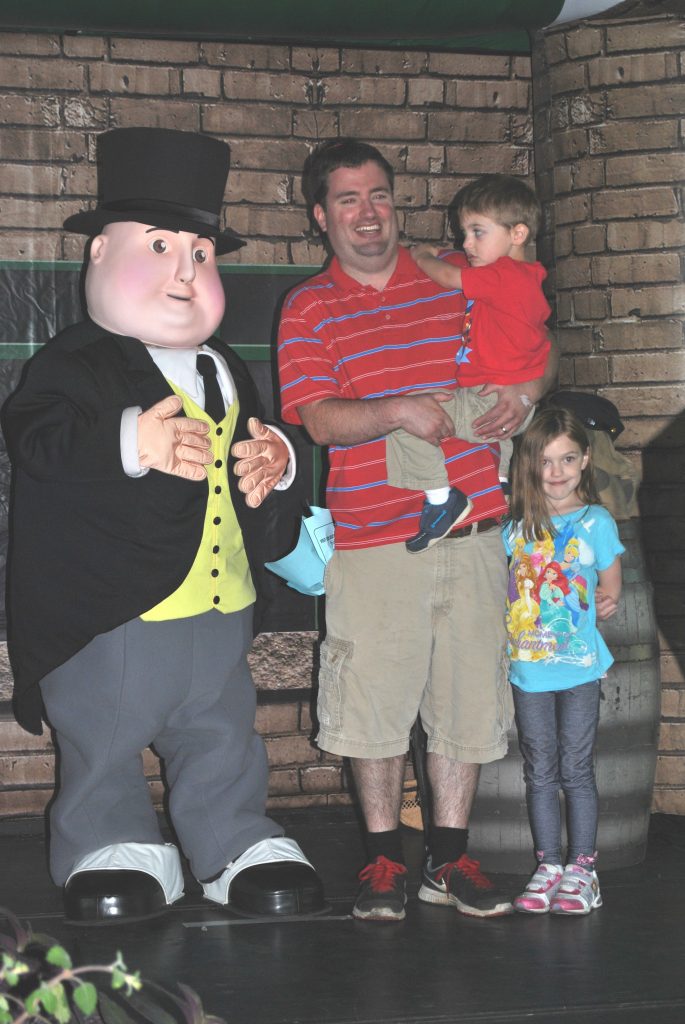 During particular times of the day, you can meet Sir Topham Hat. Honestly, my kids were a little scared of this guy in costume. But, you'll have the opportunity to say hi to him and have a photo taken.
Gift shop
You guys. The gift shop tent at a Day Out with Thomas is HUGE. Imagine every single Thomas-themed item you can think of. Wooden trains, Trackmaster sets, photo albums, DVDs, umbrellas, blankets, lunch boxes, posters, books,  t-shirts…anything you can imagine! We talked to one of the workers and she said it's not unusual for people to spend hundreds at the gift shop.
8 Tips for Making the Most out of your Day Out with Thomas
1. Dress for the occasion

Be sure to dress your child in comfortable clothing and footwear good for walking. (We did a LOT of walking!) Nearly every child there will be decked out in Thomas-themed clothes, so be sure to pack a Thomas shirt for your kiddo! (It may be a good idea to pack an extra set of clothes, too in case of spills or mishaps.)
2. Set the mood

On the way to the event, we listened to this Thomas music CD that has all of our favorite songs from the show. It really put us in a festive Thomas mood!
3. Choose a weekday ticket to avoid crowds.
Both times we went to a Day Out with Thomas, we went on a weekday. A worker at Tweetsie Railroad told us that the weekends are SO crowded. I'm the type of person who avoids crowds at all costs, so for us, a weekday ticket is a must.
Even though there were some lines, they weren't unbearable. You could also freely move around without being on top of people.
4. Ride the train more than once
At Tweetsie Railroad, you can ride Thomas as many times as you want. You are given one train ride ticket with a specific time that you can ride. BUT, they will allow you to ride more than once as long as there's room on board! (Yesss!)
Be sure to ask your venue about riding more than once!
5. Set souvenier expectations

As I mentioned earlier, the souvenir tent is Uh-Mazing! To avoid a meltdown, talk with your child ahead of time about what he can or can't get at the souvenir tent. If souvenirs aren't in your budget, just don't go to the tent. It isn't worth the tears!
6. Pack snacks
There are lots of lines at this experience, so (as long as the venue allows!) be sure to pack snacks to keep your kids fueled while you wait.
7. Plan to eat lunch early (or late!)
Around noon, lines for food are crazy-long. We waited over 45 minutes to order and get our food. In hindsight, I wish we had eaten lunch earlier in the day to avoid the long lines.
8. Take lots of pictures!
We purchased a Thomas photo album and printed out all of our pictures so that our son would have a little mini-scrapbook of our day. He still loves looking at it two years later!
9. Ask about re-entry
At Tweetsie Railroad, they allowed re-entry to the park. At about 2pm, we left the park and went back to our hotel to rest (and nap!). Then about 5pm, we returned to ride the train once more and check out any attractions we missed at the park earlier that day.
10. Take advantage of the non-Thomas activities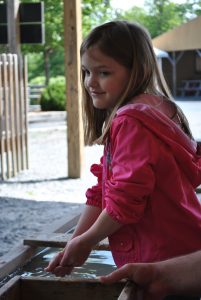 A Day Out with Thomas visits parks all over the US. Each venue is different and has a variety of things to offer. At Tweetsie Railroad, we rode the ski lift, went to the animal zoo, played at the playground, rode the kiddie rides, and panned for gold. The kids had a BLAST (and so did mom and dad)!


Are you planning a Day Out with Thomas? Drop me a comment if you have any questions! Here's the link one more time to find a Day Out with Thomas near you!
PS- If you liked this article, please pin it or use the sharing icons to share on your favorite social media outlet!