My son hardly ever gets sick, but last fall he came down with a terrible cold. When your kiddo isn't feeling well, it's one of the most helpless feelings. As a mama, you just want to take the pain away and do anything in your power to help them feel better.
When he took a turn for the worse, I took him to urgent care.
The verdict? A nasty double ear infection.
Antibiotics and Ear Infections
Of course I was devastated to hear this. We had worked so hard on his gut microbiome and I knew antibiotics would be detrimental to all that work. Gut health is essential to brain health and overall immune function, so I did NOT want him to take antibiotics. (
Click here to read more about the antibiotics and the gut.
)
They are recommending antibiotics are not prescribed right away, but rather give it a few days to see if the infection will get better on its own.
The reason for this is that with antibiotics being given so often, a child may build up a resistance to antibiotics causing them to not work if they are truly needed. Antibiotics also tend to have negative side-effects, such as stomach upset or rash/allergic reaction. Click here to read more about the AAP's recommendation.
Natural Remedy for Ear Infections
Anyway, I asked my group of crunchy mom friends if they knew of any natural remedies for ear infection. We filled the antibiotic prescription, but I decided I wanted to try something natural first.
One of my friends recommended something called "Wally's Ear Oil." I figured it was worth a shot, so I got some.
I put three drops in both ears and put a cotton ball gently inside. He laid in bed and took a nap.
I repeated the process again before bed.
The next morning when he woke up, I couldn't believe it. His fever was gone. He was energetic again. My little boy was back to his old self! A checkup later proved what I already knew. That "nasty" double ear infection? Completely gone.
I'm a believer in this stuff and I tell everyone I know. I keep a bottle in my medicine cabinet to have on hand if someone complains with an ear ache.
Someone asked me if my kids minded getting the drops. No way. I expected my son to protest, because he doesn't like anything medical-related (like his mama, ha!). But he didn't mind these drops at all.
I used them on my daughter's ear ache recently and she tells me they are very soothing. They also have a very pleasant scent that promotes relaxation.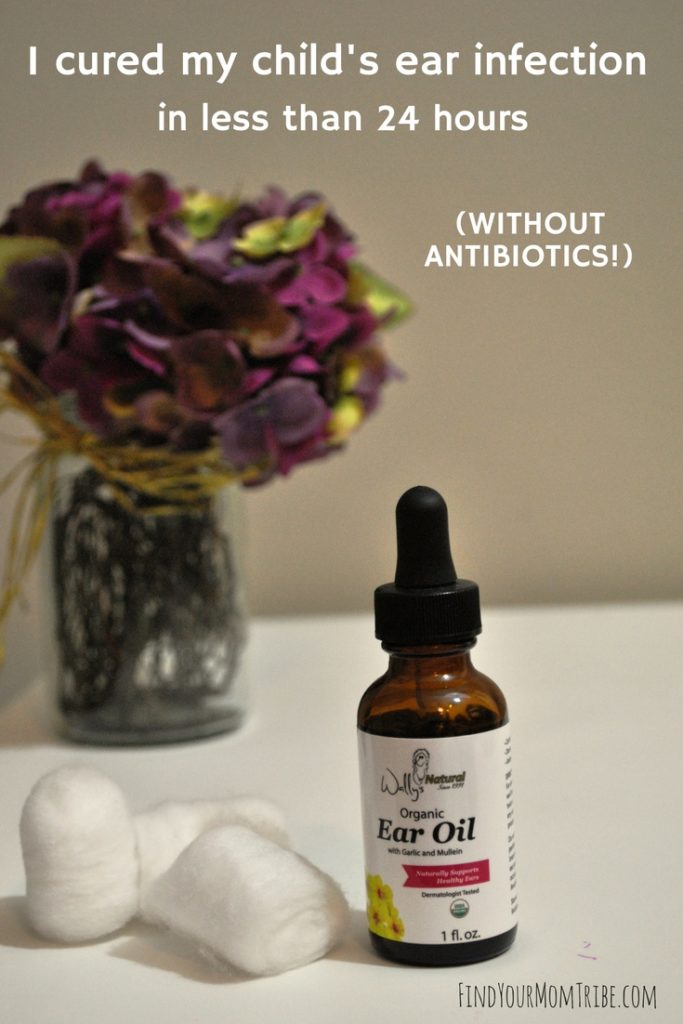 This post contains affiliate links. Please see our full disclosure for more information.