This post contains affiliate links. Please see our full disclosure for more info.
One of my favorite times of day is when I sit down with my kids for our nightly devotions. Fresh from a bath and cozy in their warm pajamas, there's just something about a sleepy (clean!) child that makes your heart melt.
Daily devotions don't have to be something to check off your to-do list. They can be a time to connect with your child on both an emotional and a spiritual level.
Here are 8 tips for making the most of daily devotions with your child.
(You gotta see #3!)
1. Don't rush
I know bedtime is a busy time. If bedtime is too chaotic for devotions, choose a time of day when you have more time to linger over God's word and pray over your child. Personally, our family does devotions before the bedtime routine. We usually carve out about 15 minutes or so after bath (but before teeth brushing, etc.) to do our devotions.
Nighttime is usually the time of day when your kids will open up to you and share what's on their hearts. You don't want to be in a hurry! Before devotion time, take a deep breath and give yourself permission to slow down for this moment.
2. Eliminate distractions
I've been guilty of holding my phone during devotions. I'm always busy answering a text, Googling something, or checking my email. It seems like my phone is always in my hand. By leaving my phone in another room while we're having devotions, I can be sure that I won't be tempted to peek at Facebook or be disturbed by an incoming text.
It also sends a message to my children that I am focusing on them (and God!) without distraction. Be sure to turn off the TV, put away the toys, and eliminate distractions as best you can.
3. Choose the right devotional for your family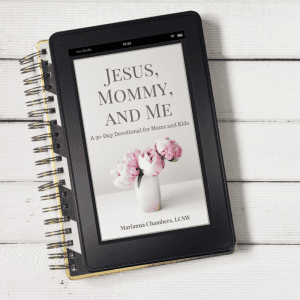 There are SO many devotionals out there! Our family has tried nearly every single one on the market. Personally, I was tired of reading devotions that told a cutesy story but failed to really connect me with my child.
That's why I wrote Jesus, Mommy, and Me. This is a devotional unlike any other that helps you speak words of affirmation over your child to build a better bond between the two of you.
Jesus, Mommy, and Me takes the guesswork out of nurturing your child's spiritual AND emotional health.  Click here to learn more!
4. Use the Bible
Most devotionals have scripture (usually one to two verses) written out. Instead of reading one verse, open up God's word and read the daily scripture straight from the Bible.
This will give you the opportunity to read more than just one verse. You can also begin teaching your child how to look up scripture. When he's old enough, you can give him the task of looking up and reading the verse of the day.
5. Make eye contact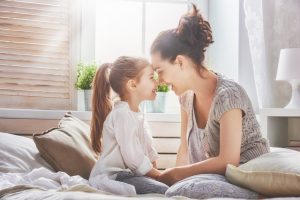 When reading the devotional, be sure to look up from the pages to catch their eye. This not only helps them to focus on your words, but it also makes the devotion feel more personal – like you're talking with them and not just reading to them.
6. Pray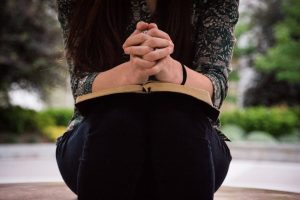 Usually each devotional ends with a short prayer. Since you've already carved out the time to do the devotional, now is the perfect time to pray over your child. Yes, use the written prayer if you'd like, but add to it with your own words. If you know that your child is struggling with a particular issue, use this time to pray about it.
7. Count your blessings
I also like to use devotional time to talk about how God has blessed us. I like to hear from each child about their favorite part of the day… about what they're thankful for.
Let's take this time to remind each child what a blessing they are. When your child hears you thank God for them, it blesses their heart, too.
8. Remember your why
If you have those days when you just don't feel like doing devotions, remember your why. Why did you start doing them in the first place?
Is it because you felt God nudging you? Because you desire your children to become believers and equipped Christians? Remind yourself of how important it is to "train up a child in the way he should go."
Do you do devotions with your kids? Be sure to check out Jesus, Mommy, and Me to see if it's a good fit for your family! (Spoiler alert: I think you'll love it! 😉 )