A new baby in the home can be quite the adjustment – especially for siblings. Making sure your toddler (or big kid!) is prepared for the change can go a long way in making sure the transition is a little more smoothly for everyone.
When my oldest daughter (Sofie) was two, we learned we were expecting another baby. We were so thrilled, but in the back of my mind, I was worried about how she would adjust.
Sofie had been my firstborn. My one-and-only. The bond between us was incredible.
How would a new baby change our relationship? Would she be resentful that my time was now divided? Would she act out? Be jealous?
I was determined that I would make this as easy on her as possible. My husband and I worked very hard to prepare her. In the end, she adjusted very easily to her brother's arrival.
Then
four years later
, we got to do it all over again when we learned baby number three was on the way!
Ways to prepare your child for a new baby
1. Read books.
This is somewhat obvious, I know. BUT I just have to share with you guys my favorite book on the planet for preparing a sibling for a new baby.
What Baby Needs
by Dr. William Sears is the book that I read the most to my kids when I was expecting. We even have two copies. I can't say enough about how great it is.
One of the main things I love, is that it shows mom breastfeeding and talks about how babies need their mama's milk.
It also talks about skin-to-skin, co-sleeping, and baby wearing — all things that are very important for baby, and also important for siblings to know about. There are also great talking points in the book to help facilitate discussion between you and your child.
2. Show your child their baby book
If you kept a baby book, scrapbook, or keepsake box for your child, bring it out and go through it with them regularly. In my daughter's
baby book
, I kept our hospital bracelets. I made sure to point them out to her to let her know that both mommy and baby will be wearing these when she comes to visit.
Her baby book also contained a photo of the doctor that delivered her. To this day she still loves hearing her (edited!) birth story.
If you don't have a baby book for your child, pictures will do just fine. Print out some baby photos and create a
special photo album
just for them to carry around. (One you wouldn't mind getting messed up if they "love" on it.) 🙂
Talk to your child about what they were like as a baby. Tell them about their "firsts."
3. Watch baby videos on YouTube
One of the BEST things we did for my daughter was showing her what real newborns look like and sound like. YouTube is a great resource for this.
You may want to pre-screen the videos before you show them to your child, just to make sure they are appropriate for them to see.
Some of the things we watched were:
newborn babies crying
how to change a newborn diaper
how to breastfeed a newborn
giving a newborn a bath
We wanted her to see how these things are done, since seeing all these things would be the norm after baby arrived. She loved watching the cute little babies, and I think it gave her a more realistic expectation than a cartoon would have.
It also helped her to know that babies cry a lot. 🙂
4. Explain that it's okay to feel jealous sometimes
We talked a lot about this with my son. He was older and able to understand what "jealousy" meant.
Jealousy is a normal emotion that you should expect from your child. They might display jealousy by crying, acting out, or just appearing a little more "needy."
Or they may withdraw and suppress their emotions, especially if the child is older. Definitely plan to check in with your child and assure them that it is normal to feel that way. Be sure to carve out a few minutes each day to spend one-on-one with each big kid if possible.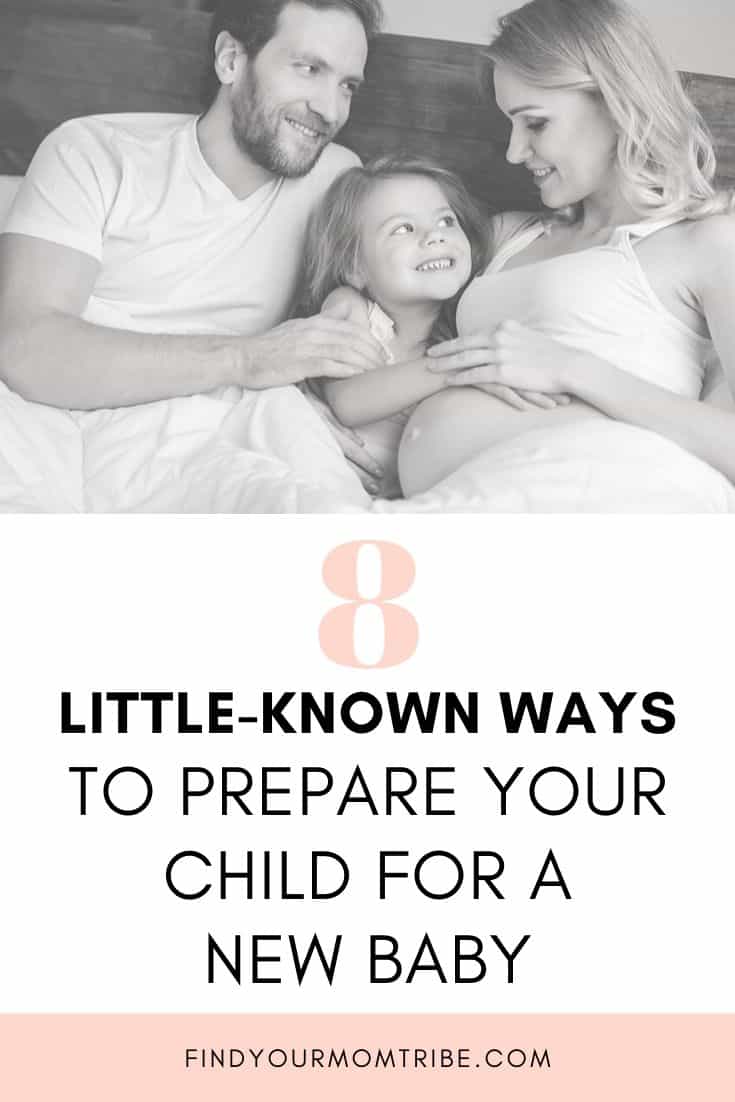 5. Role play with your child ahead of time
Role-playing can be great for both big kids and little kids.
For big kids, role-play conversations, so that they know how to verbalize what they are feeling.
When I was pregnant with my youngest, my oldest daughter was seven. We talked about the emotions that she may experience once we brought the new baby home. We talked about how important it is for her to let me know how she is feeling.
She knew that it would be normal to experience such feelings as love, anger, jealousy, sadness, etc.
We practiced talking about it so much, that she felt very comfortable coming to me at times and saying, "Mommy, I feel a little jealous right now."
That was my cue to know she needed a few extra hugs and a little more one-on-one time.
For little kids, be sure to get them realistic looking baby doll. Show them how to hold the baby and be gentle with him or her.
Little ones love to play caretaker and can have a lot of fun dressing, changing, and feeding their own baby.
6. Be realistic
When my mom was pregnant with my baby sister, I was so excited to finally have a playmate. Everyone asked me, "Are you ready to finally have a little brother or sister to play with?"
My little four-year-old brain didn't understand that little babies aren't very much fun to play with.
Somehow, I imagined us staying up late and having long talks. I imagined playing Barbies together for hours.
Imagine my surprise when I realized babies weren't very fun after all. What a rude awakening! Ha!
Be sure to set realistic expectations with your child so that they understand that it will be a long time from now before they play together. Let your child know the things they can play together, such as peekaboo or patty cake.
Setting realistic expectations up front will help out when reality sets in.
7. Take the hospital tour
If your hospital or birth center offers a tour for siblings, be sure to sign them up. It's a great way for them to learn about where mommy and baby will be.
If you plan on a home birth, be sure to show your child pictures of the set up that you will have. For example, if you plan on laboring in a home birth tub, show your child pictures of what it looks like. Talk about where you will have it set up.
One of the things I neglected to prepare my daughter for, was how I would look after her brother was born. When she came into the room to meet him for the first time, I had just come out of a c-section.
I had on a hospital gown and an IV in my arm. The machine that the IV was hooked to kept beeping and making loud noises. The machine scared her and I felt so guilty that I hadn't prepared her for seeing mommy with an IV. If you know you will be having a c-section, be sure to talk to your child about how you will look/feel afterward.
Recommended reading: 6 Tips for a Gentle Cesarean: Practical Advice for Achieving the Birth You Want.
8. Rinse and repeat
Consistency is key. Just doing the things on this list once simply isn't enough. You must repeat them over and over.
We must have looked at my daughter's baby book a hundred times or more. I have that Dr. Sears book memorized, we've read it so many times.
The great news is, you have nine months (or more!) to prepare them. Your child will grow developmentally over that nine months. Anticipation will build. And when they finally meet their brother or sister? It will all be worth it.
What are some things you are doing to help prepare your child for a new sibling?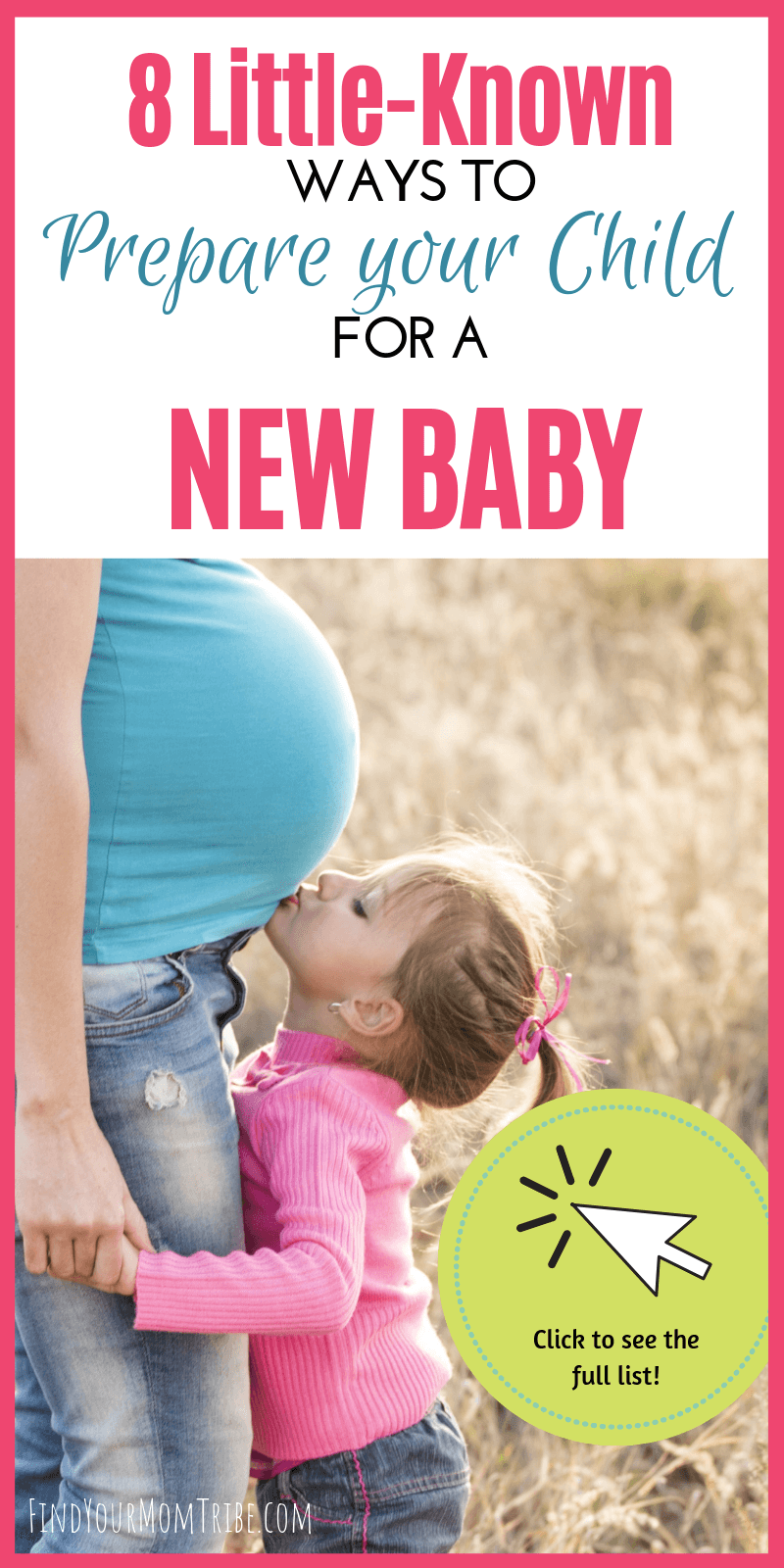 This post contains affiliate links. Please see our full disclosure for more information.