If you're planning a trip or a family vacation to the San Diego Zoo on a budget, it can be a bit overwhelming to nail down the details.
The San Diego Zoo is HUGE and pre-planning your zoo itinerary is a must.
In this article you'll find:
How to save money on flights to San Deigo
How to save money on hotels in San Deigo
Little-known ways to save money on tickets to the San Diego Zoo
AND How to save money while at the San Diego Zoo
If you follow me on Instagram or Facebook, you know that my son is wildly passionate about animals, especially ones from Australia and Tasmania.
He's dreamed of seeing his favorite animal, the Tasmanian devil. The San Diego Zoo is one of the few places in the US that have Tasmanian devils. Once my son discovered this, he decided to raise money to fund a field trip.
We had quite a few donors (thanks, everyone!) but we were on a tight budget and knew we'd have to stretch our pennies to pull off this trip.
How to save money when visiting the San Diego Zoo
How to save money on Flights to San Diego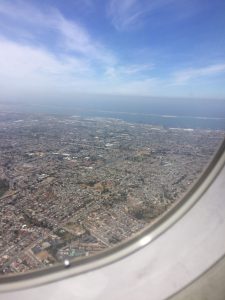 We flew nonstop from RDU to SAN with Frontier Airlines. I stalked their website for days until I snagged a killer deal.
When checking flight prices, delete your web browser's cashe, cookies, and history to get the best prices. Airlines are sneaky and they'll keep track of your browsing history and jack up the prices if you don't.
Follow your favorite airlines on social media and sign up for their newsletters. You'll want to be the first to jump on any specials or promo deals before they get sold out!
If you take Frontier as we did, it's worth it to spend a few more dollars to upgrade to stretch seating. It isn't first class by any means, but it's worth it.
Be sure to check your airline's baggage policy. Prepay for luggage since it's more expensive at the gate. Bonus time-saving tip: See if your airline allows you to check in online. Frontier let us check in 24 hours in advance so we could skip the line.
How to save money on Hotels in San Diego
We stalked Priceline.com and grabbed a great deal on a room at the Hampton Inn and Suites on Hotel Circle. The reviews were pretty good and I had no idea where to stay since I haven't even been to the west coast before!
However, I can't say that I recommend this hotel. It was a bit dirty, cramped, and our air conditioning didn't work.
They had us re-pack all of our stuff after a long day of travel and then called us over and over telling us to hurry up and move to our new room.
The manager did apologize and refunded us the $21 a day parking fee.
Nevertheless, if I were to return to San Diego, I'd want to stay near Mission Valley.
Mission Valley is right off the interstate and has tons of great restaurants and shopping, including a really awesome Target!
Regardless of whether you book your hotel directly through the hotel website, or if you use a service like hotels.com, be sure to use Topcashback.com before booking. They have GREAT cashback deals and I've saved a ton of money by using them.
How to Save Money on Tickets to the San Diego Zoo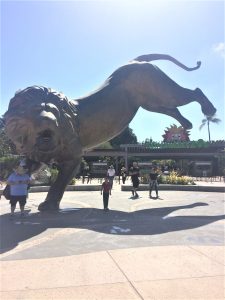 The best place to order tickets to the zoo is directly from the San Diego Zoo website. They have various ticket options, depending on how many days you're planning to be there.
(Occasionally you can find deals on Groupon, so be sure to check there, too!)
However, the BEST thing I've found for saving money on tickets to the San Diego Zoo is by purchasing a membership.
We spent 3 days at the zoo and 1 day at the Safari Park, which would have cost us over $500, had we purchased regular tickets.
Instead, we purchased a Curator's Club Membership at $350, which is valid for unlimited admission for two adults. You also receive four guest passes, which we used for my son.
So we saved over $250 off the price of admission, PLUS we get cool membership perks, such as a 10% discount on food and merch. We also get a subscription to the San Diego Zoo magazine and free parking at the Safari Park.
I'm not a tax professional, so don't quote me on this…but a little birdie told me that you can also claim your membership fee as a charitable deduction on your taxes.
The membership is valid for one year, so if we decide to make a return trip (which I hope we can do!), we'll already have our tickets bought and paid for.
Be sure to sign up for the San Diego Zoo's e-newsletter, where you'll hear about free admission to the San Diego Zoo in October for kids, and other special offers and events.
How to save money while at the San Diego Zoo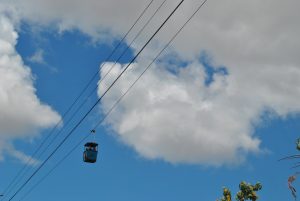 Now that you've saved money on admission, here are a few tips for saving money inside the zoo.
1. Bring your own umbrella/rain poncho
When we were at the San Diego Zoo, it rained every day. Thankfully I brought along rain ponchos that I had purchased ahead of time from the dollar tree.
We didn't, however, bring umbrellas, which set us back $37 for two. Ouch!
2. Bring your own sunscreen
I made the mistake of not putting sunscreen on myself since it was very overcast, and ouch! Let's just say I got a little red.
The gift shops sell sunscreen, but you can bring your own for a cheaper price. My favorite nontoxic sunscreen is badger.
3. Bring your own snacks
Thankfully the San Diego Zoo allows you to bring in outside food and drinks. You just can't bring a suitcase-type bag with wheels or a large cooler. My husband and I both brought backpacks and kept our snacks and supplies in that.
You'll be doing a LOT of walking, so bringing your own snacks and drinks will save you a lot of money.
PRO TIP: Don't leave snacks in your stroller unless they're packed in an air-tight container. The squirrels might steal them!
4. Bring re-usable straws
For the safety of the animals (and the planet!), plastic straws and lids are prohibited at the San Diego Zoo.
They do offer cute re-usable straws with an elephant on top, but those are pricy at $6 each.
Shopping for re-usable straws can help you save money…and the environment!
Here are some of my favorite options.
5. Participate in the San Diego Zoo's free shows and events
The San Diego Zoo has many free attractions in addition to animal exhibits, including:
Guided bus tour (A 35-minute narrated bus tour of the zoo, included in the price of admission. PRO TIP: Take the tour first thing in the morning to see the animals most active!)
Ride the Skyfari Arial Tram (Must-do! It's like a relaxing ski lift ride with beautiful views of the zoo and San Diego skyline!)
See the animals up close with daily "Animal Encounters". Click here to see the full schedule.
Talk with the Keepers & Volunteers. The volunteers and zookeepers at the San Diego Zoo are extremely knowledgable and friendly. They will tell you amazing and cool facts about the animals they care for.
6. Pre-plan/budget for souvenirs
Just like any major attraction, the San Diego Zoo has souvenir shops. Be on the lookout for BOGO sales and clearance items located near the register. Be sure to set expectations with your kiddos ahead of time about budgeting for souvenirs and plan a bit of a cushion in your budget for those must-have items.
READ NEXT: Traveling with Baby: 19 Must-Haves You Don't Want to Forget to Pack
Trending article: The Perfect 3-Ingredient Lemon Cookies (Quick, Easy, & Healthy!)
Enjoy this post? Save it for later or share to your favorite social media channel!