Disclosure: This post contains affiliate links. Please see our full disclosure for more info.
If you know my son, you know that he is OBSESSED with the Wild Kratts. The Kratt brothers are his heroes.
He has watched every show they've ever made: Kratts' Creatures, Zaboomafoo, Be the Creature, and (of course), Wild Kratts.
When I heard they were coming to our state, I knew I had to surprise him with tickets.
It's been his dream to meet Chris and Martin Kratt, so I knew I wanted to purchase the meet-and-greet VIP package.
Yesterday was the big day, and the show was amazing. Keep reading to find out what to expect at the Wild Kratts Live 2.0 show, plus can't-miss tips for an epic experience.
How to get the best tickets for Wild Kratts Live 2.0
If you want to get great seats for the show, you MUST buy them as soon as you possibly can. They will sell out QUICK!
Go here to the official Wild Kratts Live site to check tour dates, locations, and times. If tickets aren't already on sale, you can sign up for their email list to get notified when the presale starts.
What to expect at the Wild Kratts Live 2.0 Show
Before we went to see the Wild Kratts Live show, I scoured the web looking for information on what to expect. It seemed impossible to find!
My kids handle new experiences way better when I can prepare them ahead of time, so I wasn't sure how to prep them.
When we arrived, we picked up our tickets at will call, checked in at the VIP table (more about that later!), and swung by the souvenir stand.
They had some great souvenirs and I thought they were very reasonably priced compared to most live shows I've been to.
They had plush animals, t-shirts, posters, costumes, games, and action figures. My son chose two action figure sets ($15 each) and a plush animal ($10). We also grabbed a reusable Wild Kratts tote that was $5.
They finally opened the doors to the auditorium about 30 minutes before showtime, and we headed to find our seats.
On the big screen, they had Wild Kratts music playing (not too loud, though) and pictures of cartoon animals with interesting facts on them. This really kept my son's interest and made the time pass quickly.
Once the show started, it opened up with a cartoon intro and then the Kratt brothers appeared on stage. My son was SO excited and seeing the look on his face was priceless.
One important thing to prep your kids for is that there aren't any real live animals at the show. Nonetheless, the show is very educational, entertaining, and really held my six-year-old's attention.
I don't want to spoil the storyline, but your kids can expect to see Chris and Martin activate creature powers several times. The show is funny, interactive, and my son didn't ask ONCE, "Is it almost over yet?!"
The first part of the show lasted 60 minutes. Then there was a 20-minute intermission and the show was over about 30 minutes after that.
The Wild Kratts Live VIP Package
I've tried to get VIP tickets to a Wild Kratts live show several times before, and it isn't easy to snag tickets. They get sold out very quickly.
If you're fortunate enough to get VIP tickets, here's what you can expect.
Once we were inside, we headed for a table that had a large sign that read, "VIP Check-In."
I gave our names to the lady at the table and she checked them off of a list and handed us two VIP wrist bands. She told us we MUST be wearing our wrist bands if we wanted to meet the Kratt brothers.
After the show, those of us with VIP wristbands were told to stay seated while everyone else exited the auditorium. (There were about 50 of us.)
Once the majority of folks exited, a staff member told us to follow him. If you can, position yourself near the staff so you can be one of the first in line.
We quickly made our way over and walked out to a part of the lobby that was sectioned off with a rope. (The meet and greet may happen in a different location, depending on your venue. We were at the Durham Performing Arts Center.)
We were about the 10th family in line. While we waited for the brothers, staff members came out and handed out "Wild Kratts Kid" stickers to all the kids and wrote their names on it.
I thought this was a great touch because Martin and Chris called each child by name.
Finally meeting Chris and Martin Kratt!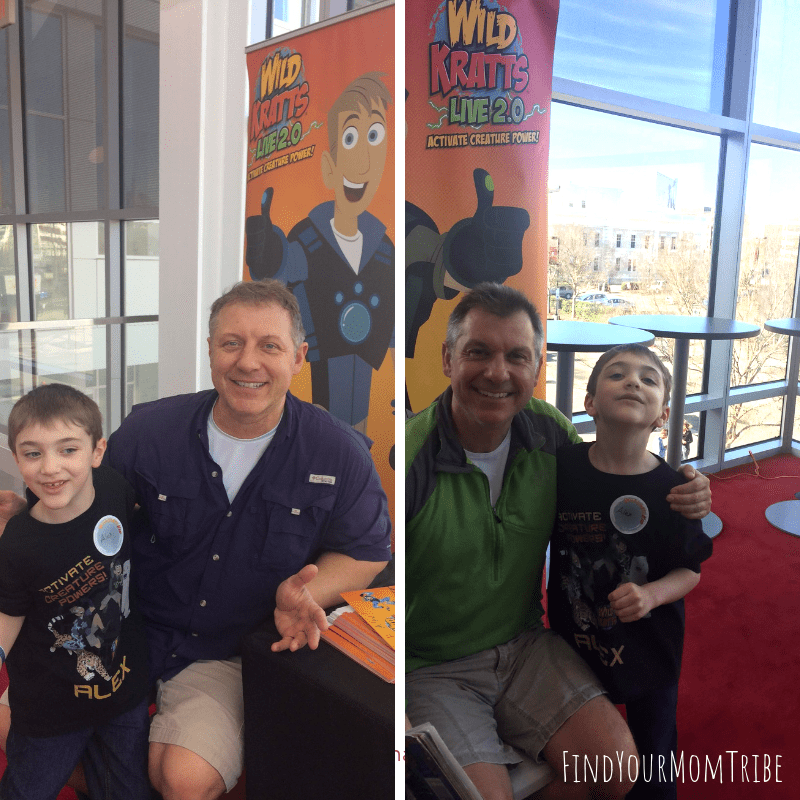 Once the brothers arrived, it didn't take us too long to move through the line.
Honestly, I was hoping to get a photo of my son with both Chris and Martin together…but in the interest of time, the brothers were at separate tables.
Staff members directed us on where to go. We went to Martin's table first, then Chris.
They had an 8×11 photograph available that they autographed for each child. (It also had the Wild Kratts logo and some cartoon characters on it.)
We brought one of our books by the Kratt brothers and had them autograph it as well.
I can't say enough about how genuinely kind these guys were. They took the time to make each child feel special.
They asked my son what his favorite animal was, chatted with him briefly, and then allowed me to take photos.
(There wasn't a professional photographer there.)
My son was SO happy and the VIP package was well worth every penny.
9 Tips for an Epic Wild Kratts Live Experience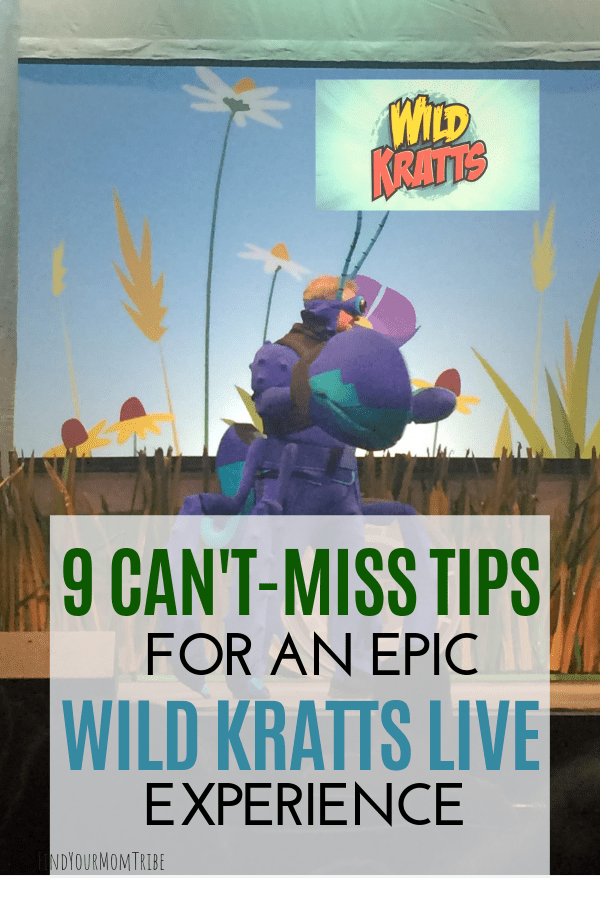 Dress for the occasion.
Nearly every child there was decked out in Wild Kratt apparel. T-shirts, creature power vests, and even Wild Kratts Halloween costumes.
Bring cash.
I totally forgot that it would probably cost to park until the night before! Luckily, I had $7 cash and threw that in my wallet to cover the cost.
(I'm sure the cost to park depends on the venue, so be sure to check that out ahead of time.)
Pack snacks.
Again, check with your venue, but if it's allowed, you can definitely save money by bringing your own snacks and water or juice.
I packed a lunchbox for my son to eat on the way to the show, since it was around noon. He was also starving after the show, so I was glad I packed extra.
Bring noise-canceling ear protection.

None of my three kids like loud noises, and since we were sitting close to the stage, I brought our noise protection gear along.
If you have a child that's sensitive to loud noises, be sure to bring noise-canceling ear protection.
The show itself wasn't too loud, but it was very interactive. Every kid in the audience shouted out answers, screamed, and cheered.
Budget for souvenirs.
If you can swing it, be sure to budget for souvenirs. They had items for just $5 and $10, so I thought it was very affordable. Be sure to prepare your child ahead of time for how much they can spend.
Arrive early.
We arrived about an hour and ten minutes before the show started. This gave us a chance to get great parking and pick up our tickets at will call before there was a long line.
There was a huge rush of people entering about 45 minutes before showtime, so if you can beat that crowd, it's for the best.
Head for the souvenir table first, as it tends to get pretty crowded.
Check the venue's camera policy.
At our venue, there were no cameras allowed. Several people in front of us had to check their cameras at guest services.
Photography was allowed, but no flash and no video.
Bring a backup phone charger.

Since you'll likely be using your phone to take photos, your battery will soon drain.
I knew I'd need a lot of battery to take tons of photos of the VIP meet and greet, so I brought along my portable cell phone charger.
This thing was a lifesaver, and I'm so glad I brought it.
Have FUN!
Most importantly, have fun! If you're having fun, so will your kids. Sing along, dance, cheer…enjoy the show!
Did you find these tips helpful? Please pin this post or share to your favorite social media platform to help spread the word!

You can also keep in touch by following me on Pinterest, Facebook, and Instagram!
Related reading: 21 Fun and Random Holidays to Celebrate with Kids this Winter
Related reading: 10 Can't-Miss Tips for an Epic Day Out with Thomas
Trending now: The Ultimate Guide to Gentle Parenting: how to build and maintain a close relationship with your child