This post contains affiliate links. Please see our full disclosure for more info.
Bible Verses Preschoolers Can Memorize
Valentine's Day is right around the corner! But no matter what time of year it is, it's always a good time to talk about LOVE!
I wanted to be intentional this year about teaching my kids Bible verses about God's love, so I sat down and searched the Bible for verses.
As a kid, I participated in Bible Drill at my church; even though that was 20+ years ago, I still remember some of those verses! After searching around, I came up with 8 scriptures about love that I think would be easy and simple enough for preschoolers to memorize.
Be sure to scroll to the end and sign up and get your free printable Bible verse cards!

8 Bible Verses about Love for Kids, Preschoolers, and Toddlers to Memorize
1. Psalm 119:64
"The earth is filled with your love, Lord." – Psalm 119:64 NIV
2. 1 John 4:19
"We love because he first loved us." – 1 John 4:19 NIV
3. 1 John 4:16
"God is love." – 1 John 4:16 NIV
4. 1 Chronicles 16:34
"His love endures forever." – 1 Chronicles 16:34 NIV
5. 1 Corinthians 13:8
"Love never fails." – 1 Corinthians 13:8 NIV
6. Jeremiah 31:3
"I have loved you with an everlasting love." – Jeremiah 31:3 NIV
7. 1 Corinthians 16:14
"Do everything in love." – 1 Corinthians 16:14
8. Proverbs 17:17
"A friend loves at all times." – Proverbs 17:17 NIV
There you have it! Are your kids visual learners like mine? I created these printable Bible verse cards that are perfect for helping kids memorize scripture.
Each card has an easy-to-read font for pre-readers or emerging readers. There's also a small picture on each scripture card for your child to color if they'd like!
You can use them flash-card style…or:
Print them out and use them as lunch box notes

Use them as Valentines (or thinking of you cards) for your kids to color and send to family/friends

Place them on your fridge or bathroom mirror as a daily reminder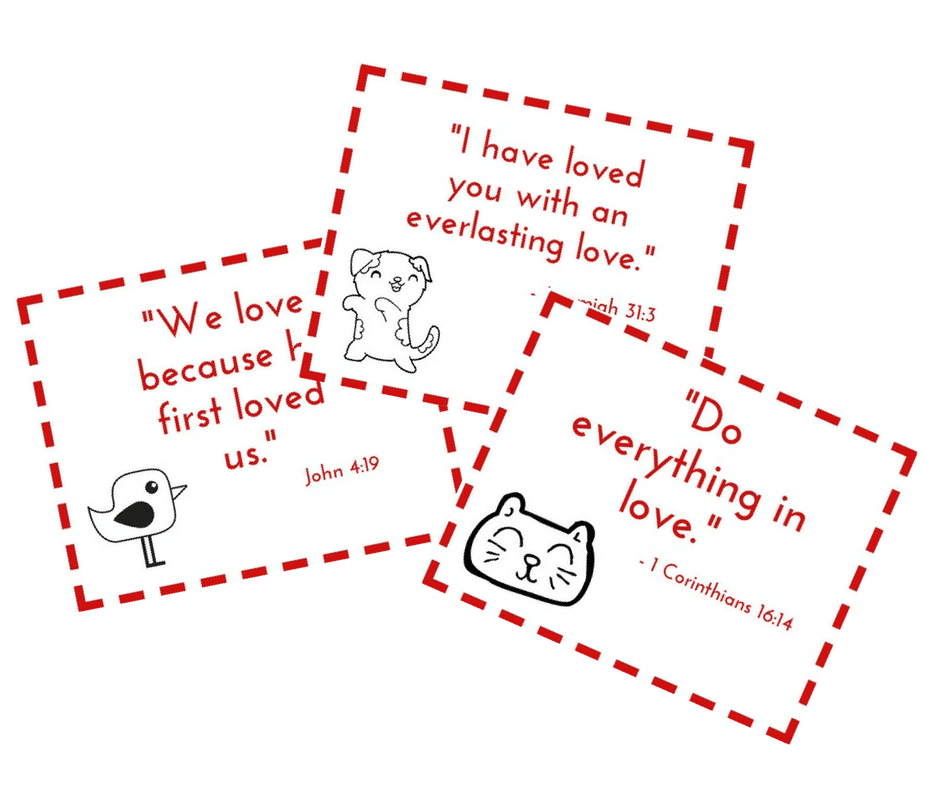 Don't forget to pin this for later!