Waiting for a new member of your family to be born is thrilling but can be quite stressful as well.
When you were expecting your first child you only had to worry about you and your husband adapting to the new lifestyle.
This time around, the new baby will change someone else's world too- your firstborn's of course. In this article, find ideas for the best big sister gifts that can be found online.
You might be spending more time thinking about how to make an easy transition for your child than doing the other things usually done to prepare for a newborn.
It can be hard to explain to a child what's actually happening in mom's belly and what they can expect to be happening in a few months.
Telling them the big news will be exciting. Depending on how old your first child is, you can make it into a very fun event.
This article will give you advice on how to break the news to your daughter about getting a new baby brother or baby sister and give you gift ideas for a new big sister.
How to reveal the news to your older child: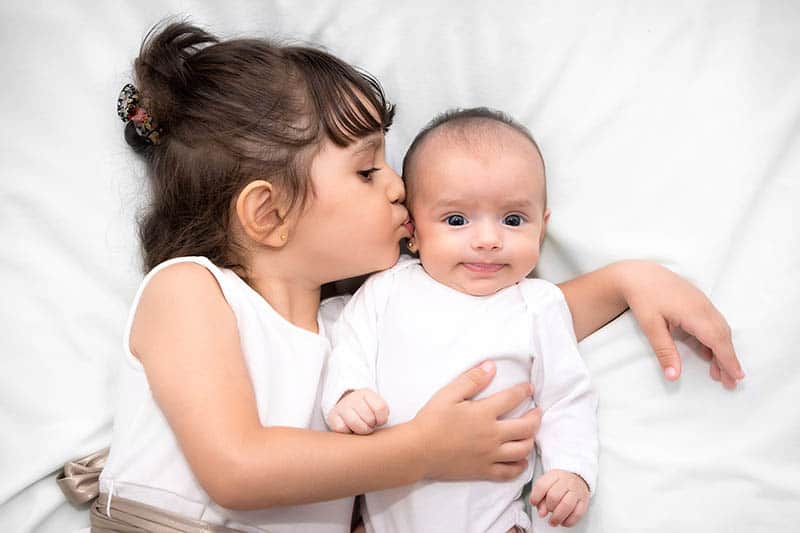 If your older child is under two, you might want to wait until the bump starts showing to break the news to them.
Having some visual evidence can make the idea more concrete to them. Even if the child is older it might not be a bad idea to wait for the twelve weak clearance to share the news.
God forbid you to have to break their hearts, it would make a bad situation even worse.
Children have a quite different sense of time and time, in the long run, passes much slower for them, so wait as long as you can to tell them.
Depending on your child's age pick the most comfortable way to tell them they're getting a new sibling.
Conversation is always a way to go. Make sure the sentences you use are simple, short, and to the point.
You might need to repeat things for them to become aware of what's happening. When the simple talk doesn't seem to do the trick, you might want to do something more.
The idea of the baby in mommy's belly can be completely abstract to a child that's two years old or even older.
Let's be honest, it can seem impossible for a pregnant woman let alone a kid who simply doesn't get it.
It might be a good idea to use a puppet or a doll and place it under your shirt. It can make it seem more concrete and believable to your child.
Tell them that their little sister or little brother will be coming out of momma's belly and explain how they will look like using the doll.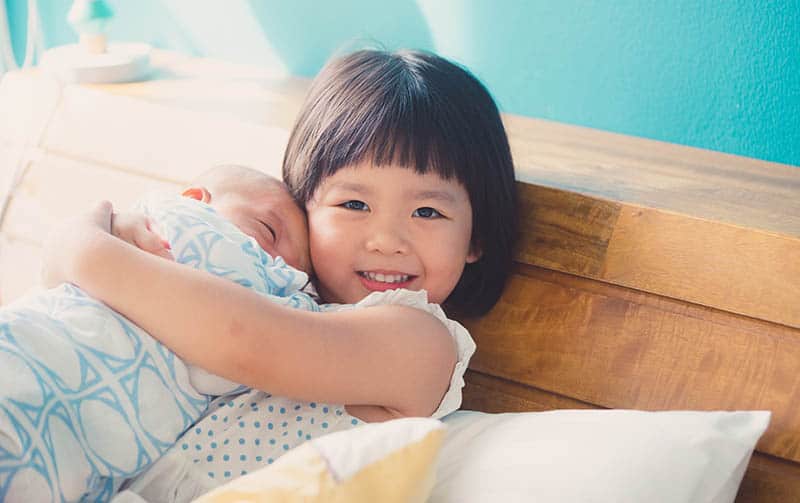 Don't use stuffed animals because it can give your child the wrong picture. Explain to your child that the baby coming out of your belly will be alive, eating, sleeping, making sounds. Talk to them, a lot!
Another interesting way to share the news is to find a video online to show to the older sibling. Children respond well to visual content. Pick an age-appropriate video to watch with them.
Play it several times until they seem intrigued and again, talk to them about what it all means.
For an older child that's starting to read, opt for a book that's planned to use in these situations.
There are many on the market so pick whichever one seems best suited to your personal situation (is it your second child, third, is it a girl or a boy…).
Let them try and read the book themselves, but also read it with them. Again, the most important task is discussing the contents of the book with them.
Don't be scared that your child seems angry, sad or confused about the whole idea. Accept their emotions and try not to make them feel bad about having them, that would deepen the issue.
It's perfectly normal for your child to feel any way about this.
Give them time, and if it seems like they are overwhelmed try bringing it up again in a few days or weeks even (if you have the time).
Make sure they feel loved and that they understand the new baby will only add to your family and not take anything away from them.
Emphasize that you're bringing this baby into the world for them too, to have someone to play with or whatever you think could sound appealing to your child
Best big sister gift ideas found on Amazon:
This Tickle & Main gift set is an amazing big sis gift. It's a tree piece gift set that includes a storybook called 'I Hereby Crown You Big Sister' illustrated by Ana Santos who gives explanations of all the aspects of getting a new sibling.
It has beautiful watercolor illustrated pages. Another part of the set is a child-sized crown and a big sister doll wearing a matching crown.
The crown has 'Big sister' embroidered on it. The doll is the book's main character. It is an amazing gift made in wonderful detail.
It doesn't have to be an Elsa t-shirt of course, but it is a wonderful idea. This particular big sister t-shirt is officially licensed by Disney and comes in purple color. There are also many others.
Your little girl will be proud to wear her new title on her big sister t-shirt. Some t-shirts come in older sibling-younger sibling combinations, but this one is just for the new big sister.
This can be a great gift idea if you don't want to spend too much money but still want the gift to be meaningful.
Now, this ought to make the new big sister feel special. It's probably one of the best gifts to give to a toddler. She'll be proud to be an older sibling wearing this superhero cape. It comes in different colors, pink, purple and blue.
It is made of polyester and comes in toddler size, for little girls from three years and up. It is sure to get your little girl excited to welcome a new sibling.
This gift set contains a shirt that ways 'Promoted to Big Sister' made out of cotton and a beautiful tulle skirt, decorated with a sparkly bow.
It comes in a lot of different colors so you can pick your little one's favorite one. It's a perfect gift for little girls and their ballerina styles.
This award-winning sibling book can be customized to include the child's first and last name, the new baby's first name, the baby's gender and the sender name(s) for the dedication page.
When a new baby comes into the house, make her amazing big sis feel special too! The book comes with a coordinating medal honoring what a Super, Incredible Big Sister she is!
This Plush Baby doll toys set for girls comes in a beautiful orange color and it's very, very soft. It's high-quality and machine washable.
Non-toxic materials are used in its production so only the safest for your babies.
The big doll can represent your older child while the smaller doll can be her little sister. Play games in which she, the incredible big sister, takes care of her new sibling.
This cute plush unicorn has a pink mane and tail and its horn is sparkly silver color. Unicorn wears a removable 'I'm The Big Sister' t-shirt with a rainbow and clouds and bright pink sleeves.
In case a unicorn doesn't sound right to you maybe choose a teddy bear, or any stuffed animal instead. It is a perfect way to let a girl know that a new baby is on the way.
If your girl likes tote bags this will be a perfect gift to make her brag to her friends about having a little brother.
There are many different styles so you can choose from the little brother or the little sister option as well, or a combo of both even!
Pick one of the styles that fit your situation and give your girl a gift to make her feel like an incredible big sister.
You can pick from many different necklaces here, and you can get the two new sisters a matching set.
The big sibling will be able to wear her big sister necklace immediately and the lil one will sure be happy to have it years after to let her know what it was like for her sibling to get a baby sister.
Now this is a bit pricey but wonderful big sis gift. It is a very realistic doll with hand-painted details. She is quite big, 20 inches head to toe, very true to life. It
will give your girl a chance to practice the way she's supposed to act towards the baby. You can teach her ahead what parts of the new baby shouldn't be touched and which way she can help you change the diaper.
It will make her certain that she's included in the process, and this is very important for an older sibling.
Now, this set can be ordered in many different combos and that's what makes it great. It is a wonderful gift to give to a big sister or a big brother who is getting a new sibling.
Big brother or big sister tee combined with a little brother or little sister baby bodysuit is sure a great gift idea.
Other parents share their experience:
'My whole family, two sons, two stepsons, husband, and I, were all sitting down to dinner, and I brought out the dessert. It was a cake, and on the cake was a plastic stork, and the cake said, 'Surprise!' The boys said, 'What is this?!' But they quickly figured out what the stork meant. Our family was growing!'

'It was New Year's Day when I found out, and I gave my partner a two-page note on how a great father he was and, at the end, it said, 'By the way, you're gonna be a daddy again. Happy New Year's!' I caught the whole thing on video, and after my partner read it out loud, it was quiet until our 5-month-old son said, 'Uh-oh!' He had never said it before so the timing was just perfect!'

'We did a special scavenger hunt for the gender reveal for the kids. They were so excited running all over the house to find the last card that would tell us if it was a boy or a girl!'

'We took our daughters to an OB appointment, and this was our big 'reveal'!'

'My daughter was only 2. I told her by reading her books like There's a House Inside My Mummy by Giles Andreae and I'm a Big Sister by Joanna Cole.'

'It was a bit of surprise when I found out I was pregnant for the fourth time, but with three girls under 6, it was even more of a surprise when I found out I was having a little boy! I revealed the news by having my daughters all open a box filled with blue balloons!'

'Ours was SO anticlimactic. We'd tried for almost five years to have another baby and thought it would never happen. Our son — who was then 5 — had asked a million times when he'd get a baby brother or sister, so when we finally knew we were going to give him one, we could NOT wait to tell him. When we did, he kind of smiled, said great, and then asked if he could go play. NOT the jumping, shouting, cheering we were expecting. I think it took a while to sink in.'

'My daughter was 6 at the time and had been begging for a puppy. When we found out, I set her down and gave her the bad news that she could not get a puppy. When she asked, 'Why not?' I told her that I was giving her a baby brother/sister instead! And she loves him so much more than a puppy!'
Whatever you decide to do and whichever gift you pick make sure you do it with a lot of love and patience. Your child will need you to be there for them through this transition.
Things will most probably go better than planned.
Keep in mind you're doing this for them as well, giving them a brother or sister is the best possible gift you can give them.
RELATED: Gifts For New Big Brothers: Top 10 Gift Ideas For Big Bro
Like this article? Please share or pin it for later. You can also stay in the loop and follow me on Facebook, Instagram or Pinterest.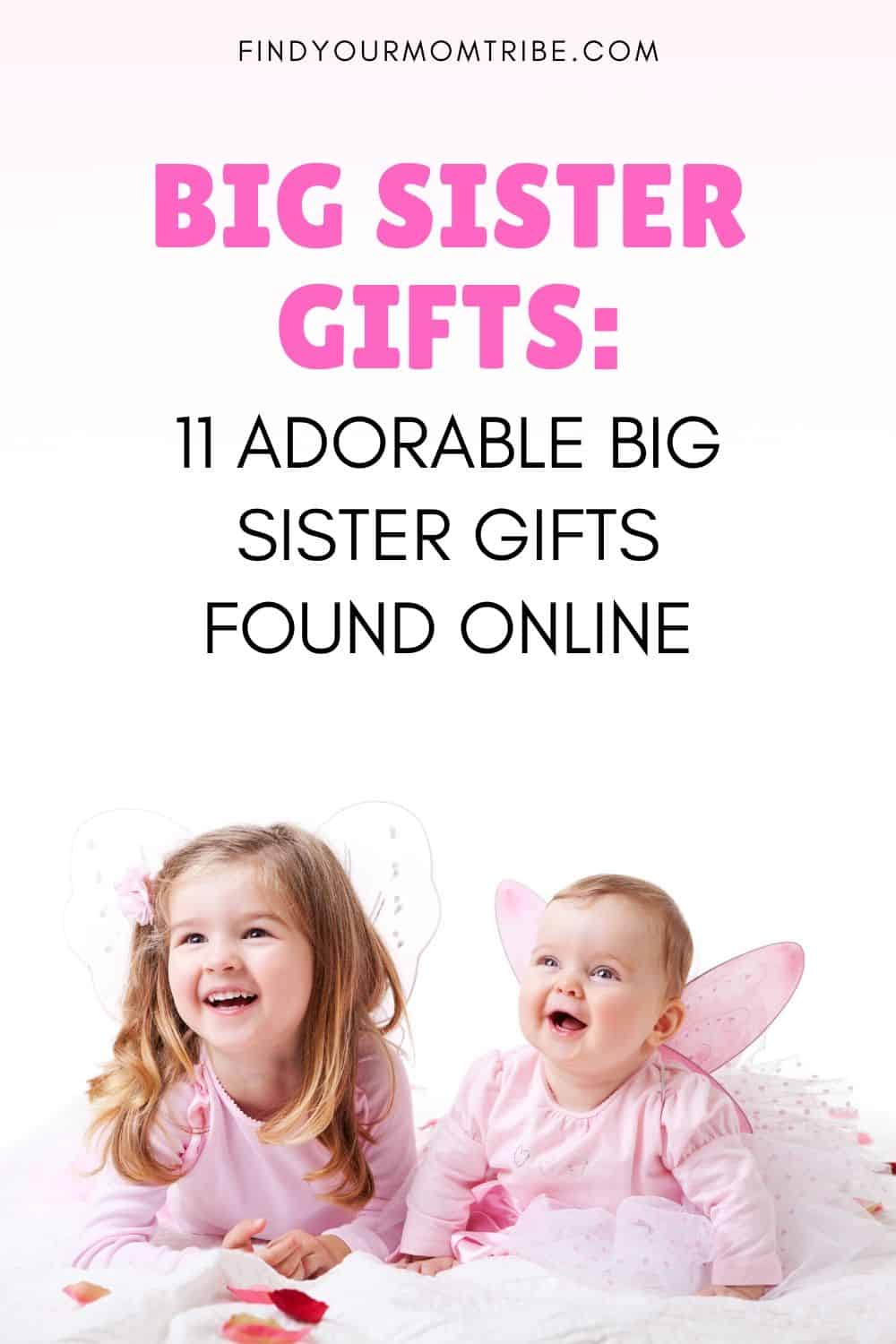 This post contains affiliate links. Please see our full disclosure for more info.