Teething, just like crawling or walking, is a major part of your baby's development and is usually observed at around 6 months.
Although this time frame is evident in most babies, teething has also been observed at a mere 2 months old.
Your baby will feel teething discomfort over months, so you will have to make one or more of the best teethers on the market available for your baby.
We're spoiled for choice with teething toy options, and this can make choosing the best one difficult.
To help you make the right choice, we have reviewed these options for durability, safety, and versatility, and have narrowed down the selection even further to include the best teethers that are phthalate and BPA-free.
But before we dive into the list, we must discuss what to look out for when choosing a teething toy for your little one.
Choosing The Best Teether For Your Baby
Certain factors come into play when looking to find the best teether for your baby, such as:
Sensory stimulation – Teething toys, apart from helping with discomfort in teething babies, can also be a great way to enhance and strengthen coordination.
Choosing a teething toy with bright colors, engaging sounds, and the option for cooling is a great choice for your baby.
Some of the soft silicone options on our list meet these criteria and should be considered for your baby.
Type of material – Babies will literally put anything they can get their hands on into their mouths.
This makes it vital to ensure that whatever teething toy you give to them is made from safe and non-toxic materials.
When choosing a teether, some materials you should look for include:
Food Grade Plastics
100% Food Grade Silicone
100% Organic Cotton
Natural, Untreated Wood
100% Natural Rubber
Some teether materials you should avoid include:
Plastics containing phthalates
plastics containing BPA
PVC/Vinyl
Latex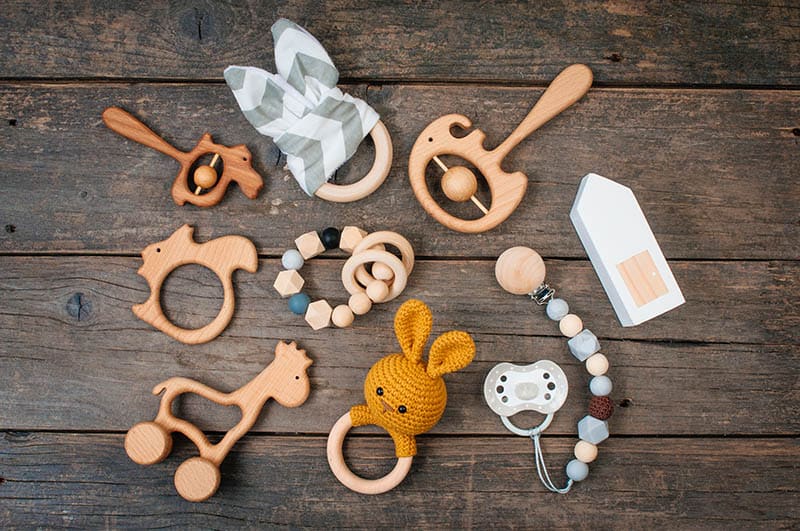 Ease of cleaning – Teething toys go into your baby's mouth frequently and will need to be cleaned quite often. To this end, it is imperative that you purchase options with manageable washing instructions.
The material of the teether will determine how it should be cleaned. Those made out of tougher, durable plastic will withstand higher temperatures and can be sterilized in the dishwasher.
Options made out of softer plastic will need to be hand-washed as they cannot withstand high temperatures.
Size and shape – It is a no-brainer that teethers for your baby should be small enough to fit into their mouths, but not small enough to pose a choking hazard.
If a teether toy is too big, it will be of no use to your baby.
The shape of the teether is also another important factor to consider. Preferably, baby teething toys should have a handle or cutout to allow babies to grip.
Although versatile, teething necklaces with beads pose the most danger for unsupervised babies. A pediatrician with the American Academy of Pediatrics, Natasha Burgert, MD. FAAP, was recorded saying that "teething necklaces could pose a potential two-fold risk of strangulation and choking."
If teething jewelry must be worn, it must be under strict supervision or must be jewelry that has beads clasped together such as the Chewbeads Tribeca Teething Necklace that made the cut.
Several other factors should be considered, but we have chosen to focus on these four that are most important.
Now, we'll be moving onto a list of the 13 best teethers to help you take your pick. We hope this helps make you and your baby happy (and not gnawing through pacifiers!)
1.Nuby Silicone Teethe-eez Teether with Bristles
Nuby Silicone Teethe-eez Teether is BPA and phthalates free. It is also made of soft silicone, making it safe for your baby to chew on. Its design is a perfect fit for your infant's grip.
This baby teether also comes with soft bristles that reach the front and rear areas of your baby's gums. These bristles help to soothe and clean your baby's gums during teething.
Nuby Teethe-eez comes with a case to help with storage. It also comes in multiple colors that will encourage your child to take to it.
The best part of this teething toy is that it is affordable. You can purchase as many as you want without having to break the bank.
The Nuby Silicone Teethe-eez Teether is loved by both parents and babies alike.
2. Nuby Ice Gel Teether Keys
Nuby Ice Gel Keys are BPA-free and safe for your baby to chew on. Their design comes in a variety of textures to help soothe your baby's gums while the front, middle, and back teeth erupt.
The keys also come with a grip that your baby can fit their hands around.
With a variety of colors to choose from, your baby is sure to take to the Nuby Ice Gel Teether Keys with delight.
This teething toy can be refrigerated to further soothe your baby's sore gums as he/she chews on it.
Nuby Ice Gel Keys are rated the number 1 best-seller in baby teething toys on Amazon, making it one of the best baby teethers available.
3. Vulli Sophie la Girafe (Sophie the Giraffe) Teether
Vulli Sophie la Girafe Teether is both phthalate and BPA-free, so it has a big YES from us. This toy that is shaped in the form of a giraffe is one of the best on the market.
It comes with a textured body and long limbs that get to the far ends of your baby's mouth.
This will help with easing discomfort in parts of the gums where normal teethers do not get to.
Although Sophie the Giraffe may be quite children-friendly, it could cost more than the similar products, making it one of the priciest teething toys on our list.
However, its durability and high quality make it well worth the price.
Sophie is made with 100% rubber and the brown spots are painted on with food-grade paint. This means that your baby can chew on this toy with no long term effect.
Sophie la Girafe is lightweight and perfect to help with teething pains in your little one.
4. Chewbeads Tribeca Teething Necklace
The Chewbeads Tribeca Teething Necklace is BPA and phthalate-free, thus earning our stamp of approval. It is also free from trace metals such as lead and cadmium.
In line with its pretty beads on a string design, this silicone necklace has a breakaway clasp between each bead to prevent small pieces from breaking off and getting swallowed.
Its silicone beads are certified dishwasher safe or can be cleaned with dishwashing soap and hot water.
This teething toy is worn around mama's neck to help babies focus while nursing.
The downside of this, however, is that babies being nursed may attempt to chew on other pieces of jewelry hung around the neck.
This poses a choking risk to babies as jewelry could break off and be swallowed. Experts have recommended that the FDA look into the use of teething jewelry for infants.
5. RaZbaby RaZ-Teether
Razbaby Raz is shaped like a bunch of grapes with an easy to grasp handle for your baby. Its textured surfaces also gently massage your baby's front and back gums.
This helps with soothing painful gums during the teething process.
It is made of soft silicone and contains no toxic substances, making it safe for your baby to gnaw on.
RaZbaby is recommended for children over 4 months and can be attached to a string to help. This soft silicone toy can be refrigerated for an extra soothing effect on the gums.
Razbaby comes in different colors and shapes to suit your baby's preferences and needs.
6. Green Sprouts Cooling Teether
As the name suggests, Green Sprouts is ideally placed in the refrigerator to provide relief from teething pains and inflammation.
It is filled with distilled water which heightens the cooling sensation on your baby's gums.
The Green Sprouts teething toy is made from BPA and PVC-free plastics and comes in a variety of shapes, colors, and sizes.
7. Vuminbox Baby Bandana Drool Bibs
Vuminbox Baby Bandana Drool Bibs are made from 100% organic cotton on the front and 100% polyester fleece behind, making it super absorbent and safe.
The baby bandana drool bibs come with a detachable textured teether. This will reduce the loss of your baby's teething toys because they are securely attached to the bib.
The bibs also come with snaps that are free from nickel and easy to use. This eliminates irritated skin and makes the bib adjustable and suitable for toddlers and newborns alike.
The Vuminox Baby Bandana Drool Bibs are suitable for babies between 3 and 24 months. The teether is dishwasher safe while the bib is safe for machine wash.
8. Linda's Essentials Nibblit Baby Teething Mitten
Nibblit Baby Teething Mitten is an organic, BPA-free mitten made from 100% food-grade silicone. With multiple teething surfaces, the mitten can be secured onto your baby's hand with a velcro strap.
In addition to pain and discomfort, teething can come with lots and lots of drooling.
These mittens are the perfect choice for your baby because they are made with a soft, breathable material to absorb drool.
The soft silicone surfaces also help relieve your baby of sore gums when teething.
All your baby has to do is to chew on them. This will prevent them from gnawing on and chapping their fingers from putting them in their mouths.
The mittens are machine washable and can be thrown into the wash for reuse. The mittens come in blue and pink colors, and are BPF-free and FDA and CE certified, making them one of the safest and best munch mitts for your little munchkin.
9. Baby Banana Infant Training Toothbrush and Teether

From our research, lots of parents and even babies expressed their love for this particular teether.
The infant training toothbrush is not only a baby toy but also doubles as a toothbrush.
This packs a double punch because parents can not only use this to relieve teething pains, but can also enlighten their toddlers about oral hygiene in a fun way.
In case you're bothered about this toy going too far back into your baby's mouth, the "banana peels" on the toothbrush prevent that from happening. They stop the entire length of the toothbrush from being chewed on.
The Infant Training Toothbrush is phthalate, BPA and latex-free. It is also made from food-grade silicone and is dishwasher safe.
It is lightweight and can easily be carried in a diaper bag for on-the-go chewing.
Children will often try to replicate what they see and the motion of toothbrushing from this will familiarize them with the actual act of brushing their teeth.
The Infant Training Toothbrush has silicone bristles that are soft and gentle on your baby's gums.
It is recommended for ages 3 to 12 months and comes in a variety of colors and shapes to suit your baby's preference. The shapes of unicorn and dolphins are also available. How cool is that!
10. Manhattan Toy Winkel and Sensory Teether Toy
With its maze of tubes, this is one of the best teethers you will find, which offers a myriad of angles for your little munchkin's fingers to go exploring.
This toy can also encourage your baby to crawl because of its slight bounce when dropped on the floor.
The Manhattan Toy Winkel and Sensory Teether Toy is BPA-free and safe for your little one to chew on.
Another cool fact is that this comes with the option to purchase an accompanying full color Winkel Board book illustrated with beautiful artwork by Madelyn Kozlowsky.
The Winkel toy also has a red, white, and blue version complete with stars. You can give this to your baby so they could be a part of the 4th of July celebrations in their own little way.
It has won multiple newborn toy awards, including the Oppenheim Toy Portfolio Blue Chip Award.
With this, you can trust us when we state that this is one of the best teethers available on the market. It is suitable for 0 to 24-month-olds.
The downside to the Winkel toy is that it cannot be placed in the dishwasher, steam cleaned, or boiled because its soft plastic will melt.
Any cleaning must be done manually and thoroughly to prevent dirt from hiding in the crevices.
11. Infantino Cuddly Teether
Infantino Cuddly Teether comes in a variety of shapes for you to choose from. It is made from BPA-free and the animal body is made with a soft textured material that your baby can cuddle.
It comes with soft, chewy feet and a teething ring for your baby to latch on to. It requires no batteries and can be carried safely in a diaper bag.
This toy makes a crinkling sound when squished, keeping your baby entertained while you get work done around the home.
Infantino Cuddly Teether is a simple, inexpensive, minimalist toy you can give to your baby.
13. Comotomo Silicone Baby Teethers
Comotomo Silicone Baby Teethers are available in blue and orange color options. This teething toy is made of 100% hygienic silicone. It is also BPA, PVC, and phthalate-free.
With its simple, baby finger-sized design, it allows your baby to grab and bite on its multiple points. It is dishwasher-safe and can be sterilized in boiling water.
Like this article? Please share or pin it for later. You can also stay in the loop and follow me on Facebook, Instagram or Pinterest.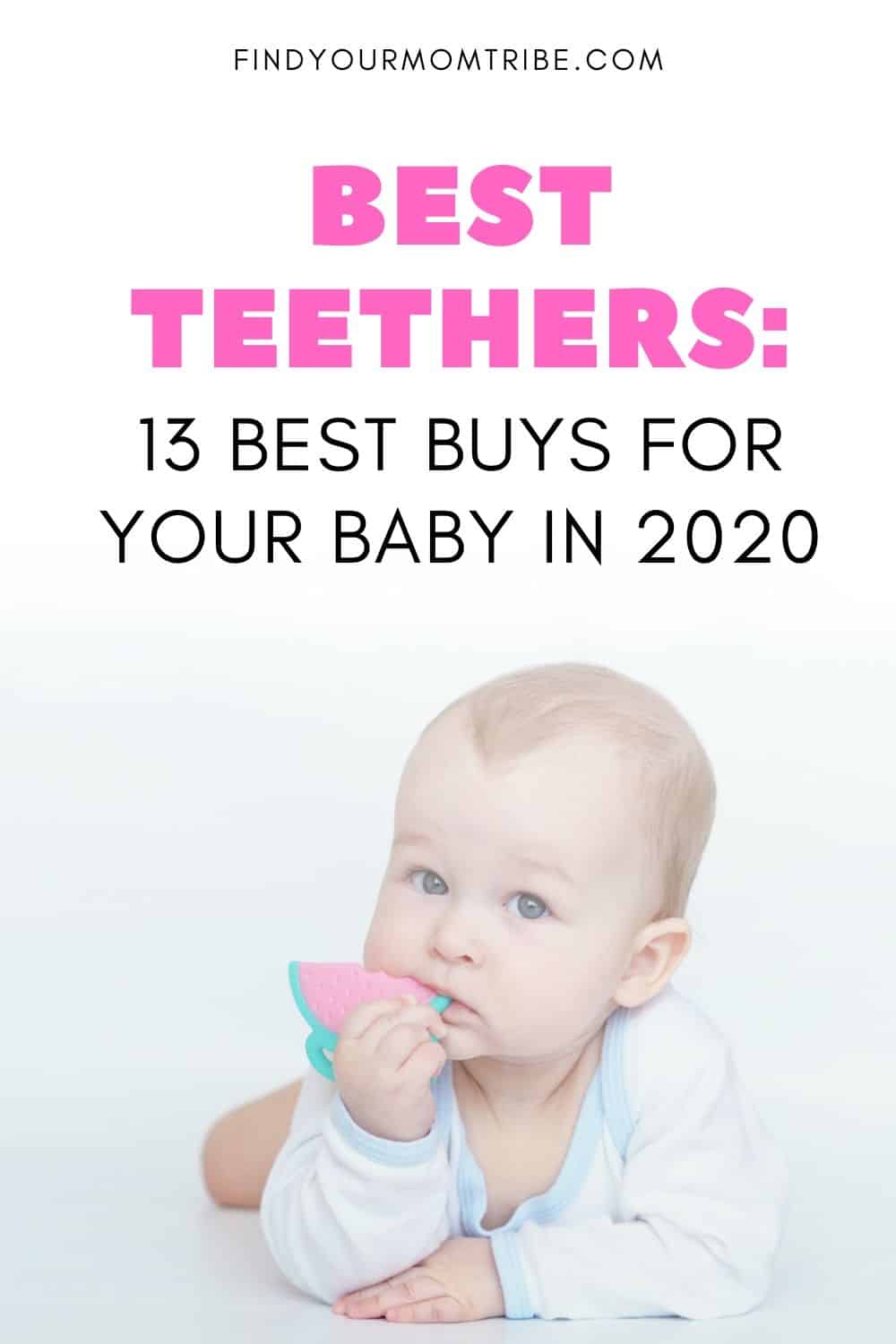 This post contains affiliate links. Please see our full disclosure for more info.