Random Acts of Christmas Kindness, Day 4: Cookies for Firefighters
This post contains affiliate links. Please see our full disclosure for more info.
Woohoo, it's Day 4 of our Random Acts of Christmas Kindness Challenge!
Today's challenge is to make cookies for your local fire department!
Items needed for today's "Cookies for Firefighters" Random Act of Christmas Kindness
Printer (Ideally print the cards in color if you can.)

Ingredients for cookies

Disposable container for cookies
A behind-the-scenes look at our day
The big kids and I baked our cookies the night before the challenge. Mondays are always busy days for our family, so I knew it'd be hectic.
Once the baby got up from her nap, we all piled into the car with our cookies, kindness cards, and headed to the local fire station.
My big kids were SO excited, especially my son!
We pulled up to the fire station and noticed that there were no cars in the parking lot!
My husband got out and went to the door, only to find it locked!! (I thought these kinds of places were open 24/7?)
We decided to get out and leave the cookies on under the awning by the door and hope that the firefighters find them when they return. (Is this a RACK fail?! Haha!)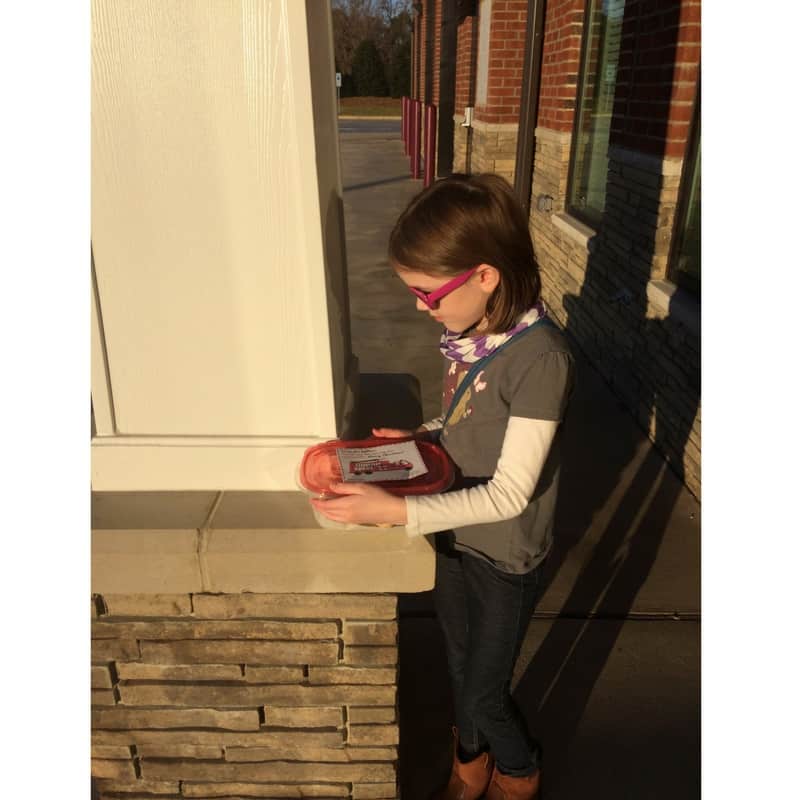 Pro Tips for Making the Most of Today's Challenge
If you plan to bake the cookies for firefighters, pre-measure out the ingredients in advance to make it easier for the kids to help.

No time to bake? That's okay! Feel free to swing by the bakery section at the grocery store. (I'm sure they won't mind!)

Be sure to give the cookies on a paper plate or in a disposable container so they don't have to worry about returning a dish.

Pray for the safety of the firefighters and all public servants in your community.
 By the way, if you want to participate in our 7-day Random Acts of Christmas Kindness Challenge, sign up here and get your free printables! (Or click here to learn more!)