A sippy cup is in most cases a necessity, and finding the best sippy cups that aren't plastic is in fact, imperative.
These days, there are loads of options when it comes to choosing the best material for your baby cup.
No mother would want harmful plastic coming in contact with her baby due to the unhealthy threats that it poses.
How to choose the right sippy cup
Glass sippy cups are made from – you guessed it – glass, and they are the ideal transition from breast or bottle to a standard kid cup.
Aside from the glass sippy cups, other types of cups can be found in stainless steel, such as Klean Kanteen's hard BPA-free spout and soft silicone spout.
These cups can come without or with handles. Another plastic-free product option is a glass bottle.
So, what are the things to consider when purchasing a sippy cup?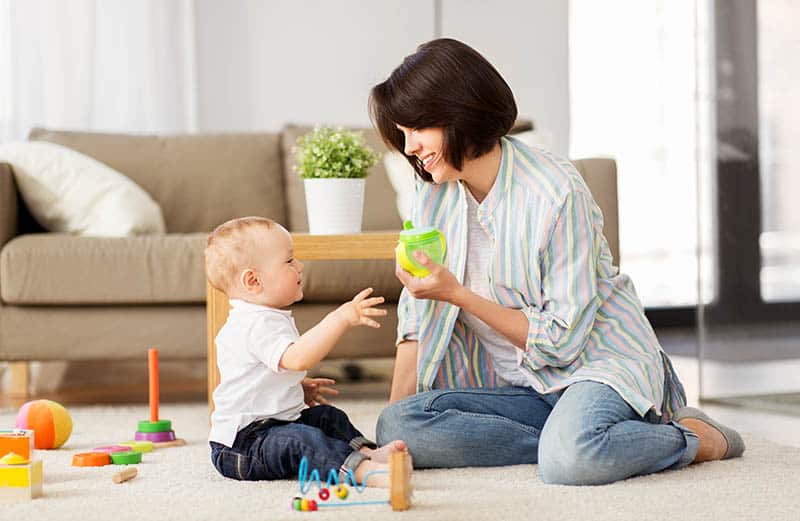 Type of material used
The material that's used in the production of sippy cups can go a long way in determining the health of your baby.
Naturally, no mother would knowingly want to buy any product that will pose a threat to the health of her baby, and that is why critical consideration should be given to the material of the cup you intend on buying.
Phthalates, which industrial chemicals that are used to soften plastics, are dangerous for your child, and exposure to it can cause some serious harm (for instance, allergies and reproductive organ changes) throughout your child's life.
Therefore, you'd really be better off opting for safer materials such as glass, silicone, stainless steel, or biopolymer.
As an alternative to plastic, biopolymer is environmental-friendly and made from items such as corn or rice husks.
While there are benefits to using a plastic cup, it is best to avoid having plastic come in contact with your baby's drink and food.
Bypass the health risk and instead use a glass cup for peace of mind.
Is there a handle?
It's a well-known fact that every baby loves to grip something. This is the sole reason why cups with handles are perfect choice for babies.
These days, there are several brands that have designed their product to feature a removable handle so that your kid can use the cup with or without it.
Hard or soft spout?
Hard spout sippy cups are stronger and some also come with an easy-to-close option.
For an easier transition from bottle or breast, however, a soft spout cup is the better option as it has a silicone nipple that shaped like a sippy spout rather than a teat.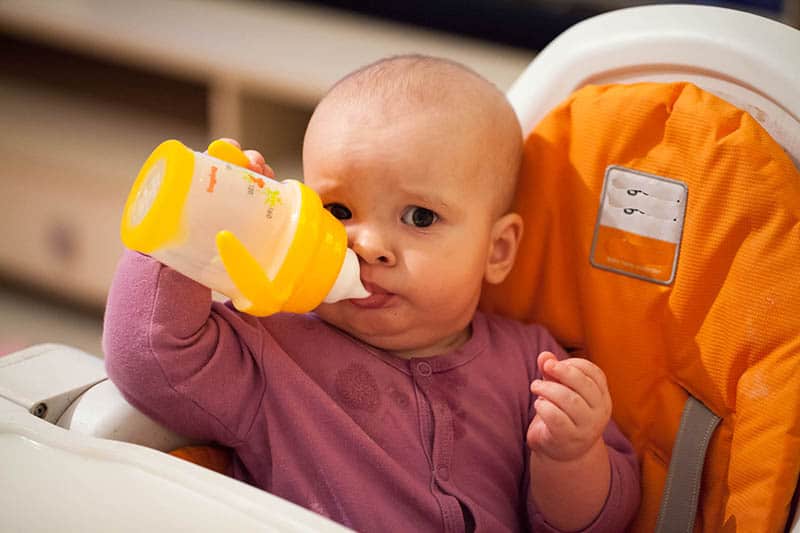 Easy to clean?
Irrespective of the situation, good hygiene for your baby goes without saying. And yet, these days, there are products that cannot easily be cleaned.
One major advantage of using quality glass sippy cups is that they are very easy to clean.
You may have heard of instances of sippy cups developing mold in crevices where you'd never think to clean, but with a glass sippy cup, the risk is minimized drastically.
Leak-proof
A leak-proof product such as the Munchkin Miracle automatically closes when your baby is not drinking, creating a spill-proof seal.
A word of caution concerning leak-proof sippy cups is that while they are great for avoiding spills, they can make the process of sipping very challenging for babies since they'll need extra suction power to suck the fluid out of the cup.
Longevity
Some glass sippy cups are somewhat expensive upfront, but you can be sure that they will last for quite some time.
That is, unless you lose it through carelessness or other means, you will have a glass cup for the duration of your baby's early years.
Most brands nowadays, like Lifefactory, offer glass bottles and sippy cups with silicone protective sleeves for bumps and falls that inevitably come with toddlerhood, therefore adding to the overall longevity.
What is the best age to switch from bottle/breast to glass sippy cups?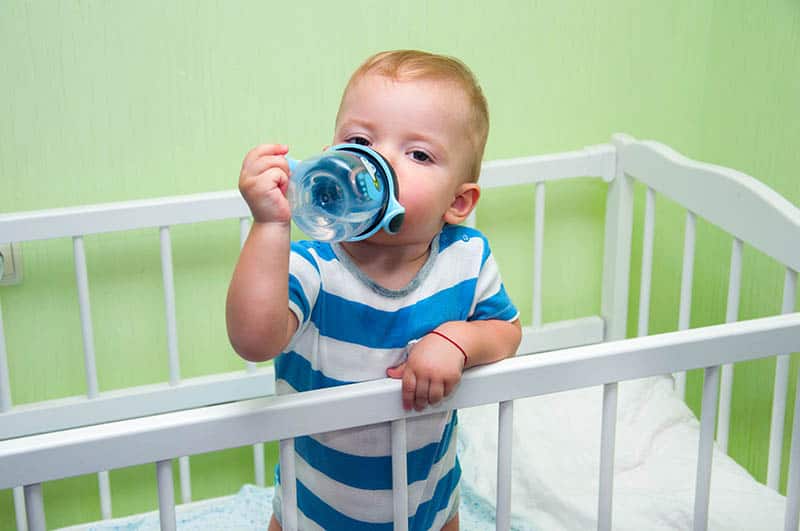 Although it may differ slightly from child to child, the ideal age ranges from 6 to 12 months old.
Basically, most babies might be ready to use a glass sippy cup when they are starting to hold items with ease.
According to the American Academy of Pediatrics, most babies are ready to use a baby-safe glass cup ranging between the ages of 6 and 9 months.
Are sippy cups bad for the teeth?
The moment your baby is off the breast or bottle, it's time for the cup to come in.
The disadvantage of using a hard rigid plastic cup, however, is that it may prevent normal development of the mouth and also result in tooth decay (when allowing your child to sip on juice or milk continuously throughout the day).
Another potential downside is that they may result in speech problems while misshaping the oral cavity.
The Green Sprouts Sip & Straw is designed with a silicone sippy spout and a silicone straw spout.
Due to the fact that your baby is already used to sucking from bottle or breast, he or she will learn very quickly how to suck from a straw.
Top glass sippy cups and accessories
When we take a closer look at the types of glass sippy cups, moms will do best by opting for a straw glass cup such as the Green Sprouts Glass Sip & Straw Cup.
Aside from the kid-friendly design, the liquid that your child consumes from this cup never touches plastic, but rather comes into contact only with silicone and glass. This is peace of mind!
Check out some of the top rated glass cups, toddler transition cups, and straw cups.
Green Sprouts Sip and Straw Glass Cup
This one is safe from the inside out. The straw glass cup gives full support to the healthy oral development of your kid. In addition to the benefits already mentioned, this cup supports safe handling, while the shock-absorbing base and outer plastic shell help to prevent breakage.
The cup comes with two interchangeable tops – a silicone straw top used as a straw cup that enhances healthy teeth development, and a no-drip silicone sippy top that serves the purpose of a standard sippy cup.
Included: Travel cap and travel disc; sippy spout, straw top, and removable straw; glass inner cup; easy grip handles; outer shield and shock-absorbent base.
Lifefactory Glass Water Bottle with Silicone Sleeve
With no leaching from plastics or metals, the Lifefactory Glass water bottle offers a pure taste with an easy access wide mouth for adding tea bags, ice cubes, etc.
The protective silicone sleeve helps to prevent breakage and provides a non-slip grip. This glass cup is also dishwasher safe.
The cap is made from polypropylene, while the body from glass. Just keep in mind is that it's not the perfect choice for learners. Since the body is made of relatively thick glass, it becomes heavier when filled.
Elk and Friends Glass Kids/Toddler Cups with Silicone Straws
Talk about a durable and rust-proof glass sippy cup! The Elk and Friends Glass Toddler Cup isn't coated with metal that can easily rust and become hazardous to your kid's health.
Its sturdy tumbler shape (in 8, 12, or 16 oz.) is great for less spills.
You can easily swap between the two types of lids: airtight and leak-proof lids, as well as straw-hole lids.
The set includes: 4 mason glass jars, 4 silicone sleeves, 8 lids (4 of each type), straw-cleaning brush, and 4 silicone straws.
Silikids Glass Cup
These cups are a good choice for toddlers upward of 2 years old who want to drink from a "big-kid" cup.
It holds 6 ounces, a conveniently small size that's great for small hands.
To prevent shock absorption and improved grip, the Silikid Glass Cup is encased with a protective silicone sleeve.
Match it with Silikids Universal Silicone Straw Lids to turn it into a spill-proof straw cup.
Microwave and dishwasher safe.
Duralex Tumblers
These tumblers can be termed as "safe" because they are more resistant to breakage. Contrary to a normal glass, they can withstand sudden thermal shock and are very hygienic.
Tumblers are not only perfectly sized for little hands, they are also durable.
Mason Jar Silicone Sleeves
Mason jar silicone sleeves are best for reusing what you already have.
This product grows with your family – perfect for handling both by children and parents.
Specifically designed to fit any 4 oz. or 8 oz. mason jar.
Why do you need a glass sippy cup?
Non-toxic and safe
Since glass sippy cups accommodate liquids and prevent them from touching anything other than silicone and borosilicate glass, it is safe for your baby's health.
After a public outcry, Bisphenol-A (commonly referred to as BPA) was abandoned by the manufacturers of sippy cups and baby bottles.
Unlike plastic materials that may contain dangerous chemical substances, glass is a safe and natural material.
With glass sippy cups, you can feel relaxed while feeding your baby.
Non-porous
A distinctive characteristic of glass is that it repels food odors.
This enables the food and drinks to taste even fresher and the cup to retain its clean smell.
Glass does not absorb flavors, colors, or liquid, and is non-porous. Plus, the glass used to make baby bottles and glass sippy cups is microwave, fridge and dishwasher safe.
Long-lasting
This is the only cup/bottle that you will need, as the same bottle that's best for your 6-month-old baby is also the same one that will be used when he or she is 2 years old.
Multiple transition cups are a waste, as all you need to do is buy just one type and that's it.
Lifefactory advertises their children's range as "cradle to table," conveniently allowing for switchover from nipple to sippy caps for the same bottle top.
Hygienic and easy to clean
Glass sippy cups are super easy to clean, and when cleaned well, there'll definitely be no room for mold to hide.
Initially, a glass cup can make moms a little panicky to clean due to all of the parts.
That said, modern design has since come a long way, and most major brands now have minimal parts, making for easier and more thorough cleaning.
Durable
Of course, all glass has the tendency to break, but how these products are designed is that the outer shell protects the glass insert.
The liquid inside the cup does not in any way make contact with the outer polypropylene protective cover.
In addition, the cup is coated with a shock absorbent. These features greatly reduce the chance of breakage.
Tips for transition to a sippy cup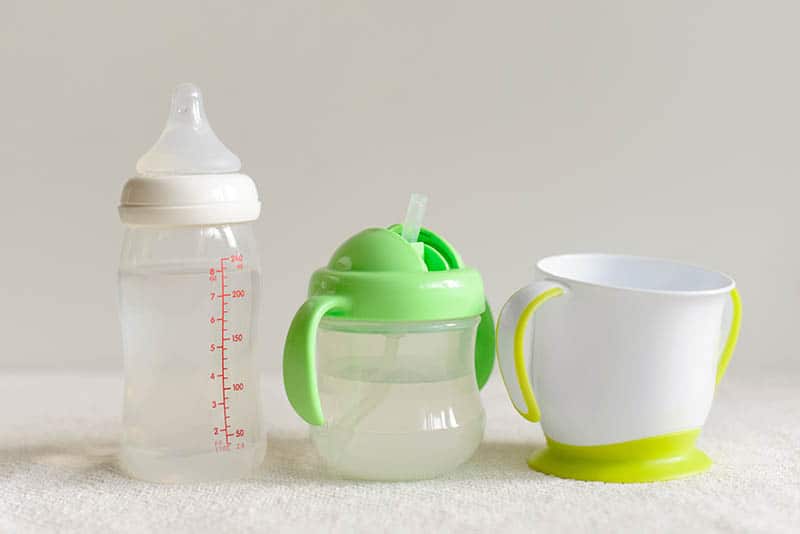 Contrary to hard-spout cups, babies generally have an easier time making the switch to a cup that is designed with a soft and nipple-like spout.
After your little one is a bit older and gets comfortable with a sippy, then taking a sippy with a hard spout should come quite naturally.
What is the best size sippy cup?
One thing to keep in mind is that the smaller the size of the cup, the lighter it will be both in handling and weight for your baby.
These cups are often on the smaller side, holding 4 oz. to 8 oz. of fluid, although larger ones are also available should your little one be a guzzler!
How do I clean a glass sippy cup?
As obvious as this might sound, It is very crucial to keep your baby's cup (glass or otherwise) clean.
So, thoroughly clean the cup between uses (including the lid) with clean, warm, soapy water. Be aware that liquid can easily get trapped in nooks and crannies of a cup, and this can lead to bacteria build-up, or even mold.
So, you make use of a bottle brush to get into the harder-to-reach areas. Then, just as important, be sure to dry the bottle thoroughly.
What type of cup should I buy – hard or soft spout sippy cup?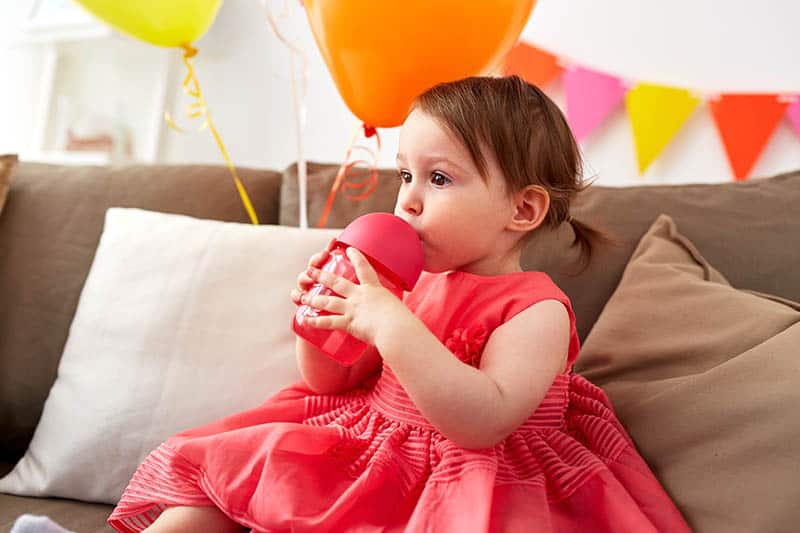 Generally, soft spout cups cups have a silicone nipple shaped like a sippy spout.
This allows for a more subtle transition from either the bottle or breast, as the change in the sucking sensation is less apparent.
With some kids, however, a more clear difference is needed, so that they clearly know it's not a bottle.
Several cups, especially plastic ones, are designed with hard spouts. These are usually very strong and durable, and sometimes come with a flip top cover or lid to help avoid leakage.
Paediatricians generally recommend that you wait until toddlers almost have a full set of teeth before going for a hard spout, otherwise it may hurt their gums.
Some children transition from bottles straight to open cups, so don't disregard this as option number three.
That said, your little one may be fussy about what cup they want to drink what out of, so keep the options open and expose them to various cup types.
This will not only improve their hand-eye coordination, but work their facial and mouth muscles, which in turn helps fine-tune their drinking, feeding, and speech skills.
In a nutshell, experiment a bit with various cups and different liquids (such as water, milk, or tea) to see which one works best for your tot.
What to do if my child refuses a sippy cup?
Naturally, all children are unique in their preference and some simply don't take to using sippy cups.
The fact remains that there's no law that says you have to use one. So, if your toddler thinks they're ready to use a normal cup, let them try one out.
If this is the case, keep in mind that this is a learning curve for them and there will inevitably be some spilling, so stay patience, give them a lot of encouragement and opportunity to practice, and be proactive with an old towel under their chair!
It could also be that your child is pulling a sippy-cup-strike just because they need a little motivation or a lesson on how to use it.
Advantages of glass and stainless steel sippy cups
Choosing a non plastic, glass or stainless steel sippy cup or means bypassing as bunch of potential problems. The advantages of glass and stainless steel include the following:
No leaching of chemicals when heated (contrary to plastic)
Gives drinks a refreshing taste, as liquids don't take on any "plasticy" taste.
Non-porous, meaning that they don't absorb food and germs in the way plastic can.
Advantages of glass sippy cup over stainless steel
We know now that glass and stainless steel types of cups are the better, safer, and more non-toxic choices compared to the plastic sippy cup.
These are the advantages of glass sippy cup over stainless steel cup:
Some cups or bottles of stainless steel are actually made of aluminum, which has been tagged with diseases such as dementia.
Due to the fact that aluminum is not food-grade, they mostly come along with a plastic liner that might contain other harmful chemicals or BPA. There are times when stainless steel bottles can leach chromium, iron, and nickel into beverages and food.
And what about Pura Kiki bottles?
The sippy tops and straws on the Pura Kikki Stainless kid's water bottle are difficult to clean and they need to be replaced somewhat often.
It's farther down on the list for these reasons, though the stainless steel base of it is great. Plus, you can get a flat top and use it as a storage container after the kids are done using it.
What about the lead in this cup, though?
This brand, Pura Kiki, has been found in the past to have a lead seal on the bottom of their older insulated bottles (but not their new single walled stainless steel bottles).
Pura Kiki maintains that their current product line is now completely lead-free, and makes use of third party testing for reassurance.
Conclusion
Children deserve the right to healthy drinking and feeding equipment.
Unlike plastic sippy cups, glass varieties are much safer and more convenient that you'd initially expect of glass for a child.
No mother wants to intentionally expose their child to harmful materials, so it's not surprising that moms around the world are returning to glass as the best option for their children.
To moms: Opt for glass and enjoy the peace of mind that comes with knowing your child is protected against harmful substances.
And to the tots: Happy sipping!
Like this article? Please share or pin it for later. You can also stay in the loop and follow me on ;Facebook, Instagram or Pinterest.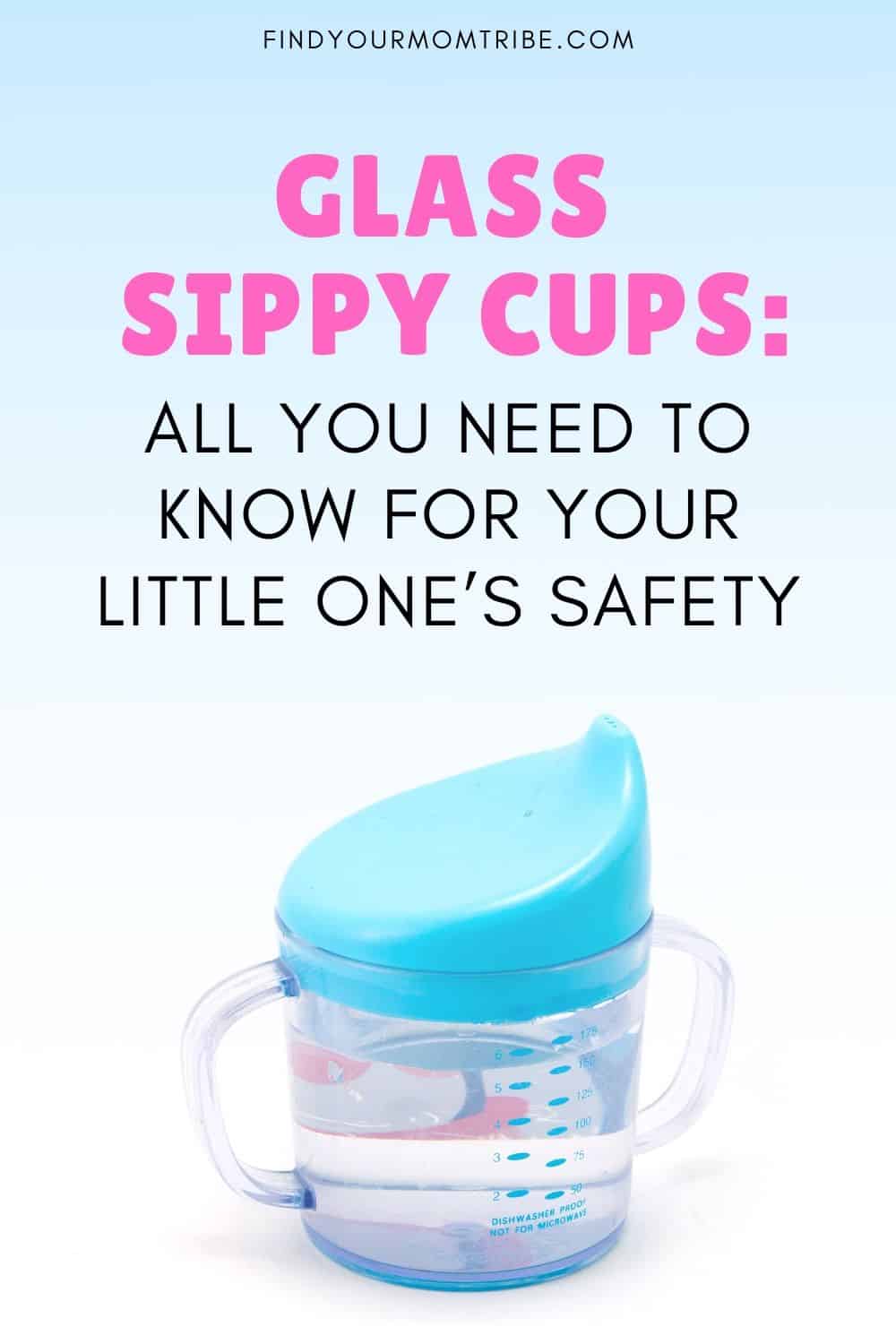 This post contains affiliate links. Please see our full disclosure for more info.