As a mom, one of the things you've probably realized is that a majority of baby items are made out of plastic. A good number of pacifiers, bottles, toys, and teething soothers are all plastic-made.
Back in 2012, the FDA banned the use of bisphenol A, popularly known as BPA, in the manufacture of sippy cups and baby bottles. But even with this prohibition, you can never be 100% sure that the plastic bottles and other baby items you're purchasing are safe for your baby. The best thing to do is to use alternatives. In the case of baby bottles, glass is a pretty good substitute.
In our post, we'll explain why you should use glass as opposed to plastic bottles for babies and recommend a few models.
Why Use Glass Bottles For Babies?
For some moms, the idea of buying a glass bottle for your baby might not sit well with you.
Perhaps you're worried that it will break easily and injure your little one in the process.
Contrary to popular belief though, the glass baby bottles of today are tough as nails; thus making them a superb option for storing and feeding breast milk to your infant.
This is because they're made using special tempered glass.
This type of glass is usually toughened to give it more strength than ordinary glass.
Thanks to this construction, glass baby bottles are able to withstand impact better than plastic bottles.
Glass bottles for babies are fairly easy to clean. Although this can't be said for all of them, a good number of the bottles in our review have very few components.
This makes them much easier to clean. A few, like the Lifefactory bottles, are even dishwasher safe.
Another factor to consider regarding glass vs plastic baby bottles is their thermal-shock resistance.
A majority of them are made from thermal shock resistant borosilicate glass.
To put this simply, it means that you can take the bottle from an ice-cold setting into a bottle warmer without them breaking.
This is an important aspect if you're used to storing breast milk in the fridge and need to heat it up prior to giving it to your baby.
This feature also comes in handy when you have to sterilize the glass bottles by placing them in hot or boiling water.
Worried about the impact that your plastic baby items are causing on the environment? If you are, then glass baby bottles are the way to go.
With plastic baby bottles, they are non-biodegradable, which makes them a risk to the environment. They are also not as durable as tempered glass, meaning they're not easy to reuse.
The best glass baby bottles are so durable that most families choose to recycle them for their next toddler or even donate them to family members and friends.
Plus, glass bottles are clear and cleaner, so you can comfortably use them time and time again.
How to Clean Glass Bottles for Babies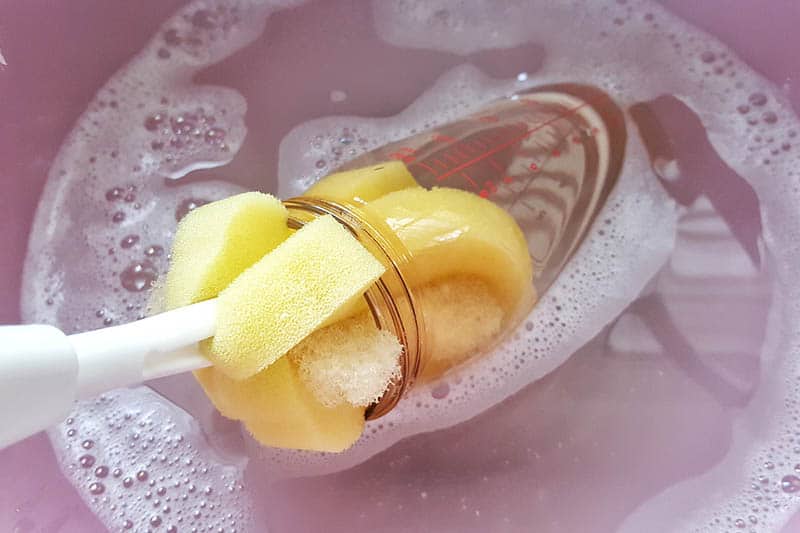 There are two options to cleaning glass baby bottles.
You can either clean them by hand or toss them in a dishwasher.
Cleaning in the dishwasher
1. Take the components apart
The first step is to detach all the parts that make up the bottle. These include the nipple, cap, ring, and valves.
2. Rinse
Hold the components under running water and rinse them. You're free to use either cold or warm water for this step.
3. Wash
Once they're properly rinsed, arrange the items nicely in the dishwasher.
For the smaller components like caps and rings, you can put them in a mesh laundry bag or closed-top basket.
This is to prevent them from getting into the dishwasher filter.
4. Remove from the dishwasher
Before you start removing the bottle components, it's wise to wash your hands with soap and water.
Next, place the clean items on a dish towel or bottle rack to air dry before storing them.
Cleaning by Hand
1. Wash your hands
It's important that you start by washing your hands with soap and water for a minimum period of 20 seconds.
This way, you won't transfer germs from your hands to the glass bottles.
2. Take the pieces apart
Next, separate all the bottle components – the bottle, nipple, cap, ring, and valve.
3. Rinse
Rinse each part individually by running it under water. Be careful not to place the items in the sink as it could be harboring germs.
Again, you can use either cold or warm water for rinsing.
4. Wash the feeding components
Place all the components in a clean basin or container. It should be one that's reserved for this specific purpose.
Next, fill it with hot water and add soap.
Scrub all parts thoroughly with a clean bottle brush, which should also be designated for cleaning infant feeding items.
When cleaning the nipples, ensure you squeeze out all the water.
5. Rinse a second time
Again, hold the items under running water for rinsing.
If you don't have access to running water, you can also hold them under fresh water in a separate container that should only be used to clean your baby's utensils.
6. Air dry
Once they're clean, the only thing left to do is to air-dry them. You can do this by placing them on a clean and unused dish towel or hanging on a bottle rack.
Ensure the place where you're air-drying them from is not susceptible to dirt or germs.
7. Clean the basin and the bottle brush
Don't forget to clean the wash basin and brush as well. You can wash them by hand or pop them in the dishwasher.
Top 5 Glass Baby Bottle Reviews
The Philips Avent is one of the best glass baby bottles you can invest in.
It strikes a good balance between pricing and features, which makes it an excellent choice even for moms who are on a shoestring budget.
Manufactured in the United States, this glass bottle is as easy to piece together just as it is to take apart.
This is thanks to its four-piece design, which comprises of the bottle, nipple, collar, and travel cap.
One of the features that you focus on when purchasing a baby bottle is its weight and breakage.
Luckily, the manufacturer took this into consideration, which is why the Philips Avent Natural Glass Bottle has a better grip than others.
It also boasts a durable build, which is achieved by using pharmacy-grade borosilicate glass for its construction.
This makes it resistant to both heat and thermal shock. Plus, it's available in different capacities and quantities. It comes in 4-ounce and 8-ounce bottles and in packs of 1 or 3.
Pros
Equipped with a wide mouth to enhance easy filling

Avent bottles are simple to assemble, take apart, and clean

Comes with dual valves to prevent infants from swallowing air

Made of high-quality borosilicate glass for durability

Contains a sophisticated anti-colic system
Cons
In some units, the bottle collar doesn't lock well
If you thought the Philips Avent was a little too expensive for you, you'll love the Evenflo Classic Bottles.
They are incredibly cheap, making it possible to purchase several units simultaneously without spending a whole lot.
Just to put this into perspective, you'll receive 6 quality glass baby bottles for the price of one.
Design-wise, the Evenflo glass bottle doesn't look that different. It has the same curved glass design that runs up on the sides.
But one thing you might not know is that this curvature is not only incorporated for aesthetic purposes. It provides the user with a more comfortable grip.
More importantly, it enhances air flow within the bottle.
Essentially, this prevents the breast milk or infant formula from combining with air, which can result in air bubbles.
These air bubbles are one of the primary reasons why babies suffer from gas and reflux.
Another perk of this glass bottle is that it's easy to clean. Consisting of only three parts, the glass twist bottle can be assembled and disassembled within a short time.
This feature really comes in handy, as it gives you an opportunity to clean the bottle with ease between feedings.
Furthermore, the silicone nipples on these glass bottles are fitted with micro air vents.
The purpose of these is to prevent the nipple from collapsing and, hence, facilitate a better feeding experience.
Pros
Affordable

Doesn't contain any BPA, PVC, and phthalates

Comfortable to hold

Slow flow nipples to provide a comfortable feeding

Micro air venting to prevent nipple collapse
Cons
Design of the bottle caps can be improved; they're not well fitted and are a bit difficult to screw into place
If you're looking for the best glass baby bottle for a toddler who suffers from colic, look no further than Dr. Brown's Options.
The bottle set has an exceptional internal venting system, which helps to mitigate gas, spit-up and colic.
This vent system works by providing a paced flow rate of milk, which is fairly similar to the natural rhythm of breastfeeding.
You will also love that the bottles are ergonomically designed.
To be specific, they have an hourglass design, which allows them to sit comfortably in your hands as you're feeding your little one.
They also come with silicone sleeves to protect the glass bottles from hard impact.
Dr. Brown's comes as a set of three glass bottles for babies.
This way, you don't have to keep washing one in between feedings as you have others that you can use.
Better yet, you'll be able to choose from different color combinations. One set is available in mint, green, and blue shades, while the other comes in pink and purple colors.
And in case you want a bigger bottle, you're free to purchase the 9 ounce bottle instead of the 5-ounce unit we're reviewing here.
Pros
Patented anti-colic system minimizes symptoms of burping, gas, and spit-up

Reasonable flow rate, which mimics breastfeeding

Ergonomic design

Available in different colors and capacities

Made of BPA-free materials

Dishwasher and sterilizer safe
Cons
More expensive compared to others
One of the things that infants grapple with is getting a good latch.
If your baby struggles too, a good glass baby bottle that can help is the Chicco NaturalFit.
Unlike conventional baby bottles, this one has an angled slow-flow nipple, which makes it easier to feed your baby.
Also crucial to note is that this nipple is made of silicone, which is skin-like soft to help your little one get a good latch.
The glass baby bottle comes in a set of two at a pretty reasonable price. As a matter of fact, this is one of the cheaper glass bottles for babies.
Despite the fact that this glass bottle for breastfed babies is low-priced, it doesn't skimp on functionality.
Chicco NaturalFit, which is available in 5- and 9-ounce capacities, comes with a bonus silicone sleeve that serves several roles.
For one, it improves the grip for you and your toddler. It also minimizes heat transfer and creates an anti-skid surface to further protect the bottle.
Another noteworthy feature is the wide neck opening to allow for greater milk flow.
Pros
Manufactured using BPA-free materials

Comes with an angled and soft nipple for a more comfortable feeding

Equipped with bonus silicone sleeve to enhance protection
Cons
It's too heavy for a baby to hold
If you want to purchase glass baby bottles but are still a bit wary of their durability, the Lifefactory Baby Bottle is a great place to start.
It's been constructed using borosilicate glass, which is resistant to thermal shock.
With this type of glass, you can easily take the glass bottle from the freezer to a boiling pot without worrying about breakage.
It's available in two capacities – 4-ounce and 9-ounce – and it comes with a silicone sleeve, which enhances grip and durability.
Another feature that makes the Lifefactory stand out is the fact that it's available in numerous colors.
In fact, you'll find this glass baby bottle in every color you can think of: mint, ocean blue, grape, papaya, sky blue, raspberry, just to mention a few.
The Lifefactory glass bottle is also dishwasher safe, an aspect that's lacking in the majority of other glass bottles for babies.
The package includes a polypropylene cap, ring, and stopper, as well as a silicone nipple.
The best thing about its build is that all the materials are BPA-free and approved by the FDA.
Pros
Silicone sleeve that protects the glass bottle in case it's dropped

Can be used for boiling right from the freezer without shattering

Each component is dishwasher safe

Available in numerous colors
Cons
Pricey

Not suited for babies who don't have a good latch
Final Word
If you've opted for bottle-feeding instead of breastfeeding your infant, then the two most important accessories you'll need are a breast pump and baby bottle set.
When it comes to baby bottles, those made of glass are the best option. They're safe, long-lasting, eco-friendly and easy to clean.
One glass bottle that we really recommend is the Philips Avent.
It's affordable, has a wide neck to make it easy to fill, and is durable.
Like this article? Please share or pin it for later. You can also stay in the loop and follow me on Facebook, Instagram or Pinterest.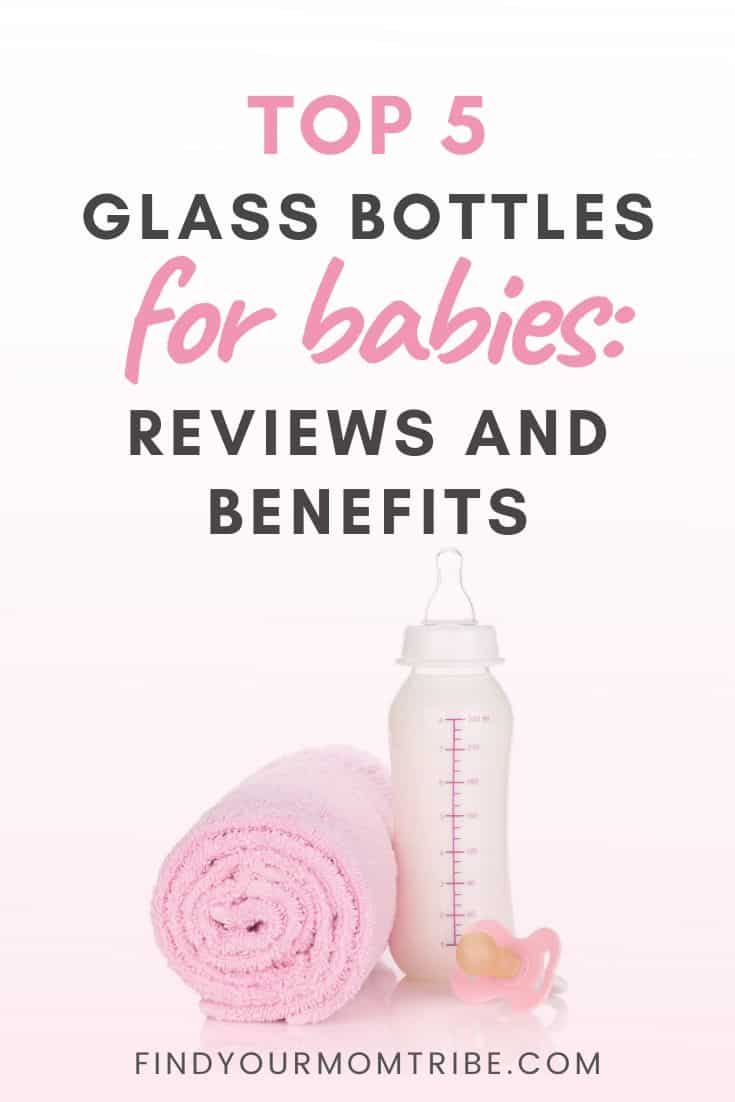 This post contains affiliate links. Please see our full disclosure for more info.