Let me preface this article by saying that I wish I had a resource like this way back when I started my breastfeeding journey with my first child. I genuinely thought I had it covered with all the essentials I needed as a new mom.
I went through every maternity and postnatal list I could get my hands on – everything from the big items like a stroller and car seat, to stylish and comfy maternity wear.
And although I managed to include a few breastfeeding essentials (which I'll soon point out), life could have been a whole lot easier in the early days of motherhood if I'd had all these from the outset!
Before I delve into these essential items that have since been literal lifesavers with my second and third kids, let's cover the basics so we're all on the same page. Yes? Great!
Benefits of Breastfeeding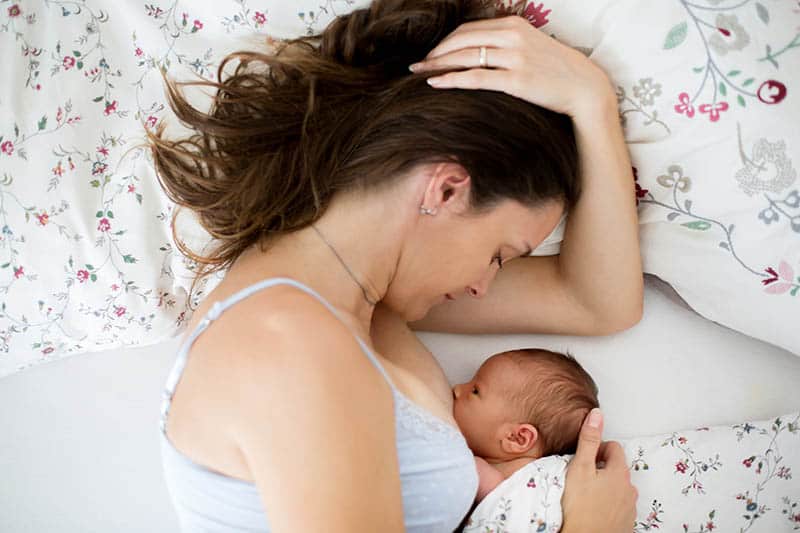 It goes without saying that for a child, there is nothing better than for a new mom to start breastfeeding.
We all know that this is the best way to not only feed baby, but give him all that's needed to grow healthy and strong.
It's a well established fact that breast milk contains all the necessary elements.
However, what few moms realize is that it contains no less than a whopping 400 nutrients, as well as hormones that can help fight hormonal surges – which is very difficult to find in milk formulas.
And what's more, the nutritional value of milk changes in accordance with babies' growth and evolving needs as they get older.
Feeding infants with only breast milk for the first six months is a very good start for your infant, even improving cognitive development.
It's believed that children who were exclusively breastfed in the first months of life find it is easier to learn new things and acquire skills.
Infants who are only breastfed from birth are less likely to get sick, especially in their first year of life.
Breastfeeding will also help your baby avoid diseases such as gastroenteritis, pneumonia and bronchitis, as well as ear infections.
There are even studies that, while still speculative, suggest that breastfed infants are less likely to develop a severe form of eczema than children who are fed formula or solid foods.
Some claim that mother's milk may delay the development of eczema.
Another study conducted on adults who were breastfed as a child showed that, on average, these adults have lower blood pressure, cholesterol, and risk of heart disease.
They are also less likely to fall victim to obesity and type 2 diabetes.
Breastfeeding also positively affects moms and helps them lose weight. Not only that, there are other pleasant benefits to nursing, one of which includes a reduced risk of breast cancer.
But apart from giving baby good health, I suppose one of the biggest benefits – and this is one that lactation consultants endorse fiercely – is that it helps build an intimate bond between you and your little one.
And who doesn't want that?
Breastfeeding Essentials for New Moms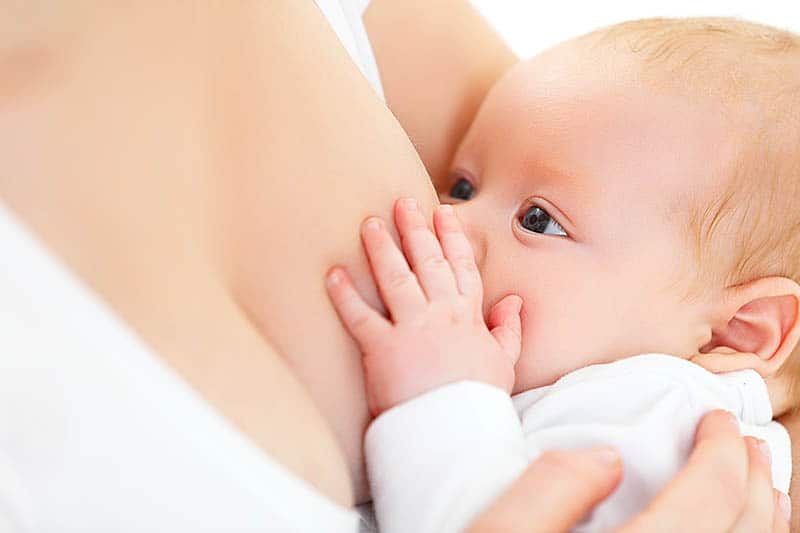 Right, so now that you've got the theory to back you in your decision to be a breastfeeding mom, let me then get you equipped with all the essential breastfeeding products needed to make this journey a special and memorable one!
Make sure to check these items off your list before your due date for peace of mind and less worries once your little bundle is born.
1. Nursing wardrobe
Nursing bras
Shop around for at least two or three comfy nursing bras.
They are sewn using special technology, and your milk-laden ladies get the special support they need.
Nursing bras have special hooks with drop-cups that allow you to remove the cup and quickly nurse your baby when he's hungry.
Be sure to choose a supportive bra that is convenient for feeding and at the same time gives support (wide straps are preferred).
This is especially important in the first months after childbirth, when breasts become larger and heavier.
Another important tip is to make sure the bra opens and closes properly.
Even if a small part squeezes or pinches, the breast tissue can get damaged, which may result in compressed milk ducts (leading to blockage and swelling) or mastitis (a very painful infection of the breast tissue).
Of course, you can opt to wait until the baby is born before you buy nursing bras, so that you can choose the perfect size and model.
But keep in mind that every trip out of the house in the first days with your new baby is equivalent to conquering Everest!
Many in-store consultants are specially trained to select appropriate bras after 36 weeks of pregnancy.
Nursing sleep bras
Consider buying a couple of special night bras, which will help to reduce the pressure of full breasts and give that extra bit of support – especially helpful during those first few days after giving birth when your breasts are at their largest and most tender.
Plus, they also give you a good solution to those nighttime leaks, helping to keep nursing pads firmly in place.
The best overnight nursing bras to look out for are seamless, wire-free, and made of soft, breathable cotton (or other natural fabric).
Most brands offer nursing sleep bras in a wrap-front style, allowing you to pull aside for easy access. They are certainly worthwhile investments!
Nursing tanks and camis
Versatile and functional, nursing camis are great for wearing in both daytime and during sleep.
They're wire-free with a shelf bra that's built-in, so they're good for holding nursing pads too.
And if you're a mom who has to breastfeed or pump out-of-home, a cami like this doubles as a tank top that covers well and provides you with a pulled-together casual look.
Nursing tops

Apart from the wide selection of breastfeeding tops out there – you need only scroll through Amazon's best sellers in nursing tops to know you've got options! – no breastfeeding mom can go wrong with an everyday v-neck T-shirt in her wardrobe.
It's versatility at its finest.
Add a cardigan when its cold out or a necklace to dress it up. It's super comfy for play dates, lunch dates, and any other out-of-house ventures when still in new mom mode.
While it's probably considered a luxury to have nursing tops in a couple different styles, the classic tee is certainly a must.
Dresses
You heard it – a dress! Who says being a new mom automatically means you forfeit your chance to feel like a million bucks?
There are new plenty options for maternity and nursing dresses that you can confidently breastfeed in, while at the same time not having to sacrifice your social life and sense of style.
2. Nursing cover
Moms can get embarrassed when breastfeeding in public. In different parts of the world, people disagree about this process – despite the sex discrimination laws, mind you!
While in some places breastfeeding in public is understood, other societies may be prone to complaining. I'd encourage you to feel free to breastfeed in the presence of others.
However, it's ultimately your choice, so whatever works best for you.
That said, it is more comforting to hide behind something, so go for a draped shawl, cloak, poncho, or even a blanket.
That way you can merely slip the accessory over your shoulder and cover up your chest to give a sense of privacy.
Just make sure that it's not stuffy underneath the nursing cover – your little one needs to be able to breathe freely and also not overheat.
On a side note: Some large retail outlets have special rooms for moms and their babies, where they can relax and nurse comfortably, away from prying eyes.
It's a good idea to take a turn at the shopping center administration who will be able to provide information on these location points.
Breastfeeding is a priority if the baby is hungry. That's why there's no reason to be shy or self-conscious when you need to nurse your baby in a public place.
3. Nursing pads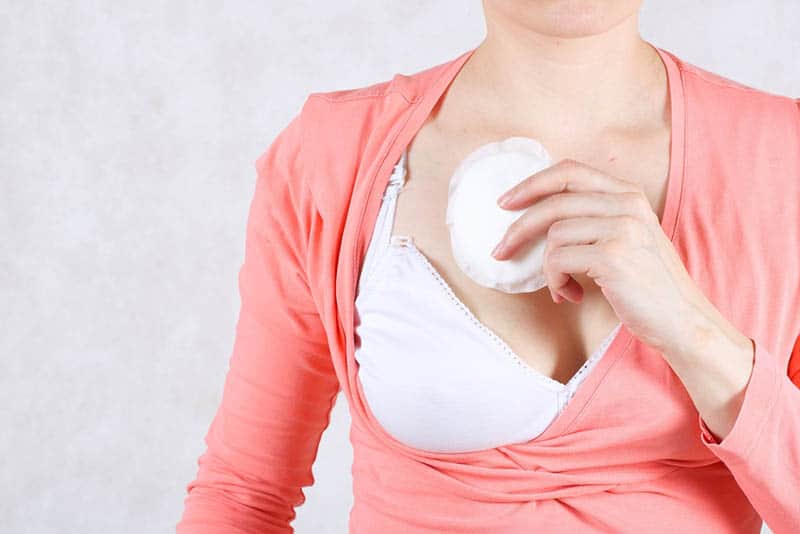 For this one, I've got to hand it to Bamboobies – they haven't earned Mom's Choice Awards for nothing!
Now I'm not saying you need to go for them as your brand of choice, but what sets them apart is their quality and range.
Their eco-friendly disposable nursing pad range (made from natural bamboo for the top sheet and certified sustainable wood pulp for the inner core) is ultra soft and fragrance-free for sensitive skin, but also boasts all you need from a nursing pad: everything from the adhesive tabs to keep them firmly in place, to leak-proof guarantee!
If you prefer the reusable route, consider washable nursing pads.
Bamboobies hit this nursing essential out the park with their absorbent, discreet pad range suited to daytime, overnight, and newborn nursing.
4. Nipple cream
To help relieve sensitive or dry nipples, and also give an extra protective barrier over irritated, sore nipples, use healing agents such as lanolin or special nipple balms (I'd recommend sticking to those that are certified organic).
Top brands such as Lansinoh, Mothercare, and Medela PureLan 100 are widely recommended by the breastfeeding mom community.
Be sure to stock up on nipple cream to help restore delicate breast skin so that you can enjoy wonderful moments of solitude with your little one.
5. Nursing pillow
The average breastfeeding pillow will set you back between $25 and $50, but trust me mama, it's a good investment to make – especially if you're prone to back pain (like I am!)
It's important to find a nursing pillow that works well for you.
Remember, you're going to be using it around the clock. Make sure it gives you proper support, otherwise fatigue, discomfort, and pain (everywhere – wrists, arms, shoulders, neck, and back) is going to get the better of you.
As far as quality, stability, and functionality is concerned, some of the top recommended nursing pillow brands include Blessed Nest, My Brest Friend, Boppy, Luna Lullaby, Lansinoh, and Twin Z (a nifty pillow for twins).
A couple of important things to consider when choosing a feeding pillow:
Shape – Different pillows suit different body types.
Fit – Good posture is vital here in order to position baby's head and body at nipple height. Some pillows are taller (e.g. Boppy Best Latch and Luna Lullaby) to suit longer torsos. To gauge which fit is best, try picture your midsection at around 5 to 6 months pregnant.
Fastening systems (if any) – Some pillows have buckles or velcro to allow the closest fit possible, help keep it from moving mid-feed, and prevent baby from slipping between your body and the pillow (one downside, though: it also makes it more cumbersome to get the pillow off and on – particularly with night feedings).
Comfort and support – Nursing success lies largely in establishing proper technique and good support at the start of your breastfeeding relationship. Initiating a good latch is crucial, and if your nipples suffer or you're uncomfortable, it can all quickly go downhill. The main purpose of a nursing pillow is to give comfort and support to both mom (arm and back support, and not be hunched over) and baby (head, neck, and body support, and nose and mouth angled toward and level to mom's nipple).
Ease of use – The last thing you need as a new mama is yet another thing to master. Choose a pillow that's portable (not too heavy or big) and easily stored, and designed to make the job easier (sometimes all the "extra features" become more of a hassle than anything else).
Expected length of breastfeeding – How long are you planning to breastfeed? Granted, reality may be different to your expectation, but it's good to have rough idea. If you only plan on nursing your little one for only a couple of months, the pillow's durability isn't really a big deal, but if you're going to be exclusively breastfeeding for the first year, then it's worthwhile investing in a more hard-wearing pillow.
Cover and inner materials – This one comes down to personal preference. Nursing pillows come in synthetic, natural, synthetic-natural blend, as well as foam materials.
Shape retention – A good feeding pillow should be able to last at least the first six months of breastfeeding (after which babies start to support themselves) without becoming lumpy, shapeless, or flat.
Cleaning – Breastfeeding naturally comes with regular spit-ups and spills. Opt for a pillow with a removable cover that's machine-washable. Some fabric covers are also liquid-repellent, which makes for quick and easy clean-up.
Value for money – Are you planning on using it for a long time, perhaps for more than one baby? It may double up as a comfy snuggle pillow, and can later come in handy for propping baby up to feed himself.
These are indispensables for every nursing mama – and believe me when I say you can never have too many!
During the first two years of each of my kids' lives, I had at least 10 on permanent rotation!
My middle child even adopted a muslin as her special security blankie (which is awesome, since I have so many, I'm guaranteed her "lovey" will never go missing!)
Muslin cloths are super convenient when nursing and burping your little one, for wiping up messes and leakages, as an emergency nursing cover and diaper changing mat, for catching those teething drools – you name it.
You can thank me later!
7. Breast pump and accessories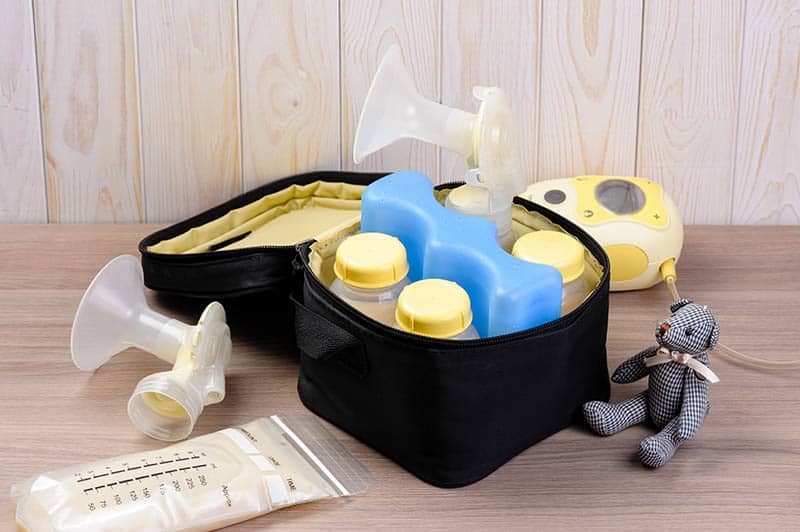 Since sooner or later you're likely to return to work, think about investing in a breast pump to continue your milk supply and prevent engorgement.
Yes, a quality breast pump certainly costs money, and there are many to choose from, for example, manual breast pumps, single and double electric breast pumps, hospital-grade breast pumps – even hands-free pumping bras.
But if you want to continue giving that liquid gold of yours to your baby as long as possible, I reckon no money is too much for the long-term health returns your child will reap!
Side note: A breast pump is classified as a personal hygiene product, so it comes with a no-return policy.
Therefore, it's wise to make an informed decision before purchasing one.
8. Breast milk storage bags / containers
You'll probably notice that every time your new baby starts to cry, your breasts fill up! A baby is a powerful milk production stimulating machine!
So, if you're thinking about stockpiling your breast milk, keep special storage containers close at hand to express and store milk whenever necessary. You don't want to waste that liquid gold!
There are various options to store, freeze and protect your precious breast milk, be it breast milk storage bags, cups, or bottles.
For instance, Lansinoh's 6-oz. super strong storage bags are pre-sterilized, BPA- and BPS-free, and ready to go, with a double zipper to prevent leaks.
They allow for fast freezing and thawing, are time-saving in that you can pump straight into the bag, and come with a nifty spout for pouring.
NB:
If you're using containers, be sure they are clean, food-grade, and made of glass or safe plastic, with lids that are tight-fitting. Don't ever store breast milk in containers or bags not intended for breast milk storage.
You can store freshly expressed breast milk at room temperature (max. 77°F) for up to 4 hours, in the refrigerator for max. 4 days, and freezer for up to 6 months.
In Closing
Well, now you know everything you need to prepare for special and hassle-free breastfeeding journey.
So, dear nursing moms, all that's left to say is I wish your baby a healthy appetite, and you good health (and some decent sleep)!
Like this article? Please share or pin it for later. You can also stay in the loop and follow us on Facebook, Instagram or Pinterest.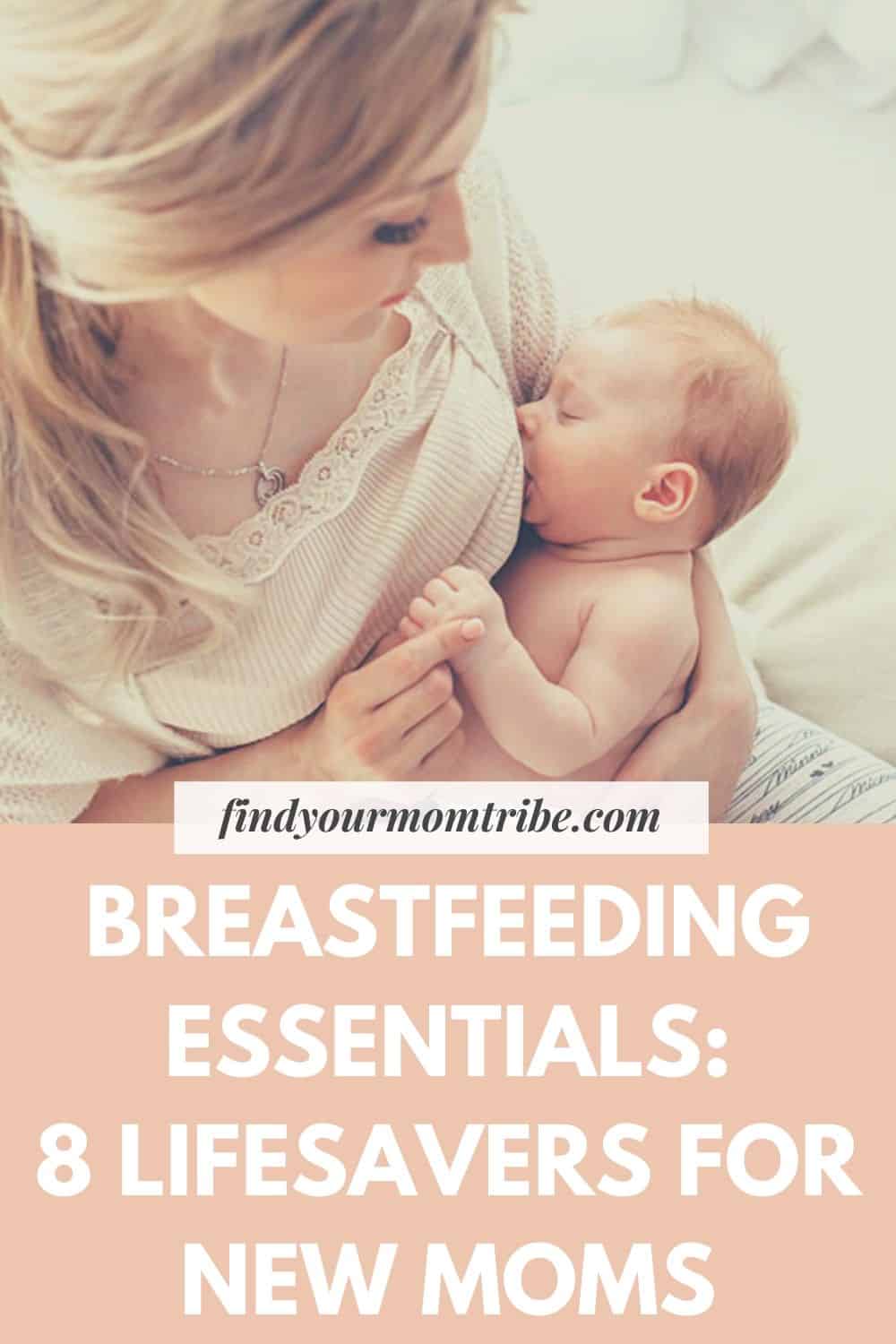 This post contains affiliate links. Please see our full disclosure for more info.