Are you in the process of decorating your baby girl's or baby boy's room, but don't want anything permanent like painted wall murals or traditional wallpapering?
Then I have three words for you: Nursery wall decals.
Nursery wall stickers are a great temporary solution for kids' rooms because Lord knows that children grow like trees.
Before you know it, they become teenagers and the rules simply change. Their room = their rules.
The chances that they will want to keep their nursery decor (Winnie the Pooh or a unicorn) once they get older are really low.
They will want something different.
They will want bolder wall art; wall quotes or something that describes their personality and all the things they enjoy.
And that's why nursery wall decals are a great, practical solution.
It's true that traditional wallpapering has been replaced by peel and stick wallpaper, but this is not really a budget-friendly option.
Once again, that's why stick wall decals rock!
These inspiring (and removable) nursery wall decals will refresh every nursery room and make your little one smile!
(And, as a bonus, you'll find some more awesome things for your toddler below!)
Best Nursery Wall Decals For Your Little One
Now that you've painted the nursery using paint that's safe for babies, it's time to pick out wall decals. Here are my favorites!
1. Moon's Birthday Wall Decal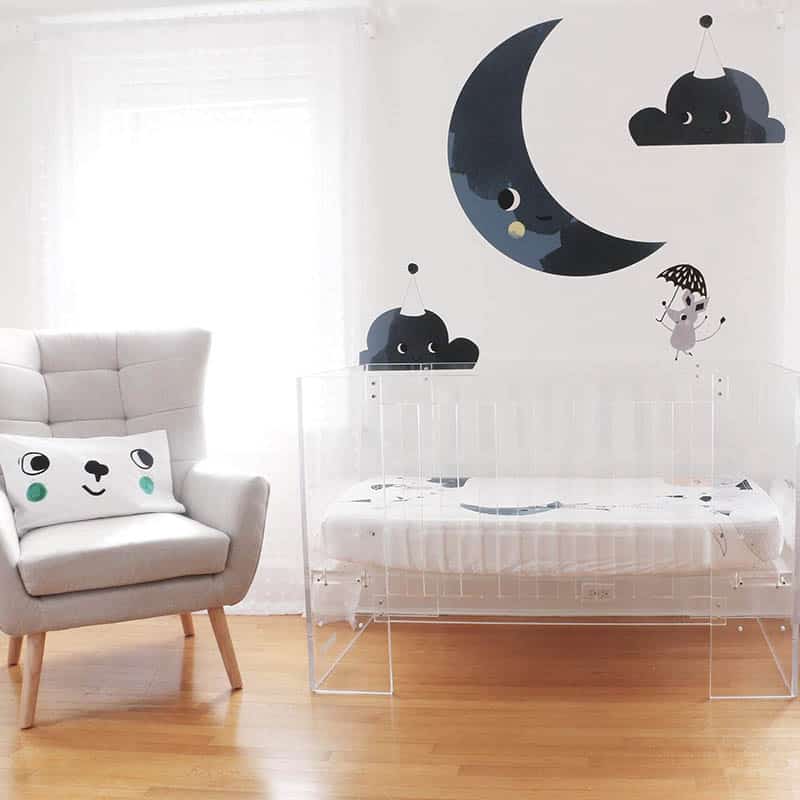 The first two things that pop into my mind when it comes to decorating a baby's room are cute and not too strong.
Babies' eyes are really sensitive and that's why kids' wall decals shouldn't be made of (ultra) strong colours and / or weird designs (like a massive colorful unicorn) which might make them feel confused rather than amused.
In this case, a simple, easy design works wonders!
Watercolors or simple black & white patterns are great (also, alphabet wall decals are awesome for little children).
As with clothes: Less is more.
And that's exactly why this wall decal set that comes with a moon, two clouds, and a little mouse is simply amazing (and it even rhymes, yay!).
What I like most about the design are the cute eyes on the clouds and moon, and the little mouse with an umbrella that will "keep an eye" on your child and protect him/her.
At the same time, it looks both soothing and cheerful and that effect is really hard, if not impossible to achieve.
And it is also great as wall decor for kids' playrooms or a substitute for a stars' wall decal (needless to say I was even thinking of applying it to the wall of my living room).
Regarding application, as you can see, it's a simple DIY mini project. All you need to do is peel the wall decal and stick it on the wall.
Now, my personal biggest concern regarding wall stickers and other decals has always been the inability to change their position once you apply the art to the wall.
It's really hard to choose the perfect spot on the wall at the first attempt, so re-adjusting is often inevitable.
The best thing about this cute wall decal is it's perfectly repositionable!
If you want to change its position once you've stuck it on the wall, you can do it without worrying about it falling off the wall or becoming less sticky.
No matter how many times you re-adjust it, it will withstand even the harshest conditions of the biggest perfectionists (like myself).
Joking aside, just because we want our baby's room to look cute, comfy, and adorable, this doesn't make us perfectionists, right?
Right.
2. Swan Wall Decal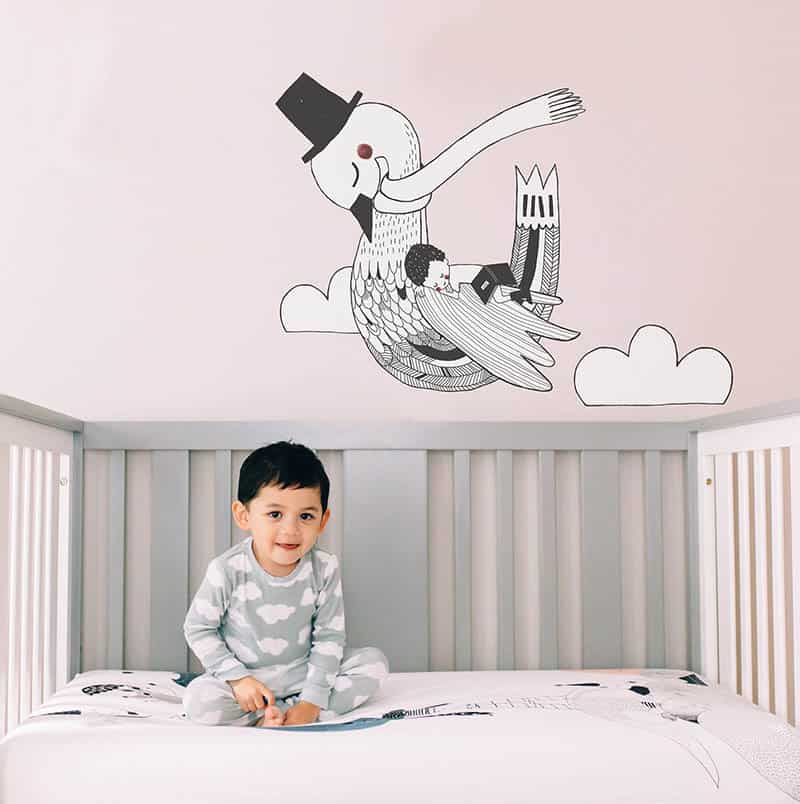 In my opinion there's nothing cuter and more powerful than an animal wall decal.
Little cute animal decor like little mice or big animals like giraffes, dinosaurs, or elephant wall decals are equally awesome.
Lately, however, I've discovered something even more awesome and that is an animal wall decal with a powerful, inspiring meaning.
Now, I'm not saying that an elephant wall decal is not inspiring enough, it's just that some animals have greater symbolism than others.
Just like this swan wall decal!
As you may already know, the swan symbolizes purity, gracefulness, beauty, love, and elegance.
It is also a symbol of divinity and balance.
It basically represents everything I would want to connect my child with. What makes this swan even more special and meaningful is its unique design.
The swan comes with a black hat, and a scarf.
Both the swan and the child are sleeping (the child is sleeping on the swan) and it looks like they're levitating among two clouds while they're dreaming.
So peaceful, mesmerizing, and adorable!
This wall decal is the embodiment of soothing art and just by looking at it, I could fall asleep within seconds (and Lord knows that I seldom fall asleep within seconds).
Another reason why this baby room decor is so special to me is because of the abstract designs of the swan.
I've always been crazy for abstract lines and shapes because they give a deeper meaning to everything.
If this was a regular swan, it wouldn't be so mesmerizing. And, again, the design is not too strong.
It's perfectly balanced for sensitive baby eyes and, more importantly, it will certainly evoke every baby's imagination once they see this cute child sleeping peacefully on a swan.
3. Woodland Squirrel Wall Decal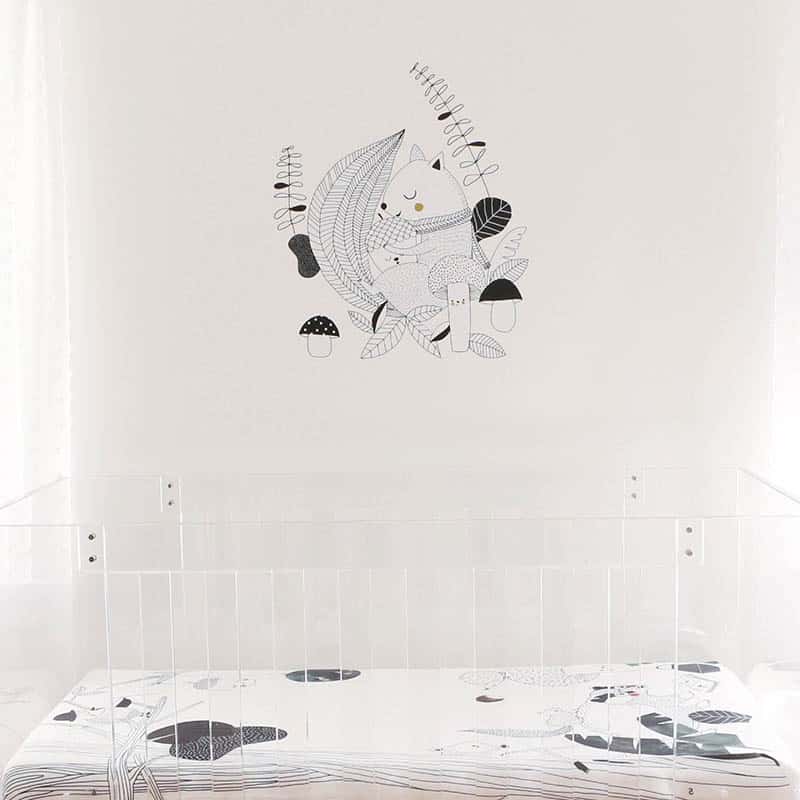 Just like swans, squirrels also have their own symbolism.
They represent cheerfulness and they remind us to play and enjoy every moment in our lives. They also symbolize socialization.
Squirrels are cute, cheerful animals and we just can't get enough of them.
I could watch them for an eternity, and lucky me, this wall decal offers just that opportunity!
It comes with a cute squirrel sleeping while holding an acorn in his hands. It is surrounded by leaves, branches, and three mushrooms.
One mushroom has polka dots on it, which gives a vintage, stylish accent, and the other one has a smiling face which makes me wonder: Could this wall decal be any sweeter and cuter?
I don't think so. If you're a lover of tree wall decals (like cherry blossom trees) and nature, you'll definitely love this one – and needless to say that your kiddo will love it even more!
The unique pattern ideas make this nursery wall decor all the more special.
The little imperfections on the branches (a few black leaves), dots, and unique shapes and lines give a mesmerizing touch, meaning your baby won't be able to stop observing this beautiful wall art.
This piece of art is not only and exclusively suitable for a baby's room, though – you could use it as home decor in general. You could apply it to the walls of your living room, your bedroom, or a hallway.
This amazing art will definitely draw people's attention and make any room more comfy and spiritual. (
Also, if you're running out of ideas regarding baby shower gifts, keep this one in mind!)
Application is simple, just like with the previous ones. All you need to do is peel and stick (and re-adjust if needed).
4. Under The Sea Wall Decal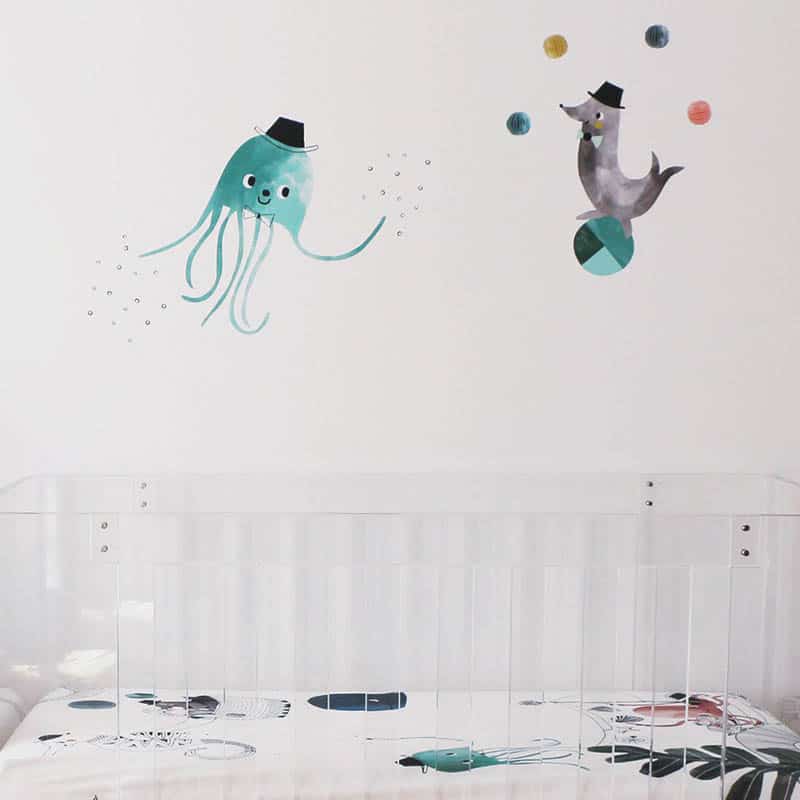 Is there anything more amusing and soothing than the sea (and especially what's under the sea)?
As adults, we often forget to wonder at all the creatures and animals living in the water.
Not our kids, though.
From the moment they start observing the world around them and asking questions, their curiosity becomes unlimited.
They want to know everything about the real world, the world under the sea, and all the magical worlds from their stories.
And this wall decal will certainly feed and nourish their curiosity!
The adorable jellyfish (with a hat and a bowtie) and juggling seal wearing a hat will become every child's best friends (okay, imaginary best friends) because they look friendly, funny, and colorful.
Undoubtedly, this baby nursery decor will make both girls' rooms and boys' rooms a little bit more special.
Now, unlike the above decals, this one comes in colours!
Don't worry, though, the colours are not too strong, they're more like watercolors on a wall.
There are different shades of blue and grey spiced up with a little bit of black, bright red, and yellow.
What I really, really like about it is the 3D effect of the bubbles around the jellyfish.
It gives the impression that the wall really is under the sea, which will be quite amusing for every child, and even adults.
Regarding its application, everything works the same as with the other wall decals above.
You just have to peel the wall decal and stick it on the wall (and / or re-position till you find the right spot).
AND THE BONUS…
If you liked the designs of the inspiring wall decals above, I might have something even more amazing for you and your baby!
Snuggly Comforters For Toddlers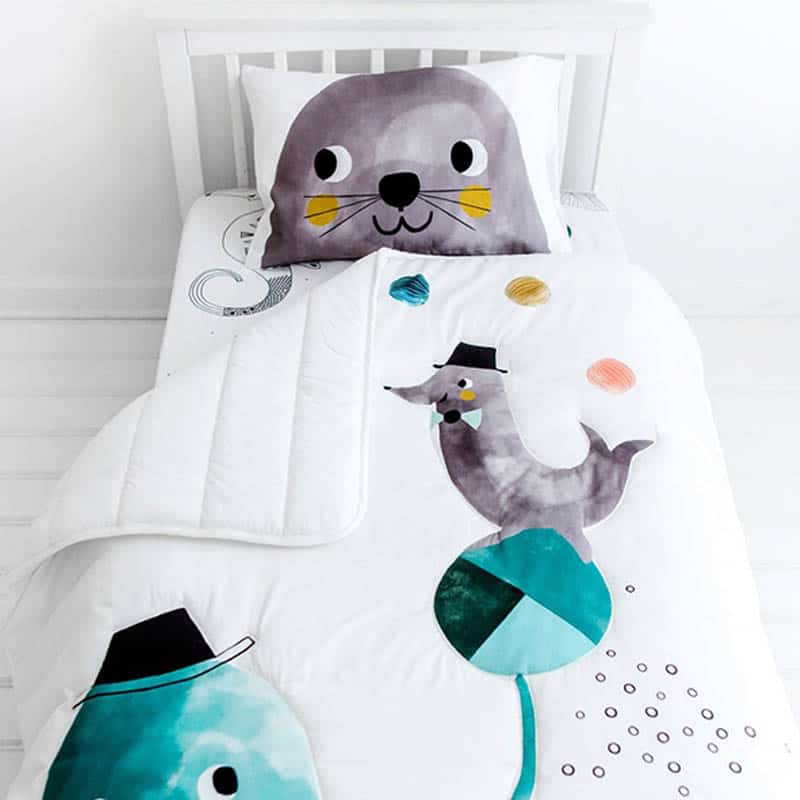 If you have a 2-year toddler (or older) and you're having trouble finding the right comforter that is comfortable, soft, durable, and adequate for your baby's delicate little body, no worries because the day has come!
These comforters are made of buttery-soft cotton jersey, they don't contain harmful chemicals, and they come in the same adorable designs as the three nursery wall decals above (swan, squirrel, and jellyfish).
Now, when it comes to finding a perfect comforter, it's not only important that it is soft and stylish but that it also looks new after every wash, right?
No one likes to waste their money on something they will wash once and then have to throw in the trash.
The cotton sateen fabric that is on the front helps prevent these comforters from losing their shape and color, and most importantly, it prevents you from wasting money.
These beautiful comforters will look like new after every wash and that's exactly what every mom needs to hear.
Wrapping It Up
I hope you've enjoyed this inspiring collection of the best nursery wall decals and that you've been able to pick something for your little one!
Also, I hope you liked the snuggly bonus at the end and that your toddler will enjoy the royal comfort of these amazing comforters.
As always, a happy and smiling child is worth more than anything in the world. I wish you a happy peeling and sticking of the wall decals & happy snuggling!
READ NEXT:
Like this post? Please share or pin it for later. You can also stay in the loop and follow us on Facebook, Instagram or Pinterest.
We love honesty! Find Your Mom Tribe is an Amazon Associate and we earn from qualifying purchases through affiliate links at no extra cost to you. Please see our full Amazon Affiliate disclosure for more information.