You've got a changing table and even a cute rug for your baby's nursery. You even discovered what's that thing that hangs over a baby's crib is called and you bought a crib mobile!
And now you're wondering if you should get a nursery glider and whether it's worth the investment.
The key to picking the best nursery glider is measuring how much space you have in the baby's room and understanding which features you want.
You might not care for a glider with a USB port but a reclining feature could be a must-have!
Another important feature to keep an eye out for is a matching footrest or ottoman.
When you're rocking your baby to sleep or want to get into a good breastfeeding position, you'll need to put your feet up, so a footrest comes in handy.
In addition, check to see if your favorite glider has a locking mechanism. This is a useful feature when you're trying to get up with a sleeping baby in your arms as it prevents you from falling.
Keep reading to find out more about the best gliders for your baby's nursery and all the important features to keep in mind!
Best Nursery Gliders Ranked
Here are the top 12, best-reviewed, nursery gliders available for sale:
1. Babyletto Kiwi Electronic Power Recliner And Swivel Glider With USB Port
Any breastfeeding mom will tell you that nursing sessions can take a long time! So, as you're lounging in this Babyletto glider, you can charge your phone and read the news at the same time, or just browse through your Instagram feed.
Although it doesn't include an ottoman so you can rest your feet, this is a glider recliner, which means you can recline the seat and a footrest will pop up below.
The reclining mechanism is electric, so the transition is super smooth and won't wake up your little one.
Your back will thank you for the included lumbar pillow that you can use for extra support, especially during those late-night feedings.
You'll also be able to lean your head to the side and take a nap or just get more comfortable during your daily snuggle session with your baby.
What makes this one of the best nursery gliders on the market is the fact that it requires very little assembly – there will be no need to bring out the toolbox!
You can pick from two colors – grey and white. This Babyletto nursery glider can also spin 270 degrees, giving you more freedom to turn in different directions all while you're sitting.
I should also mention that this glider is Greenguard Gold Certified, meaning that it's been tested for over 10,000 chemicals that could pollute the air inside the baby's nursery.
Although it's quite pricey, I think the high price point is more than justified by its numerous features – this is definitely going to be the best nursery glider for you if you're not afraid to splurge!
2. Babyletto Toco Upholstered Swivel Glider And Stationary Ottoman
The Babyletto Toco model doesn't have a USB port nor does it recline but it does include a matching ottoman for you to rest your feet on – just make sure you have enough floor space for it.
It comes in three colors – dark grey, light grey, and white, making it a perfect choice for a gender-neutral nursery.
The swiveling mechanism covers 360 degrees and you'll be able to rest comfortably whether you're nursing your baby or reading a story together.
There is a small pillow for extra lumbar support. The armrests are low enough for you to still use your favorite feeding pillow.
As far as size goes, this nursery glider is not too large but make sure to check the precise dimensions to see if it will be a good fit, especially if you're living in a small space.
3. Dutailier Colonial Glider Chair
My favorite part about the Dutailier Colonial glider is the fact that you don't need to spend hours assembling it on the floor as the majority of the work is done before it even reaches your doorstep.
This glider also includes a locking mechanism that allows you to fix it in one place, making it easier for you to get up.
The padded arms add to the comfort as the gliding motion rocks your baby into their dream world.
This nursery glider is one of those models you can easily imagine using even after your kids have gone off to college – because it's made from hardwood, it can withstand years of use.
Likewise, the high-quality cushions are comfortable, won't slide down the seat, and are made to last!
This glider chair comes in at a slightly lower price point, so it's a great choice if you're looking for a more affordable model.
It's available in different shades, white, beige, and grey, so this nursing chair will fit right in with the rest of the furniture in your nursery.
4. Angel Line Monterey Glider & Ottoman
Are you on a tight budget or just not willing to spend upwards of hundreds of dollars on a reclining glider? Then you should consider the Monterey Glider by Angel Line.
Although it doesn't have fancy features such as USB ports or even a swiveling mechanism, I like that it includes storage pockets where you can put your phone or any other accessories as you rock your sleeping baby.
The seat cushions can only be spot cleaned, but on the upside, they are removable, so cleaning them won't be too big of a hassle.
The armrests are padded for your comfort and there is a matching ottoman included for you to relax and put your feet up while you breastfeed or just snuggle with your little one.
It doesn't include an extra pillow for lumbar support but you can always purchase one separately if you find the backrest isn't sufficiently comfortable for you.
5. Baby Relax Mikayla Swivel Glider
If you are tall, you're going to need a nursery rocker chair or glider that will be high enough to make sitting it in comfortable.
The Baby Relax Mikayla glider is one such model. However, it doesn't include an ottoman to make your nursing sessions more relaxing so I recommend purchasing one separately, especially if you're short.
The cushioning in this glider is very comfy. The fabric should hold up well over time as it's made from a durable material.
When it comes to assembly, it won't be difficult to set it up, so you can get to gliding ASAP! As for the color options, you can get this glider in grey, dark blue, white, mocha, and dark grey colors.
6. Davinci Ruby Recliner And Swivel Glider
​This Davinci recliner and glider combo looks like a regular, run-of-the-mill armchair – except it's so much better!
First of all, the glider can swivel 360 degrees, allowing you to turn around and check on your baby's big brother or sister, without even having to get up from your seat.
You will also love the small pillow for extra back support during those late-night feedings.
When you recline the chair, a footrest will pop up so you can stretch out and maybe even have a quick nap.
Although an ottoman isn't included with this glider, you can purchase an extra one by Davinci or even a simple nursing stool.
The Ruby recliner and swivel glider is available in grey, cream, and grey with cream details.
The glider is upholstered with a polyester fabric that's free of chemical flame retardants but don't worry, it still meets all safety requirements! In addition, it isn't difficult to clean and the seat itself is very roomy, so family members of all shapes and sizes can enjoy bonding with your little one while rocking back and forth.
With a 360-degree swivel motion, a high level of durability and comfort, and a Greenguard Gold Certification, the Davinci Ruby model is the best nursery glider for families looking for mid-price range gliders that combine comfort and functionality.
7. Graco Sterling Semi-Upholstered Glider And Nursing Ottoman
​Just by taking one look at the Graco Sterling nursery glider, you can already tell that it's well-padded and comfortable, even though it's only semi-upholstered.
Put your feet up on the included ottoman and rock your little one to sleep or settle in for a nursing session.
The gliding ottoman includes a nursing stool that you can pull out as needed. When you're done breastfeeding, simply pop it back in to save space.
The upholstery is polyester but unfortunately, it's not machine washable – you can spot clean it only. However, polyester is generally very stain-resistant, so you shouldn't have problems getting any stains out.
The Graco nursery glider only comes in a beige and dark brown color combo but it's neutral enough to suit most nurseries, so I'm pretty sure you're going to love it!
8. Dutailier Adèle Glider Chair And Ottoman Set
Dutailier nursery gliders are a perfect choice if you're willing to spend a little extra to get a glider of the highest quality.
From the cushions to the hardwood frame, each part of this glider works to give you the most comfortable seat you could imagine.
But, because this glider is a big investment, it comes with a 5-year limited warranty.
It's available in a range of colors, including beige, dark brown, and grey – all neutral colors that are perfect for every nursery. When it comes to assembly, it's very easy and straightforward.
New moms who are breastfeeding will love the padded backrest and armrests. The ottoman is there to make your cuddle sessions with your baby extra comfortable.
Finally, although this glider is expensive, it's one of those models you can use in the years to come, so it's well worth the investment.
9. Storkcraft Premium Hoop Glider And Ottoman
An affordable and adorable choice, this Storkcraft glider comes with a matching ottoman for you to kick back and relax while you're feeding your precious bundle of joy.
I love that this model comes with side pockets (you'll find them on the sides of the armrests) so you can always keep a few important accessories close by.
It comes in a variety of colors, from baby pink to all shades of grey, so take your pick!
With a maximum weight limit of 250 pounds, this glider will hold up well over time. Don't worry about the upholstery getting stained – it's polyester, so you'll easily be able to spot clean any stains.
Sadly, this glider doesn't recline but that doesn't have to be a dealbreaker. As for the assembly, it's easy-peasy and you'll put the glider together in no time.
10. Delta Children Emerson Upholstered Glider Swivel Rocker Chair
​For a beautiful nursery that looks like it belongs in an interior design magazine, you cannot go wrong with this luxurious glider by Delta Children.
It comes in four shades and it will blend right in with the rest of the nursery.
The upholstery is made from polyester, so even if your baby has reflux and spits up all over it, you'll be able to get the stains out.
You can even take out the seat cushion.
With a 360 degree swivel, you can easily turn in all directions while gliding or rocking with your precious baby in your arms.
This glider sadly doesn't come with an ottoman, but you can purchase one separately (also by Delta children) or pair it with a nursing stool if you'd like to keep it budget-friendly.
I also recommend finding a good-quality lumbar pillow to use while sitting in the chair, especially if you have back problems.
11. Baby Relax The Kelcie Nursery Swivel Glider Chair And Ottoman Set
The Baby Relax glider is quite similar to the Delta Children model above but it comes with an ottoman, so you don't have to worry about purchasing one separately.
It's a great choice for all parents who prefer armchair-style gliders in neutral shades.
The fabric is microfiber, making any stains easy to clean. This model can't be reclined, however, and doesn't include any additional lumbar support.
With your purchase, you'll also get a 12-month limited warranty.
12. Dutailier Sleigh Glider Multiposition-Lock Recline With Nursing Ottoman
The Dutailier Sleigh glider is certainly at the higher end of the price range but it's a high-quality glider that you should definitely consider.
After all, once your baby gets older, you can move the glider to your living room and use it as a comfortable chair while watching TV or reading.
The glider and the matching nursing ottoman are upholstered with an easy-to-clean polyester fabric.
I love the locking mechanism that allows you to lock the glider in one place before getting up or when you're not using the chair.
This model can also recline, so you can even take a little catnap while lounging in it.
Furthermore, the cushioning is soft and holds up well over time. If you're planning on having more kids, I can guarantee that this glider will be there for every single one of them.
Is A Nursery Glider A Necessity?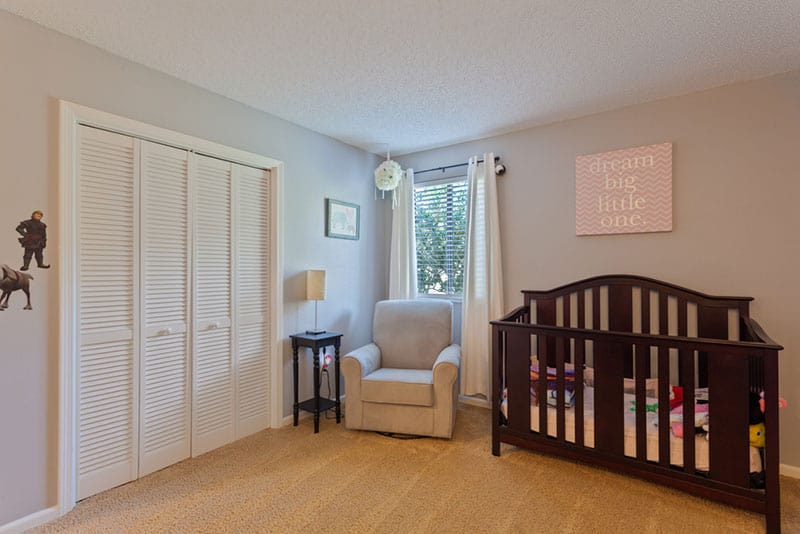 When you're putting together your dream nursery, a nursery glider is like a cherry on top of a beautiful cake.
It ties the room together while being functional. However, considering the high price range of most gliders and rocking chairs, it's perfectly normal to ask yourself if you really need one.
You absolutely don't need to break your budget over a nursery glider – it's not necessary and you'll survive without it. Any regular chair or even your couch will do just fine.
But if you can afford one, I promise that you'll love having it in your baby's nursery. It will become your favorite spot to feed your little one, rock him to sleep, or just get some cuddles.
As your baby gets older, the two of you can share the glider to read children's books and bond.
One day, when you turn the nursery into a kids' room, feel free to move the glider into the living room or any other room in your house where you could use a comfortable seat.
This way, what seems to be an expensive purchase at first turns into a smart investment for your home and a sweet memory of your child's first years.
Important Features Of Nursery Gliders
Considering that you'll be spending several hundred dollars on a glider, it's important to be aware of all the key features to look out for, especially when you're online shopping and can't physically try it out in a store.
Before you get into the nitty-gritty of each glider model, you need to answer an important question: How much floor space do I have?
If you have a spacious nursery, then this will not be a concern.
However, if you're short on space you'll need to narrow down your list to models that will be able to fit into your nursery without taking up too much room.
Apart from size, here are some important features to keep in mind.
Comfort
When you try to find the best nursery glider, comfort is the first feature you should look at. You're going to be spending a lot of time rocking back and forth in it, so an uncomfortable glider is a dealbreaker.
Although many recommend trying out a glider at a store to see how comfortable it is, you can also rely on Amazon reviews to see what the experience of other parents has been.
A good amount of padding will ensure that you feel comfy and it's important that your back and neck feel supported in the chair.
All in all, don't sacrifice comfort to save a few dollars. It's better to pay extra and enjoy your nursery glider in the years to come than purchase one at a lower price and barely ever use it because it feels too uncomfortable.
Reclining
Some nights, you'll feed your baby, put him in his crib, and want to fall asleep right there in the glider.
Or perhaps you'd want to get into a more comfortable position while reading a story. Either way, a nursery glider that can recline is a great choice.
Footrest or matching ottoman
When you're breastfeeding, getting into a good position is key – not just for the baby to get a good latch but also for your own comfort.
A nursery glider with a footrest or ottoman allows you to put your feet up and get into the perfect breastfeeding position.
When you raise your lap, it also helps you relax your arms and torso, making nursing sessions more comfortable for your body.
Even if you're not planning on breastfeeding, being able to put your feet up while you're rocking away in your nursery chair is a huge bonus.
Cleaning
It's safe to assume that whatever comes into contact with your baby could potentially get spit up on which is why cleaning is an important factor to consider, too.
I love gliders that have removable cushions you can wash – this is by far the best option when it comes to cleaning and upkeep.
Some gliders, however, are covered with a special type of fabric that repels stains which is another good option.
When it comes to stains, color is also a key factor. Even though I'm a fan of light, pastel colors, it's not a bad idea to invest in a glider covered with a darker fabric that, even if it gets stained, won't show it.
360-degree swivel
This is another neat feature you'll see with a number of good quality nursery gliders – they can spin in all directions, so you can turn around and take a look at what's happening behind your back.
In case the glider you love doesn't have this feature, then that's fine – 360-degree swivel is a cool addition but by no means a necessity.
Locking mechanism
A locking mechanism is more important than you might think – when you're getting up, it's much easier to do so if the chair is fixed in one position and not moving, so you won't accidentally slip and fall. This is also a great feature to have when your kiddo gets older and starts moving on his own.
Greenguard Gold Certification
As you're shopping for the nursery glider of your dreams, you're going to run into companies bragging about being Greenguard Gold Certified. But what does this certification actually mean?
When a product is Greenguard Gold Certified, it means that it has been tested for more than 10,000 chemicals that can pollute the air inside your home and cause health issues for you and your kids.
Gliders Vs. Rockers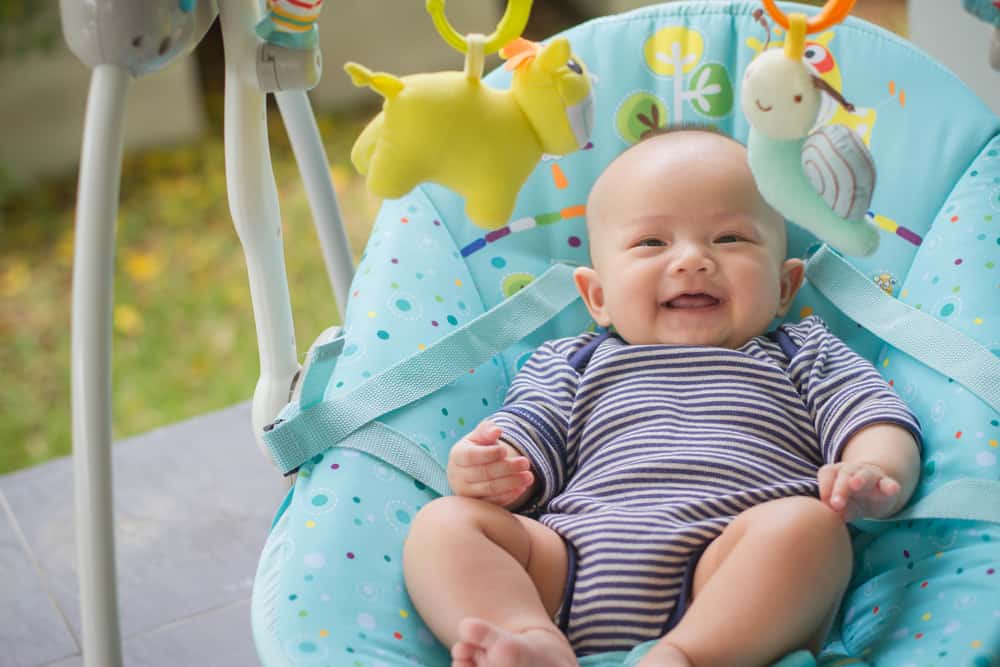 The classic rocking chair has been a staple of nurseries for as long as anyone can remember – the arched legs of the chair move back and forth, lulling the baby to sleep.
Perhaps there has been an ancient rocking chair in your family being passed down from one generation to the next but now you'd like a change.
A glider, on the other hand, looks like a regular chair. It's designed with a special mechanism that allows it to glide back and forth. Some gliders have a reclining feature which makes them great to sleep in.
Is a rocker better than a glider? Not really – the decision should be based on your personal style, the size of your baby's room, and your budget.
The one thing that gives gliders a slight advantage is that you can move it to your living room or home office after your kids outgrow being rocked to sleep, especially if it's a model that looks like an armchair.
Final Thoughts
So, there you have it! Now you have all the info you need to find the best glider for your baby's nursery.
Will it be an armchair-style model such as the Delta Children one or something similar to the Hoop Glider by Storkcraft?
Considering that a nursery glider is a piece of furniture you'll have in your family for a long time, try not to make price the defining factor, if at all possible.
Comfort and durability are much more important – if you find the seat uncomfortable or the cushions start to sag after only a few months of use, you'll be less likely to continue using it.
Remember, a glider should be an important part of your baby's room – a spot where you will cuddle, tell stories, and read books.
So don't be in a rush to buy one. Take your time comparing the pros and cons of different models to figure out what you really want.
Like this post? Please share or pin it for later. You can also stay in the loop and follow us on Facebook, Instagram or Pinterest.
We love honesty! Find Your Mom Tribe is an Amazon Associate and we earn from qualifying purchases through affiliate links at no extra cost to you. Please see our full Amazon Affiliate disclosure for more information.