Motherhood is one of the most wonderful experiences in a woman's life, and it comes with many surprises—although, not all of them are great, to be honest. Postpartum bleeding is one of the not so great ones. Knowing about it and how to be prepared will make those first difficult weeks after giving birth so much easier for you.
As you hold your new baby in your arms and give a huge sigh of relief that all your hard work has been rewarded with this truly wonderful gift, you can be forgiven for feeling a little dismayed when you realise that there is a flow of blood trickling down your legs! Yes, your postpartum bleed has begun.
There is no need for alarm because this is perfectly natural. This bleeding from your womb occurs soon after the birth of the baby. Whether you have had a natural, vaginal birth or a c-section, there will be a heavy bleed from the place where the placenta was attached to the womb. I will provide more information later because I suppose that finding the best, most efficient way to protect yourself now, will be your top priority.
After nine months of not having a monthly period, you will now need to bring in the heavy duty pads to keep you leak free and comfortable.
Amazon stocks a wide range of postpartum pads, so it's a good idea to take a look online and try to have a large stash before the baby is born. I am sure that you will also find a fairly good range of postpartum pads at your local supermarket or pharmacy.
As a new mother, you will probably be wanting to find out which postpartum pads are the best. Here are some that I would personally recommend. I will also be giving a few pros and cons for each type so that you can make the best choice for your needs.
The 12 Best postpartum pads of 2019
What features should you look for in a postpartum pad?
–Absorption is one of the most important features because you do not want to be faced with the discomfort and mess that will result if your postpartum pad cannot cope with the amount and density of your blood flow. It's a good idea to discuss this with your antenatal nurse because it is very different to a normal period and could be scary for a new mom.
–Size matters a lot in the case of postpartum pads! They need to offer enough coverage from front to back and have sufficient width to prevent leakage. You probably never thought that you would be that interested in the length and width of a pad, but there will be times when you will wish that you had a wrap-around, body-sized pad to hide yourself in when the bleeding first starts, and it can be an embarrassing time if your pad is not up to the job.
–Comfort for your swollen, stretched and maybe stitched lady bits. You'll want softness and security, and the pad should also offer flexibility and contours to fit with the shape of your body and adjust to your movements. There are all sorts of technological advances in the design of pads, so you don't want to just grab the first type you see and then end up with a load of uncomfortable, leaky pads.
-Fragrance is something you will have to give some thought to. Feeling fresh is very important to some women, but it is not worth adding the discomfort of a rash or irritation to your already sensitive bottom. A little experimentation will sort out the question of what is right for you. If you are feeling hormonal, strong fragrances may irritate your nose more than your bottom.
-Price could be something to think about. Having a baby is a very expensive undertaking in these times, and your choice of postpartum pad is just another cost to add to the already strained budget. You may want to consider reusable pads if money is a concern, and there are some unique machine washable pads that are available. While it may seem that disposable postpartum pads are cheaper, the considerable amount of pads that you are going to need will push the price up in the long run. It is not easy to estimate how many pads you are going to use, but I would advise you to err on the side of too many rather than having too few!
All postpartum pads promise to give you ultimate protection during this heavy bleed. However, they do, of course, come with their pros and cons. They are definitely not all created equal! I have included details here to help you to decide which are the best ones for you. It might be a good idea to have a selection of disposable pads or reusable pads for the different stages of the postpartum period, which may last up to six weeks.
Features and information about the best postpartum pads available:
1. Always Radiant Feminine Postpartum Pads
Variable sizes
These postpartum pads have almost all the features that you will need at this special time of your life and have come out on top in many reviews.
Pros
They have super absorbency while still being comfortably thin, so they can be worn with confidence.
Their Flexfoam technology changes liquid into a gel, so you feel fresh but the pads will not feel bulky—a must for anyone who is prone to getting a rash or has skin that is easily irritated. They are lightly scented and have super adhesive wings which secure them in place. They are individually wrapped, so they are easy to keep in the nappy bag and won't spoil if there are spills. They are also easy to dispose of.
Cons
They have a slight chemical smell from the Flexfoam which some women find unpleasant. The material of which they are made may make a rustling sound when you walk, which some moms find embarrassing.
2. Poise Incontinence pads
14.3 inches
Yes, they are incontinence pads and not necessarily designed to be sanitary pads, but when you are experiencing that heavy postpartum bleeding, you will be grateful for the extra absorbency that these pads offer. Just be aware that there are differences in the construction of these pads.
Pros
The side wings keep them in place as well as preventing excess moisture from escaping down the sides.
Cons
Postpartum bleeding is different to urine in consistency, so you may be a little disappointed in the absorption needed for this type of heavy bleed.
3. Rael Organic cotton pads
9.6 inches
They are perfect for sensitive skin, and let's face it, after giving birth, you are probably going to be sensitive down there in the perineal region for a while!
Pros
These overnight pads are designed by women for women. They have been manufactured to be super absorbent while managing to be free of chlorine, toxins, and artificial fragrances. They have a shape and length that prevents leaking and wings that keep them secure. They are made of breathable cotton, so they always feel fresh. They are biodegradable.
Cons
Some women have found that these pads are a little too stiff and do not have the extra give that you need when moving around.
And for all of the environmental benefits, you do have to be prepared to pay a little extra.
4. The Honey Pot postpartum Feminine pads with wings
Created to offer amazing protection for postpartum bleeding, they have earned the stamp of approval from gynaecologists.
Pros
These pads are kind to sensitive skin. They are also gently scented with mint and lavender which are soothing herbs that promote healing.
Cons
Certain skin types might have a reaction to the herbal additives in these pads.
5. Seventh Generation Overnight Maxi
Large size (non-specific)
Pure and simple with a flexible fit, these pads will be a welcome support in your postpartum recovery.
Pros
Your postpartum bleed will be very heavy and dense, and these pads offer flexible protection as well as super absorption. Being free of fragrance and chlorine, they are natural and organic. For all these benefits, they are very reasonably priced, unlike many of the other organic pads.
Cons
The extra absorption means that these pads are very thick and bulky, so they may not be as comfortable as you would need at this time.
6. Organic Cotton Feminine
This is another organic pad made of pure cotton for comfort. It gets rave reviews from new moms. There is a video on YouTube which gives a review of this product.
Pros
They are biodegradable and chlorine free, so if you want environmentally-friendly pads, then you should choose these. They are possibly better for day time use during the first week rather than at night because they tend to be thinner and lighter than other pads. Even the individual wrappings are biodegradable and are easily disposed of.
Cons
These pads may not provide sufficient protection for night time use or straight after you have given birth. These might be better for the second week when the blood flow has lessened. The cost of these pads is even higher than most other organic pads.
7. Natracare Ultra extra pads
9.89 inches
These are excellent postpartum pads because they have been designed to the highest possible health standards, while combining comfort and the much needed absorption required by you.
These are for you if you are concerned about the environment as well as your own comfort. This manufacturer has been making sanitary protection since 1989 and pride themselves on making absolutely natural products for women. They are even Vegetarian approved and do not contain any animal products.
Pros
They have a soft, organic cotton layer to protect your sensitive skin. Leaks are prevented because they are extra-long and highly absorbent.
Cons
They do not have wings and this makes them more liable to move and become dislodged when you are moving about.
They come with a bigger price tag because of all the care that is taken in the manufacturing process.
8. Stayfree Ultrathin Overnight pads with wings
Many women like these pads for the comfort and coverage that they offer.
Pros
Potential leakage is controlled by the excellent shape and fit. The velvety fabric is particularly comfortable if you have had to have stitches or it was a difficult birthing process.
Cons
Some women said that they did not feel as clean and fresh as they would have liked, and the pads needed to be changed quite often. It is not possible for a busy new mom to shower after every pad change, so it could lead to unacceptable odours.
Most young women will remember starting to use Lil-Lets tampons because they were small and comfortable. Well now they are producing postpartum pads that are the exact opposite of the tiny tampons – extra long and super soft pads with wide backs are just what the doctor ordered for the heavy bleed after giving birth.
Pros
Soft and kind to any of your battered post-birth skin and offering the best absorbency, these pads are recommended by new moms. They are long, thick, and have side wings that keep them secure and comfortable. They are individually wrapped and disposable.
Cons
These pads may not be as widely available as other brands.
10. Heart Felt Overnight Long Reusable Cloth Postpartum pads
9 inches
The unique feature of these pads is that they have a bamboo, charcoal-infused layer. Bamboo is an exceptionally gentle, yet strong material.
Pros
The charcoal bamboo layer absorbs odours, and these pads are economical because they are machine/washable. They are good at preventing leaks because they have a wrap that secures them around your panties. You will feel confident and cosy.
Cons
You have to wash and dry them carefully.
Always make sure that they are perfectly clean and dry before wearing them to avoid infection in this delicate area.
11. Genial Day Super Absorbent Heavy Flow pads
Another environmentally-friendly pad, but this one comes with an additional feature! They have a unique anion (negative ion) strip made with silver ions and tourmaline. So, by using a semi-precious stone that is known for having healing powers combined with the anti-bacterial qualities of silver, this product has taken things to a higher level. This company has won many awards in recognition of their attention to meeting women's heavy bleeding needs.
Pros
The unique anion strip keeps you bacteria- and odour-free.
These pads are also award-winning for their superior absorbency! Extra protection is provided by the side wings, a stay-dry topping, and a strong, yet breathable backing.
Cons
Once again, this environmentally-friendly pad is more expensive when compared with other mainstream brands and is even more expensive than other organic brands.
Although some holistic healers believe in the healing powers of the tourmaline stone, its powers cannot be scientifically-proven.
12. Always Overnight Protection
These pads are ideal for using at the start of the postpartum bleeding period and will quickly become part of your night time regime. The are available with or without wings.
Pros
Being super absorbent, they give you maximum protection from leakage, especially at night.
Cons
They can cause dryness and discomfort to sensitive skin.
Alternatives to pads for new moms – postpartum underwear!
I know that this article is about the best postpartum pads, but it would be wrong not to mention another type of product that some new moms might find ideal for their body shape and needs at this time. They can be used with postpartum pads as an additional layer of protection and security.
I am talking about Seamless High Waist Mesh Panties!
They will remind you of the awful mess knickers that you are issued with in the hospital. But these new generation, breathable panties are the ultimate in protection and comfort, especially if you have had a caesarean section. The high waist will not agitate your cut, and they are more than adequate for coping with a heavy bleed. You also have the choice of whether to wash and reuse them or throw them away if you can't cope with any extra jobs at this time.
Other types of absorbent knickers are Tena Disposable Underwear. They are actually designed for incontinence, but for new moms, they offer added protection when worn with their chosen type of pad. And they are completely disposable. The are available in a range of sizes and have plenty of stretch. An ideal feature as you slowly regain your figure!
Have you heard of padsicles?
I must admit that this is a new one for me, but I do wish that I had known about this idea before! Padsicles is a "made-up" name for these homemade, soothing pads that will bring relief and reduce swelling in sore "women's parts". They are incredibly easy to make and you could even prepare a few while you are still pregnant, because goodness knows, you won't have much spare time once your beloved baby has arrived.
A Padsicle is basically an extra-large maternity or postpartum pad that has been soaked in soothing ingredients, and then the pad is kept in the freezer until needed. The best bit about making these padsicles yourself, is that you can use the ingredients that you are certain will not give you a bad reaction, and they do not cost much to make.
Here is a simple recipe for making padsicles: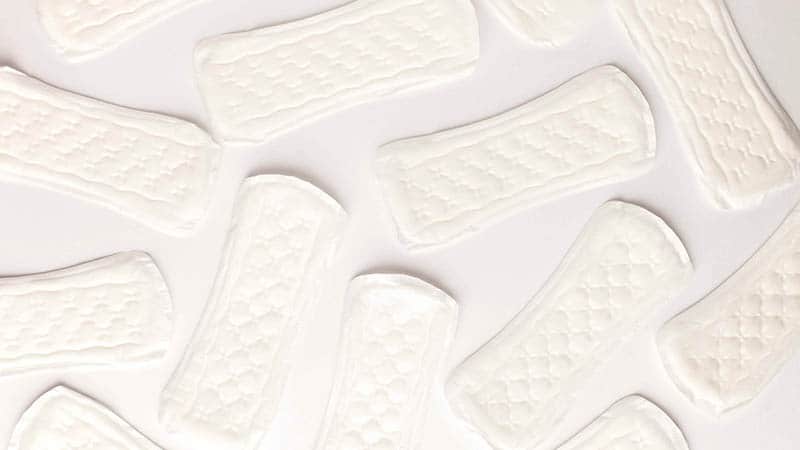 Ingredients:
The largest, most

absorbent

pads you can lay your hands on.

Pure

Aloe

Vera gel , which is available at most pharmacies.

Witch hazel

comes as an astringent (14% alcohol) or a toner with 0% alcohol. It is an extract from the

witch hazel

shrub and is known for its ability to reduce swelling. Your choice of witch hazel will depend on whether you have

sensitive skin

as the astringent may sting.

Essential oils, such as Lavender oil, Rosemary oil or Tea Tree Oil—all of which have healing properties and smell wonderful. Buy a reputable brand or seek advice on which essential oils would be best for you. You only need a couple of drops of essential oil to add to the

witch hazel

base.

Small plastic bags for storage.

A small spray bottle.
Method:
Step 1: Mix the essential oil drops and witch hazel toner in the spray bottle.
Step 2: Open the pad, but keep the wrapper so that it can be re-sealed.
Step 3: Spread a layer of Aloe Vera Gel along the pad, but avoid getting it onto the wings. This is one of the most important ingredients to this wonderful pad, so be sure to include it for the pure heavenly relief it will give you.
Step 4: Spray the whole pad with the witch hazel and essential oil mixture.
Step 5: Fold the pads and place them into the small plastic bags (plastic wrap will also do the job of keeping the pads separate.)
Step 6: Place all the little bags into one large freezer bag and remember to label them to prevent some unwittingly being mistaken for popsicles!
You will certainly be glad you went to all this effort in advance because these little soothing treasures will bring you much-needed relief in those first few weeks after giving birth.
In conclusion
So, now that you have recovered from the shock of finding out that you will be having a postnatal bleed for up to six weeks and familiarized yourself with a number of recommended pads and tips, it's time to relax and really take care of yourself.
It is important to remember that the postpartum bleeding —called lochia—is different from the usual menstrual cycle. It is quite normal for this blood to be very dark red in the beginning and for it to have some quite large clots. The flow will also be quite a bit heavier when you first start to walk around. This is because the blood will have been pooling inside your womb and will then come out in a strong flow when you stand up. If this is your first baby, then the amount of blood may cause you a bit of concern and anxiety, but there really is no need to worry just as long as you are well prepared for this occurrence.
Breastfeeding will also cause contractions in the womb, and this helps to dispel the blood more quickly. As a result, you may feel the flow increase as you are feeding your baby and just after the feed as well. After giving birth to a second or subsequent babies, these contractions are considerably stronger and more painful, but the advantage is the reduction in the size of your tummy. After a few days, the colour of the blood will change to a lighter pink, and by the third week, it will be slightly brown and less forceful in its flow.
There is no point trying to use tampons for this postpartum bleed, even if you found them adequate for the heavy bleed days of your periods in the past. It is definitely not advisable to use tampons for this postpartum bleed because you are more susceptible to infection at this time, especially if you have had stitches. You will be able to use tampons again when your usual menstrual cycle returns.
In hospital, your bed will be protected by a small disposable sheet, and you will probably find that a waterproof protective cover on your mattress is a wise investment when you get home because you may have leakage for the first few days, despite using postpartum pads.
Also, be sure that you have some large, cotton knickers or disposable ones handy for those first few days after giving birth. They will keep those delicate bits protected and are better for holding the large pads in place. You will want maximum comfort in your nether regions!
Remember that you must keep yourself as clean as possible and protect yourself against infection. Always wash your hands after changing pads and before touching your baby. A gentle wash with warm water will give you some welcome relief when changing postpartum pads. If it is possible, try to have a daily shower to prevent infection and for your own well-being. Scented soaps and bubble bath should not be used for the first few weeks after giving birth or at least until any open wounds have healed.
I sincerely hope that this information and advice will help you through this time and make it easier for you to adjust to the many changes that are taking place in your own body, your environment, and of course, in your family life.
You are about to embark on a whole new adventure, and being able to make informed decisions about the best protection for yourself, as well as being able to find and buy environmentally-friendly postpartum pads—if that is important to you—will hopefully give you peace of mind in every way.
Meta: Here are the best postpartum pads for new moms that will make it easier to cope up with postnatal bleeding.
Like this article? Please share or pin it for later. You can also stay in the loop and follow me on Facebook, Instagram or Pinterest.