If the thought of spending time at the beach with a toddler makes you feel like running for the hills, think again. It can be fun. It can be the best day out ever. But you need to be very organised.
As new moms, we've all had disastrous experiences of taking a child under 2 years of age for a day at the seaside, and it probably all went wrong due to a lack of planning.
Even part of a day at the beach needs careful thought and consideration of things like sun and water safety. I hope that my top tips for a day at the beach with your toddler will help you to avoid the pitfalls and horrors, and instead enjoy carefree days with your toddler in the sun and sea.
First of all, you can forget about the days when you could walk onto the beach wearing a tiny bikini and very little else. Endless days lying on the white sand for hours, listening to the sound of the waves, reading your book, or going for a leisurely swim. Now a day at the beach will be more like planning a military invasion, but it's so worth it!
Yes, there will be a lot of planning involved before you dip your toes into that sparkling blue sea.
First you need to go shopping for all the things you need beforehand, then pack said things into the car. Next, you'll have to load a lot of other beach-related gear in, and then get your toddler and all that paraphernalia down onto the beach in one piece. It can be a challenge – Im not going to lie to you!
Start planning well in advance, and you'll be all set for a lovely beach break. And once you've nailed it all perfectly the first time, all that beach gear will then be ready for your future trips and beach vacations. It may just need a spray down and you're ready to go.
Important note:
Actually, this very important step should be done before you leave the house! Think sun protection!
Apply sunscreen to every bit of your toddler's sensitive skin!
Before getting everyone dressed, cover yourself and your little one in the highest level of SPF possible (factor 50 is advisable). This will allow plenty of time for the sunscreen to be absorbed into the skin and give you all that essential protection for all skin types.
Check out a sunscreen guide for kids if you need more information.
So here goes – it's toddler beach time! Here are valuable tips for a well spent day with your little one.
1. How to survive the drive to the beach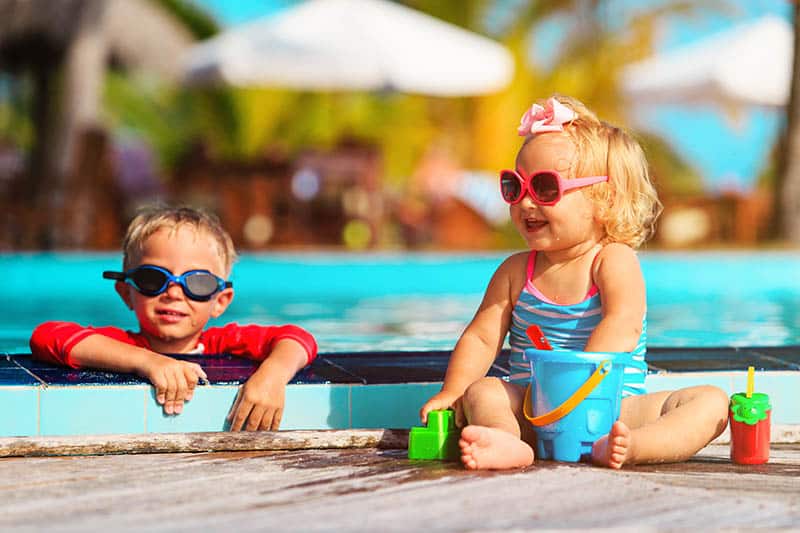 As soon as you get in the car, your bundle of joy will probably announce that they're hungry, thirsty, or both. Have a ready supply of water or juice cartons. You should also have some mini packs of healthy snacks that come from their "favorites" list. Keep them handy so that you can pass them over at a moment's notice.
Pop one of their favourite CDs or playlist of songs on and have a sing-along as you head for the beach.
When little one gets bored of that, you could have some small, inexpensive toys handy to keep them fiddling happily in the back for the rest of the journey. Of course, this depends on how long it takes you to get to the beach!
2. It's all about timing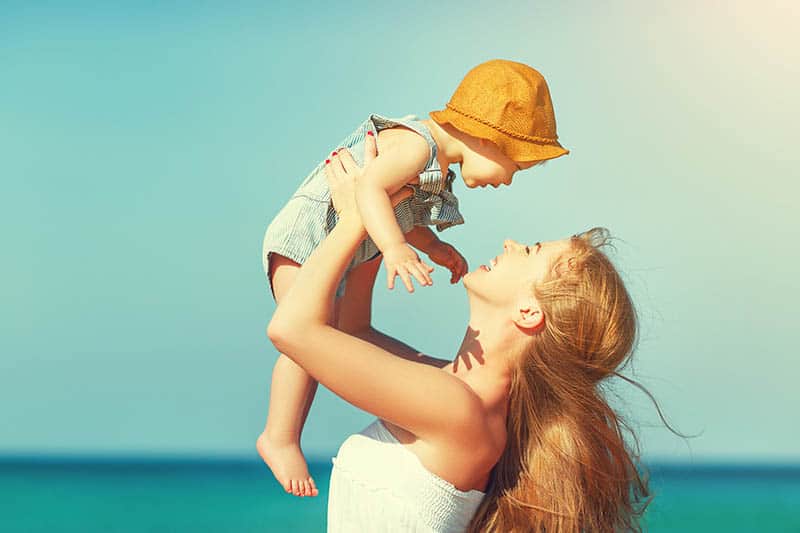 Decide whether you want to have an early start before the sun gets too hot,or go after lunch and nap time.
It's a good idea to check the tides for the day you're planning to spend on the beach. Low tide is the best time for exploring tidal pools and paddling with toddlers.
There's a free app called "Tides Near Me" that is useful for safety and peace of mind when venturing down to the ocean with a little one.
It's best for everyone's skin (Don't forget about yours!) if you avoid the midday sun, when the UV rays are at their strongest. If you go to the beach in the afternoon, try to arrive after 2pm and then you can have fun until the sun sets.
Set a timer to remind you to reapply sunscreen at regular intervals.
3. Start packing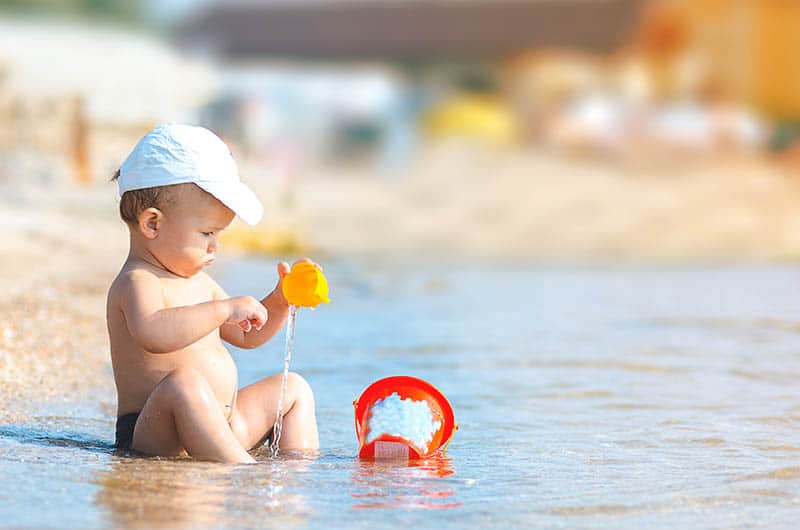 Your toddler will need:
Sunscreen

in a variety of forms – spray, cream, or sticks. You will need to re-apply several times during the day.

A wide-brimmed

sun hat

with Velcro tabs is a definite must when it comes to spending time on the beach with a toddler. The best ones are lightweight and made of a breathable fabric so they don't end up with a hot, sweaty head.
A couple of

bathing suits.

A

rash guard

to protect youngsters from sunburn and stings.

A flotation device or

life jacket

so that your toddler can swim safely.

The

Puddle Jumper

by Stearns

has been tested by the U.S. Coast Guard, so you can be sure that it is of the highest quality. They're available on

Amazon

.

Pack quick-dry towels, a hooded

beach towel,

or some lightweight Turkish towels (also called peshtemal or fouta towels) so that your toddler can we wrapped up warm after a swim.

Baby powder

is excellent for cleaning sand off hands and feet without irritating delicate skin.

Always have a small first aid kit with bandages, alcohol

wipes

, bug spray, and an anti-bacterial cream. Find out what to do in the unlikely event of a jellyfish sting (we all remember the hilarious scene from

Friends

when Monica was stung by a jellyfish!) Find out whether there is a first aid station or lifeguard who can be called quickly in an emergency.

Hand sanitizer to clean little sticky hands.

A beach or picnic blanket. Choose one that's large enough for everyone as well as a place for the picnic. It's good if it has a waterproof backing in case of spills.

A basket of

beach toys

. The beach provides so many natural things to play with and discover, and you can pop some of your beach treasures in the basket for taking home. I don't think that it's necessary to take too many toys with you, but of course a bucket and spade are essentials. My kids love

Melissa and Doug's sand icecream play set,

which I'm sure will also become a favorite

beach toy

for your toddler for many years to come.

Beach shoes or sandals to protect little feet from hot sand, sharp shells, or painful prickly shells under the sea.

A wet-dry bag is useful for stuffing all your wet towels and

swimsuits

into before packing up for home.

A small spray bottle filled with fresh, cold water is useful for cooling a

little one

down. Or you might both enjoy using a portable fan for a quick cool down.

A warm cardigan or jacket for when the sun goes down or a cuddly blanket for wrapping up when you take a stroll along the

boardwalk

or when it is time to go home.
You can pack all your beach essentials and equipment into a light canvas mesh bag. There are some very good ones made by Saltwater (available on Amazon). They are ideal because they are waterproof and the mesh base is designed to repel sand.
Whichever bag you choose, you will need one that is spacious, with plenty of pockets to hold all your beach gear.
4. Set up camp: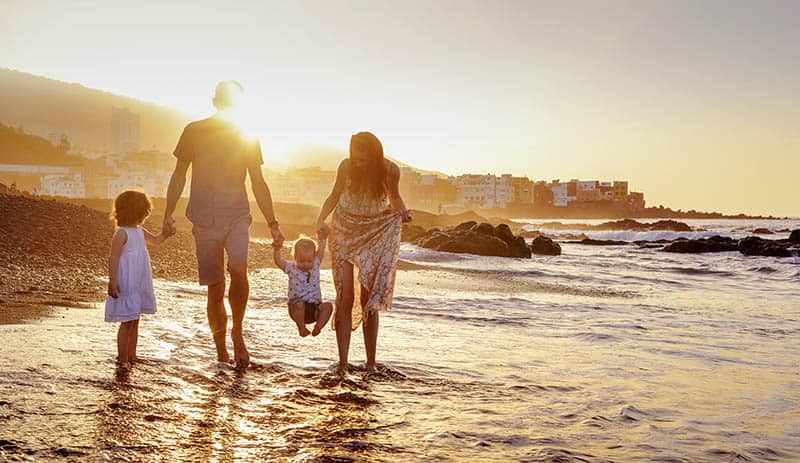 You will, quite literally, need to set up a mini campsite and make sure that there is enough shade to protect you and your baby. Take along the largest

beach umbrella

you can carry.

Another form is shade is a sun tent for snooze time or when your toddler needs a break from the sun. Choose a sun tent that is quick and easy to assemble and make sure that it has UV protection. They are perfect for

little ones

to play, eat and sleep under cover.

Remember to pack a mallet, as it makes it so much quicker and easier to secure your umbrella and tent poles, and you will avoid having to chase after your shade if a sea breeze blows. Be sure to set up camp away from the water's edge in case a large wave rolls up the beach or the tide starts to come in.

I prefer to sit on a

beach chair

, rather than on the sand, even though there is not much time to relax. It is also easier to eat and drink without getting everything covered in sand. Kids will probably enjoy having mini versions of the

beach chairs

, and if they have sun shelters, you can be certain that they are well protected. Some have little tables attached and so it can double as a

high chair

.
When choosing your spot on the beach, or even when choosing the best beaches for your toddler to go to in the first place, do some research on what facilities are close by. If you're going to be spending quite a long time there, you might need a few other distractions besides the sea and the sand, especially if you have other children in the group or older siblings.
Toddlers love to go for a boat ride or have a dip in a paddling pool where they can interact with other children. Older children love to play video games or visit an amusement arcade.
Having clean toilets nearby, some showers with hot water where everyone can freshen up, and a restaurant where you can get a revitalising cold drink, will all help to make a day out at the beach more enjoyable for everyone. And, even though you've packed a bag full of snacks, you can't beat a delicious ice-cream when things have become hot, hot, hot!
5. Salty air and exercise makes you hungry and thirsty!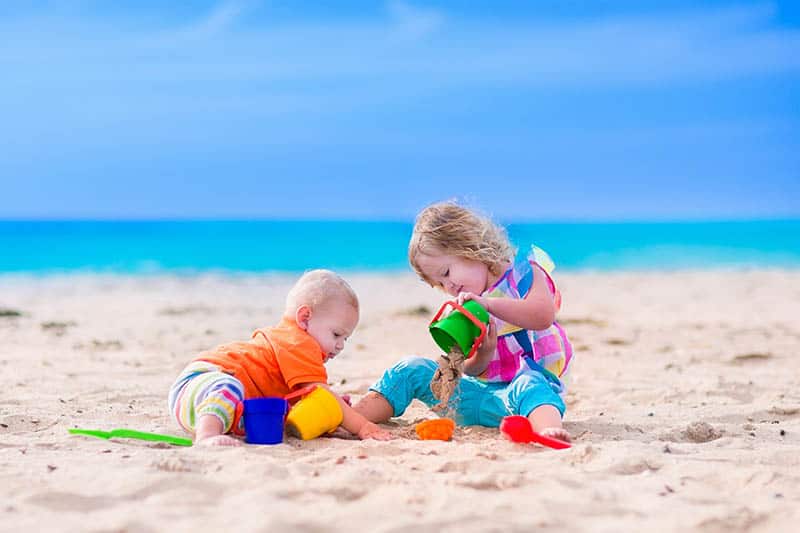 Pack all snacks and drinks in a light yet sturdy beach cooler bag or picnic thermal. You don't want your picnic to spoil in the heat or your snacks covered in sand.

You'll probably need more food and snacks than you usually have at home.
Pack picnic food that's easy to eat on the go, such as crackers, granola bars, chopped fresh fruit, grapes, and blueberries. Small pieces of cold watermelon are delicious and give some extra hydration. Little pots of yoghurt can be easily spooned in when little one is having fun, and tiny sandwiches make delicious finger food.
Use little sandwich bags to separate food and keep it all in a lidded container where it can all be stored together, preventing plastic bags from blowing away.
It's important to keep toddlers hydrated when you're on the beach. Make sure that you have plenty of bottled water that can be poured into sippy cups. Bottles of fresh water that have been frozen the night before will stay cold for a long time and be very welcome after spending time on the beach and in the sun.
Young children need to be reminded often to drink and might prefer a diluted fruit juice rather than plain water. Anything to keep them sipping.
6. Be prepared for potty time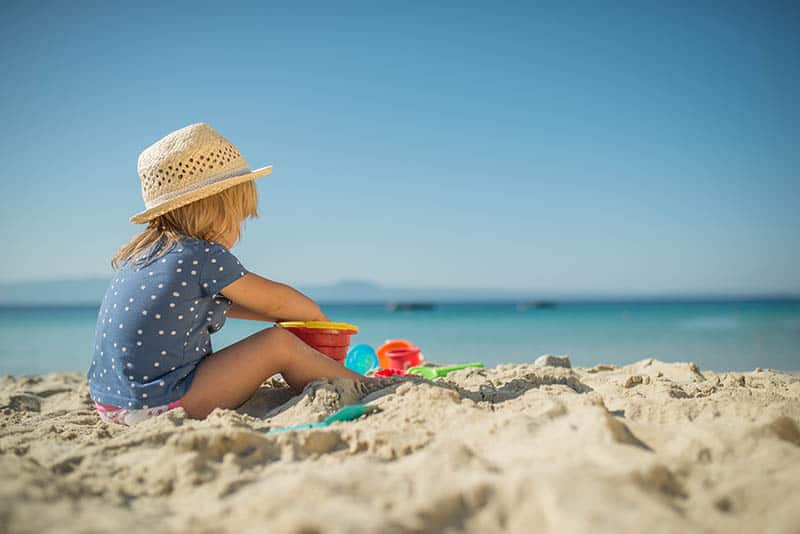 Just when you have got your camp set up on the sand and are ready to have some fun, your toddler will probably announce that they need the potty. Make sure that you have packed:
Diapers – the regular type as well as

swimming diapers

(call them "swimming pants" to avoid confusion if your toddler is doing well with

potty

training). And you should pack double the amount you use at home to be on the safe side.

Wet

wipes

Your diaper bag, including a changing mat and everything that you normally need for a quick diaper change.

I usually keep a small purse, with some cash, in the diaper bag. It should be safe in there and won't get sandy. You never know when you're going to run out of something or just need a long, cold drink yourself.
If you've just started potty training, it will be useful to take a travel potty to the beach. They're very convenient and can be popped into the beach tent for privacy.
7. Hot sand, sore feet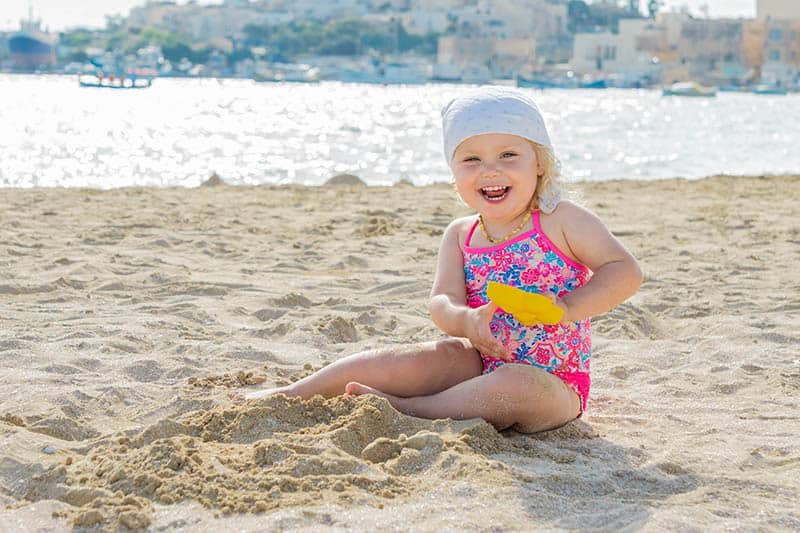 You really don't want to try hopping across the sand with a screaming toddler in arms. With so much gear for you to carry, you'll be glad to have a stroller to put your toddler into and then wheel them down as close as you can to your chosen spot on the beach.
But, of course, some types of strollers are not useful once you hit sand. If that's the case, a strong baby carrier is a great way to carry a toddler from the car to your beach spot.
Choose one that's made of mesh so that the air can circulate and prevent both of you from overheating. An older toddler will enjoy riding in a collapsible wagon, so that could be a fun and useful alternative.
8. No rest for the wicked (Mamma)!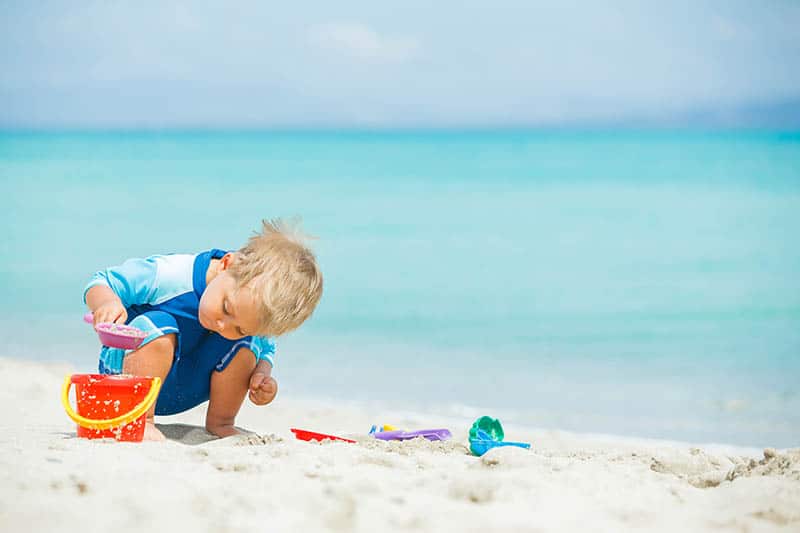 Anyone who has been to the beach with a toddler will tell you that you're not in for a relaxing time. There's too much fun to be had and exciting adventures for a curious toddler to experience. Also, for your child's safety, you need to be alert – keeping them within arm's reach at all times – and you also need a pair of eyes in the back of your head!
You may be lucky enough to have a toddler who will take a short nap in a beach tent, but even then, you're still on guard.
If you want to try and entice them to have a rest, why not take along a couple of favorite books (with a hard or waterproof cover) to read together in the beach tent. You may be able to get five minutes' peace, but don't doze off yourself, unless you are at the beach with another responsible adult. Toddlers move quicker than you think.
9. The baby pool is a lifesaver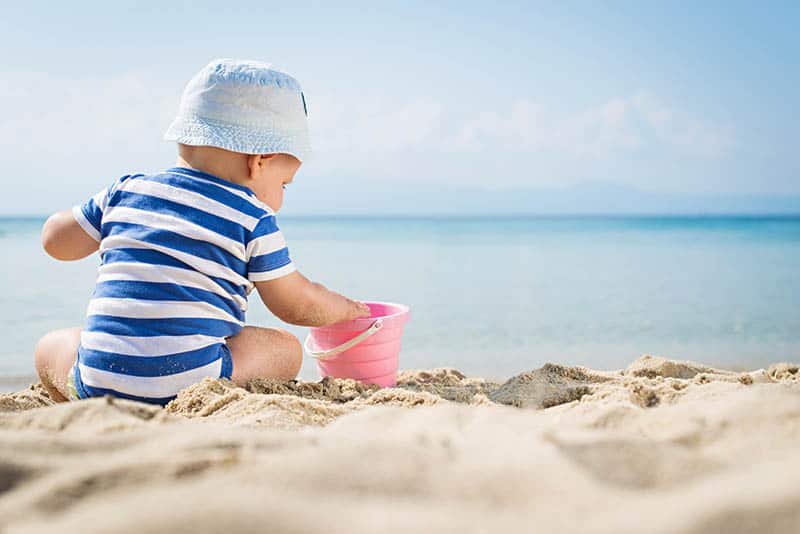 Sometimes, the waves are too big for a toddler to enjoy in safety, so an inflatable baby pool is ideal when the sea conditions are dangerous. It does not weigh much and they are very easy to assemble. It will provide a safe, contained place for your toddler to keep cool in once you have poured a bucket of sea water into it.
If it's placed under the beach umbrella, you know that you can relax nearby and they can splash safely. It will be even more fun if you have included a few beach or bath toys. There are also some great inflatable baby pools that have a baby beach tent attached, so your little one can play happily without the risk of sunburn.
10. Try beach playpen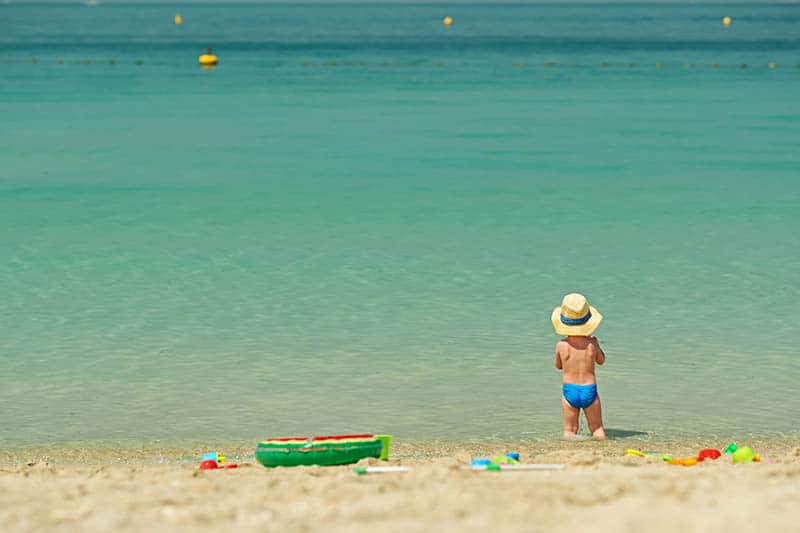 Once your toddler is truly mobile, it can be very tiring chasing after them across the sand all day. A beach playpen could be the answer you're looking for. This keeps them contained, and not too sandy. Who knows, you might get a moment to relax while they play safely?
Handy Checklist: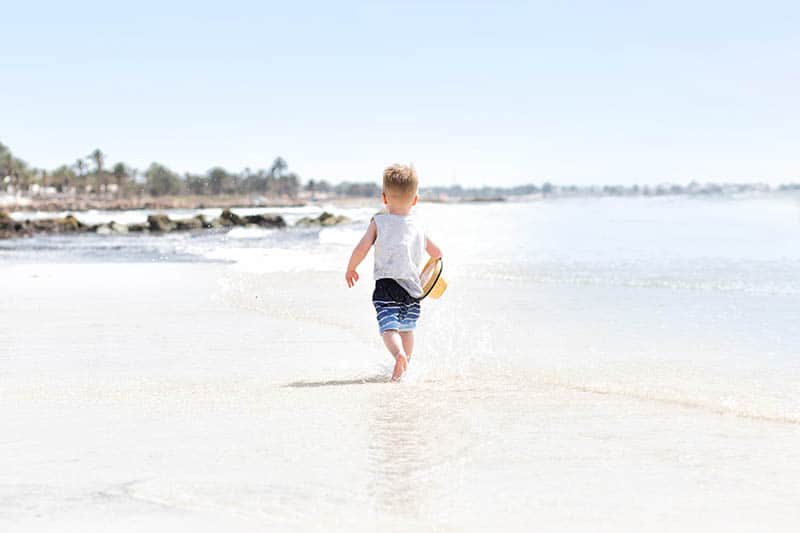 I've compiled a handy checklist for your day out at the beach with a toddler. You may not need everything I have suggested, but there are some basics that are essential.
Your essential checklist for a beach day with a toddler:
Don't leave home without it! Print it out, if you can, and keep a copy in the car or beach bag so that you can refer to it every time you go to the beach.
A large

beach bag

High factor

sunscreens

. Take along a range of

sunscreens

in case you spill or mislay some. You may need to sneak in a spray or rub when your toddler is too busy having fun or reluctant to have it reapplied.

Bathing suits

Swim diapers

A large diaper bag with all your usual diaper changing items

Baby hat

Rash guard

Snacks

Water

A waterproof

beach blanket

A towel for baby and some extras just in case!

Baby powder

Mini first aid kit

A few

beach toys

(a bucket and spade at the very least!)

A

beach umbrella

Baby beach shoes

A flotation device (arm bands, etc.)
A wish list of other items you may find useful:
Baby carrier (mesh)

Inflatable beach pool with shade

Spray bottle or portable fan

Beach chairs

Thermal cooler bag

A wet dry bag
And finally: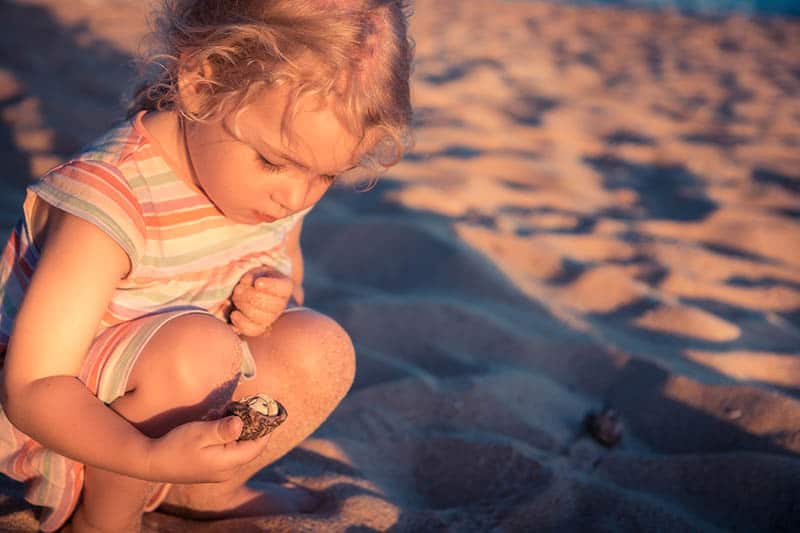 I hope that you now feel confident and fully equipped to take your toddler to the beach for the day or even plan a family beach vacation.
Because of the dangers of taking a young child to the beach, it's so important that you have planned for water safety, sun safety, and other general first aid emergencies that may arise.
All families have different needs and budgets, so it doesn't matter if you cannot take everything from the wish list. But, for your own peace of mind and your toddler's comfort and safety, do check that you have everything from the essential list in some form or another.
Taking a toddler to the beach on your own can be quite a daunting prospect, so you might like to take a friend or family member along, so that you can take a minute for a quick swim or pop to the loo. Hopefully, it will actually be a fun experience for you too!
I really hope that you have found these tips helpful and that you and your toddler will enjoy many wonderful, carefree days at the seaside, all because you've planned it out so well.
Like this article? Please share or pin it for later. You can also stay in the loop and follow me on Facebook, Instagram or Pinterest.