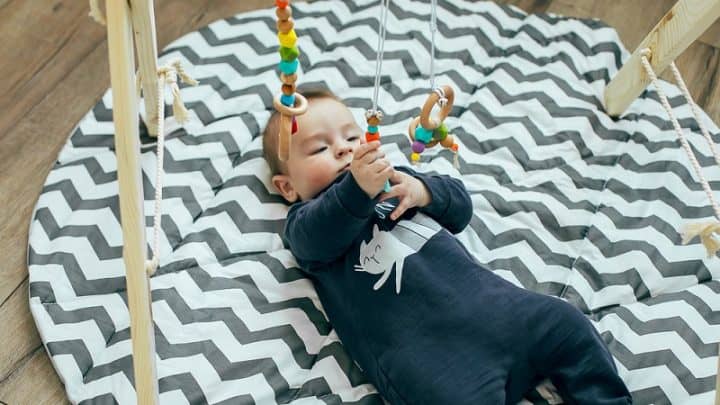 Child activity tables are a staple as far as skill development in kids goes, but more and more people are discovering the benefits of having a wooden baby gym.
A wooden baby gym works very similarly to your regular toddler activity center, except the baby play gym is filled with lots of wooden toys that hang from the top bar.
It's kind of like a mobile just bigger and intended to develop your child's fine and gross motor skills, hand-eye coordination, and help train the baby to discern shapes and colors.
The reason for getting a baby play gym made out of wood is simple, it's more eco-friendly than many of the other activity centers.
This is because it's made out of natural wood and other biodegradable products whereas the former is usually built from some kind of plastic.
And, it's not just about the environment.
When your kiddo is teething, he'll put just about anything in his mouth and rather non-toxic, wood than plastic or, heaven forbid, metal.
You should look for one that's easy to assemble and disassemble, allowing you to store it away neatly when your little one outgrows it.
Getting one with lots of hanging toys that help them develop the necessary motor skills is also very important.
But what are the best wooden baby gyms out there?
Amazon's catalog certainly doesn't have a lot of them on offer, but I've managed to put together a list of 7 baby play gyms that I think are both affordable and high-quality enough to be worth mentioning.
The 7 Best Wooden Baby Gyms
1. HABA Color Fun Play Gym/Wooden Activity Center
Starting off with something simple, we have the HABA wooden baby gym.
It's a rather simple beech and birch wood activity center with only a few toys to play with, but ones that are sure to entertain your child regardless.
A gender-neutral product with a hanging toy frog on the top bar and a few disks on the side with the interactable parts.
They are painted beautifully using non-toxic materials.
It's easy to assemble and all you need to do is provide a play mat or baby blanket to complete the play area – even a baby seat works if you want to change your baby's position every once in a while.
Your little one can either turn to his side, shift the disks around, and be rewarded by the satisfying sound that they make when they bash into each other, or he can reach upward to try and grab or slap the frog toy.
And, there's no need to worry about the height of the gym bar as it can be adjusted rather easily thanks to a simple screw mechanism, allowing it to perfectly fit any toddler height in any position.
Another plus is that you can add any extra interactable toys to the top.
HABA does offer some that you can purchase with the gym, or just do some DIY and make your own.
2. The Wood Play Gym by Lovevery
Here's an interesting option that doesn't only incorporate wood, but also includes some fabrics into its construction.
Made from FSC-certified wood and 100% GOTS certified organic cotton, the Lovevery play gym is one of the more ideal Montessori toys for your child's physical and mental development.
The whole kit comes with a wooden frame made from fully sustainable wood, learning cards, a wooden ring batting toy, and a teether.
There's also a play mat with 5 different zones, each zone (which is concealable in case you don't want to overwhelm your child) helps train a different crucial skill.
It's one of the most feature-filled baby activity gyms on this list, one that'll entertain your child even when he's a 2 year old.
The teether and wooden batting toy are attached to the top while the cards are better to use during tummy time so you can have your tike interacting with something in any position.
Despite so many features, the entire wooden baby gym frame takes only a few minutes to assemble and disassemble for easy storage which helps save playroom space for other activities.
All of the parts provided are phthalate, lead, and BPA-free, as well as free from any other harmful chemical, making it safe for your child.
The mat is also fully machine washable so accidental spills here and there are no problem.
If you feel like going the extra mile, you can also get the sensory strand add-on that'll help teach your child about different textures and fabrics.
However, the absolute best part is that even if you do end up misplacing some of the pieces, the people over at Lovevery are generous enough to offer a lifetime lost parts promise where they'll happily provide replacement parts for the ones you've lost.
That way, your little one can enjoy his playtime happily and you can enjoy a risk-free purchase.
Despite being somewhat pricier than the rest, this wooden baby play gym makes for an ideal gender reveal (because it's gender-neutral) or baby shower gift as it replaces a number of other toys that serve similar purposes and it's such a cool product that it's very unlikely to go unused.
3. HAN-MM Wooden Baby Gym
Another good alternative that's relatively cheap is the HAN-MM gym.
This lovely baby product is made from sanded down beech wood.
The quality of the finish is so good that there's no need to fear splinters and no need for applying a finish that'd be laced with toxic chemicals.
The wooden construction is simple but sturdy with the sides being foldable for easy storage.
The set also comes with 6 wooden baby gym toys, each attached to a rope with wooden beads of interesting shapes to add some extra entertaining acoustics when your child bats them against one another.
Each toy is in the shape of colorful flowers, rainbows, or wooden animals with hollowed out centers for your baby to reach for and grab onto.
Sure he won't be doing any pull-ups, but it's the next best thing for a child who's discovering what his body can do.
All the toys are removable and you can add more, either by purchasing other add-ons from Amazon, Etsy, and other similar websites, or by making your own DIY wooden play gym toys.
And, to top it all off, this wooden baby gym also comes with a guarantee from the company that they'll replace any parts that might break during transportation.
They want to make sure that you and your child are satisfied with the product.
4. Little Pine Design Co.'s Wooden Baby Play Gym
Another simple, but still decent option for your child, one that might be a bit more budget-friendly than the others.
Made from high-quality, sanded down pine wood and durable, baby-safe rope, this wooden baby gym is rather compact compared to its bulkier competitors.
It's easily foldable and comes with a neat little storage bag to place the parts in and put away when not being used.
It has all the toys that improve your baby's mental development , keeping true to the Montessori method, helping teach hand-eye coordination, gross and fine motor skills, as well as distinguishing between sounds and cause and effect patterns.
They all help your child in their own unique ways despite appearing deceptively simple.
The designs themselves are all completely gender-neutral meaning that if you have boy and girl siblings, they can share the gym without you having to worry that it's something that one or the other wouldn't like.
The gym allows your little one to channel all that youthful energy in a constructive and expressive way, building the early foundation for his character traits, with self-confidence and boldness being at the forefront.
Due to its compact nature and affordable price, this piece of baby gear makes for an ideal gift for baby showers or first birthdays.
5. B. toys – Wooden Baby Play Gym
If you're looking for something that has a bit more color to it and find the regular wooden gyms a bit too vanilla for your taste, then this one might be right up your alley.
Not only does it come with a finely sanded wooden construction and lovely, cotton candy blue legs, but it also has a round activity mat made from 100% organic cotton.
With the mat, you also get three colorful toys all of which share a night sky theme.
The gym is easy to assemble and disassemble whether you want it in the living room, the child's own room, or to take it with your little one on a playdate with his friends so everyone can join in on the fun.
The three toys are each attached to the gym bar via a clip that's easy to remove and can be added to should you decide to expand the number of choices your child has during his baby workouts.
The ones that you get initially with the gym are a set of stars made out of soft, baby-safe, and non-toxic fabric that are strung along on one rope and a mirror shaped like a cloud to capture your child's attention and curiosity.
You can also find beads of different shapes and colors strung along the last rope representing a shooting star.
The activity mat is fully washing machine friendly and the toys themselves are rather easy to clean too, just don't get any hard to remove stains on them.
If you're looking for the best bang for your buck, this would be my recommended option, especially as it's one of the cheapest on the list while still being a quality wooden baby gym.
If anything it makes a lovely baby gift for your friend's kids.
6. Mallify Wooden Baby Play Gym
This gym is ideal if you're on the lookout for a more diverse line-up of activities with a price that isn't too steep.
It features 6 different toys that hang from the gym bar, two wooden and 4 made from 100% organic cotton.
Each toy carries a different feel to them when squeezed to help introduce your baby to all sorts of sensory fun that's a delight for all their senses.
The hanging toys depict different gender-neutral, natural imagery from a cactus and a mountain to a campfire and rainfall, making it a safe purchase for boy and girl kids.
The assembly is simple enough and doesn't require much instruction, just a bit of common sense and it stores away super neatly because of that too.
It's quite compact and ideal for younger kids.
The only downside is that you can't adjust the height so it might only last you a short while, but given its price, I'd say you'll get your money's worth regardless.
7. LaviElle Wooden Baby Gym
To cap the list off, here's another colorful option so you can provide a more immersive baby workout experience for your child.
The product is made mostly out of smooth, sanded birch wood with the teether made from 100% food-grade silicone, all free from any harmful chemicals, BPA, phthalates, or toxic dyes.
The construction itself is rather sturdy and it folds into itself for easy storage if you'd rather not disassemble and assemble it again, though even that takes less than a few minutes of light effort.
Made to appeal to the minds of young kids, the toys themselves help further your child's mental development by training their gross and fine motor skills, their hand-eye coordination, and their grabbing/pulling reflexes.
As previously mentioned, there's also a silicone teether to help soothe the irritation from your child's teeth coming in and help him adjust to using his teeth so the transition to solid foods becomes a bit easier.
Each of the toys is unique in its own way and lined with colorful wooden beads to help catch your child's attention and produce the most wonderful sounds when played with to keep your little one entertained.
As the cherry on top, you even get a 6-month guarantee in case any of the parts get damaged during transport or something unexpected happens and the gym ends up breaking (sometimes people get clumsy).
What To Look For When Buying A Wooden Baby Gym?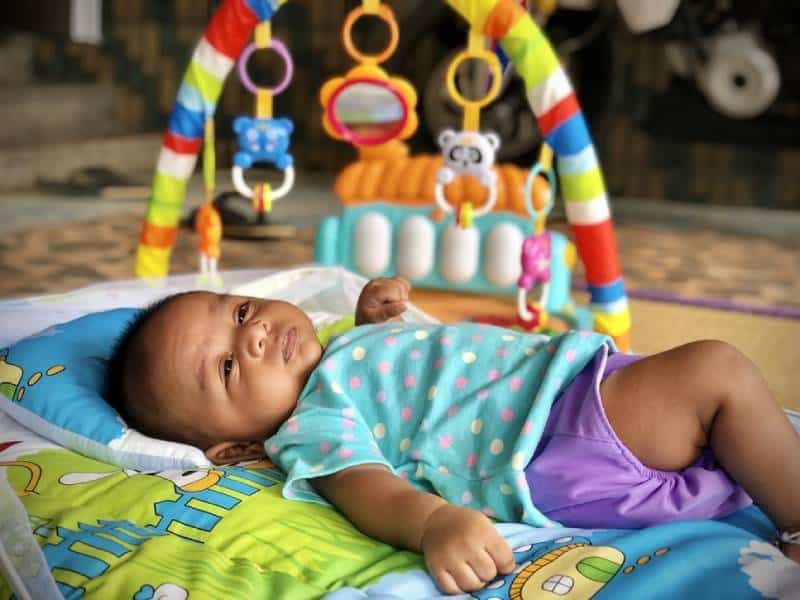 With the designs for baby gyms being rather simple, it might be a bit tough to discern which one is right for you, but there are a few aspects that you should be on the lookout for if you're doing your own research.
1. Ease of assembly
A gym is only better than a regular activity table or other Montessori toys if it's easy to assemble and doesn't have too many parts.
It must also be easy to store once your child is done playing with it.
2. The material
The whole point of a wooden baby gym is to get a more eco-friendly and non-toxic alternative for your child's active play and learning.
This is why you should look for products that are just sanded down and don't have any harmful chemical used as a finish for the wood.
If the product has any non-wooden parts, make sure they aren't treated with any harsh chemicals either and, in the case of cotton, that it's fully organic and GOTS certified.
3. The overall design
A baby gym is just a glorified entertainment system if the toys and features attached to it don't promote the development of crucial mental and physical skills for the child.
Look for ones that have the word 'Montessori' anywhere in the description or ones that specifically state that they're for this intended purpose.
4. The price
A wooden baby gym can have all the bells and whistles attached to it, but if it's too expensive, there's less and less likelihood of you ending up buying it.
Always weigh your budget with the price of the item you're intending to buy.
Remember, there are other things you need to spend money on so going for the more affordable option isn't a bad thing.
In Conclusion
A wooden baby gym isn't a must-have for a household, but it's an ideal way of helping your child out with the development of his hand-eye coordination, hand dexterity, and his fine and gross motor skills overall.
Plus, it's a more eco-friendly way for all you eco-conscious mammas out there to keep learning fun for the kiddos.
Just make sure you don't go overboard when buying one and I'm sure your child will be absolutely thrilled to have something new to mess around with.
Like this post? Please share or pin it for later. You can also stay in the loop and follow us on Facebook, Instagram or Pinterest.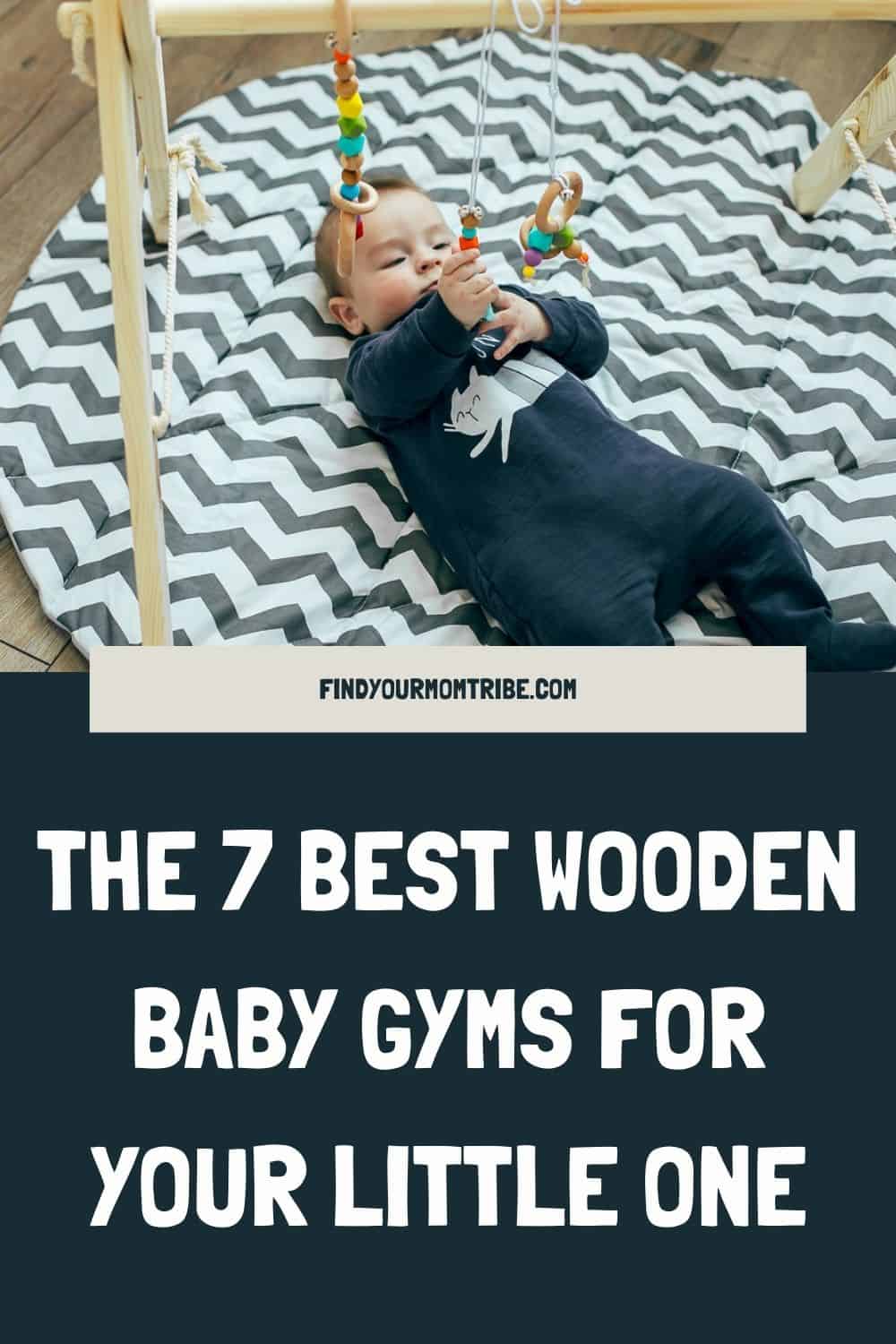 We love honesty! Find Your Mom Tribe is an Amazon Associate and we earn from qualifying purchases through affiliate links at no extra cost to you. Please see our full Amazon Affiliate disclosure for more information.