If you're shopping for a toddler for Christmas, we have something in common!
My daughter just turned 19 months, so I'm scouring the web to find the perfect gift for her. (Because when I asked her what she wanted for Christmas, she screamed "NOO!!" in my face. She's precious at this age.)
Here are my top 25 Gift Ideas for Toddlers (for under $30!)
(Be sure to scroll down to the end for 5 bonus big-ticket items!)
(Note: Keep in mind, Amazon prices change all the time. As of this writing, all 25 of these items are under $30. Want to buy or learn more? Just click on the picture of the item.)
1. Little People Animal Rescue Set
If you've watched TV in the last 30 days, you've seen a commercial for this toy at least 75,000 times. So I felt obligated to give it the number one spot on our list.
2. Little People Nativity Set
This nativity set is so cute and sweet. We have three sets because we keep losing Joseph.
3. Little People Sit with me Bus
4. VTech Go! Go! Smart Wheels Adventure Park
5. Fisher-Price Bright Beats Dance & Move Beat BowWow

6. Playskool Friends Sesame Street Tickle Me Elmo
I guess Playskool toy makers ran out of ideas so they brought back this Elmo for #TBT. (Except Christmas is on a Monday this year. 'Didn't think that one through, did they?)
7. Fisher-Price My First Thomas & Friends Activity Train
8. Mickey Mouse Push and Go Racer
9. Fisher-Price Laugh & Learn First Words Smart Puppy
10. Fisher-Price Laugh & Learn First Words Animal Blocks
11. LeapFrog Musical Rainbow Tea Set
My daughter got this tea set for Christmas last year and she is obsessed. It actually keeps her entertained longer than five seconds.
12. Barnyard Animals with Sounds Carrier Set
My toddler is obsessed with animals and animal sounds. This is going on her list for sure!
13. Melissa and Doug Pretend Food 4 Food Groups

If you're vegan, just don't buy this.
14. Baby Alive Luv 'N Snuggle Doll
This is the perfect first doll for a toddler. It has a soft body and is virtually indestructible. My daughter has this doll and she loves to give her kisses and then body slam her. (Not sure where she learned that.)
Toddler Gift ideas that promote fine and gross motor skills
15. Melissa and Doug Farm Wooden Chunky Puzzle
16. Melissa & Doug First Shapes Jumbo Knob Wooden Puzzle

Melissa & Doug puzzles are my favorite. Somehow we don't lose the pieces and they still look great after three kids. Color me impressed.
17. Melissa & Doug Deluxe Pound and Roll Wooden Toy Tower

18. Fisher-Price Classic Xylophone

(Don't forget to add earplugs for mom and dad.)
19. Hape Shape Sorter Wooden Turtle Pull Toy
20. Melissa & Doug Wooden Building Blocks Set (100 blocks)

What toddler wouldn't want to dump 100 blocks on the floor for you to pick up? (Pro tip: avoid stepping on the triangle ones.)
21. Mega Bloks 80-Piece Big Building Bag

Let's play a game of "trash the playroom in five seconds or less!"
22. Mega Blocks ABC Learning Train
23. Little Tikes Totsports Easy Hit Golf Set

24. Little Tikes TotSports T-Ball Set
25. Seek-A-Boo Game

This game is great for burning off all that tornado toddler energy, and it also teaches them vocabulary.
BONUS! 5 Big-Ticket Items Gift Ideas for Toddlers (Over $30, obviously 😉 )
1. Step2 Little Baker's Kitchen
Confession. We bought this for my toddler's Christmas but it was so cute and fun, we already gave it to her. She loves baking with the cupcakes that are included. (She calls them "cuh-cay", and it's the cutest.)
2. Step2 My First Christmas Tree
Okay, this is one of 2019's hottest toys. If you want this one, go ahead and get it before it's sold out everywhere!
3. Radio Flyer All-Terrain Pathfinder Wagon Ride-On
Another timeless toy. Every kid loves riding in a wagon, am I right?
4. Schwinn Easy Steer Tricycle
My toddler wants to ride a bike like the big kids SO bad. This would be perfect for her!
5. Step2 Wonderball Fun Play House
If they made this in adult size, I'd totally get one for myself. Seriously, how fun is this?
Alright, my friend! That's it! What would you add to this list?
PS- Don't forget to pin this for later!!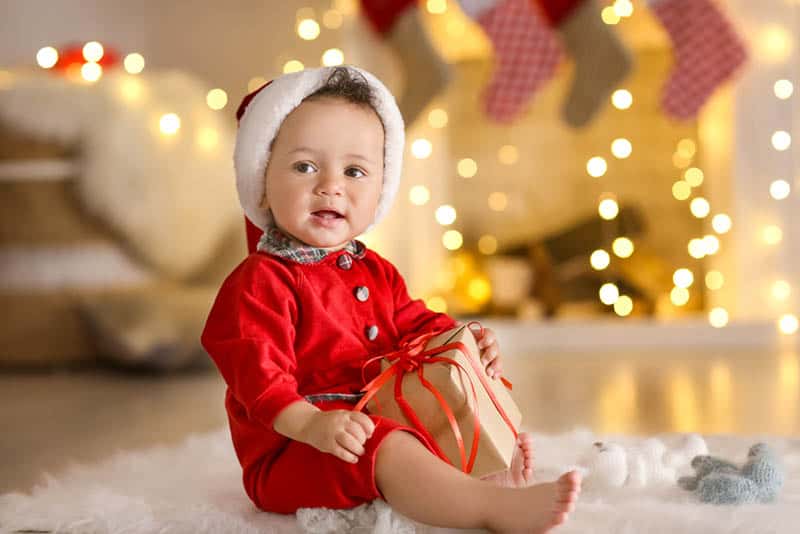 What toy would you add to this list?
This post contains affiliate links. Please see our full disclosure for more info.
Be sure to check out my other gift guides for kids!
20 Best Christmas Gift Ideas for Babies Under 1
25 Best Christmas Gift Ideas for Boys
20 Best Christmas Gift Ideas for 7-9 Year Old Girls