As you're all aware, finding good Christmas gifts for 2 year old girls can be quite the challenge.
This is because Christmas gifts for 2 year old girls need to be both fun and educational. They need to be able to keep your little one's interest while also teaching them fundamental life skills.
These skills include, but are not limited to, improving fine motor skills, hand-eye coordination, general problem-solving, and even critical-thinking.
But, they still need to be able to provide your child with hours of fun so you don't just end up throwing money away on something that will never get used.
While we all typically believe that education is difficult to present in a fun way, it doesn't always have to be like that. There are several toys that have managed to find the right balance while staying age appropriate.
What are they? Well, I've compiled a list of the best toys for 2 year old girls so that you don't have to waste countless hours browsing Amazon, eBay, and the like yourself. Instead you can always flip back here should you need suggestions.
It doesn't even have to be a Christmas gift; most of these will be great as birthday gifts for either your own toddler or one of her friends, as well.
1. VTech Touch and Learn Activity Desk Deluxe
First, and arguably one of the best Christmas gifts for 2 year old girls, on our list is the Vtech touch and learn deluxe activity table.
It's a multi-functional play set and learning toy that helps improve your precious child's creativity and the aforementioned fundamental skills.
It features brightly colored pieces and extra expansions for the set to help further your child's education and enrich the set's capabilities.
It's much more than just a desk, it can also become a chalkboard or even an easel to help your little girl start to doodle. Who knows what masterpieces may arise!
The base set even comes with a chair to help your child be seated properly, a shape sorter to help fine-tune those fine motor skills and the desk itself is decorated with a large sticker that helps teach your little girl the ABC's.
Other features can help her learn how to count through a helpful LED light tracking the next number as well as make mock telephone calls.
You can even have her play some tunes that come with the onboard music player and, should you be worried that the toy isn't having an effect, you can check your precious little child's completion progress with the progress button.
This is truly a wonderful piece of kit that is a must-have for any developing child for these upcoming holidays.
2. Princess Tent with Tunnel, Kids Castle Playhouse & Princess Dress up Pop Up Play Tent Set
Sometimes all your little girl really wants is to have a bit of fun through imaginative play and this pop-up castle tent set offers just that.
Not everything needs to have an educational purpose for a 2 year old, sometimes it just needs to be filled with innocent fun.
If your little 2-3 year old girl is an adoring fan of Disney princesses, fairies, castles, and happily-ever-afters, then this might be the best toy for her.
It consists of a crawl tunnel and a pop-up tent castle with glow in the dark star patterns to keep your child entertained even at night, a cute little pink outfit with a tiara, a fancy skirt, butterfly wings, and a wand to awaken your little one's inner princess.
Ideal for role play, this is one of the best gifts your two year old child can get her little hands on.
And you can be sure that it's quality as it meets and exceeds all the US CPSC toy safety guidelines and is made out of soft but thick fabric that gives the entire construction a padded feel so your kids can stay safe while horsing around inside of it.
If anything, it's the perfect place for her to host her pretend play tea parties for all her favorite friends and stuffed animals.
Certainly a great gift that you can find on Amazon that doesn't complicate things and just allows your kid to live her dream with a castle of her own alongside an escape tunnel.
3. JOYSTAR 10″/12″ Kids Balance Bike with Footrest for Girls & Boys, Ages 18 Months to 5 Years
As times change, so too do training methods and cool, educational toys. One such toy is a trike. It used to be a staple in every child's physical development, but it's now replaced with something better, a Banana balance bike.
This is essentially a close-to-the-ground bicycle with no pedals, but one that mimics the genuine bicycle driving experience better than most tricycles or scooters and doesn't require your child to tire herself out pedaling.
Instead, she can just run around like a Flintstone and ride on her fun new toy or you take her for a ride and help her learn how to balance herself on the bike as well as have her move the handlebars.
This way, she gets to improve both her hand-eye coordination and her fine motor skills as she takes her first strides toward learning how to ride a bike and, before you know it, she'll be riding the real thing without your help.
If you're ever stuck deciding what exactly to get for a 2-5 year old boy or girl then you can rest easy knowing that this is probably one of the best go-to gift ideas out there and it's readily available on Amazon.
4. labebe – Baby Rocking Horse, Ride Unicorn, Kid Ride On Toy for 1-3 Year Old
If there's something that every 2 year old girl has ever wanted, it isto ride on a pony, and with Iabebe's rocking unicorn toy designed specifically for toddlers, she can!
Now your little girl can feel even more like a princess by adding a trusty plush steed to her own stables. It's nice, soft, and sturdy, resistant to even the roughest of force your little one could subject it to.
Made out of high quality wood and medium density fiber, the toy satisfies all of the ASTM/CE safety standards, not to mention the three-sided seat with a safety belt so you don't have to worry about your 2 year old girl being flung off from rocking too hard.
And, as an added bonus, the material itself is very easy to clean and is almost completely spill-resistant meaning just a wet rag and a bit of baking soda can get it back to pristine condition should the princess have any accidents on her journey.
With all of these wonderful qualities, it's no wonder that it's on the "Amazon's Choice" list for quality buys and remains one of the best Christmas gifts for 2 year old baby girl toddlers.
5. LEGO DUPLO Steam Train 10874 Remote-Control Building Blocks Set
While the word LEGO might set off some alarms in any parent of a child younger than a 3 year old, this is the LEGO DUPLO, the LEGO sets that were designed to be made out of only large pieces that do not present a choking hazard.
You won't have to worry about any of your children being tempted to try eating one of the tinier ones, nor will stepping on one of these be an issue thanks to their rounded edges.
But, the main feature here is this 59 piece setthat builds into an entire train track.
It's rather simple to assemble and will help flex your child's creative muscle and let their little hands become a bit more adept at assembling things slightly more complex than shape sorters.
That's not all though, this entire train station is powered by electricity and features a downloadable app so you can manipulate the train at your own leisure without touching it.
It's certainly going to captivate the mind of your little girl as she wonders just how the train started moving.
Overall a great toy for 2 year old boys and girls alike and a premium choice to bring as a gift to a birthday party as well as a Christmas celebration.
6. LeapFrog Musical Rainbow Tea Set & Learning Toy
Remember when I mentioned those tea parties earlier in the pop-up princess tent? Well, here's a very fun toy and the perfect companion to complement the tent set.
Featuring a cutesy appearance that is sure to make your darling little angel love it at first sight, it's also an educational toy that helps your child master basic etiquette, learn how to count, and tell the difference between different colors, and all of this while enjoying playtime with her friends or stuffed animals.
The battery-operated tea set can even sing songs as well as emulate a genuine boiling teapot through its illuminated, heart-shaped side that goes through the whole rainbow of colors and makes the actual boiling sound effect.
Plus, it also comes with a tray of pretend food: A cake with stickers on each slice to represent different flavors that your child gets to match with what the pot says, helping her train her cognitive and fine motor skills. In addition to this, the set willhelp teach her about colors as well as manners.
And, the space underneath the lid of the teapot houses a little mirror to help you and your child play peek-a-boo together.
A rather neat toy that any mommy should consider getting for her little girl and a perfect gift to complete their Disney princess transformation as the whole set personally reminds me of the one from Beauty and the Beast.
Trust me when I say that your little one will use this every day for at least a year and still find some further use for it even after learning all there is to learn from it.
7. Little Tikes STEM Jr. Wonder Lab Toy with Experiments For Kids
STEM toys are what we call educational toys that help keep our little people's minds developing at a healthy pace and the Jr. Wonder lab is the pinnacle of STEM toys.
It is truly a massive setup, but one that makes seemingly complicated tasks so simple and rewarding that you will likely be at a loss forwords once you experience it yourself.
It helps young kids feel like little grown ups as they work their way through over 20 different experiments laid out on this massive workspace that they get to decorate as they see fit, all accompanied by various sound effects and added accessories.
While your kids may end up making a mess with all the ingredients every so often, the tray from the toy is easily removable and even easier to clean up.
Believe me when I say that your young children are going to be glued to this thing until they have tried out every possible combination and they're bound to have tons of fun while doing it!
The item is safe to give to kids as young as 1 year old all the way up to 4 year old little preschoolers and is sure to remain one of their best toys even then, and it's easy enough to get off Amazon.
8. Disney Frozen Bath and Pool Toys
While all these Christmas gifts for 2 year old girls can go in any room or even outside, what about getting some toys for bath time?
Well, should your child be fond of the Frozen franchise, which most kids are at this point, then you may want to consider getting these fun bath and pool toys.
A simple and ideal toy to give as a present for your child or someone else's child as it's almost guaranteed to be well-received.
9. Fisher-Price Laugh & Learn Smart Stages Puppy
If there's anything that kids love, it is looking at cute animals and talking to them, sharing an unspoken language between one another, regardless of whether they're real or not.
In this case, this adorable puppy will teach your princess amazing things and all through play.
It's also one of the better toys for fine motor skill development out on the market.
And, if all of this didn't sell you on it, should your child simply want to have some silliness and change up the dynamic of being taught facts for a bit, the puppy's big red nose can be pressed too!
That, plus the ears are made of a soft and furry fabric that will probably end up gathering more attention than the toy itself; I know mine acted like that when I took her over to a playdate with her friend.
This is a rather wonderful pickup from Amazon and is sure to help keep your child on the right track to a better understanding of the world that has just opened up to her as she reaches her second year.
10. Radio Flyer 3-In-1 EZ Folding, Outdoor Collapsible Wagon for Kids & Cargo
Time for something simple, but very effective, for some fun more than anything.
Enter the radio flyer collapsible wagon. This bad boy lets your kids have their own personal vehicle for storing all of their favorite stuff while having easy access to them should the need arise.
It also makes for a great little carriage for your little girl so she can truly feel like a princess as either you, her dad or her older sibling pulls her around the house or somewhere in the outdoors.
And don't worry about her falling out as the inside of the wagon was made with the highest standards in mind as it features both a UV protection canopy to keep your baby's skin safe from those nasty summer rays and seatbelts on each seat.
This way, you can rest easy knowing your child is safe and you can continue giving her the rickshaw ride of her life.
The carriage itself can support up to 150 pounds as well so you don't have to worry about it breaking down.
It's an easy pick up off Amazon and sure to give you the right bang for your buck.
11. LeapFrog My Pal Violet
Last, but definitely not least, we have an ideal first companion for your child. A precious, purple little puppy named Violet.
What makes her so special is the fact that she can be taught your child's name and can play it back effortlessly when your little girl interacts with it.
A cuddly little toy that'll keep your child company while they play and learn about numbers, emotions, feelings, colors and a lot of new words together.
She's even there to sing lullabies for your little one should the need arise which will only lead to a deeper bond forming between the toy and your little girl.
This cute puppy is also fully customizable via smartphone as many modern smart toys are, allowing you even greater personalization for your child and for its price, it's quite a steal if I'm being honest.
In Conclusion
The right Christmas gifts for 2 year old girls don't seem to be too complicated to figure out now, do they?
All you really need is to consider what your precious little girl likes and pays attention to and get something that satisfies that as well as potentially helping her learn a few things.
Naturally, it doesn't have to be as complex as I may have made it out to be. A simple baby doll or even a bowl of ice cream can do the trick to keep your little one always happy and smiling.
Honestly, even some sort of DIY project is sure to receive warm smiles from your child as long as they see that it's coming from you, just like her first purse that you hand knit just for her did.
If you simply don't have the time or find that nothing from this little list of mine fits you, then feel free to scour the virtual jungles of Amazon to find your very own perfect gift for your baby girl.
Like this post? Please share or pin it for later. You can also stay in the loop and follow us on Facebook, Instagram and Pinterest.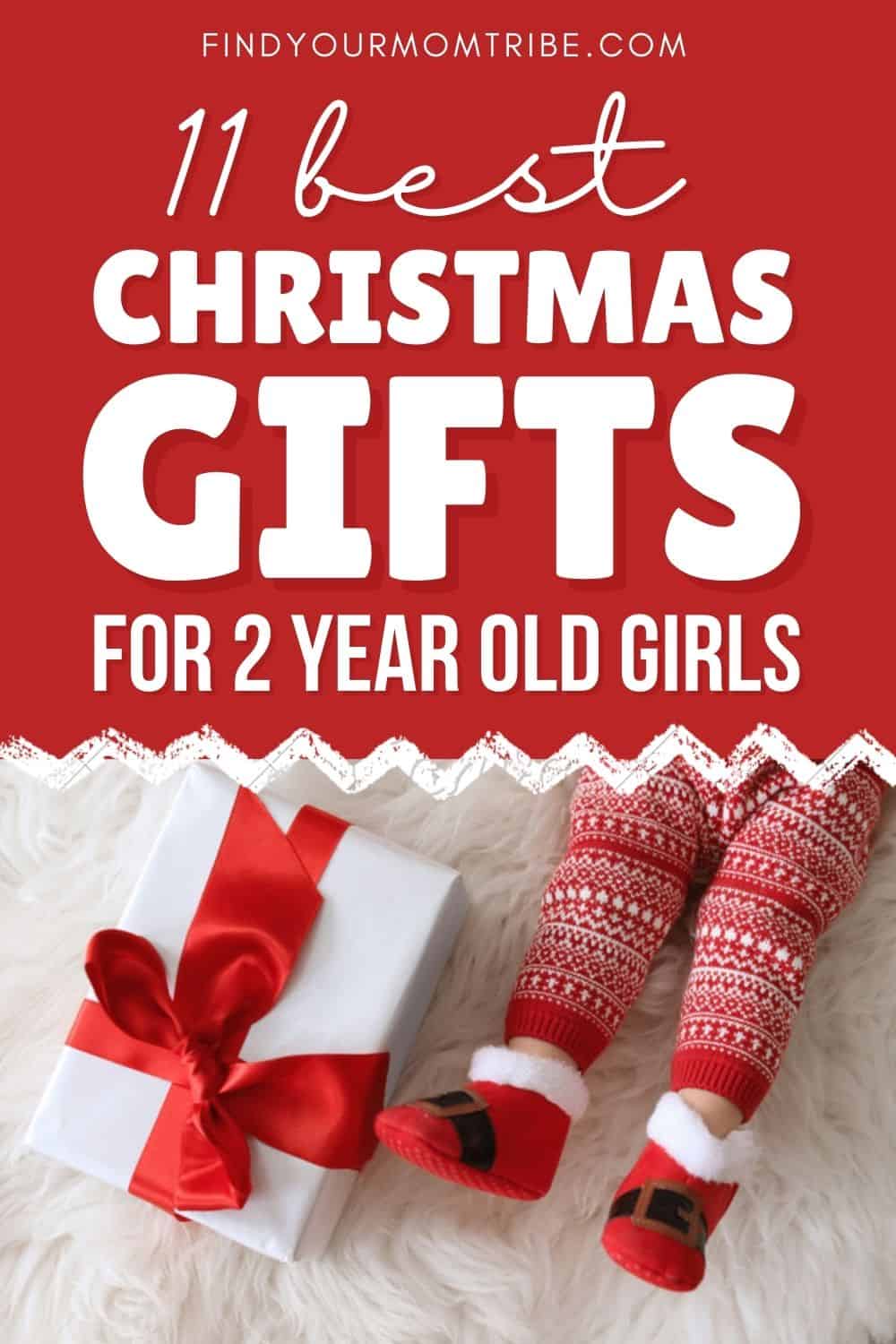 We love honesty! Find Your Mom Tribe is an Amazon Associate and we earn from qualifying purchases through affiliate links at no extra cost to you. Please see our full Amazon Affiliate disclosure for more information.