The life of a mom is filled with many thrilling events. She wants to get the best shoes, the best clothes, even the best baby walker for her child. Indeed, life becomes a daily adventure.
She wants the best for her child as they make their first memories. And so, she stops at nothing to get the best gear and gadgets.
One of the first devices moms get is baby walkers. This walker will help children grow from crawling to walking. It enables the baby to exercise, learn, appreciate nature and music, and also develop physically and cognitively. Read on to find out the most reasonably priced, best baby walkers around.
1. Roaming Safari Walk-A-Bout Walker
It is every parent's desire to get the best walkabout walker for their baby. They want their toddler to enjoy the best features and that is why the Roaming Safari Walk-A-Bout Walker is one of the finest around.
This safari-themed round-a-bout walker takes the infant to cloudland with its unique entertaining features. It consists of a toy station with many different toys. It also features a steering wheel that turns on a variety of lights and music as it swerves, so that the baby is stimulated.
This activity center is detachable so your child is able to play with it anywhere and at any time. The unit has 3 adjustable sizes that can be adjusted according to the physical dimensions of your little one.
The Roaming Safari Walk-A-Bout Walker features 9 different activities to ensure that your babe never gets bored. It has a machine-washable pad to keep dirt, grime, and bacteria away from the seat. The unit is very easy to move (with dimensions of 34 × 28 × 24 inches) and is lightweight and comfy at just 11.02 lb.
The walker's top portion folds neatly down to the lower portion of the wheels, to be stored anywhere. It is a wonderfully made product that has the safety and development of the infant at its core.
Pros
Comfortable

Easy to clean

Top-quality wheels

Durable
Cons
Wheels work on flat/hard floors only

Users have reported that the wheels are very noisy
2. Joovy Spoon Walker
The Joovy Spoon Walker is at the point where walker meets high chair. It is a well-renowned walker that promises optimum functionality. It has no toys or lights or anything that can distract your baby from walking or standing.
The Joovy Spoon Walker is an alluring walker with a large, sturdy tray front and center, which allows your baby to have fun with their own toys, and have ample space to munch on some snacks. You don't even to worry much about messing it up as it is easy to clean.
This walker has oversized wheels and non-slip-stair pads, and is reinforced with steel. As your baby grows, you can adjust the walker's height as the Joovy comes in three sizes. The unit measures 18 × 25.5 × 27.75 inches. It is designed for babies with max. weight range of 30lb and a height of about 33.5 inches. The Joovy Spoon Walker is foldable, making it excellent for both travel and storage.
Pros
Comfortable

Sturdy

construction

Extra-

large tray

for playing and eating

Seat is

machine washable

Easy-to-fold for storage and travel

Modern clean look

Super easy to clean
Cons
No toys

No audio

Not suitable for taller infants

Users have expressed its non-suitability on carpets

Hind wheels are stationary

No brakes
3. Safety 1st Sounds 'N Lights Discovery Walker
The Safety 1st Sounds 'n Lights Discovery Walker is one of the best baby walkers on Amazon. It lives up to its name as it possesses so many great features that keep your baby entertained while they move around the house.
It comes with a removable dinosaur themed activity center, a tray area for snacking, and 3 customizable height grades that you can adjust as your baby gets older. The padded seat is detachable, making it easy to clean and bacteria-free. The walker is also foldable to ground level.
It weighs 11 lb and measures about 24 × 28× 22.5 inches. All in all, Safety 1st Sounds n Lights Discovery Walker is an excellent traditional walker and activity center. So moms, if you're out looking for the best walkers on the web, then the Safety 1st Sounds 'n Lights Discovery Walker should be high up on your list.
Pros
Walker folds for easy portability

Easy to assemble

Works great on carpets

Machine washable seat

Inexpensive

Toy trays give way to large snack area

Does not overwhelm the toddler
Cons
May not be great for shorter babies

May be difficult to fold

No brakes

Not as many perks as some of the other costly walkers
4. Safety 1st Sounds 'N Lights Activity Walker
Much like the Safety 1st Discovery Walker, the Activity Walker is one the most popular activity centers for children. Its presentation comprises 3 adjustable height settings, 12 songs with sounds and lights, as well as a removable safari activity tray that also serves as a snack area. This activity tray also comes with a host of fun toys, some of which make sounds and emit light.
All the toys are attached on the walker so that your little one doesn't lose them easily. In addition, there is a small mirror, chew toy, and spinning ball, among others. Product dimensions are 28.4 × 24.8 × 19.5.
It is mounted on a large, solid base, on a solid frame that holds the play area. It has a comfortable seat that can be adjusted to three different heights. The seat pad is removable and machine-washable.
Pros
Nice selections of music, lights, and sounds

Easy to assemble

Machine washable seat

Portable; easy to fold and store

Folding frame

Grip strips reduce movement on uneven surfaces
Cons
May not be suitable for shorter babies

Difficult to replace batteries

You may find the lowest setting too high
5. Baby Einstein Neptune Walker
The Baby Einstein Neptune Walker is a colorful walker that has a glossy, underwater design to help your child appreciate nature, while availing him or her several hours of playtime. It guarantees absolute support for babies learning to walk and is recommended for infants who have just learned to sit without assistance.
There are toys and lights on the activity center that will enhance your babe's cognitive abilities. Baby Einstein Neptune Walker is a sturdy unit that encourages the development of leg muscles, adventurism, and independence as the baby steers it around the house.
Furthermore, the seat back provides additional support that ensures that your child is comfortable as they play. You can also add your baby's favorite toys to the walker with 2 loop links. This walker weighs 12.2 lb with 23.5 × 6.8 × 18.2-inch dimensions.
Pros
Comfortable

Durable

Toys can be attached to the walker

Sturdy

elliptical frame that allows for maneuverability

Removable toy

station

Height is adjustable

Sturdy

and secure backrest
Cons
Some maneuverability concerns

Not suitable for overweight or short babies

Hard to open battery compartment

Requires a rubber bumper
6. VTech Sit-To-Stand Learning Walker
The VTech Sit-To-Stand Learning Walker is an interactive learning baby walker that has a detachable play panel and frustration-free packaging. This early learning center for babies has 5 piano keys that enable the child to play music and facilitate creativity.
This Sit-to-Stand Learning Walker works equally well on carpeted and hard floors, with two adjustable speed settings (slow and fast). It also features 2 colorful spinning rollers, 3 shape sorters, 3 light-up buttons, and more than 70 songs that develop your child's motor skills. The rolling rattle on the bottom of this activity center is excellent for your kid's entertainment.
This walker keeps your child busy and develops their cerebral skills, igniting a musical aptitude while helping them to maintain the much-needed balance to make their first steps. The unit measures 16.5 × 14.2 × 18.1 inches and weighs 5 lb. Let's not forget the volume control that helps you lessen the noise should the music gets too loud.
Pros
Up to 70 sing-along songs, phrases, and sound effects

Play panel enhances your kid's

motor skills

Easy to assemble

Helps toddlers to balance
Cons
Tire grips could be improved

Some moms are unhappy that a small phone isn't attached
7. Disney Music And Lights Walker
There comes an age when a child feels ready to move around on his own. Any concerned parent will quickly move to help their child stretch and explore their walking abilities. The first step is to instill the confidence in your baby to run around without assistance. The Disney Music and Lights Walker is a beautiful selection to give the toddler an extra strength boost as they look to start walking.
While pushing the walker, the kid toys with the activity tray, moving it from side to side. On each side, there's a food tray or play tray. Hence, the baby can choose whichever mode they prefer. The walker is fitted with sturdy wheels that can run easily on both floor and carpet.
The music and lights are outstanding and engrosses the kid, stimulating their interest in art and spectacles. The Disney Music and Lights Walker is a fun-filled machine for the baby and cleanup is even easier thanks to the washable padded seat. This alluring walker is available on the web and in most game stores.
Pros
Sturdy

Easy to handle device

Easy storage

Dual function tray

Holds children up to 30 Ib
Cons
Does not move well on uneven surfaces

Make sure the babe is able to sit unassisted

The snack/

play tray

is overly large
8. Disney Peek-A-Boo Minnie Mouse Walker
This Minnie Mouse themed walker is one of the best baby walkers. It's made for baby girls who are 9-months-old and up and haven't began walking. It has a high back seat that provides more than enough support, together with a comfortable seat cushion being removable and machine washable.
We can attest to the entertainment the Minnie Mouse walker brings, with the light-up piano station, plastic flowers, and beads promising to keep the girls busy. The walker frame and toys are easy to wipe clean with a damp cloth. The toys and frame can look as good as new without using harsh cleaners.
This awesome product weighs 12 lb, has a capacity of 24.2 lb, with dimensions of 18.2 ×6.8 × 23.5 inches. It also uses 3AA batteries.
If your baby girl can sit, crawl, and play on her own, then this walker will provide many hours of entertainment and activity.
Pros
High seat back provides great support

Toys comprise roller drum, click flowers, bead chaser

Machine washable

, removable

seat pad
Cons
This product is a bit heavy

It may not win the baby's attention
9. Kolcraft Tiny Steps 2-in-1 Jubilee Activity Walker
Kolcraft comes on to once again meet the expectations of parents. Kolcraft Tiny Steps 2-in-1 Jubilee Activity Walker is a 2-in-1 function as a walk-behind as well as seated activity walker. This activity walker has an adjustable seat pad that provides coordination with your bright start's height.
The manufacturers of this unit centered on child safety during play as it consists of pads on its bases that are skid-resistant. You'll be amazed by the developmental toys such as the upright flower mirror toy with crinkle petals and a textured stem, spinning ball for batting play, and bead bar for intellectual skills development.
Its streamlined design is a super space saver that enables sleek maneuverability, folding simply for easy tuck-away or trips away from home. This device can be used by both girls and boys. It is also lightweight at 7.5 lb. The weight of the unit can conveniently take a weight range of 15-26 lb. Its dimensions are 24.3 × 30 × 25 inches.
The unit does not require the use of batteries, its manual is easy to interpret, and it works excellently on both flat floors and carpets.
Pros
Really easy to use

Comfortable

Provides safety and mobility

Functional tray on which to place toys

Easy to wash and recouple

Reasonably priced
Cons
Not for older babies

Wheels don't roll easily
10. Bright Starts Walk–A-Bout Walker
All babies reach a point where they naturally want to walk, and Bright Starts Walk–A-Bout Walker is just the right walker that entertains and aids young kids in developing vital physical and motor skills. .
This unit comes with delightful features, such ash an electronic toy with classical melodies, and sounds and lights that keep the baby up and zesty. Bright Starts Walk–A-Bout Walker also comes with 3 adjustable heights, volume control, 2 link loops for toys, and easy storage capability, among other perks.
The Bright Starts Walk–A-Bout Walker is 11 Ib on average and 34 × 28 × 24 inches. The acceptable weight for this product is between 15 and 26 Ib.
Pros
Foldable

and easy to store

Features

removable toys

and two loops for more toy attachments

Wide,

sturdy

frame that facilitates safety

Cleaning the unit is easy and effective

Works well on carpeted floors

One of the most inexpensive walkers available
Cons
Might be unsafe for naturally tall babies
11. Delta Children Lil' Drive Baby Activity Walker
Just like the other car-inspired walkers, the Delta Lil' Drive Activity Walker is a smart choice for moms when choosing a walker for their baby. With its excellent color selection and car icons, your child can cruise around the house and enjoy their activity center to the max.
The walker also has a steering wheel and other car-themed toys. It also comes with a 3-height adjuster with a functional snack tray under the toy center. This product has a portable and detachable feeding and snack tray that proves to be one of the best features of convenience for every mom.
This cool baby walker weighs 12.8 lb and is 27 × 27.8 × 26 inches in dimension. Its maximum weight recommendation for infants is 25 lb.
Pros
Durable

Comes with lots of multiple race-car sounds and lights to enhance baby's experience

Volume controller

Easy assembly

No need for batteries

Back wheels enable multi-directional movements for improved mobility
Cons
Short babies may find it too high

Wheels may leave scratches on wooden floors

Lesser active assembly parts

Height controls may be difficult to adjust
12. Combi All-In-One Mobile Entertainer
The Combi All-In-One Mobile Entertainer makes the list as one of the best baby walker selections your baby can enjoy.
It locks the baby in superbly so that they can use it as a jumper. As expected, it has 3 adjustable height options, as well as a steering wheel activity center that comes with various sound options. The hood and rear of the walker are removable for snack time.
The walker is designed for infants aged 6 months to 2 years. The infant using the product should weigh 15-25 lb and be not more than 32 inches in height. Product weight is 14 lb and dimensions are 28 × 26 × 21.5 inches.
Pros
Durable material

Multiple features including sounds, horn, and lights

Steering wheel

toy center

Folds well for travel and storage
Cons
Not good on carpeted flooring

A tad expensive
13. Creative Baby 2-In-1 Walker

This JPMA-certified 2-in-1 activity center and walk-behind walker is a tot's delight that can be converted into a standalone activity station. It features a 3-position height adjustment that will allow your walker to be there throughout your child's growth. Your kid can play with it while learning to walk confidently. It can also function as an educational toy and game board.
This activity center has a number of sounds, bright colors, and tunes that keep your child occupied. You can adjust the volume and switch modes to keep your child happy and entertained. The walker converts from a seated walker to a walk-behind walker when your child wants to walk solo. Once the baby is able to do so, use the rear handle to practice safe walking.
The toy station features more than 6 toys, including a caterpillar, a swirly knob, a bubble popper, and a detachable music station that need 2AA batteries to work (not included). The seated part of this premium-quality walker can be used by kids between 15 and 26 lb and not more than 32 inches tall.
The front wheels rotate 360 degrees for fast, multidirectional movement. However, the back wheels are stationary. This means that your kid can maneuver this unit on any flooring, including carpeting. You may need to remove or adjust the non-skid pads to use on carpet.
This device isn't as flashy as some of the activity centers on the list; nonetheless, it is awesome for younger babies. The music station plays classical songs instead of regular children's songs, because classical music has been shown to make babies smarter.
The dimensions of this walker are 23 × 30 × 20 inches and it weighs 11 lb. The unit is already garnering rave reviews on Amazon with users purring over how cute it is.
Pros
Non-

skid

pads

Detachable

toy station

Includes walk-behind bar

Machine washable seat pad

Front wheels that

swivel

Wide rear handle for easy hold

Includes a safety bumper
Cons
Low quality wheels

Difficult to roll on a carpet
What to look for when buying a baby walker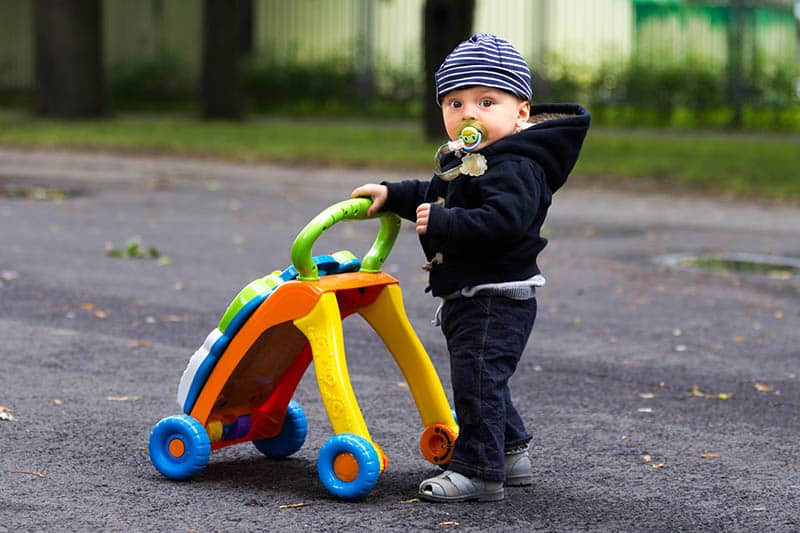 Comfort
Ensure that you pick a walker that your baby is most comfortable in. Even if your baby sits in the device for only a few minutes, those few minutes count. The baby may dislike the toy center if he doesn't feel comfortable in it. The padding, the position of the seat, and everything else plays a huge role in the child's comfort.
Materials
Most baby walkers are made from hard plastic. Other types comprise metal frames, plastic trays, and wheels. When buying a baby walker, choose one that feels solid in terms of build, irrespective of what material it is made of. There are also wooden variants too. Don't go for walkers that are too light as they can topple over easily and be hazardous for your baby.
Wheels and movement
Some units come with swivel wheels that enable them to move forward in different directions, while others can only move forward and backward. The type of wheel used determines the type of movement the walker can perform. When buying, choose one that has wheels that do not give too much or too little friction.
Furthermore, the type of wheels used and their positioning determines the type of surface where the activity center can be put to use.
Adjustability
Height adjustment is an important feature that all the best baby walkers have. Not all babies of the same age are of the same height. Selecting one that avails height customization ensures that you can set the right height for your little one to have unlimited movement.
Base size and shape
Most seated walkers have a rectangular base with wheels and a base width that you should take note of. Choose a baby walker with large wheels that come with a broad base to ensure that your child's feet don't touch the base as they walk in order for them not to get hurt.
Types of baby walkers
Generally, baby walkers are categorized into seated and sit-to-stand walkers.
Seated: Seated and push-type baby walkers are perhaps the most common types you can find. Nowadays, they are infused with a lot of activities. One characteristic of seated activity centers is that it usually has a weight or height limit. Hence, choose a seated walker only when you don't want to let your baby sit in it for a long period of time.
Sit-to-stand: Sit-to-stand walkers enable your kiddo to play for an extended period of time. However, this walker is not suitable for babies as young as six months or those who cannot stand without some form of support.
FAQs
Is a walker good for your baby?
A walker is a device that assists your baby to walk on its own. Most parents place their babies in the walker to accelerate muscle development. These days, walkers boast plenty of highly engaging devices to facilitate activity.
How do I assemble a baby walker?
Assembling a walker is a very simple task. Read the user manual for clear instructions and follow the steps outlined.
How easy is it for a baby to use a baby walker?
Walkers have practical toys as well as activities that are age-appropriate. This ensures that the walker has all the perks to assist the child's sensory and motor development. The toys should not be too simple, as this will bore them quickly.
Avoid picking a walker that is too complex as this may frustrate the baby. Another tip is to pick a product with a large activity tray where you can place your kid's own toys to provide engaging playtime.
How can you make a baby walker move on carpet?
If you have carpets or rugs, ensure that you pick a baby walker that is suitable for use on carpeted floors. One way to make sure of this is to check the wheels' material and finish. Some wheels come with a smooth surface that does not scratch hardwood or laminate floors. Having removable wheels is a bonus as it helps you to remove them and use the walker as a stationery play gym if necessary.
Are baby walkers dangerous?
A baby walker can only be dangerous if used wrongly. The infant may skid, trip, or roll downstairs when unsupervised. Babies move very fast in the walker and one little mistake like forgetting to close the basement door may lead to a disaster. So, pay attention and don't take your eyes off your child. Besides this, a walker should keep the baby engaged.
Heed the recommendations of the American Academy of Pediatrics and don't accept a hand-me-down walker from a cousin – be sure to buy one with current safety features.
How do I maintain baby walker wheels?
There are various activities involved when maintaining a baby walker. The first step is to know how wheels are cleaned, as dust and debris can increase friction. You should be concerned about safety if the wheels can't be removed easily.
Another problem may arise when dust on the wheels causes scratches on the floor. Use a brush to clean all the debris in-between the rollers of the baby walker.
Another major characteristic that highlights the ease of maintenance is the tray and seat cleaning process. It is important to pick a walker that comes with an easily removable machine-washable seat that will make cleaning simpler, and as bacteria-free as possible.
How do I adjust the height of a baby walker?
Adjusting the height of the walker is easy. Simply place one hand on top of the unit and press the button underneath the tray with the other hand. This will control the height. If your unit has a lock, turn it 90 degrees to lock it into place.
What should I buy alongside my baby walker?
Anti-slip baby socks: These are socks that have a rubberized pattern of dots that grip the floor as your child walks. Anti-slip socks make it easier for baby to walk in socks without slipping or falling.
Door jumper: A doorway jumper is fastened to framed doorways to allow your kid to jump in place and have fun. Toys, lights, and games are often included on the jumper to keep the child busy.
Handheld baby walker harness: A handheld baby walker harness allows your baby to stand and walk normally in a more balanced way than a baby walker. They have the appearance of a safety harness, and you can hold onto a strap and walk behind your baby to assist in his progress.
Baby's first walking shoes: Baby's first walking shoes are designed for outdoor walking, away from the safety of the living room carpets. These shoes are usually snug yet not tight. Also, try to pick a pair that has Velcro, laces, or snaps, with an ankle cut or high-top design.
Final word on
best baby walkers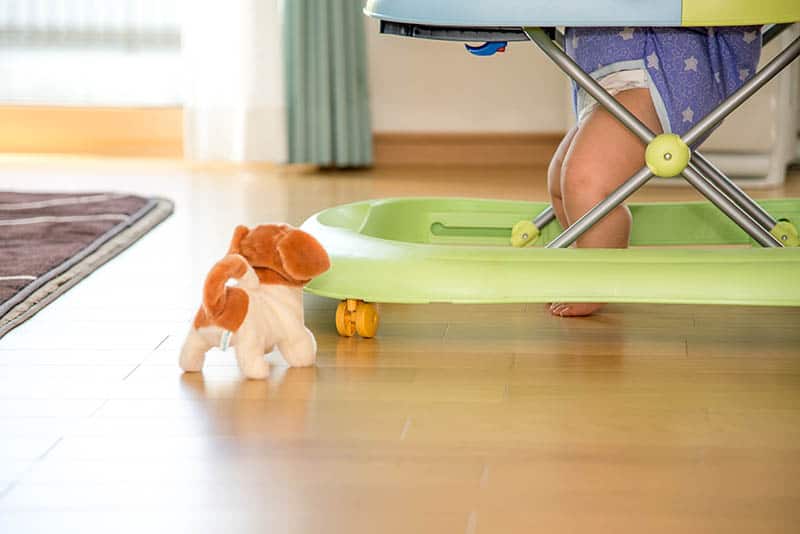 Once you have made your assessments on all the limitations and perks of owning a baby walker, go on and choose something that lies within your budget. Look for multi-functional products as they make a great value purchase.
Like this article? Please share or pin it for later. You can also stay in the loop and follow me on Facebook, Instagram or Pinterest.