Disclosure: This post contains affiliate links. Please see our full disclosure for more info.
Whether you're planning a vacation with a newborn, baby, or toddler… or just taking a road trip to visit family, there are several essential things to pack that you don't want to forget!
I'm a type-A mom of three, and my motto is, "be prepared." Haha. We've taken trips with our babies on a plane, in a car, to the beach, to Disney world, and all over the place.
So aside from the obvious diapers, wipes, and clothes, what do you pack when traveling with a baby?
These are packing must-haves that are not-so-obvious that we always pack with us for a better night's sleep AND to keep our family healthy while traveling.
They just make traveling with a baby easier all around!
Let's dive right in!
(Psst…I'll be adding to this list as I think of more things, so be sure to pin it for later!)
Traveling with Baby: Tips & Must-Have List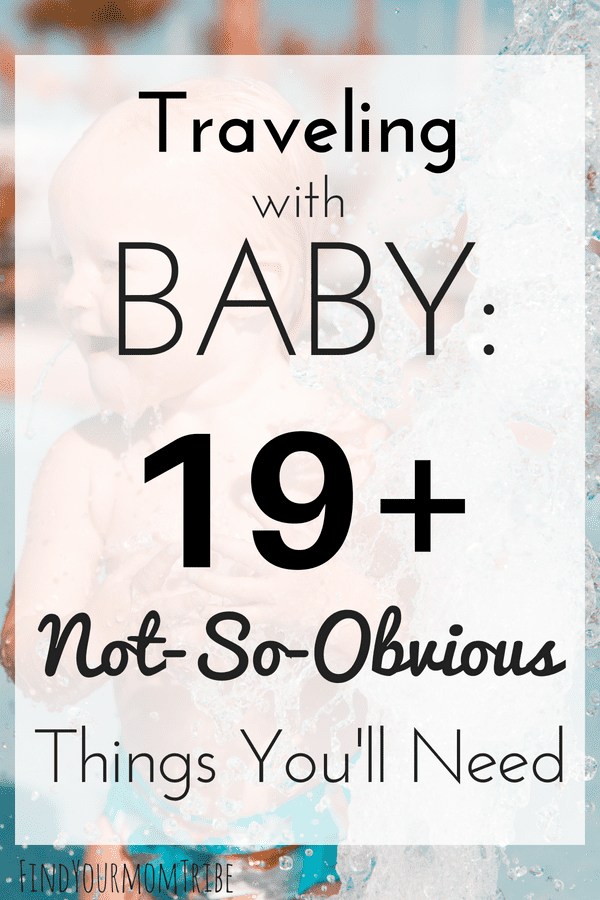 You can click on any photo or link to learn more about the product and/or make a purchase.
If you're staying in a hotel with your baby, (or really any place that's new!) there will unfamiliar noises that may startle and wake your baby.
Creaks in the floor or people slamming doors… traveling with baby can disrupt their sleep.
Packing a sound machine will help drown out the noise and help your baby sleep better while on vacation! (This is the brand we love. Our babies love the "ocean" sound.)
I love to pack this roll-on sleep oil blend for my kiddos to help them sleep better while traveling. It's even paraben and phthalate-free and safe for babies older than six months! (Smells so good, too!) It's small and doesn't take up much space in your suitcase.
If your baby sleeps well with a swaddle, don't forget to pack it! (Seriously, don't forget. Our baby was addicted to hers and wouldn't sleep at all without it!) This is my favorite swaddle ever.
I can't tell you how many times I've forgotten the baby shampoo. I love Dr. Bonner's baby soap as a non-toxic option.
Pro tip: Target sells it in a travel size!
Why is it so easy to forget your toothbrush when packing for a trip?! Haha! Well, now that you have a baby, you gotta pack one for him, too! I love this brand, which is very soft for baby's gums.
All that bumpy traveling with baby can be hard on her tummy. We always pack this gripe water to take with us just in case of gas, colic, or tummy troubles.
I also swear by this night time version, safe for babies older than 1 month.

I'm a total germaphobe, so I always pack disposable changing mats to protect my baby from germy surfaces and keep them healthy.
I love this kind because they're bigger (and cheaper!) than your typical baby changing pad.
Speaking of disposable mats, I always pack a few of these disposable restaurant table covers for when we eat out.
(Have you ever used a Clorox wipe on a restaurant table? If so, you KNOW how nasty those tables are!)
These Sesame Street ones have bright colors and fun pictures to keep baby occupied.
I also be sure to pack a high chair/shopping cart cover to protect baby from germs if they're old enough to sit up. I love this brand.
We just returned from a short getaway where we stayed at a posh hotel. And even though it was a super-nice place, the towels were SO scratchy. Save your baby's skin by packing his own ultra-soft towel and wash cloth.
(And confession: I told ya'll I'm a germaphobe and the thought of rubbing a towel on my baby that has been used by 100's of other people kinda freaks me out. Haha!)
If you're planning to take baby to the beach or the pool, or if you're going to be gone for longer than a couple of days, you probably want to pack more than one towel.
Most babies LOVE to be carried. (And let's face it. A wrap takes up so much less room than a stroller!)
Speaking of the beach and pool, you'll want to be sure to pack swim diapers if you're headed there. (Why do I always forget these?!)

Unfortunately, a lot of mainstream sunscreens are loaded with toxins and harmful chemicals that shouldn't go anywhere near a baby. 🙁 I trust this brand (Badger) as a good non-toxic sunscreen option.
Have you ever noticed that hotels never provide hand soap for their guests? It blows my mind! They just give you those tiny little bars.
I dunno about you, but I'm not sure that washing your hands with bar soap gets them very clean. I mean, if you think about it, you're putting your dirty hands on that bar of soap, and then later washing your hands again with the same germs lingering on the bar. (Am I over-thinking this? lol!)
But for real, since you'll be changing diapers, I feel like it's important to pack liquid soap.
We always pack hand soap when we travel to keep us healthy.

If you're traveling with a baby who uses bottles, pacifiers, or sippy cups, you'll need to bring those with you, along with something to wash them in while you're on your trip.
(Or, if you're a pumping mom, you'll also need to wash your breast pump parts!)
This dish pan is perfect for washing baby stuff, plus it's collapsible so it won't take up too much space in your luggage!



And of course, you'll also want to pack dish soap  and a bottle brush to wash said bottles, sippy cups, pump parts, and pacifiers!
At this point, I kinda feel like this post is similar to "If you give a mouse a cookie." If you have dish soap and a bottle brush, you're going to need somewhere clean to dry your bottles. Sooo… you'll also need to pack a bottle drying rack.

You'll find a million uses for these things when traveling with a baby. I like to put my baby's outfit, a diaper, and a pair of socks in a ziplock bag so that everything is ready to go and easily organized.
I also keep all of baby's pacifiers in a baggie so they don't get dirty or lost.
Bonus item: Disinfectant wipes! Whenever we get to a hotel, I always wipe down the remote, light switches, and all major surfaces.
Alright, that's it, friends! What would you add to this list? Comment and let me know your favorite must-have items for baby travel!
And don't forget to pin this post for later!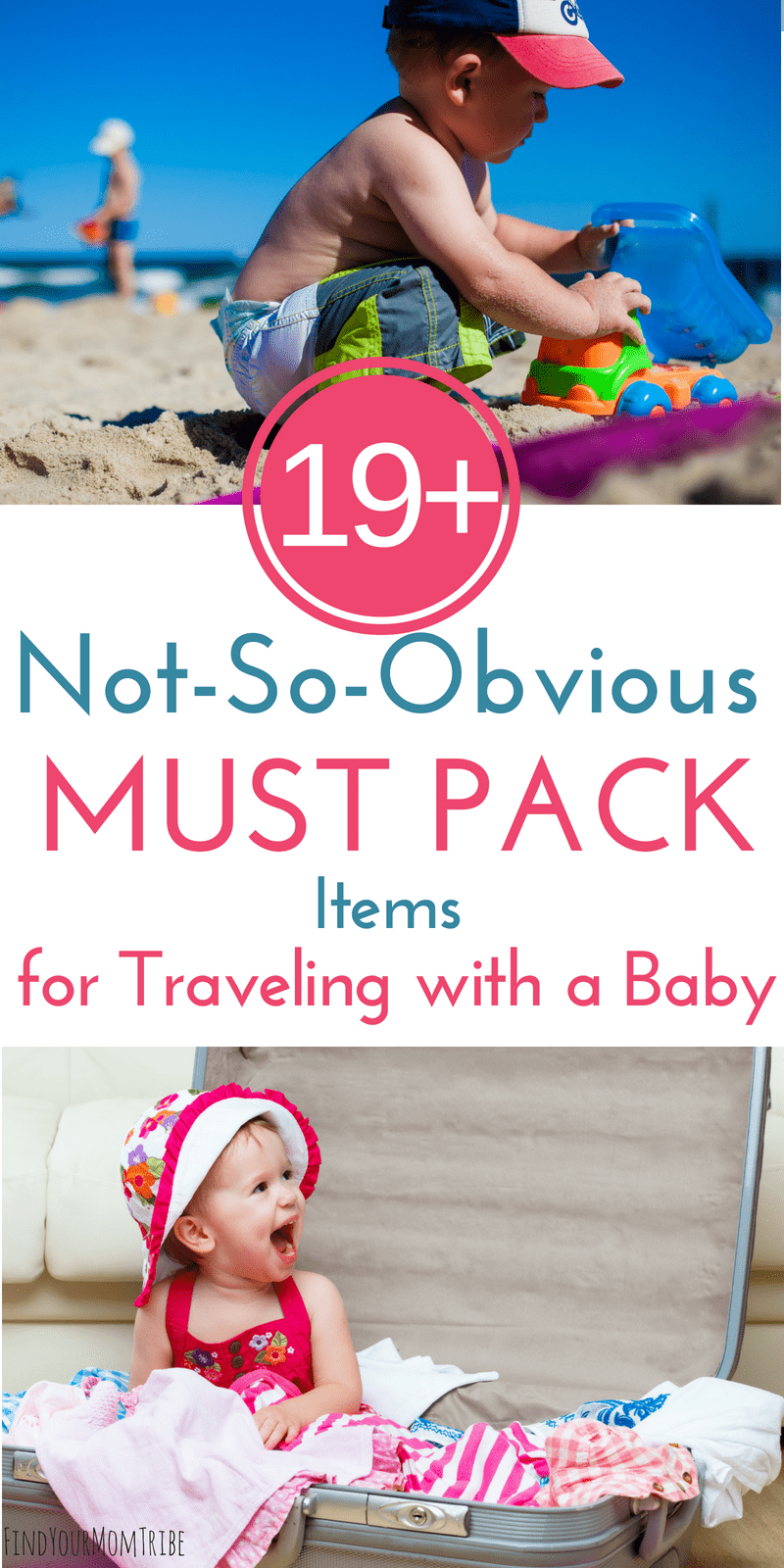 Psst! Be sure to follow me on Pinterest, Facebook, and Instagram for more mom hacks and parenting inspo!)