Christmas gift guide for girls
Shopping for a not-quite-tween girl? This can be such a hard age to buy for!
Don't worry, my friend! I asked the expert (my 8-year-old daughter)! According to her, here are the hottest toys any girl would love!
Click on the photo to learn more or purchase on Amazon!
Best Christmas gift ideas for girls ages 7-9
FurReal Friends are so popular right now. The Roarin' Tiger is one of the hottest toys this year, but right now it's going for around $150, which I feel is an outrageous price (which is why that one didn't make the list!) This panda, though, is super-cute and way more affordable!
Did you know that Cabbage Patch Kids have made a huge comeback? This time with tiny dolls called Little Sprouts!
If you have a kid who isn't really playing with toys anymore, here's the perfect solution! Remember those old Polaroid cameras? It's like that but way cooler. This bundle includes a camera strap, selfie mirror, photo album, color filters, and more!
Hatchimals were HUGE last year! These hatchimals are mini versions and are so adorable.
Lego Friends are so fun for girls who love to build. These little puppies are so adorable and this set will provide hours of fun.
Meet Nanea, one of the newest American Girl dolls! I don't know of a single kid who wouldn't LOVE an AG doll for Christmas. They can be pricey though! Target has a great knock-off brand that's much more affordable.
According to my daughter, every doll *needs* pajamas. These fit any 18″ doll and come with cute bunny slippers.
Furniture is another fun thing to have for 18″ dolls. This bed fits the bill!
If your kiddo plays with Barbie, this is a super-fun set. (And how adorable are those babies?!)
My daughter squealed when she saw this set. I mean, just look at that baby goat!
This house opens up to reveal a kitchen, bedroom, and bathroom!
For the crafty girl, here's a cool make-your-own plush kitten!
Stocking Stuffers for Girls ages 7-9
Let's keep this list going with items that are small enough to fit in a stocking!
According to my sources, these toys are going to be SOLD OUT everywhere well before Christmas. If your kiddo has one on their list, get it now while it's still in stock!
How adorable are these plush animals? My daughter loves to collect these.
Tiny, cute, scented, collectible…everything a girl could want!
Another collectible? Yep! A bright red ball contains a small plush animal.
What gift would you add to this list?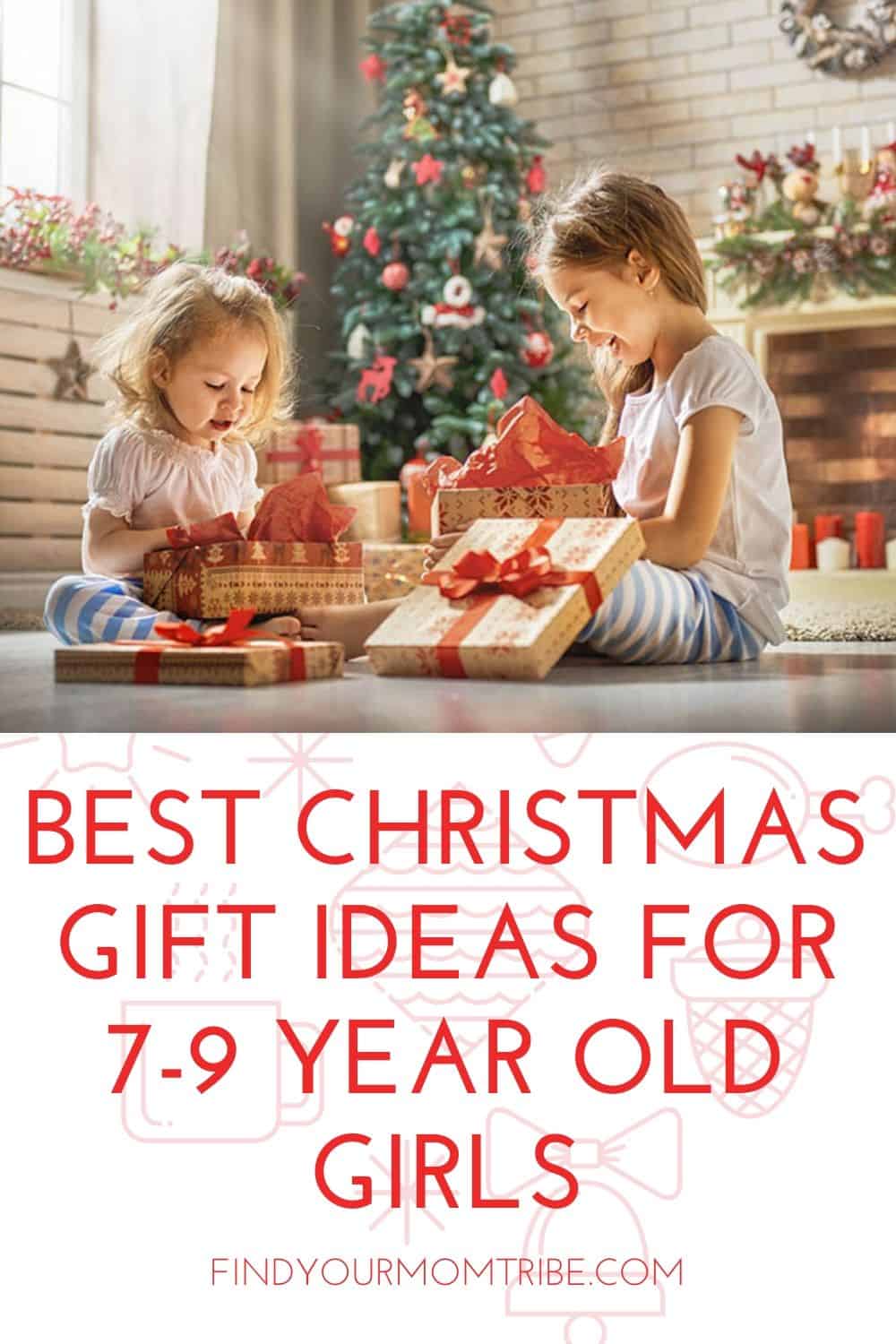 Click here to pin this so you can refer to it later!
Check out my other gift guides! 20 Best Christmas Gift Ideas for Babies Under 1
25 Best Christmas Gift Ideas for Toddlers
25 Best Christmas Gift Ideas for Boys ages 4-6
This post contains affiliate links. Please see our full disclosure for more info.