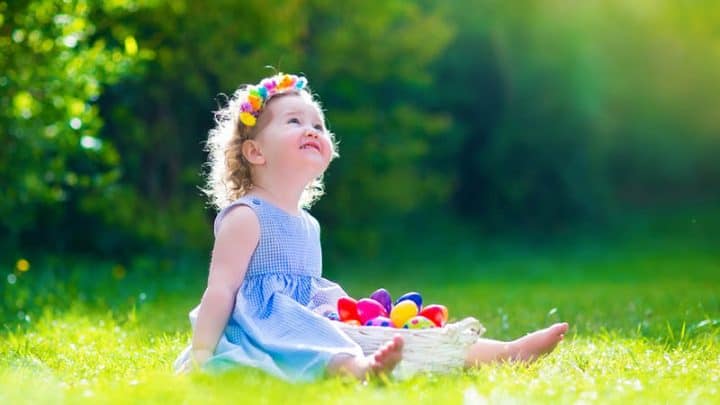 What goes in an Easter basket for 2 year olds? Easter eggs go without saying of course, and other small treats are also important, but when it comes to bigger gifts it can be frustrating scrolling through Amazon to find the right high-quality toy.
To make the job easier for you, I've compiled some of my favorite gifts to put in an Easter basket for a 2 year old boy or girl, as the majority of items on this list are gender-neutral.
When toddlers are at this age there's a lot of excitement and energy, but also attitude. They don't call them the terrible twos for nothing!
At this point, however, your child has further developed her gross and fine motor skills, which gives you the perfect opportunity to incorporate new and advanced 2 year old toys into playtime.
From trains to Lego sets, your child can now practice putting things together and taking them apart again, so you'll find plenty of these toys on this list.
I've also added practical items such as pajamas that will (hopefully) get your kiddo excited for bedtime.
In addition, you'll also find toddler-friendly art supplies such as crayons and chalk to help your kid unleash her inner artist and get creative.
Read on to see what my top Easter gift ideas that don't include candy are – no offense to jelly beans!
Fillers For An Easter Basket For 2 Year Old Toddlers
1. Personalized Plush Easter Basket
Before you decide on Easter basket fillers, you must first get a basket!
I'm a big fan of personalized baskets that you can use every year, creating wonderful memories with your kids.
This plush basket is available in the shape of various animals and fairytale creatures, including bunnies and unicorns. You can customize the basket with your child's name too. The plush material should be spot-cleaned only and the handle can be folded down for storage.
The best part is there's plenty of room in the basket for you to put all your Easter goodies.
2. Learning Resources Count & Color Choo Choo
An interactive toy train is a wonderful stuffer for an Easter basket for 2 year old kids!
This train is made by Learning Resources and is designed to teach your kid numbers, colors, and shapes. What's more, different shapes can be stacked together to create interesting buildings! That makes this toy great for encouraging open-ended play.
What's more, this toy doesn't make any electronic sounds or music, which is perfect if you're trying to avoid noisy toys!
It's suitable for kids aged between 2 and 5, so it's a great choice even if your kiddo has older siblings, and there are plenty of pieces to share!
3. Honeysticks 100% Pure Beeswax Crayons With Coloring Book
Coloring books are another popular choice for an Easter basket for 2 year old kids.
They'll inspire your kids to get creative and develop their coloring and fine motor skills.
Plus, it's one of my favorite rainy day activities for kids and grown-ups! Last year, I bought a bunch of coloring books for my kids' Easter baskets and I'm pretty sure I had just as much fun coloring as they did.
This coloring book includes a set of 12 crayons, so your kids can get started right away. The crayons are chunky and easy for little hands to grip, and they are non-toxic too.
The illustrations are simple enough for a toddler to color, and there's space on every page for your little one to write her age and the date.
4. Crayola My First Finger Paint Kit
Finger painting is such a fun experience for kids of all ages. It stimulates their senses, boosts their imagination, and teaches them about mixing different colors.
It's also guaranteed to hold their attention!
Making DIY finger paint is always an option, but for the purposes of an Easter basket for 2 year old toddlers, I'd go with a ready-made one because it's simpler.
This set includes 6 vibrant colors, and most importantly they are washable, so you don't have to worry about stained clothing.
5. Nickelodeon Paw Patrol Bath Squirter
Bath toys are a perfect Easter gift, especially if your tot isn't too fond of bath time. These bath squirters come in the shape of beloved Paw Patrol characters that will float in the water and turn bath time into a super fun experience!
The set includes 5 different characters.
If you're particularly environmentally conscious, there are also many natural bath toys you can choose from.
6. Hape Walk-A-Long Croc Toddler Wooden Pull Along Toy
Pull along toys are so much fun for toddlers as they encourage imaginative play and improve gross motor skills, so it's no surprise that they're so popular with both parents and children.
This crocodile pull along toy by Hape is a great gift because it's wooden and non-toxic. But what really makes it entertaining for kids is that the crocodile's tail moves as it's being pulled!
It's sturdy and well made, allowing your kiddo to play with it outside as well.
7. Bunny Rabbit Stuffed Animal Plush
Whether you have a 2 year old boy or girl, a plush Easter bunny is always a lovely gift idea. Your kid will love snuggling with this plush bunny rabbit when it's bedtime as it's so cuddly thanks to the soft material.
As well as the bunny, you can also get a plush fox, dog, and lion.
This toy should be surface washed only.
8. Tombik Toddler Boys & Girls Beach/Pool Slides Sandals
I know a lot of parents like to throw a pair of flip flops into their kids' baskets, but I'd like to recommend an alternative.
Flip flops aren't always the safest style of sandal to wear, especially if your kid is running around – she could easily slip and fall, so it's better to opt for a shoe with more support.
These Tombik slides are designed with a back heel strap that prevents the foot from slipping out of the sandals, creating better stability. The sole offers plenty of arch support too.
There are a variety of styles available, including dinosaurs, sharks, and unicorns.
All in all, this is a great spring and summer shoe for kids that's super easy to put on and off, even for your toddler!
9. Tommee Tippee Insulated Sportee Toddler Water Bottle with Handle
Sippy cups are another fun and practical gift to put in an Easter basket for 2 year olds. As toddlers are super active they need a cup that can keep up with them on all their adventures, and the Tommee Tippee water bottle offers just that!
It's designed with a handle for easy carrying and is spill-proof. Plus, the bottle is insulated to keep your kid's drink at a cool temperature.
I'm sure you're aware how much tots love to chew on sippy cup spouts, and Tommee Tippee has created this one to be bite-resistant, so your kid won't be able to chew through it.
You can choose from 4 different color combinations, and there are 2 cups in each set.
10. VTech Latches and Doors Busy Board
Busy boards are some of the best toys for fine motor skills development. They are great to take on road trips, especially if you'd like to limit screen time and give your kids something fun and educational to do.
Your child can practice how to move latches and use a key with this board, among other things. The busy board also includes music and sounds.
This toy is specifically aimed at kids between the ages of 1 and 3.
There are many other busy boards available that allow your kid to practice zipping, buttoning, and buckling, but these models are usually recommended for kids over the age of 3 as they can pose a choking hazard to younger children.
11. Leveret Kids Pajamas
Toddlers and sleep don't always go hand in hand, but with a brand new pair of bunny-themed pajamas your little girl or boy might just get excited for bedtime!
This is a 100 percent cotton two-piece pajama set. The top has a cute illustration of a white bunny, while the bottoms are covered with black bunny patterns. The top is also tagless.
This set comes with other animal prints, such as dinosaurs, dogs, and koalas. If you have older kids or need to go up a size, you'll be happy to know there are sizes for kids all the way up to 14 years of age.
12. Lego Duplo Town Airport
I love Lego sets – unless I accidentally step on a piece while barefoot! But all accidents aside, a Lego Duplo set is a perfect stuffer for an Easter basket for 2 year old toddlers and preschoolers.
This set allows your kid to assemble her own airport, complete with an air traffic control tower and a plane.
There are 3 figurines included, one of which is a pilot, so there's plenty of opportunity for pretend play. If you're planning on traveling by plane soon, you can use these Legos to prepare your toddler for the real deal so she finds it less scary.
13. Crayola Washable Sidewalk Chalk Set
While sidewalk chalk isn't the best idea for your baby's first Easter, your toddler will certainly love this fun activity! So much so that you'll have trouble trying to get her to go back inside for naptime.
This sidewalk chalk by Crayola is washable and square-shaped to prevent rolling. In this set you'll get 48 colors, but there are 72 sticks in total.
What I love most about this chalk set are the colors, which are super pigmented and bright, allowing your kids to create some real masterpieces on your driveway. To remove the chalk, simply wash it off with some water or wait until it rains.
14. Electric Toothbrush for Babies and Toddlers
It's never too soon to start educating your kids about the importance of dental hygiene! Unfortunately, some toddlers simply hate brushing their teeth, so it takes a lot of patience and money spent on different toothbrushes to help them overcome this aversion.
Many parents have found that this electric toothbrush works wonders for kids who don't like to brush their pearly whites, but even if your kid isn't resistant, a new toothbrush is a great way to encourage and reward her for doing such a great job!
I also suggest throwing a tube of toothpaste into the Easter gift basket for good measure.
15. Colorful Toddler Puzzles
These chunky, colorful puzzles will make your little one's face light up on Easter morning. There are 5 puzzles in this set, with each puzzle representing a different animal.
They're made from sturdy, long lasting material and are light enough to pack in your toddler's backpack when you're out and about.
16. Bunny Bodysuit
This bunny bodysuit is more than just funny baby clothes, it's very practical too! It can be worn over clothes or on its own, and is ideal for pretend play.
The material is fleece which can be machine washed. In addition to the bunny bodysuit, there are all sorts of other models available, such as an astronaut, bear, penguin, and duck suit.
17. Noah's Ark Sort & Play Set
Have you been looking for a toy that will teach your child about the story of Noah's Ark? In that case I suggest this set by Fat Brain Toys, which includes all kinds of animals and, of course, Noah and his wife Naamah.
Although this set looks simple at first, it actually has a lot of activities for your little one to do, such as matching shapes, engaging in pretend play and developing her motor skills, etc.
All the individual pieces are designed to be suitable for 2 year olds, so it's perfectly safe.
18. Stuffed Animal Night Light
A baby night light in the shape of a stuffed animal is another gift your kiddo will be sure to love! I mean, getting stickers in your Easter basket is great and all, but a plush puppy that lights up? Now we're talking!
The puppy's belly lights up and it can project soothing images in 6 colors to help your little one get to sleep, so it's a baby projector and a nightlight in one.
The lights turn off automatically after 20 minutes.
The material is soft and your kid will love snuggling with the puppy when the projector isn't on.
19. Green Toys Tea Set
A tea party set is a little too advanced for your baby's first Easter basket, so I recommend buying one around the age of 2 so that she can really enjoy playing with it.
This set includes cups, spoons, a teapot, and even a sugar bowl to make it look realistic. It's made from BPA-free plastic that holds up well over time and is dishwasher-safe.
20. Kids Backpack With Stuffed Bunny Toy
This is a lovely bunny backpack for your little one to pack her Disney dolls, puzzles, and other toys in on trips to the park or the playground. It's made from a plush fabric that's soft to the touch and machine washable.
What's more, the straps are adjustable, allowing the backpack to grow with your daughter. She can easily remove the bunny and play with it on its own, which is a nice touch.
In case you're not a big fan of hot pink, this backpack is available in other colors too.
21. My First Washable Palm Grasp Crayons
Egg-shaped crayons are perfect for toddlers as they're so easy to hold and draw with, and they'll fit perfectly in your tot's basket!
Most importantly the color is washable, so you'll easily be able to clean it up in case your kid decides to draw all over your dining room table.
22. TOMY Toomies Squeak Toy, Hide & Squeak Eggs
These Hide & Squeak Eggs are such an entertaining toy for toddlers. They can "crack" the egg open to see what kind of chick is hiding inside, and when they press it the chick makes a chirping sound. What's more, the egg shells are illustrated with different facial expressions.
As the colors on the shell match the color of the chick inside the egg, your tot can also practice her color-matching skills.
In addition, the eggs come in a fun yellow carton that looks just like the real deal.
All in all, this is a super fun and affordable toy that your kid will enjoy playing with every day!
23. Learning Resources New Sprouts Grow It! Toddler Gardening Set
Introduce your toddler to the joys of gardening with this age-appropriate set that includes flowers, pots, vegetables, and even a watering can. It's great as an outdoor toy, but your kids can play with it indoors as well.
Although it's made from plastic, the material is non-toxic.
24. Sesame Street Crew Socks with Grippers
If you have a toddler who is obsessed with Sesame Street characters, then I guarantee she'll love this 6-pack of colorful socks. From Elmo to Ernie, all of your kid's favorite characters are in there!
The bottom of the sock is covered with grippers that prevent slipping, which is a must for all toddler socks. You can get these in sizes 12-24 months, 2-3T, and 4-5T.
25. Dancing And Walking Yellow Duck
Kids of all ages love this singing, dancing, and walking duck which has an adorable baby duck in its pouch. Don't worry – there's a volume control button on the bottom of the duck's foot, so you can control the level of noise the duck makes.
This toy can play various melodies and includes fun lights as well.
As batteries aren't included with the duck, be sure to have 3 AA batteries on hand to avoid any disappointment.
26. Play-Doh Eggs
Play-doh is fun enough as it is, but when it comes in egg-shaped containers it's sure to be a hit with the kids! This set includes 24 eggs in various colors, allowing your tot to create anything that comes to her mind.
Just be sure to create a designated play-doh area to avoid getting it into your clothes or carpet, because it doesn't make for a fun clean up process.
The Bottom Line
Jerry Seinfeld once said, "Having a 2 year old is kind of like having a blender without a lid." and I totally agree! But it's also exciting, especially because they're learning to do things on their own for the first time.
That's why their basket ideas can be more fun than when they were babies!
I'm a big proponent of letting kids get creative with the help of art supplies at this age, so don't forget to throw some crayons, chalk, or even finger paint into the basket.
Toys that encourage pretend play are fantastic as well, and luckily there is no shortage of them – Lego, toy trains and pull along toys are all amazing when it comes to sparking your child's imagination.
I hope you are able to find the perfect gifts for this year's baskets.
Happy Easter!
READ NEXT:
Like this post? Please share or pin it for later. You can also stay in the loop and follow us on Facebook, Instagram or Pinterest.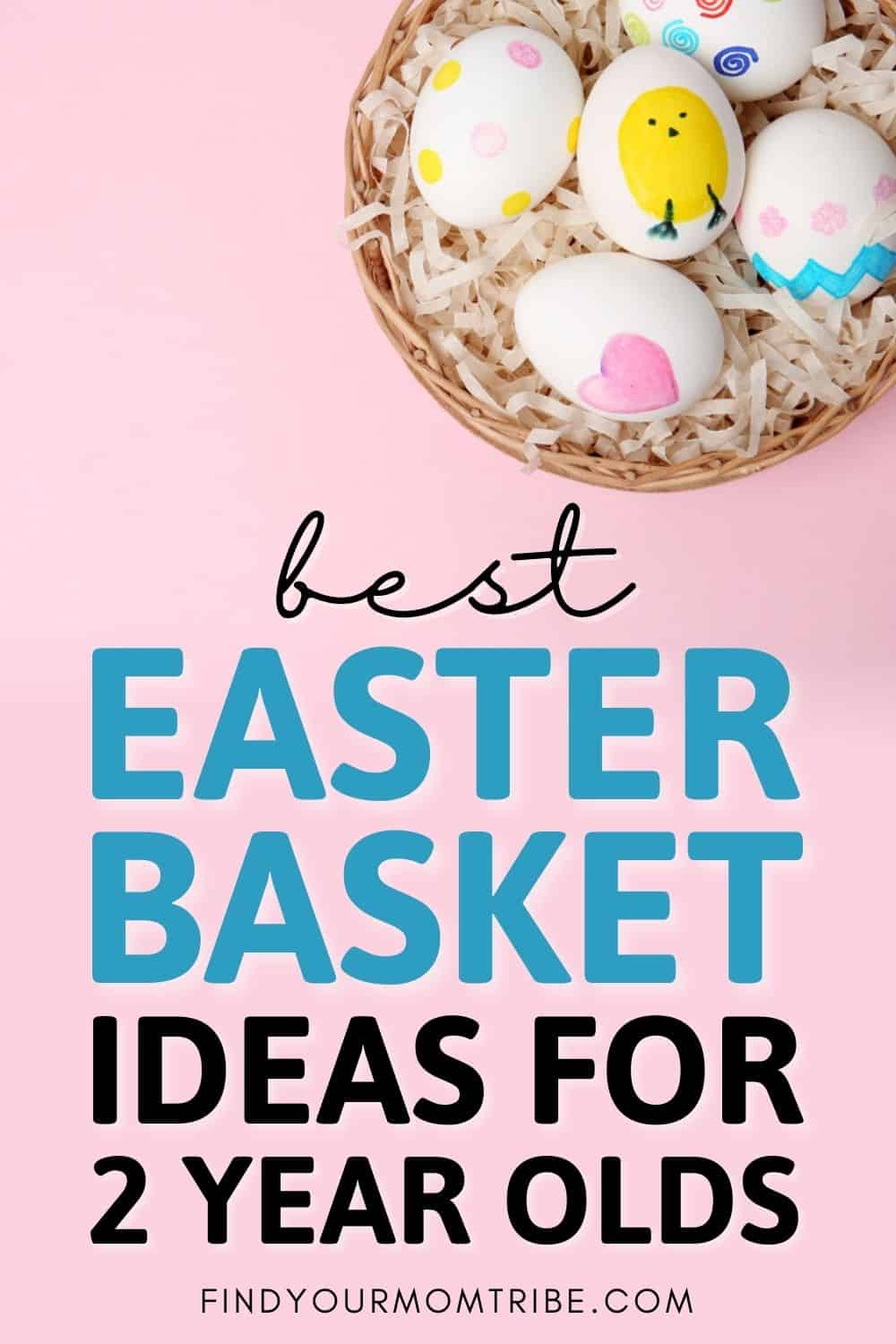 We love honesty! Find Your Mom Tribe is an Amazon Associate and we earn from qualifying purchases through affiliate links at no extra cost to you. Please see our full Amazon Affiliate disclosure for more information.