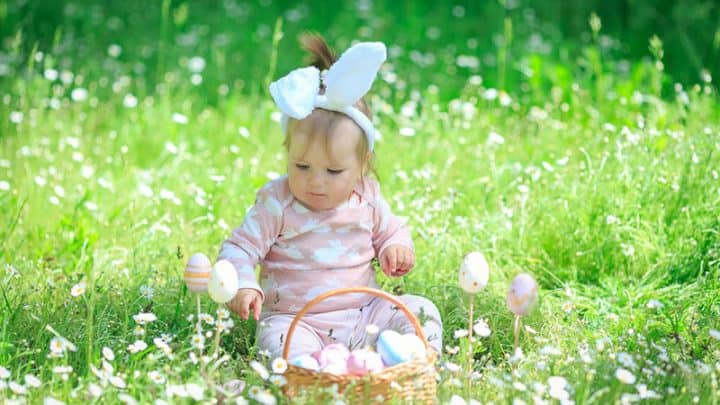 Some of my favorite memories of celebrating Easter as a child are all the fun Easter activities I did with my family, such as hunting for eggs and opening our baskets to see what the Easter bunny had brought us.
Now that I'm a mom it's my turn to be the Easter bunny, and I've learned a lot about perfect Easter gifts over the years. So, if you're looking for ideas for an Easter basket for 1 year olds, you're in the right place!
Compared to Christmas, Easter is a much more low-key affair, and so are the gifts. They should be compact enough to fit in a basket and generally include candy and small toys.
You can also add practical items such as sunglasses, socks, or flip-flops. Trust me, your child won't be disappointed!
As kids at this age are still prone to sticking things in their mouth, be careful to avoid toys and candy that could pose a choking hazard, and don't let your kid play with toys that are beyond his age group.
Fillers For An Easter Basket For 1 Year Olds
1. Personalized Easter Basket
Although Easter baskets from the dollar store are all fine and dandy, this Easter bunny basket (complete with bunny ears!) is simply adorable.
You can customize it with your little one's name, and use it for several years! I guarantee your kid will have the most original basket at the Easter egg hunt. When your kids grow up, this basket will make for a beautiful keepsake.
I also love the soft fabric it's made of and the little paws on the bottom of the basket. Make sure to spot clean it only.
2. Honeysticks 100% Pure Beeswax Crayons
Crayons make for a great Easter basket filler for kids of all ages, and Honeysticks crayons are an excellent choice for younger toddlers because they're big enough for their little hands to grasp.
They are also non-toxic, which is very important as your kid will most likely confuse them with food at some point! They smell really good, too.
There are 12 crayons in each pack and you'll get a free coloring book with your order as well (it's a PDF, so you'll need to print it out).
3. Hugmo Kids Plush Snuggle Bunny
A stuffed animal is guaranteed to put a huge smile on your kid's face. Plus, it's a great item for any Easter basket for 1 year olds because it's in the shape of a bunny!
The bunny is soft, cuddly, and adorable – everything you'd want from a stuffed animal. It's machine washable as well.
4. No Spill Sippy Cups For Baby, Toddler, and Child
The best thing about basket stuffers for little kids is that they don't always have to be toys or candy. In fact, practical gift ideas such as sippy cups are great as well, and your kid will love getting a special sippy cup from the Easter bunny!
Re-Play cups come in a variety of bright colors and are very durable. What's more, they are leak-proof and really easy to clean!
5. Lego Duplo My First Animal Brick Box
Although this Lego Duplo set is a bit big to fit in a basket, you can place the individual pieces inside and show your little one the rest of the container later.
Even older kids will enjoy playing with these fun animals, so it's a great choice if your 1 year old has an older sibling.
6. My First Easter Basket Playset
As children at this age are still a bit too young for many fun Easter toys (they can pose a choking hazard), plush animals are a great way to go.
This playset includes stuffed animals in the shape of smiling veggies, animals, and eggs.
They are packed inside a soft basket that's perfect for a baby's first Easter. The toys are machine washable as well, which is great when your baby slobbers all over them!
7. An Easter Prayer Touch And Feel Board Book
It's never too soon to introduce books to your kids, and Easter books are a great place to start.
The hero of this fun board book is a bunny learning about God's blessings and the joys of spring. The illustrations are colorful and bright, and your toddler will love flipping through the pages and exploring the different parts of the story.
8. Yookidoo Baby Bath Toy
Is your toddler a little resistant when it comes to bath time? Then bath toys will make for a perfect Easter gift! This one includes cups and a spout that your little one will not want to put down.
It's perfect for both younger toddlers and preschoolers, and there are enough pieces to share so you can avoid your kids fighting over who gets to play with them.
9. Ava + Oliver Silicone Bib Set
Another great gift to consider for an Easter basket for 1 year olds is a silicone bib. It will make mealtimes easier and prevent the veggie or meat baby food from spilling all over your kid's clothes.
I bought one of these last year for a friend as a baby shower gift, and she absolutely loves it! It's easy to clean and catches food and crumbs before they find their way onto your baby's clothes.
The bibs are available in different colors and you get 2 in each set.
10. Melissa & Doug Jumbo Knob Puzzles
Melissa & Doug make awesome toys for fine motor skills development, and these jumbo puzzles are no exception! One puzzle comes with fun farm animals and the other includes shapes.
The pieces are sturdy and durable, and the knobs allow your tot to easily complete the puzzle while developing important hand-eye coordination skills.
11. Babiators Blue Series Polarized UV Protection Children's Sunglasses
Easter marks the arrival of warmer weather, and with it comes more exposure to the sun. To make your outdoor activities easier on your kid's eyes, here's a pair of cute sunglasses with UV protection.
They are available in all sorts of fun styles, so be sure to check them out!
12. Nike Dri-Fit Cap
Don't forget about keeping your toddler's head protected from the sun! This cap by Nike is available in several different styles and sizes (including 12-24 months) so it's just right to go in an Easter basket for 1 year old kids.
13. Bright Starts Disney Baby Go Grippers Collection Push Cars
These push cars are just the right size to fit in a basket and I promise your kid will go crazy for them!
They're easy to grip and shaped like beloved cartoon characters, like Winnie the Pooh and Mickey Mouse. And is there a toddler in this world who doesn't love toys shaped like Mickey Mouse?
There are 6 cars in each set, making them perfect for sharing with siblings and friends.
14. LeapFrog 100 Words and 100 Animals Book Set
At this stage, your child is soaking up language like a sponge. Perhaps he's already showing an interest in talking, even if the words that come out of his mouth aren't quite English yet.
This LeapFrog book set is one of the most beloved toys for kids who are 1 year old. In fact, it is aimed at toddlers between 18 months and 4 years and will help your kiddo develop his language skills.
The 100 Words book will teach your kid about different activities, colors, foods, and more, while the 100 Animals book teaches him about the various types of animals that live all over the world.
What's more, the books offer content in both English and Spanish!
15. Flashcards For Toddlers
Flashcards are another excellent way to teach your kid new words quickly! This set is the perfect size for an Easter basket for 1 year olds, and contains 101 double-sided flashcards with illustrations of various items.
From yummy fruit to jungle animals, you'll find all of this and more in the Learnworx flashcard set.
The cards are thick enough to withstand being firmly gripped, plus they're non-toxic, which is great to know in case your child chews on them when you're not looking!
More Easter Basket Ideas For 1 Year Olds
Although kids at this age are technically toddlers, they're still very much babies and their baskets need careful consideration. Jelly beans, for example, pose a choking hazard to kids at this age so it's best to avoid them. The same goes for other hard candy and gum.
RELATED: 20 Best Easter Basket Ideas For Babies Under 1
If you need more basket ideas for your kid, here are a few simple, inexpensive, non-candy suggestions to make Easter Sunday extra special:
1. Bubble Gun Blower
No matter their age, kids love bubbles so you can't go too far wrong with this gift. It's easy to use and makes loads of bubbles that your kids will want to chase around all day!
2. Plastic Eggs
Plastic eggs are a must if you're organizing an egg hunt with fun easter egg fillers, such as stickers or balloons.
A quick tip: they're also great for DIY Easter crafts.
3. Bapify Bamboo Hooded Baby Towel
Your tot will look simply adorable in this hooded bunny baby towel.
4. Anti Slip Crew Socks
You can never have enough socks, right? This pack includes 12 pairs with special grips to prevent slipping.
5. FridaBaby Natural Sleep Bath Bombs
These bath bombs will help your baby calm down before bedtime and make falling asleep a lot easier.
6. Let's Go to the Potty!: A Potty Training Book For Toddlers
Potty training books for toddlers are a great way to prepare them for life after diapers! This book is written in language that's easy to understand and has beautiful illustrations as well.
7. Egg shakers
Egg shakers are an awesome way to introduce young kids to making music. As they're quite compact, you can pack them for on the go entertainment during trips to the grocery store.
8. Melissa & Doug Pretty Purse Fill And Spill
This soft toy purse comes with accessories such as a phone, mirror, and coin purse.
9. Disney Pixar Ultimate Coloring Book Assortment
Introduce your child to coloring with this set of 4 coloring books that feature beloved Disney characters.
10. Finger puppets
Perfect for pretend play, these finger puppets are made to fit little fingers perfectly.
11. Fun hair accessories
Little girls will have so much fun pretending like they're running their own hair salon with hair accessories such as clips and hairbands.
12. Toy shaving set
Your little man can pretend like he's grooming his imaginary beard with a toy shaving set.
13. Toy phone
If your kiddo is already reaching for your brand new smartphone, a toy phone will make him so happy!
14. Bunny placemat
A bunny placemat is a fantastic way to get your kid excited about eating his dinner.
15. Toy piggy bank
Although your kid is too young to know how money works, he'll love having his own piggy bank with real or pretend cash.
16. Toothbrush
A new toothbrush can help your little one get excited about brushing his teeth every day, which builds very important dental hygiene habits for the future.
17. Flip flops
Perfect for spring and summer, your kid will want to wear his flip flops all the time. You can even invest in a new pair of baby shoes since those adorable fat feet need comfort too!
18. Activity books
An activity book is a fantastic way to kill boredom while avoiding screen time.
19. Leggings
Comfy and cute, leggings should be in every girl's closet.
20. Finger painting set
Finger painting is so messy but so much fun! And it makes for a wonderful family activity where you can bond with your kids.
21. Push and pull along toys
There's just something about pull along toys that makes them a huge hit with kids. I prefer the wooden ones as they're more durable than plastic models.
22. Paintbrushes
If you'd like your kid to practice those fine motor skills, getting him his first set of paintbrushes and painting together is a great place to start.
23. Play food
Playing with your food is totally fine if we're talking play food! It's perfect for pretend play, especially if you have one of those toy kitchens or a kids outdoor playhouse.
The Bottom Line
There's nothing like seeing your kid's face light up on Easter morning when he sees all the fun Easter ornaments and the goodies in his basket for the first time.
When picking the best basket stuffers, keep in mind that your kiddo might be too young to play with many of the Easter toys made for older kids, so stay within his age range.
As you're not raising teenagers (yet!), don't be afraid to forgo candy and throw in a practical gift as well. Your kid's too young to be disappointed and can make a toy out of anything!
I also highly recommend getting a personalized basket for your kid that he'll be able to use in the years to come – this will save you money in the long run.
I hope you've found my suggestions helpful, and that a few of them find their way into your kid's clutches this year – I'm 100 percent sure they'll be a huge hit. Happy Easter!
READ NEXT:
Like this post? Please share or pin it for later. You can also stay in the loop and follow us on Facebook, Instagram or Pinterest.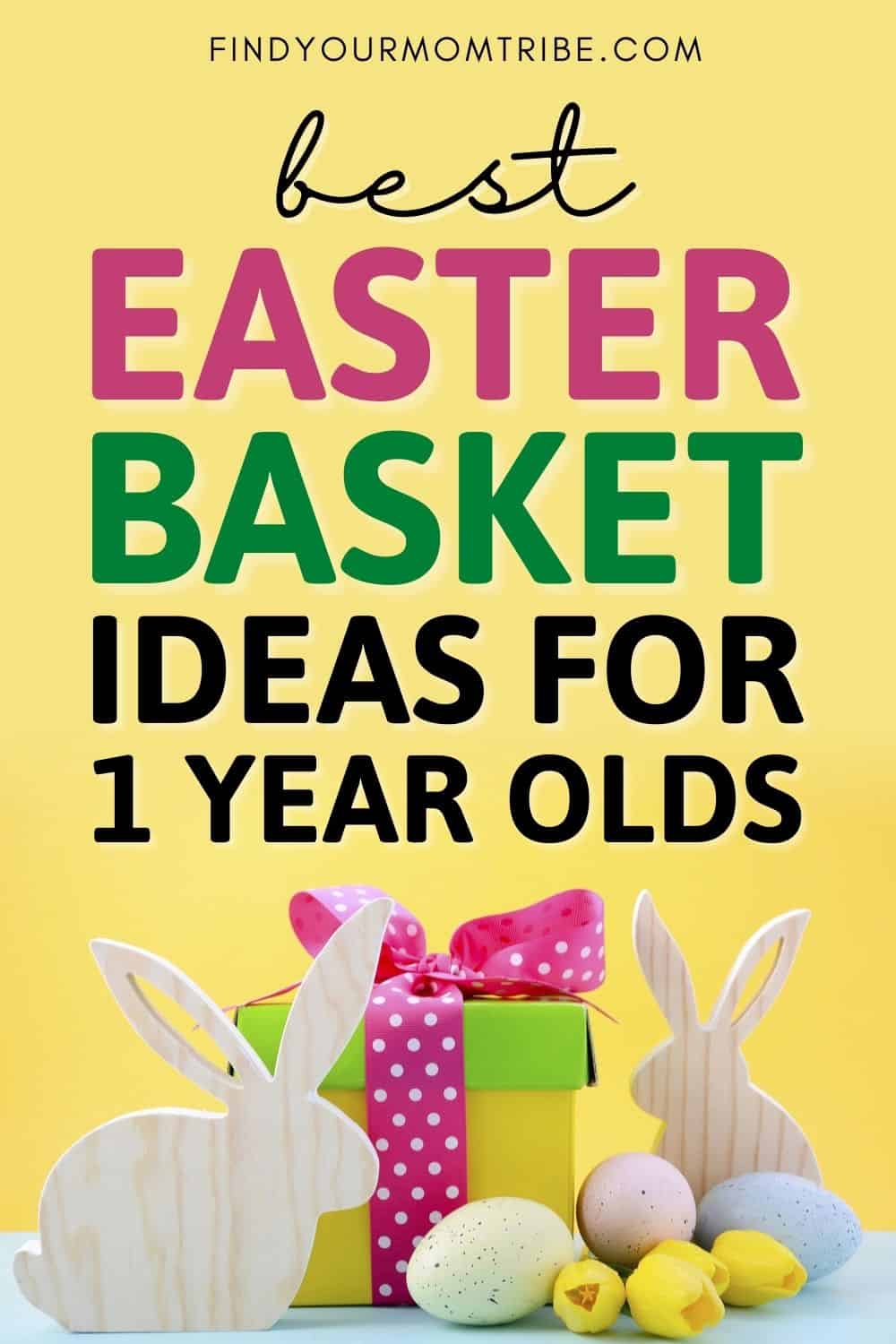 We love honesty! Find Your Mom Tribe is an Amazon Associate and we earn from qualifying purchases through affiliate links at no extra cost to you. Please see our full Amazon Affiliate disclosure for more information.