Have you and your partner recently welcomed a new baby? Have you been so overwhelmed with the changes associated with becoming new parents? We understand the strain you may have with a newborn, especially if it is your first time.
Trust me when I say I have been all over the internet scouring for new dad survival kits to help cope with the stress associated with becoming a new parent.
Sadly, most articles on survival kits you will find online cater to new moms. We have decided to break that barrier and put out the ultimate survival kit for new dads.
From smashing diaper duty, getting the perfect baby shower gifts, to utilizing Google for quick tips, we will walk with you through your journey as a new father.
Although several stores sell pre-made survival kits, dads have reported having lots of fun creating DIY kits.
In this article, we will give you a few ideas of the items to include in your kit. This will help you in crafting a personal survival kit to suit your needs.
You can even decide to craft and gift survival kits to your friends who have become new fathers too.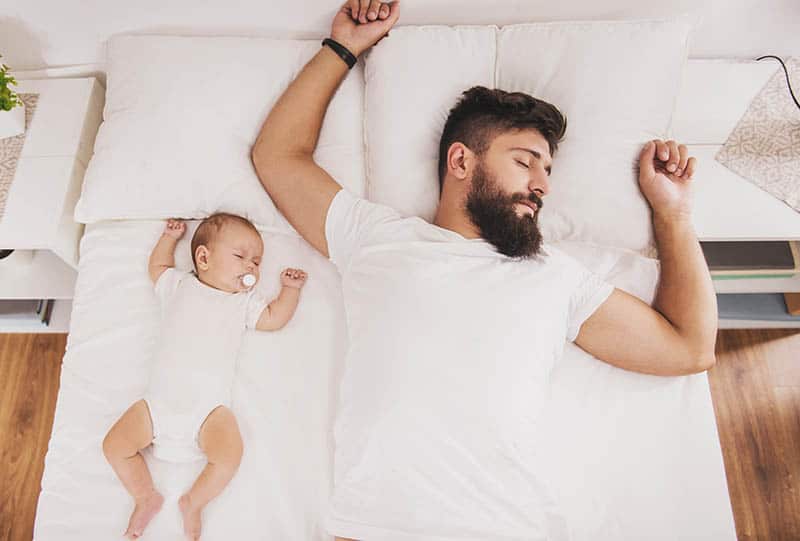 To begin with, all you need is a gift basket, an old bucket or an empty toolbox.
These can be sourced from your local hardware or stationery store. If you have the basket from an old hamper, reusing it would also be a sustainable way to help the environment.
Find a comfortable spot and get crafting.
Here are some items you can include in your new dad survival kit that we consider to be essential for every new father.
1. Earplugs
Babies naturally come with an inbuilt middle-of-the-night feeding time reminder.
Both partners are responsible for waking up to take care of the baby when she cries. Most times, mom will have to do the honors because, let's face it, she has what the baby needs.
Other times, you will have to stand in for mom with a bottle.
Well, what happens when it's mom's turn to hold the fort and the baby's reminder goes off?
Do you groan, roll out of bed, and go to crash on the couch, or do you pop in a trusty pair of earplugs? They block out loud noise and can help you get a good night's rest.
We know that earplugs could be a great escape, but popping these into your ears every night to escape helping out with the baby is purely irresponsible.
Foam plugs such as Mack's Ultra Soft Foam Earplugs come in 50 pairs and are super soft. They are also great for blocking out sounds such as snoring, the inbuilt feeding time reminder, travel, and even concerts.
2. Men's Diaper Bag
When dad decides to take the newborn out for a trip to the store or walk down the road, he will need to take along a diaper bag containing items the baby will need – a change of clothes, diapers, wipes, and other essentials.
However, most bags available come with floral designs or big fluffy keychains.
When taking a bag along with the baby, you can opt for a minimalist backpack with enough space to fit in the baby's essentials.
With this, you will be killing two birds with one stone – looking like a million bucks and keeping the baby happy.
Oh, and be prepared for the ton of compliments you'll get while walking with the baby.
3. Hand Sanitizer
Phew… Diaper changes can be messy. Changing soiled diapers could come with the transfer of poop from baby's bottom to your hands.
This is where the option of handwashing or using at least a 60 percent alcohol-containing sanitizer comes in. Sanitizers come in foam, gels, wipes, sprays, and even powders.
There are a lot of options to choose from.
In cases of a transfer, and even when there is none, handwashing is the ideal way to ensure that your hands are germ-free. If for some reason you have no access to water, you can revert to a hand sanitizer.
You can also combine both methods to ensure your hands are free of nasties.
Asides from diaper changes, sanitizing your hands are very important in dealing with a newborn.
Remember that their immunity is still being built up and they will need all the help they can get from both parents in staying free from germs and infections.
You can also have people sanitize their hands before touching your baby. This could come across as insulting, but it is better to be safe than sorry.
If you need help with deciding which sanitizer would suit you best, we recommend the Advanced Hand Sanitizer with Vitamin E by Mountain Falls.
4. Baby Wipes
Wipes come in very handy for cleaning up after a diaper change.
They are also useful for a host of other things, such as wiping drool from your baby's chin or cleaning up after eating.
Tons of baby wipes are available in the markets with multiple features.
Just like you would pay extra attention to your skincare routine after a long day of work, a baby's skin deserves even more love than yours does.
Don't tell mom, but these wipes could also be a great way for you to freshen up after a long walk in the park with your baby. Simply take one out and wipe those sweaty areas for instant freshness.
From alcohol-containing options to those with natural disinfectants, making the right choice could come off as overwhelming.
When choosing the right wipe, it is important to factor in certain characteristics such as scented, organic, or hypoallergenic options.
Worried about which ones to include in the new dad survival kit? We've got you!
Our personal favorites are these ones sold on Amazon.
Pampers Sensitive Water-Based Baby Diaper Wipes
WaterWipes Unscented Baby Wipes for sensitive and newborn skin
Huggies Natural Care Baby Wipes
If you are a clean, minimalist family, options for cruelty-free and organic wipes are available as well. Biodegradable wipes also help preserve the environment.
5. Gift Cards
Everyone appreciates a gift card. They allow you to get great items from the store for free!
Whether you are creating the ideal new dad survival kit for yourself, your husband, or a friend, you can throw in a couple of gift cards to his favorite store, because dads deserve love too.
On the other hand, you can include an Amazon, Walmart or Target gift card to enable Dad to get functional and inexpensive toys, pacifiers, and teethers for the baby.
Another great idea is to include a card for an experience. A trip to the spa, a yoga class, the movies, and if you can afford it, Disneyland, would be the perfect, relaxing dad gift.
6. Rubber Gloves
What is a new dad survival kit without a box full of handy rubber gloves (see what we did there?)
These gloves are useful for virtually anything that needs to be done with the baby and around the house.
These come in super helpful when diaper duty comes knocking. Including a box or two of rubber gloves with a diaper changing pad in a survival kit is a well-thought-out essential for every new dad-to-be.
Rubber gloves also double as the perfect dishwashing companion. You can put these on and help mom out with the dishes while she feeds the baby.
We are all about cleanliness and recommend a frequent change of gloves when working. Gloves usually come in pairs of three and can be reusable or are disposable.
When choosing the perfect pair, remember to consider the size of his hands and his reaction to latex and rubber. You can opt for a one-size-fits-all pair to be on the safe side.
7. Printables
While these seem like a pretty basic item to include in your kit, printables go a long way to simplify technical baby stuff for dad.
These could range from infographics on changing a diaper and cleaning up after a baby, to quotes and journal spreads that help with putting down thoughts. The options are endless.
If you are good with graphic design, you can choose to create your own printable and include that in the kit.
But, if you're like me and find your way around any Adobe design apps, Pinterest has loads of options to choose from and download for free. Another great site for printables is etsy.com. Every day, new designs are uploaded on Etsy.
However, unlike Pinterest, most printables on Etsy are for sale.
If you choose to purchase one, you can be guaranteed excellent quality prints. Google is also a great hack when it comes to finding printables that suit your needs.
You know another cool thing you could do with a printable? Frame it.
A simple quote like this one by an unknown author that says: "To the world, you are our father, but to our family, you are the world" is a beautiful, uplifting quote you can print out and include in the kit.
8. Premium Coffee
Really though, what is the life of a new dad without some coffee?
After a long night with the baby, trust me when I say a hot, quick cup of coffee is all that any first-time dad will need to brighten up his mood.
We know that there are coffee shops in virtually every city, but driving for 20 minutes in 8-degree weather to get a cup of expensive coffee really isn't the first thing you want to do in the morning.
This is why including a bag of ground premium coffee or coffee beans in the new dad survival kit would literally be a lifesaver.
With loads of vegan, organic, cruelty-free and GMO-free options with loads of flavors to choose from, coffee will be the least of your new parent worries.
You get double points if you already have a French press, coffee grinder, or Keurig at home.
Some great options to use with a French Press or Keurig are –
The Original Roast Ground Coffee by Maxwell House
The Colombia Medium Roast Ground Coffee by AmazonFresh
The Single Serve Variety Pack K-cup Pods by McCafe The New Trick Light
Roast Ground Coffee by Hugo Coffee Roasters
If you would prefer coffee beans, we highly recommend the Three Sisters Medium Roast Whole Bean by Kicking Horse Coffee.
9. Additional Cloud Space Subscription
While this is not a physical item that can be placed in the gift basket, additional cloud space is key for anyone looking to create and retain memories during their baby's growing years.
Babies grow so fast and you just want to capture every single moment before they grow up into troublesome teenagers.
Cloud storage spaces such as Google Drive and iCloud allow you to upgrade your cloud storage by paying a small fee. This opens you up to so many possibilities.
You can never have too much storage space for the videos, voice recordings, and tons of pictures you will build up over time.
Developmental milestones in your baby such as teething, crawling, taking the first few steps and muttering "dada" are precious moments you will want to cherish forever.
When your baby is much older, you can gift the login credentials of your drive account to them so that they can get a first-hand view of their life from another person's eyes.
This will also make a great first father's day gift for your son when he becomes a first-time dad.
10. Snacks
Healthy snacks like nuts, dark chocolate, and fruits are essential for every dad's survival kit.
Looking after a baby can often leave you drained and without time to cook a proper meal. It is important that you top up your energy with easy to reach, healthy snacks.
Like the saying goes, "An apple a day, keeps the doctor away."
Fruits contain essential nutrients that have been shown to create a sense of fullness, maintain a healthy blood pressure (which is a must for you during this phase), repair body tissues, and facilitate the formation of red blood cells.
Dark chocolates are one of the best sources of antioxidants on the planet.
In addition to them being extremely delicious and loaded with nutrients, studies have shown that dark chocolates protect your heart health by decreasing oxidized LDL (low-density lipoprotein) and increasing HDL (high-density lipoprotein) in men.
Nuts are good sources of fat, fiber, and protein and supply energy for you to carry out your daddy duties.
11. Baby Gifts
Including gifts for the baby in your kit is another option you can explore.
Onesies, DIY gifts, an interactive book, and a couple of toys are some gifts you can pop into the kit. Baby gifts are also a great way for you to form stronger bonds with your baby.
Cooing along with him while he plays with his rattle helps him register you as a familiar, friendly face.
Although your newborn might be too young for some of these toys, they are essential in developing coordination.
Remember that you are your baby's first teacher and whatever they pick up from home will stick with them for the greater part of their lives.
With this information, you should work towards getting fun and engaging toys that will make your baby happy.
Like this article? Please share or pin it for later. You can also stay in the loop and follow me on Facebook, Instagram or Pinterest.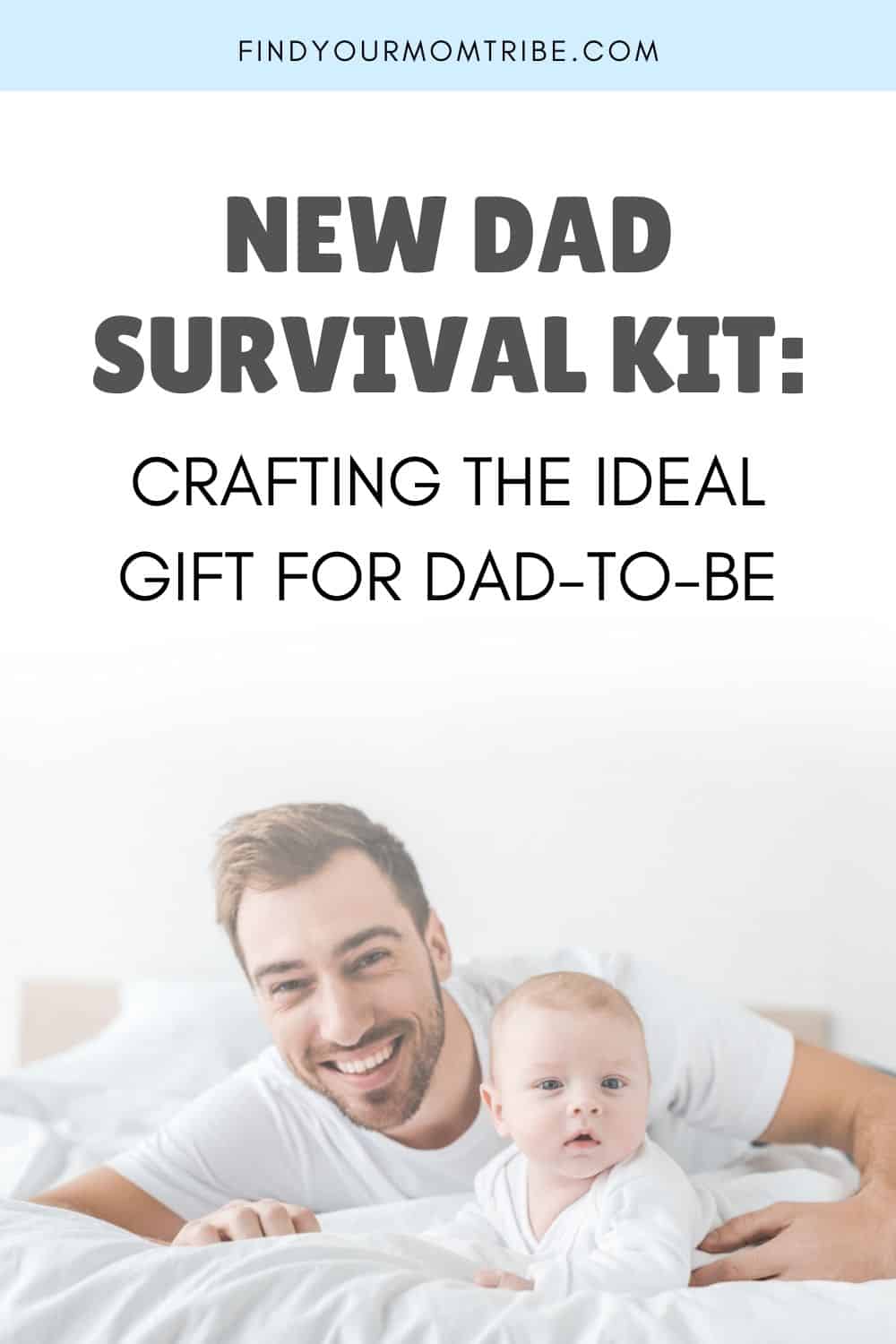 This post may contain affiliate links. Please see our full disclosure for more info.