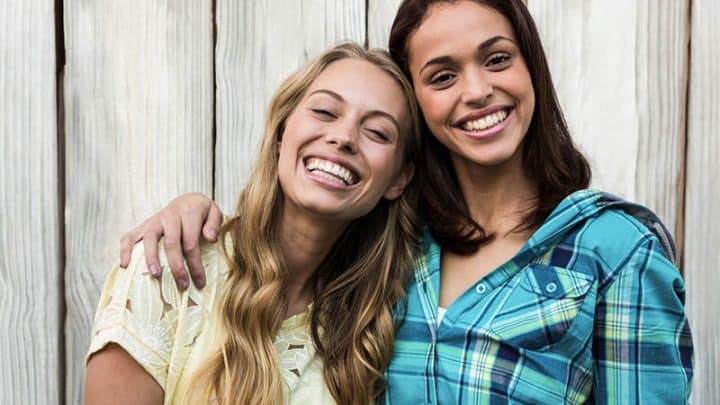 Are you looking for inspirational sister in law quotes and birthday messages to bring a huge smile to your sister in law's face?
Then you've come to the right place!
I've compiled a list of the best sister in law quotes and sayings to help you describe how you really feel about your SIL, as well as some fun sister quotes thrown in for good measure.
If you have a SIL, then you know it's a relationship like no other.
Although you probably didn't grow up together, she is a part of your family and perhaps even the aunt of your kids.
As such, she plays a huge role in your life.
If you'd like to let her know she's appreciated and loved, text her one of these quotes – I'm sure she'll be over the moon!
Best Sister In Law Quotes
​Whether you're looking for heartfelt, sincere, or funny sister in law quotes, you'll find everything you need here!
Write them in a greeting card or share them in captions on social media to let everyone know just how much you love this special woman in your life!
1. "If you want to know how old a woman is … ask her sister in law." – E.W. Howe
2. "The day of the wedding our families will blend, you'll be my sister and also my friend." – Unknown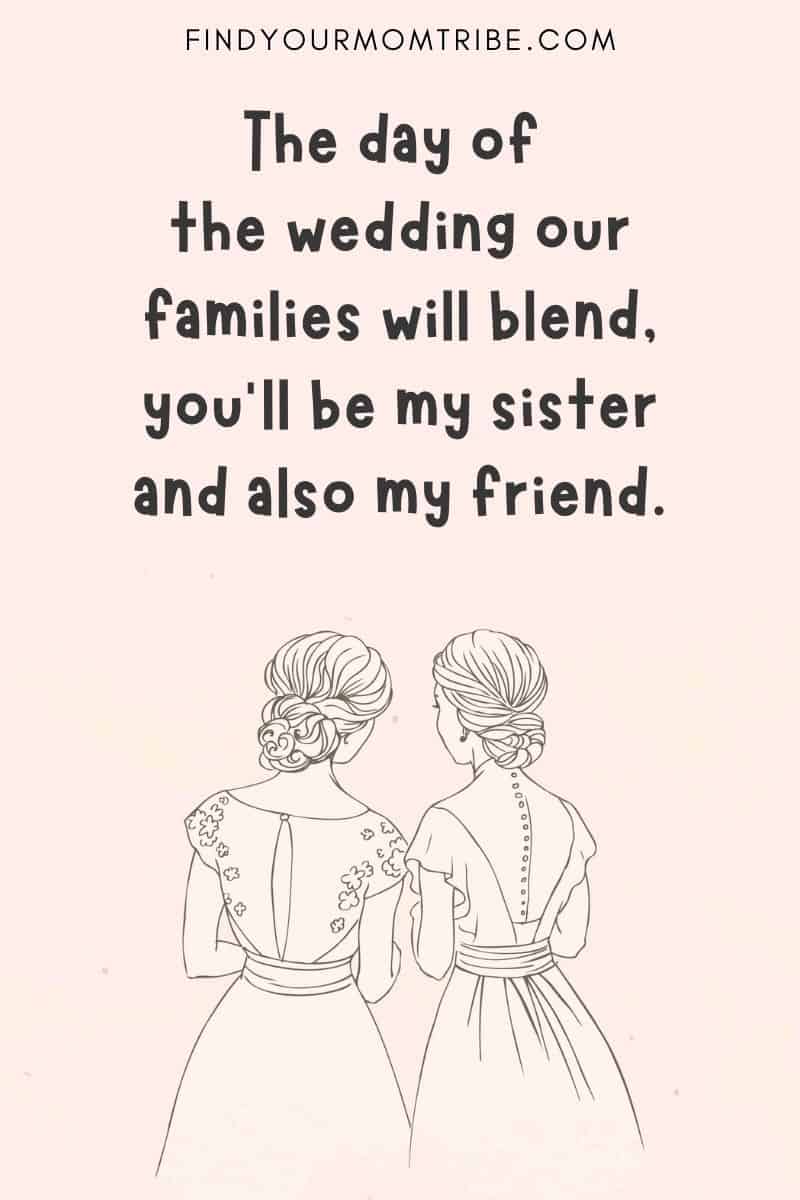 3. "You are my best friend, my human diary, and my other half. You mean the world to me and I love you." – Unknown
4. "A sister in law like you proves that the family you love doesn't have to be related by blood." – Proud Happy Mama
5. "The only thing better than having you as a sister in law is having you as a friend." – Unknown
6. "Your relationship with your sister in law is hingeing on your brother's – or your sister in law's – ability to keep that relationship together." – Justin Hartley
7. "To the sister that joined our family through marriage: I always appreciate how you're always there for our family through the good times and the bad. I couldn't have asked for a better sister in law!" – Unknown
8. "Sister in law by chance, best friend by choice." – Proud Happy Mama
9. "This show has shown me how to throw a punch. But watching my future sister-in-law go through breast cancer has also shown me how to take one." – Charlotte Ross
10. "Our friendship grows, yet stays the same, For sisters-in-law we became. Yet she is so much more, For she has become a sister that I adore." – Unknown
11. "In moments when I question if I should be having kids, I think of all those phone calls from my sister in law, in which, 3,000 miles away, I hear my nephews screaming for her attention. I tell her I have to go because I am packing to leave for Europe, and her tone flatlines: 'That must be nice.'" – Beth Ditto
12. "I started walking at night with my sister in law which has been amazing. It really does something for you. It just kind of clears the mind, it just makes you feel better, things start to tighten a little bit." – Ashley Scott
13. "You may not be my biological sister, but you're a sister that I hold dear to my heart." – Unknown
14. "Sister in law, you are someone that I can talk to, someone I can lean on, and someone that understands me. You are much more than just my brother's wife, you are my friend." – Unknown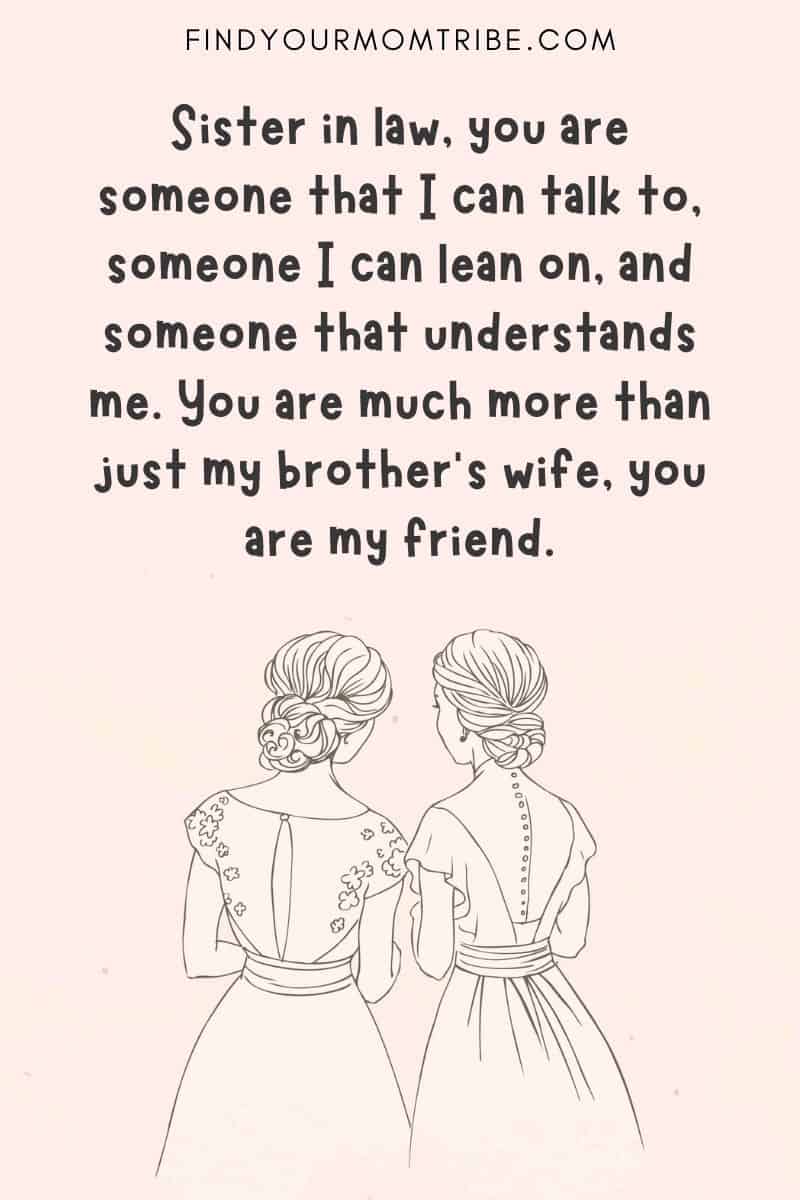 15. "The greatest gift my brother ever gave me was you." – Unknown
16. "A sister-in-law is the perfect best friend." – Unknown
Happy Birthday Sister In Law Quotes
If you're looking for sister in law birthday messages and happy birthday wishes, then this section is for you.
Saying "happy birthday" to your loved ones, even through text or memes, is really important and lets the other person know how much you care about them.
Although these aren't famous quotes by celebrities, I'm sure you'll love them all the same.
1. "Dear sister in law, I'm so thankful to have you in my life. Your friendship is the best gift I could ever wish for and I hope you feel the same way as well. Happy birthday!"
2. "Even though we're not related by blood, you are still the best sister I could ask for. I hope you have a very special day and enjoy yourself to the max! Happy birthday and I hope you like your birthday gift."
3. "You are an amazing sister in law and friend. I'm so thankful you decided to marry my brother and become a part of our family. Happy birthday!"
4. "Happy birthday to the most wonderful sister in law a girl could ask for. Thanks for putting up with my brother, God knows it's not easy! I love you and I hope you have the most amazing day ever."
5. "You are the best sister and daughter in law we could ever wish for. Thank you for putting up with our crazy family. We love you and happy birthday!"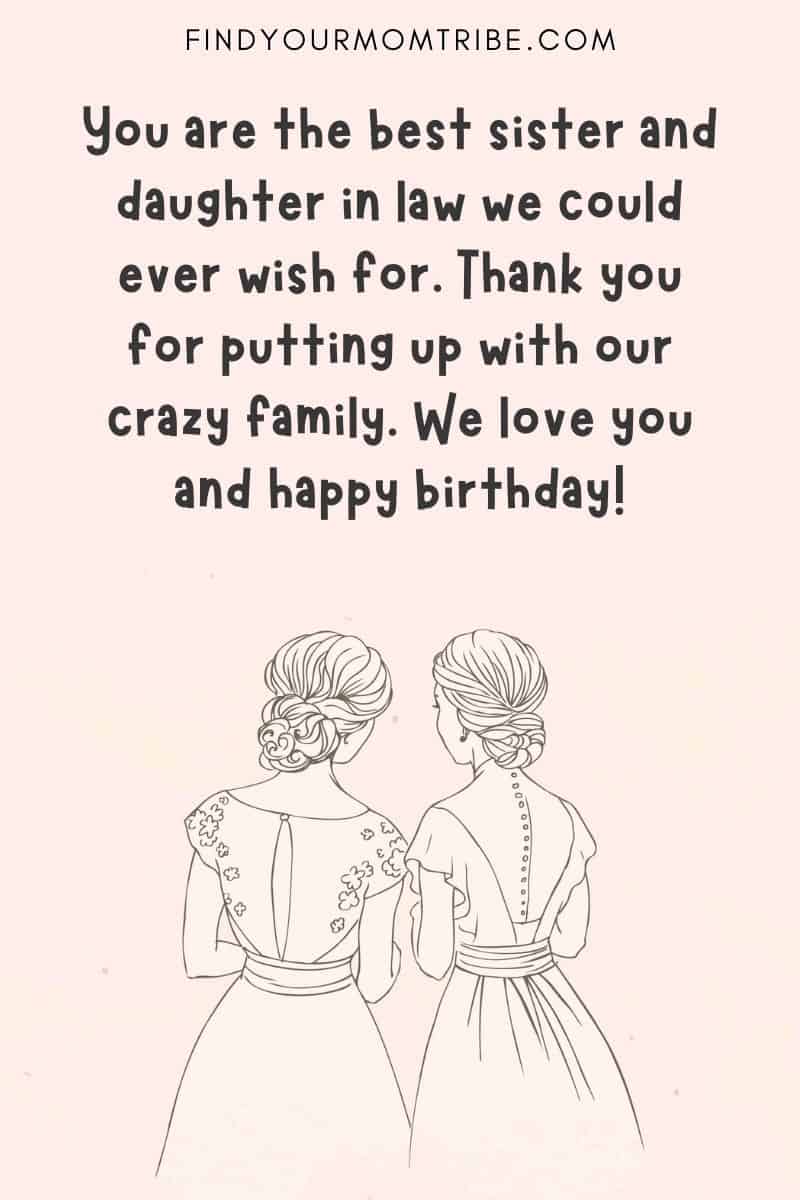 6. "To my dear sister in law on her birthday: I love you and I am so thankful you entered our lives so many years ago. You are truly my best friend and I hope you have tons of fun on your birthday today."
7. "Between you and my brother-in-law, I have to admit you're my favorite – but shh, don't tell anyone! I hope you have a wonderful birthday and that this year is the most amazing year of your life so far."
8. "As you celebrate another year of life, I hope you feel fulfilled and happy. Thanks for being the best SIL I could ever wish for! Happy birthday."
9. "Happy birthday! I can't believe another year has gone by. Thank you for being my friend and for all your selfless support."
10. "Your friendship means the world to me! I am so glad we are family. Happy birthday!"
11. "The best thing that my brother ever did in life was to marry you! I'm so glad I can call you my sister now. Happy birthday!"
​Inspirational Quotes About Sisters
Although your SIL is technically not your actual sibling, she's still an important family member and you might even be as close as real sisters.
If this is how you feel, these motivational sister love quotes will be perfect for showing off your sisterhood.
1. "Husbands come and go; children come and eventually they go. Friends grow up and move away. But the one thing that's never lost is your sister." – Gail Sheeny
2. "Your sister knows which hot buttons to push to get you going, but she also knows how to be a support and encouragement when you go through difficult times." – Byron Pulsifer
3. "A sister is both your mirror – and your opposite." – Elizabeth Fishel
4. "There can be no situation in life in which the conversation of my dear sister will not administer some comfort to me." – Mary Worley Montagu
5. "Sisters function as safety nets in a chaotic world simply by being there for each other." – Carol Saline
6. "Is solace anywhere more comforting than that in the arms of a sister?" – Alice Walker
7. "We'll always fight, but we'll always make up as well. That's what sisters do: we argue, we point out each other's frailties, mistakes, and bad judgment, we flash the insecurities we've had since childhood, and then we come back together. Until the next time." – Lisa See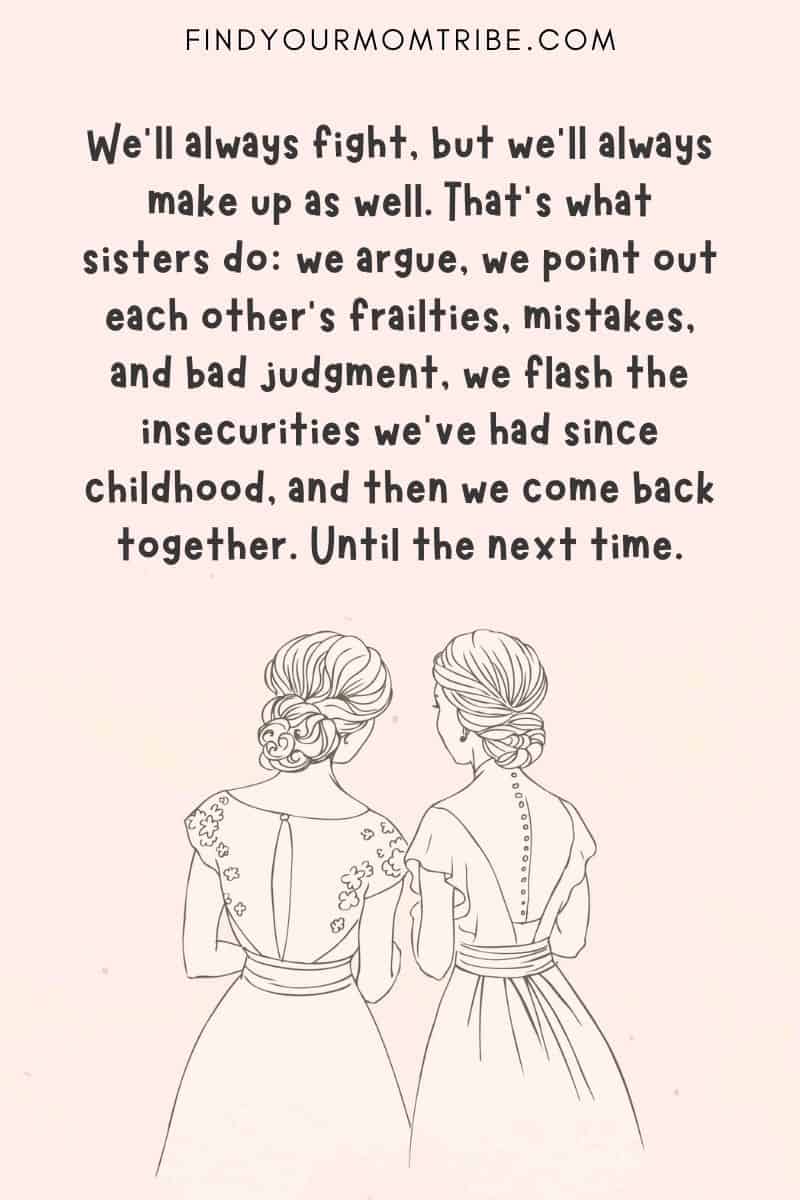 8. "A sister is God's way of proving He doesn't want us to walk alone." – Unknown
9. "Sisters make the best friends in the world." – Marilyn Monroe
10. "Sister. She is your mirror, shining back at you with a world of possibilities. She is your witness, who sees you at your worst and best, and loves you anyway. She is your partner in crime, your midnight companion, someone who knows when you are smiling, even in the dark. She is your teacher, your defense attorney, your personal press agent, even your shrink. Some days, she's the reason you wish you were an only child." – Barbara Alpert
11. "Don't talk about my sister; don't play with me about my sister. If you do, you'll see another side of me." – Beyoncé
12. "For there is no friend like a sister in calm or stormy weather; To cheer one on the tedious way, to fetch one if one goes astray, to lift one if one totters down, To strengthen whilst one stands." – Christina Rosetti
13. "But the love of sisters needs no words. It does not depend on memories, or mementos, or proof. It runs as deep as a heartbeat. It is as ever-present as a pulse." – Lisa Wingate
Funny Quotes About Sisters
1. "In the cookies of life, sisters are the chocolate chips." – Unknown
2. "If you don't annoy your big sister for no good reason from time to time, she thinks you don't love her anymore." – Pearl Cleage
3. "If you mess with the big sister, there is always a younger, crazier sister behind her… that's who you don't want to mess with!" – Unknown
4. "My sister… is the person who keeps me in line, whether I like it or not. I trust her and also have a good, healthy fear of her." – Katy Perry
5. "We are sisters. If I am mad at someone, you are mad at them, too. End of story." – Unknown
6. "Having a sister is like having a best friend you can't get rid of. You know whatever you do, they'll still be there." – Amy Li
7. "If your sister is in a tearing hurry to go out and cannot catch your eye, she's wearing your best sweater." – Pam Brown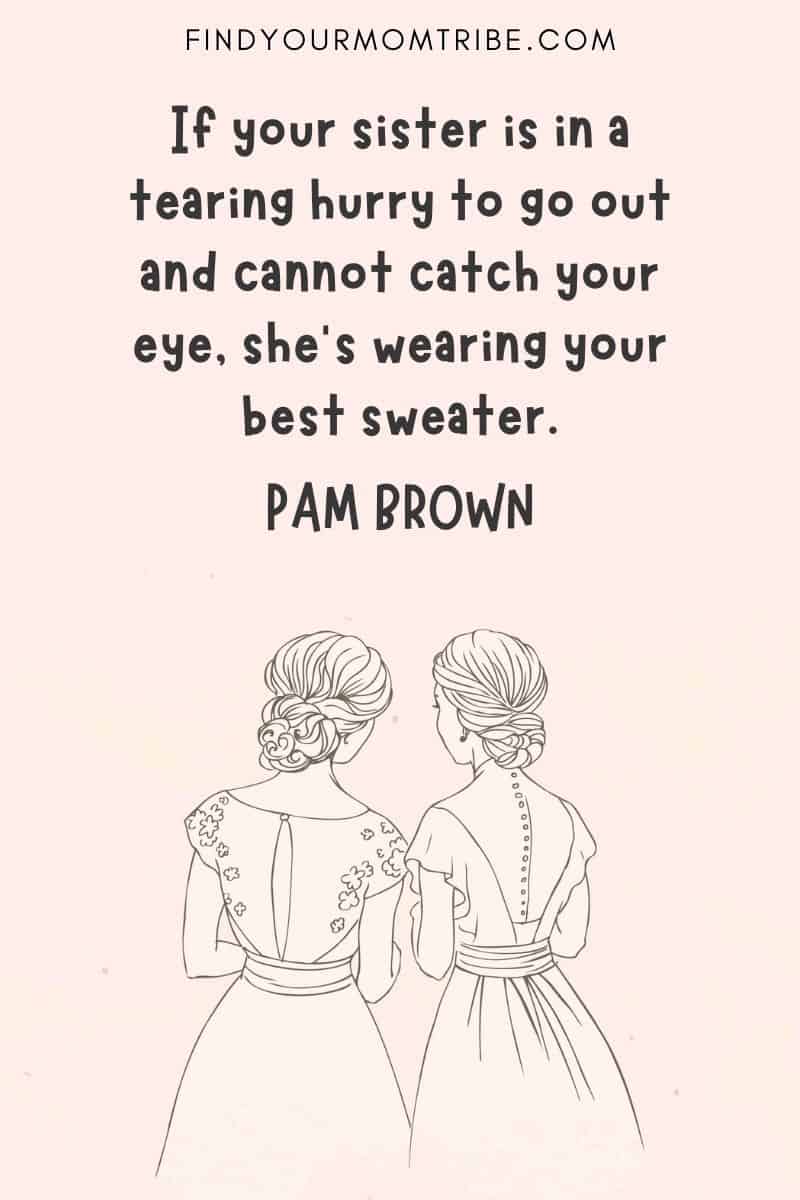 8. "When my sister, Joan, arrived I asked if I could swap her for a rabbit. When I think what a marvelous friend she's been, I'm so glad my parents didn't take me at my word." – Maeve Binchy
9. "I grew up believing my sister was from the planet Neptune and had been sent down to Earth to kill me. I believed this because my sister Emily convinced me of it when I was a toddler… There's a part of me that still believes it. I have moments when I think, 'Hmm, could that be true?' Occasionally I ask my sister about it and she responds by pulling an alien face, which only confuses matters." – Zooey Deschanel
10. "If you don't understand how a woman could both love her sister dearly and want to wring her neck at the same time, then you were probably an only child." – Linda Sunshine
Final Thoughts
If you ask me, all of these sister in law quotes simply scream "I love my sister in law!"
Whether you're looking for birthday quotes or family quotes to share with your SIL, I hope you're able to bring a smile to her face with one you find here.
Some of these quotes are short enough to be printed on a T-shirt, which could make for a really fun birthday or Mother's Day present for your SIL.
I hope you enjoyed this quote compilation, be sure to let me know which one is your favorite!
READ NEXT: 65 Niece Quotes And Instagram Captions For Proud Aunts And Uncles
Like this post? Please share or pin it for later. You can also stay in the loop and follow us on Facebook, Instagram or Pinterest.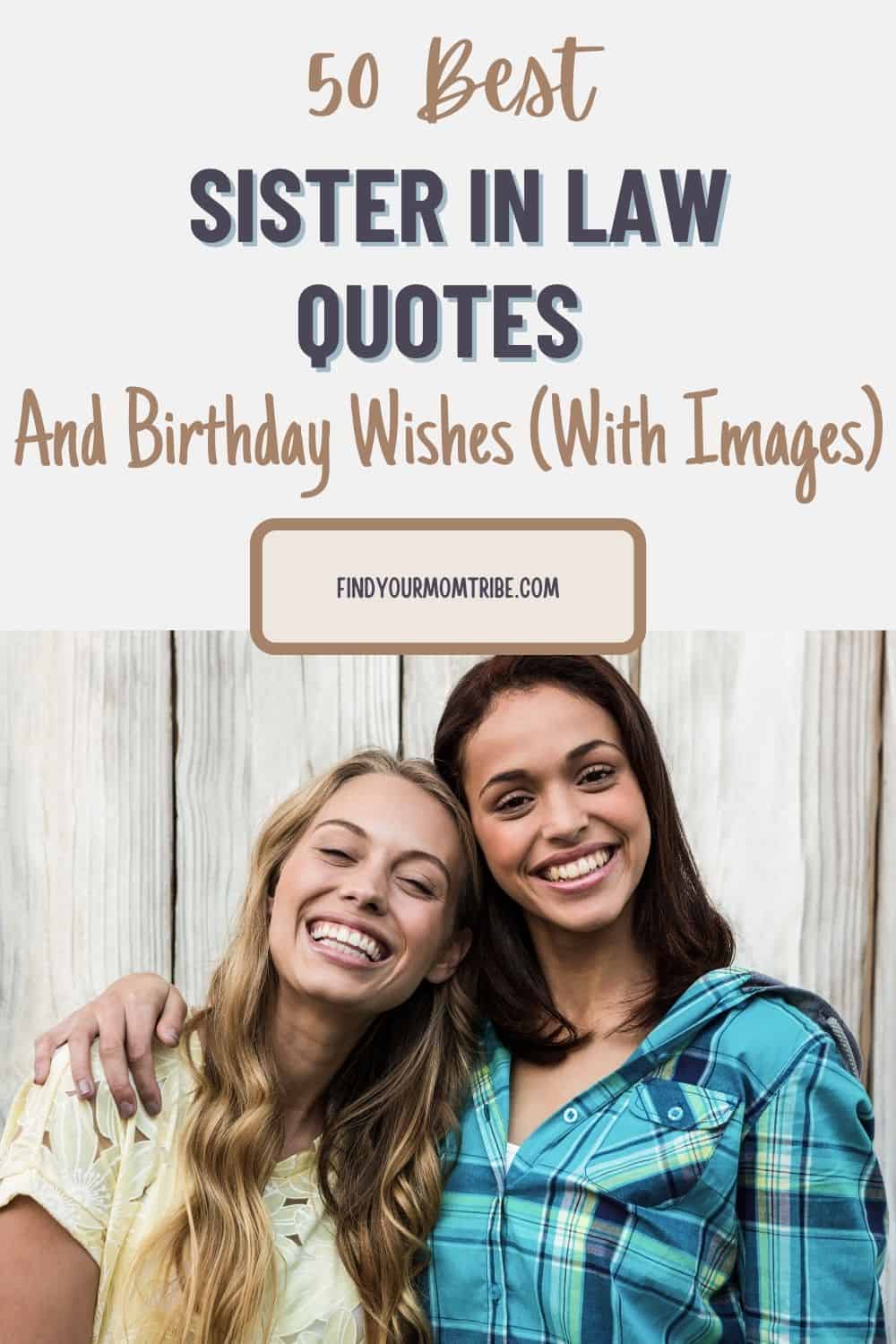 We love honesty! Find Your Mom Tribe is an Amazon Associate and we earn from qualifying purchases through affiliate links at no extra cost to you. Please see our full Amazon Affiliate disclosure for more information.