Becoming a new mother is a beautiful, terrifying, exhausting, wonderful thing. After months of anticipation, worry, and excitement, your baby is finally here!
The thrill of a new baby sends a surge of adrenaline. You're on a "birth high" and so enamored with your sweet baby.
Now, let me add…everyone's transition to motherhood is different. No two moms are alike, and no two women will have the exact same experience.
What no one tells you about the third week of motherhood
(Don't have time to read the full article? Pin the image below for later!)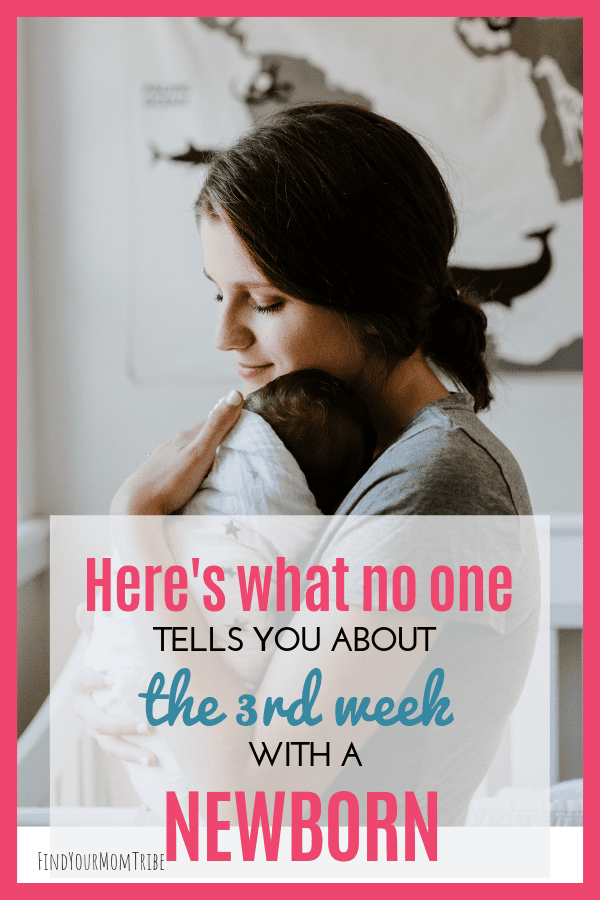 Even though my kids are 10, 6, and 2, I still remember my third week with each of them.
When I was pregnant, I spent a lot of time researching pregnancy, childbirth, and breastfeeding. I'd done a lot of babysitting as a teenager, so I naively thought there wasn't much to learn about taking care of a baby.
I was so unprepared for what life with a newborn was really like.
As I was saying earlier, the first few days with a new baby is full of excitement and wonder.
Family and friends often pour in to meet the baby and offer a helping hand. (Usually they bring dinner, too!)
But the third week of motherhood…well, now it's just you and your baby. You're alone.
Your partner has likely gone back to work.
Grandma has gone back home (and your house is already a mess again).
Friends have stopped bringing you food. You haven't showered in days.
You're beyond exhausted. The sleep deprivation is brutal and you've never been this tired in your life.
Chances are, things aren't going quite as you planned with breastfeeding. You may be struggling with low milk supply, pumping, oversupply, tongue tie, lip tie…the list goes on and on.
Related reading: How to Stop a Nursing Strike – 7 Sure-Fire Ways to Get Baby Back to Breastfeeding
Your baby may have colic…and the endless crying is making you crazy.
You probably still haven't recovered from birth. Managing a newborn and everything else you have to juggle is 10x harder when you're sore and in pain.
Don't get me wrong. You're (probably!) still enamored with your newborn and you wouldn't trade these moments for the world. But. It. Is. Hard.
Your emotions may be all over the place. You might shift from happy to sad to angry to panicked in a matter of minutes.
Read my story about postpartum anxiety and how I'm finally getting my life back.
How to make the third week of motherhood easier
Oh, friend. If you're pregnant, I don't want the above information to scare you! Again, motherhood is so, so beautiful and wonderful. I just want you to be prepared.
If you're in the trenches with a newborn and feeling overwhelmed, let me send you a virtual hug. You're going to get through this. It does get easier.
Here are some practical ways to survive the third week of motherhood.
1. Freezer meals
If you're pregnant, be sure to make tons of freezer meals during your third trimester. People will probably bring you food at first, but after the first few days/week(s), you'll need to eat.
Having freezer meals prepared ahead of time will save you so much time and sanity. (And you'll be eating, too, which is a must!)
If your baby is already here and your freezer is bare, ask a friend or relative to bring you some ready-made freezer meals from the grocery store. (Trader Joe's is my favorite place to find stuff like this!)
2. Lower your standards
If there were ever a time for low standards, now is it. (Haha!) It's okay for your house to be a mess. Don't fret about the piles of dishes and laundry.
Your body isn't what it was, but now isn't the time to fret about that.
There will be time for a clean house, perfectly organized laundry, washed hair, and fresh makeup. But that will come later.
For now, just give yourself permission to survive.
3. Rest
Don't hate me! But, please rest as much as you can. Even if you can't sleep, just lie down and close your eyes.
Your body has just been through birth! You're totally sleep deprived. Any chance you get, put your feet up and rest.
Everything else can wait.
If you're breastfeeding, definitely master the art of side-lying nursing. It's a great way to let your body rest while you're still feeding that sweet baby.
4. Call in reinforcements
I know you want to prove to yourself that you can do it. And you can! But sometimes we need to wave the white flag and call our mamas. (Or grandmas….or aunts…or friends. You get the idea.)
If you call someone for help, you're not a failure. It doesn't mean you're weak. It means your human.
If a friend can come over for an hour to hold the baby while you take a quick shower and nap, that's fantastic! Reach out and ask! Don't wait for someone to call and say, "Is there anything you need?"
Trust me, most people would be thrilled to hold a sweet newborn and sniff their lovely head for an hour. (Haha!) Make that call!
Recommended reading: When you feel like giving up breastfeeding in the early days (and what to do about it!)
How to Prepare for Breastfeeding: 5 Ways the Hospital Might Sabotage your Breastfeeding Efforts
9 Can't-Miss Tips for C-Section Recovery: Lessons I've Learned after 3 cesareans
What do you think? Is the third week of motherhood the hardest? I'd love to hear your thoughts in the comments!
If this article resonated with you, please pin it for later or share to your favorite social media platform.
You can also keep up with me on Facebook and Pinterest.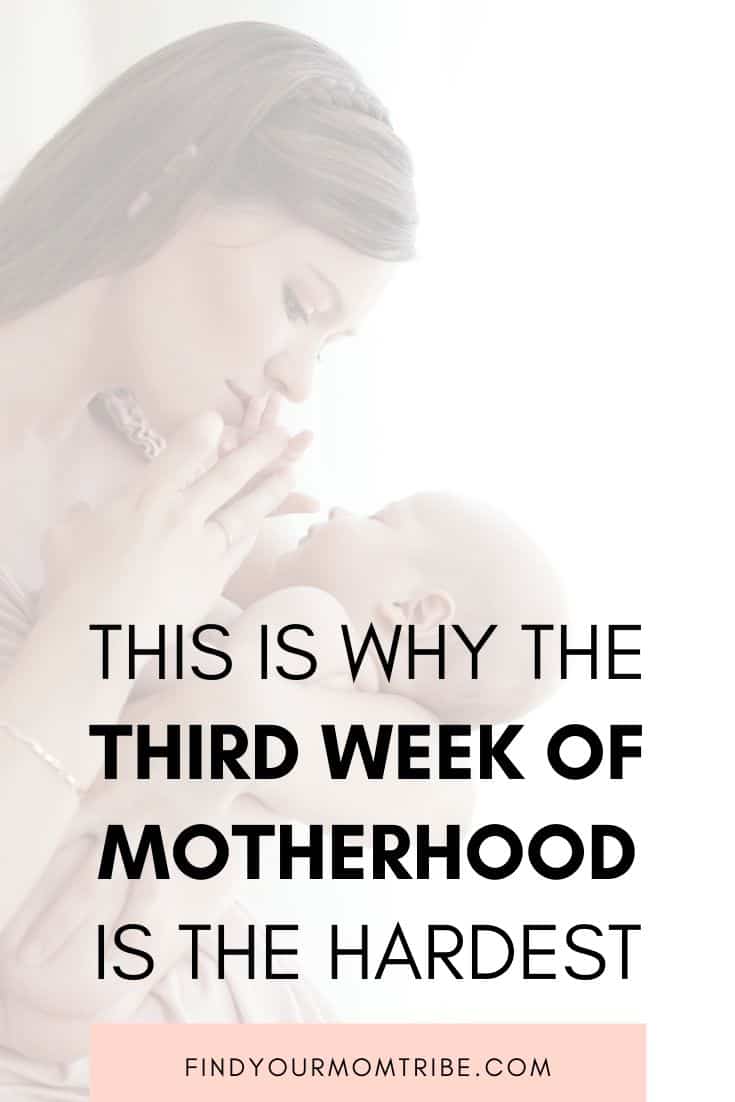 Disclosure: This post contains affiliate links. Please see our full disclosure for more info.