Every mom out there would love to know which formula is the best for her baby. That is why many moms get so stressed out when picking the right baby formula.
We all know mom's milk benefits for baby's development, but new formulas have all that a child needs for proper physical and mental development. They don't know if Similac formula will provide their babies with all they need or if another one is perhaps better.
When you are new in the world of baby feeding and in need of answers, it's nice when you find all you need in one place.
That's why I made sure to give you all the information you need so you're able to make the right decision for your little one.
RELATED: Switching From Breast Milk To Formula: Step By Step Guide
Since the top formulas currently are Enfamil and Similac, I've decided to explore them more so you can know all about them.
So, let's start, shall we?
Enfamil vs Similac – Which one should you choose?
Enfamil baby formula
In case you can't breastfeed, you'll probably try to find the best compensation for your milk.
One of the best choices is Enfamil formula.
Since not all babies are the same and each of them have different needs, this formula comes in variations for every baby's needs.
Here is a breakdown of all the various Enfamil formulas:
Enfamil NeuroPro Sensitive formula
Many moms use this formula upon the advice of pediatricians since it has all that a baby needs.
It is very easy to digest and recommended for babies who have lactose problems.
It is made for babies under three months and contains ingredients that are the same as breast milk, such as ARA and DHA.
DHA is a type of omega 3-fat, which is extremely important for a baby's development, all the way from bones and muscles to eye development.
This infant formula works well even for the most sensitive tummies.
It has probiotics, as well as vitamins C and E, which help your baby develop in the best possible way.
Enfamil NeuroPro Infant formula
You can use Enfamil infant formula from the birth of your baby until they are 12 months old.
Just like the previous formula, it contains a perfect blend of MFGM and omega 3-fats found in mom's milk.
It is recommended by pediatricians and helps your baby's brain development. It is easy to digest because of the probiotics that help babies with sensitive tummies.
It is GMO-free and helps with brain nutrition.
Enfamil NeuroPro Gentlease formula
Just like the previous two formulas, this one is extremely good for the development of your baby's brain.
It has a small percentage of fatty acid, just as is found in mom's milk.
What differentiates it from the rest of formulas is its ingredients that prevent fussiness, crying, and gassiness.
It's clinically proven that this formula positively affects your baby's immune system, providing all the nutrition he or she needs.
It is extremely light and easy to digest, so even the most sensitive tummies will react well to this type.
Enfamil Enspire baby formula
What makes this formula so special is the protein Lactoferrin, which is found in colostrum – the very first mother's milk a newborn gets through breastfeeding.
It helps your baby's cognitive development because it is full of vitamins and minerals your child needs.
It is GMO-free with vitamins E, C, and D, which help the immune system and brain function.
Other important components include DHA and Choline nutrients, which help your baby to develop normally, getting all they need in only one bottle of this formula.
Ingredients like proteins, fat, carbohydrates, water, and linoleic acid make it the perfect formula for your infant from the very first days of their life.
Enfamil Enspire Gentlease
Does your baby have a sensitive tummy? Is it hard for them to burp and they are having problems with cramps?
No problem – this formula is made for most sensitive baby tummies and, apart from the fact they will get all the nutrition that they need for normal development, they will be able to enjoy every day with you.
Since it has MFGM and Lactoferrin, it makes it one of the best formulas for your baby. It may contain soy milk and is proven that it helps better function of the baby's brain.
This soy formula will help your little one to get all the vitamins and minerals, and avoid any gas or reflux.
Since this formula, like all the Enfamil formulas, has almost the same ingredients as human milk, it's safe to say that the brain function and immune system of your baby is completely covered.
Enfamil Premium Gentlease
Premium Gentlease, like all of Enfamil's formulas, is recommended by pediatricians because of its ingredients that are similar to human milk.
Enfamil Gentlease is developed for babies who have problems with fussiness, crying and gas.
The only difference between this product and the rest of them is that this one has twice the amount of omega 3 fats, which makes it even better for better brain development.
It doesn't mean that the rest of the formulas are inferior; this one merely makes sure your baby gets more proteins that are crucial for brain development.
It is similar to breast milk and its light texture makes it easy to digest without causing any cramps.
Enfamil A.R.
What sets this specific baby formula apart from the rest is a key ingredient that assists in preventing spit up.
In this way, your baby gets all the nutrition that they need for normal development and you can rest assured that your baby is getting all they need.
Babies with tummy problems, the ones who spit up, and all infants with sensitivities now have a formula that will provide them with all they need. It's also called rice starch formula because of the consistency that is similar to mom's milk.
Ingredients like dual prebiotics and DHA help your baby to develop in the best way, almost as if they were drinking human milk.
This formula is clinically proven and one of the best formulas recommended by pediatricians.
You can use it from newborn until the age of one.
The formula itself is a bit thicker in consistency, but that doesn't cause issues for babies during the feeding process.
Enfamil Reguline
Another amazing formula that will help your baby's development.
It contains a carbohydrate found in human milk that feeds the good bacteria in the digestive tract, which in turn helps your baby to digest the food without gassiness.
Just like the rest of Enfamil formulas, it has DHA and choline, which gives your baby all the essential ingredients for normal development.
A blend of prebiotics makes it even better because it ensures your baby eats well and enjoys every day without any inconveniences.
Enfamil Prosobee
This delicate baby milk is made of soy formula that helps your baby get all the nutrition they need without fussiness and gas.
It is lactose and dairy-free, which is great for kids with sensitive tummies.
It is known that some formulas cause gas and fussiness, but this formula is so similar to mom's milk that there is no way your child will have any of these issues.
So, it's a good start and a great option for the first year of your child's life, supplementing all that your baby needs.
Among all formula companies, Enfamil has earned its reputation as one of the best of the best.
Since not every baby is alike, you're able to choose from one of the listed above or some others that you can find on the Enfamil official site.
Similac baby formula
Since I'd like to cover not only Enfamil products but also Similac ones, I'm now going to give you some information about these ones as well.
In the end, it's up to you which one to choose for your baby.
Here is more about the formulas from the Similac family.
Similac Pro Advance
If you're seeking a good baby formula for a good start, you can't go wrong in choosing this formula.
Ingredients like Vitamin E, lutein, and omega-3 oil will help your baby get all the nutrients they need.
No need to mention that it covers everything from eye development to bone strengthening.
Many moms use it because it reduces fussiness, gas, and crying within 24 hours. It is suitable for babies with sensitive tummies.
Similac Pro Sensitive
Just like the word says, this Similac infant formula is made for sensitive tummies and babies who have digestion problems.
Like the other formulas, it has a high percentage of omega 3-fats and all vitamins that are crucial for your baby's development.
It is the first formula without artificial growth hormones and is palm olein oil-free.
Moms choose Similac Sensitive because it provides their babies with all the nutrients their baby needs in the first 12 months.
When you feed your baby with this infant formula, it is like you are feeding them your breast milk.
Similac Organic Infant
Just like all Similac formulas, this one also has high-quality ingredients to help your baby's overall development.
It contains vitamin E, along with omega 3 fats and lutein.
Wholesome organic milk and other ingredients are what make it easy to digest so you can use it from the first day of your child's life.
This infant formula can be ordered on Amazon just like the others.
Similac Advance Infant
If you want a formula that is as close as it can get to breast milk, choose this Similac formula.
Just like the rest of the Similac formulas, it has omega 3 fats, lutein, and all-important vitamins and minerals for your baby's development.
It is clinically proven that it increases brain and eye development, which makes it even easier to choose from the start.
This milk formula can be used until your child is one year old and will work well even if your baby is gassy or fussy.
And, this one comes ready to feed.
Similac Soy Isomil Infant
Similac Soy Isomil is a great choice if your baby has a sensitive tummy. It reduces gas and fussiness.
Before you decide to feed your baby with this formula, it would be best to talk to your pediatrician because it is not recommended for premature babies.
If this is the case, you could choose from different formulas specifically designed for this stage.
Similac Sensitive Infant Formula with Iron
This Similac formula is developed for lactose sensitivity while ensuring your baby still gets all the needed vitamins and minerals.
Gas and fussiness are worries of the past as soon as you start feeding your baby this infant milk.
It has similar ingredients to that of human milk, and the omega 3 fats, lutein, and all vitamins will provide your baby with all the nutrition needed. It is not made for babies with galactosemia.
That's why it's best to consult your doctor before using it.
Similac Pro-Total Comfort
This baby formula has partially hydrolyzed proteins and HMO probiotics that can be found in mom's milk.
It reduces gas and fussiness, so it is ideal for babies with sensitive tummies.
HMO is important because it feeds all the beneficial bacteria important for development of a good immune system.
It also contains all other vitamins and minerals crucial for your baby's normal development.
Similac Alimentum Infant formula
This hypoallergenic formula is all your baby needs when suffering from a sensitive tummy.
It reduces gassiness because of the cow's milk protein that is the most important ingredient. If your baby has food allergies and colic, this formula will be a life saver.
It doesn't include lactose and a large quantity of DHA will ensure your baby gets all the nutrition they require.
Similac Neosure Infant
This amazing formula for premature babies will give your baby all they need to grow into a healthy and satisfied child.
It has a lot of special nutrition that aids faster growth, which can help a lot if your baby is born prematurely.
It is strong yet delicate enough to take care of your baby's tummy, preventing gassiness and fussiness.
It also contains vitamins that help bones become stronger, and it encourages your baby's overall development.
Similac Go & Grow
This Similac formula is used for children from 12-36 months old. All toddlers adore it because of its taste and the energy it gives them.
Omega 3 fats, lutein,and vitamin E are the main ingredients to ensure your baby develops into a healthy child, providing them with all the minerals and vitamins required.
If you choose this formula along with other foods your baby can eat, it will definitely give them all they need to grow into healthy kids.
Okay, so I mentioned some Enfamil and Similac formulas that might work well for your baby or toddler.
If you can't breastfeed, don't worry – there is always a good compensation and your baby will get all they need to be healthy.
Formula feeding is a normal way for your little one to get all the vitamins and minerals for their development.
Many moms nowadays can't breastfeed their babies and are worried that their kids won't be healthy.
But since Similac and Enfamil made such great formulas for baby's overall development, you have nothing to worry about.
Also, it's important to mention that vegetable oils like soy oil or oleic safflower oil are all parts of most baby's formulas.
Now, many doubt which formula to use, so there are a lot of questions about Enfamil vs Similac.
In case it is your first baby, maybe the best choice would be to talk to a pediatrician because they know all about your child.
After the conversation, they'll tell you which formula would suit your little one best.
But if your baby isn't allergic to anything and it doesn't have digestive problems, any formula will work well for them.
No matter if it is Similac or Enfamil, it is important that your baby accepts it and doesn't cry after they eat.
Remember, crying after eating is a bad sign. It means that a baby either doesn't like the formula or they aren't full after drinking it.
Some moms told me that they are more satisfied with Similac formulas while others told me that the store brand like Enfamil is all they need.
And things like this are pretty normal. Not all babies are the same. Some of them will like one formula more than the other.
Also, price can affect a lot. If money's tight, you'll probably try to find a good formula for your baby that doesn't cost a lot.
Both Similac and Enfamil have good infant milk at reasonable prices and provide all the nutrients crucial to your child's needs.
It's true that breast milk is the best milk your baby can get, but with new formulas we have nowadays, it's easy to feed your baby and not worry about anything.
Similac and Enfamil has proven that in all situations.
And in the end, there is no Enfamil vs Similac and no matter which formula brand you use, the most important thing is that your baby likes it and that it doesn't have any milk allergy.
Psst… You chose the right formula for your baby, but what about baby bottle? When it comes to baby bottles, those made of glass are the best option.
Glass baby bottles are durable, non-toxic and environment-friendly. Here are our top picks:
READ NEXT:
Like this article? Please share or pin it for later. You can also stay in the loop and follow me onFacebook,InstagramorPinterest.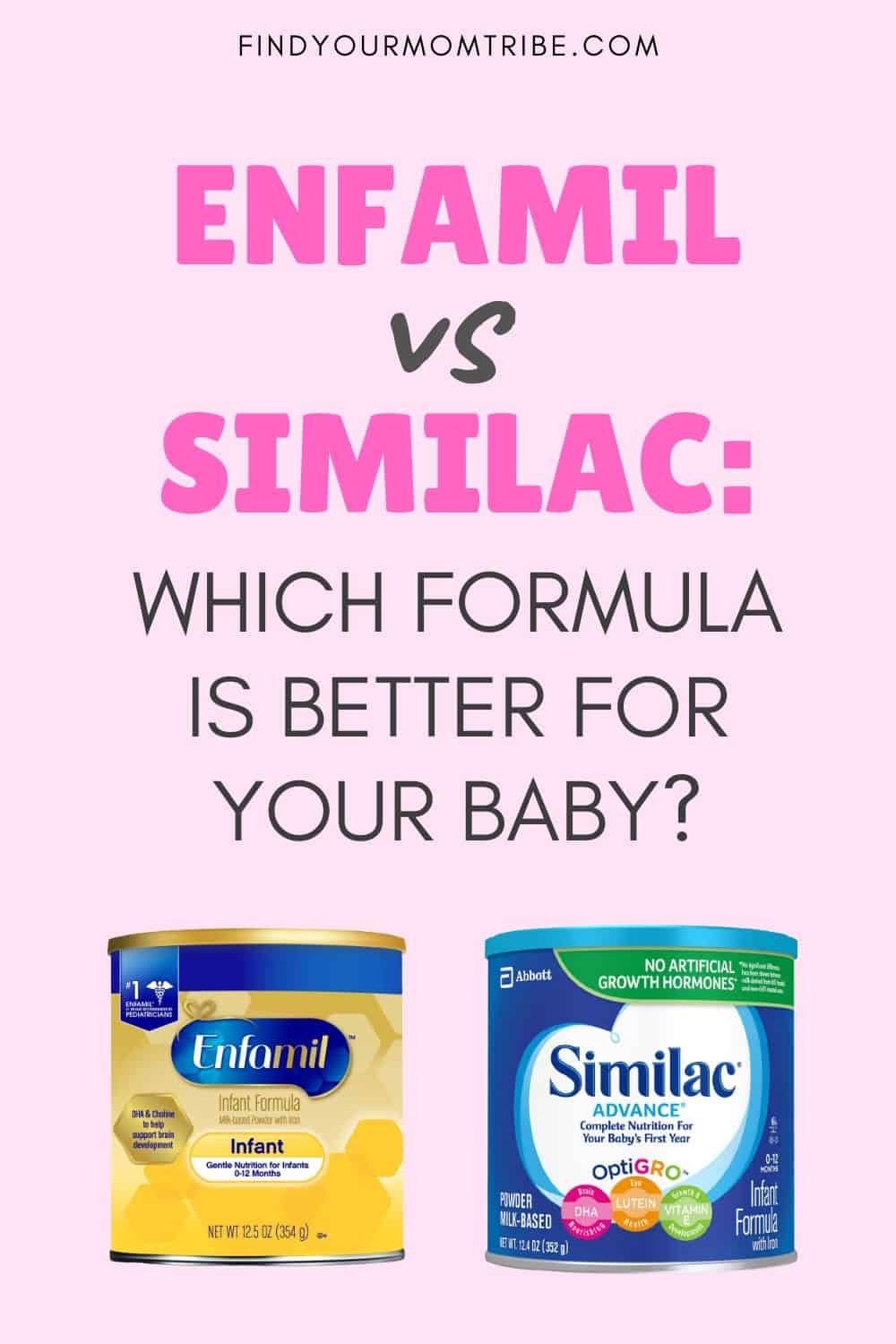 We love honesty! Find Your Mom Tribe is an Amazon Associate and we earn from qualifying purchases through affiliate links at no extra cost to you. Please see ourfull Amazon Affiliate disclosurefor more information.