If you're shopping for a girl this Christmas, I've got you covered! Whether the girl on your list is a kid, a tween, or a teen, there's something on this list for everyone!
In our house, we are trying to cut back on toys. I feel like our whole house is one big toy explosion. There are just too many toys! So this Christmas, we're trying to be more intentional about giving our kids experiences and other non-toy gifts.
Here are my ideas for the best non-toy gift ideas for girls. (I've broken them into categories for convenience!)
If you'd like to learn more about a product or make a purchase, just click on the image of the item.
So, let's dive right in!
Non-Toy Gift Ideas for Creative Girls
How to draw book

This book is perfect for the budding artist. It teaches kids how to draw step-by-step, and the illustrations are so cute!
Artist pencil set

This set contains colored pencils, graphite pencils, AND watercolor pencils.
Sharpies

Who doesn't like Sharpies? These are hands-down my son's favorite thing to draw with. If your kiddo is younger, you can always opt for these washable markers.
Sketchpad

The kiddo on your list will definitely need somewhere to practice her new skills, and this sketchpad is perfect!
Learn to paint set

Keeping with the creative theme, this book is super neat for teaching beginners to use watercolor.
Student planner

Planners are all the rage, and this one is great because it's spiral bound and includes stickers!
Colorful post-it notes

A girl can never have too many post-it notes!
Label maker

Confession: I LOVE my label maker. I'm kind of obsessed. Any organization-loving gal will be thrilled with this gift.
Non-Toy Gift Ideas for Girls Bedroom
Mermaid pillow with reversible sequins

These pillows are not only cute, but they're also amazing stress-relievers!
Mermaid tail blanket

This mermaid blanket is so cute and is very soft and cozy!
Motivational wall art

Amazon has a great selection of motivational wall art for kids. This is one of my favorites!
Bedding set

A new bedding set is just the thing to spruce up her bedroom.
Hammock Chair Macrame Swing
This swing is perfect for indoor or outdoor and holds up to 265 lb.
Non-Toy Gift Ideas for Girls Who Like to Create
Slime kit

Is the girl on your list slime-obsessed? This kit has everything you need to make an amazing slime collection.
Cupcake decorating kit

My daughter and I have been watching the Holiday Baking Championship on Food Network. She has recently become really interested in baking, so this cupcake decorating kit will be perfect for her!
Scrapbook kit

Making a scrapbook is so much fun. This kit is great to get her started!
Friendship bracelet kit

This friendship bracelet kit is so fun and will be something she'll love to make and give to her friends.
Lipgloss making kit
I love this lipgloss kit because it is NON-toxic, and contains NO parabens, NO synthetic dyes, and NO chemical nasties.
Bath-bomb making kit
Who doesn't love bath bombs? This kit is made with therapeutic grade essential oils and natural ingredients.
Balloon animal kit

I've always wanted to learn how to make balloon animals. This would be such a fun gift!
Loom knitting kit

Learning to loom knit is so easy and fun….and also a great way to relax!
My first sewing kit

If the girl on your list wants to learn how to sew, this would be a great kit to get her started.

Non-toy gift ideas for girls to wear
Bathrobe

Unicorns are really popular right now, and this robe is so stylish and cozy.
Slouchy beanie

How cute is this beanie? I think I need one for myself AND my daughter.
Warm winter boots

Boots. Need I say more? 🙂
Bedroom slippers

Keep her feet toasty this winter with some new slippers.
Christmas jammies

I always am sure to buy my kiddos a new pair of pajamas – we open them on Christmas eve!
Non-toy gift ideas for girls who like music
Ukulele Learn to Play kit

Ukuleles are so fun and relatively easy to learn how to play.
Piano keyboard

She'll love channeling her inner Beethoven.
Bongo drums

And the beat goes on…
Best experience gifts for girls
iTunes gift card
Zoo tickets
Aquarium passes
Mini golf passes
Bowling passes
Arcade tokens
Museum tickets
Tickets to a local theatre performance or concert
Tickets to a local sporting event
Photo shoot
Music lessons
Art lessons
Dance lessons
(Any type of lesson she'd be into, such as sports, fishing, cooking, archery, music, art, dance, gymnastics, etc.)
So that wraps it up! (Ha! See what I did there?!) Please be sure to share this post or save it for later! Do you have a non-toy gift idea for girls? Leave me a comment!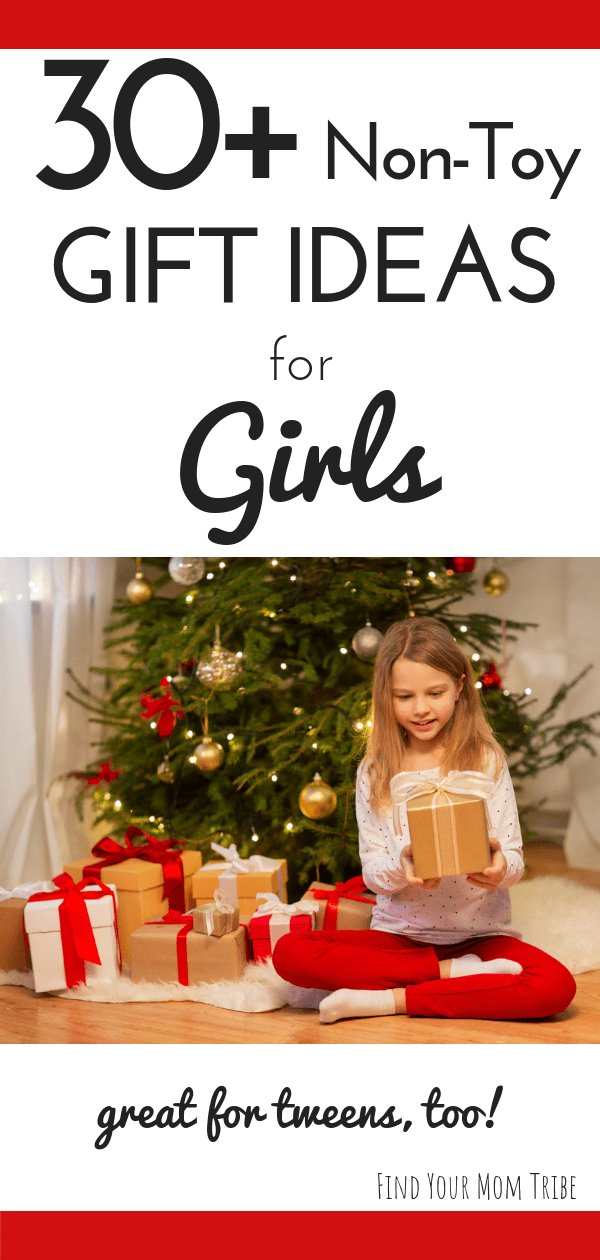 This post contains affiliate links. Please see our full disclosure for more info.