12 Fool-Proof Ways to Pump More Breast Milk RIGHT NOW
This post contains affiliate links. Please see our full disclosure for more information.
When it comes to pumping breast milk, there is definitely an art to it. I've been pumping for a grand total of 43 months and counting. (That's an estimated 38,000 ounces!!) Needless to say, I've learned quite a few things along the way.
Whether you are an exclusive pumper (hats off to you, mama!), an occasional pumper, a pump at work-er, or somewhere in between, I have some tips and tricks for maximizing your output.
Ways to Pump More Breast Milk
(Psst…keep reading to the end to get your free printable!)
1.  Check your fit
Make sure the horn/flange is the right size for your body. Areolas and nipples come in all sizes, so don't assume that the "standard" size will fit you. You want to make sure your nipple isn't scrubbing the inside of the flange tube. Check your breast pump manufacturer's website for a sizing guide.
Once you're sure you have the right size, be sure the position is correct. Make sure you put the flange on straight. You don't want your nipple to be at an angle or positioned in a way that is painful.
2.  Low and slow
When you turn on your pump, start with a lower suction setting and gradually work your way up to a stronger suction that is comfortable to you. You don't want the suction to be painful.
3. Watch the clock
Aim to pump for about 15-20 minutes at a time. Pumping for longer than 20 minutes may damage your nipples. (Obviously, use your discretion here. If your breasts are really full, you may need to pump longer. But if your nipples are sore, don't push yourself.)
4. Use your imagination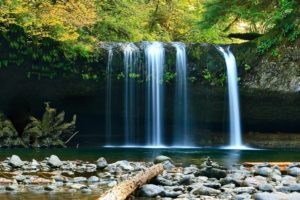 Visualize a river of flowing milk or a waterfall of milk. The imagination is a powerful tool!
5. Heat it up
Apply warmth to your breasts. Warmth helps with letdown, so use a heating pad on your breasts while you pump. (I use this one.)
No heating pad? Warm a towel in the microwave for the same results. (Seriously, this works great! You gotta try it!)
One word of caution though…babies have sensitive skin and you'll want to be careful not to use heat while holding your baby so he/she doesn't get burned!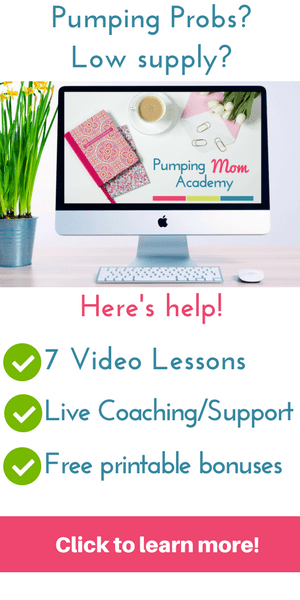 6.  Hands-on
Massage and squeeze your breasts while pumping. Use circular motions and downward strokes, especially focusing on areas that feel full.
Be sure to massage your armpits, too. (Did you know you have milk ducts in your armpits? Crazy!)
7. All the feels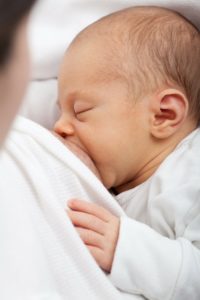 Look at a picture of your baby or imagine your baby nursing. (Those sounds baby makes? That little chin movement? Ahh!!)
8.  Sniff sniff

Smell your baby's hat or an outfit that smells like him or her. (Is there any sweeter scent?!)
9.  Pics for days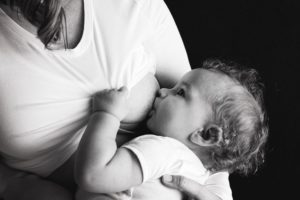 Look at photos of breastfeeding. (There are some really beautiful/touching ones out there!) Try searching the hashtag "brelfie" or "breastfeeding" on Instagram. As an added perk, you might meet a new friend!
10.  Breathe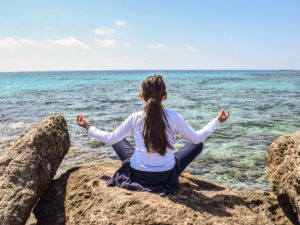 Take some deep breaths. Stress inhibits letdown, so be sure to breathe deeply and relax all your muscles. Notice your jaw and your shoulder muscles especially. Are they tight? Be sure to relax those muscles with every exhale.
11. Relax
Listen to relaxing music or a stress-reduction meditation. (You can find both of these for free on YouTube!)
12.  Unlatch
If you are pumping and nothing is coming out, disconnect and hand express for a few minutes, then resume pumping.
 My story + How I can help…
When I was a new pumping mama I felt so overwhelmed by all the information out there. I was so stressed and confused!
Friend, It doesn't have to be this way! Across the span of three kids, I've pumped for more than 3 years.
After hearing from so many moms who are struggling with pumping difficulties, I developed an online course called Pumping Mom Academy designed to teach you all you need to know about pumping and to encourage/support you along the way.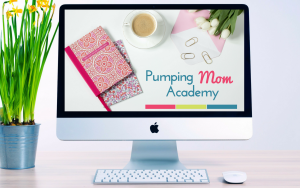 Be sure to pin this article so you can refer to it later! And remember, pumpin' ain't always easy. You're doing a great job! 🙂
UPDATE July 2017: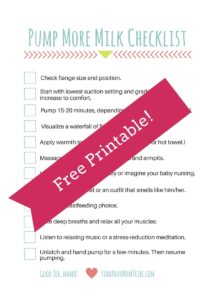 You guys are awesome! This article has been shared SO many times and I am THRILLED to be helping so many awesome moms pump liquid gold for their little ones.
That's why I have created this FREE printable for my e-mail subscribers! This exclusive checklist includes all 12 tips above in an easy-to-read format. Print a copy and place it near your pumping station or toss a copy in your pump bag for work or on-the-go.
And if you haven't already, be sure to click here and pin this article to help spread the word to all the pumpin' mamas!
(Gmail users, my email might go to your promotions tab, so be sure to check there!)