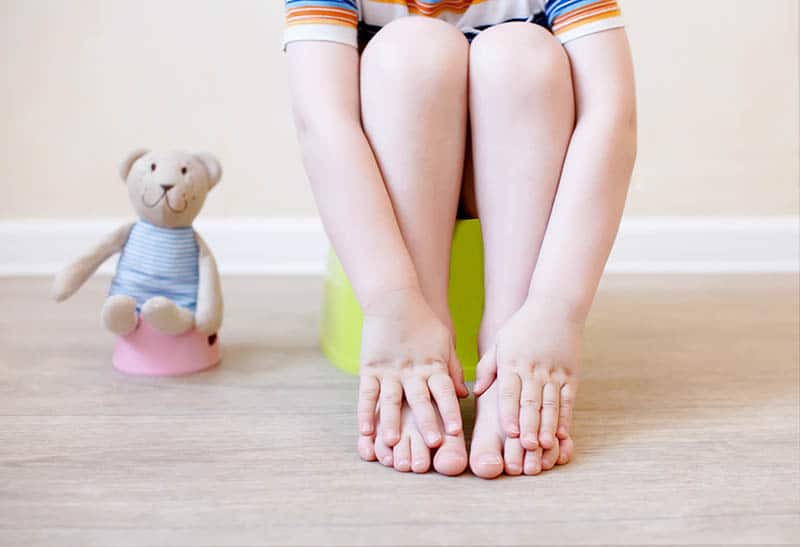 Potty training, toilet learning… whatever you call it, it usually fills every parent with dread.
Fewer parenting tasks are more nerve-wracking, time-consuming, and frustrating.
I always dread the potty training days. My youngest, Sarah is now two and a half years old and we are starting to get the dreaded question… "When are you going to start potty training her?"
I usually answer, "Not anytime soon!"
The truth is, we don't potty train our kids until at least age three.
If you're stressing about potty training, I feel you, mama.
Take a deep breath and give yourself permission not to rush it. All children are not the same, and not every child is ready to potty train by age two.
If your little one is struggling with potty training or isn't showing any interest, it's perfectly okay to wait until they're ready.
Disclaimer: If you potty trained your child before age three, please know I'm not shaming you.
This article is written from a place of love and geared towards moms who don't wait to toilet train early, or whose kiddos aren't quite ready yet.
5 Reasons Why You Should Wait to Potty Train Until the Age of 3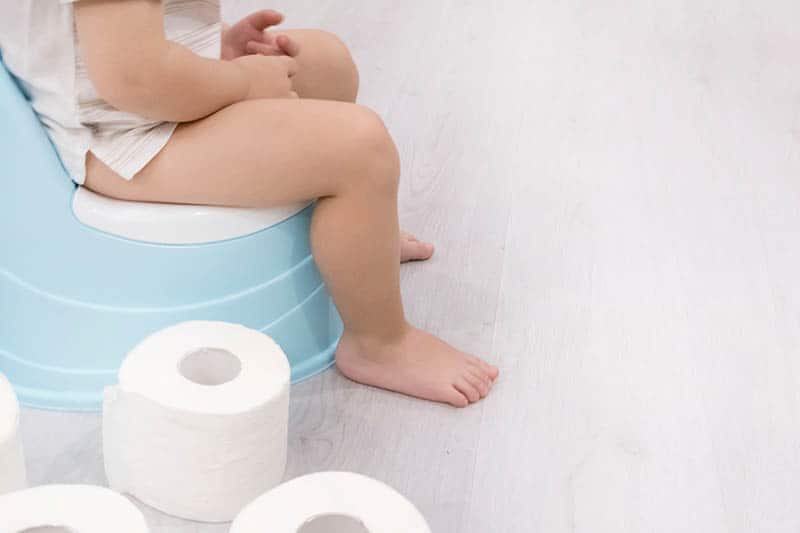 1. Bladder size
At three years old, a child's bladder is going to be a tad bit bigger than a 1 or 2 year old's.
This means less frequent trips to the bathroom and less frustration for mama.
RELATED: Self-Control for Moms: 8 Ways to Stay Calm (Instead of Losing Your Cool)
2. Receptive and Expressive Language
By the time a toddler turns three, their expressive and receptive language is typically more developed.
This means the child is better able to understand what using the toilet means and how it works. They're also better able to communicate when they need to go.
Here are some books I use to teach my kids about using the potty.

Image
Title
Price
Prime
Buy

Top

You Can Go to the Potty (Sears Children Library)

Prime

Buy Now
Daniel Goes to the Potty (Daniel Tiger's Neighborhood)

Prime

Eligible

Buy Now
A Potty for Me!

Prime

Eligible

Buy Now
Potty (Leslie Patricelli board books)

Prime

Eligible

Buy Now
Prices pulled from the Amazon Product Advertising API on:
3. Hygiene
If you've been following my blog, you know that I'm a huge germaphobe.
Proper hand washing is crucial in our house.
At one or two years old, a toddler is less likely to be willing to wash their hands properly…or to have you help them at the sink.
My two-year-old is so stubborn, she won't accept help at all. She has to do everything by herself. ("Me do it!")
And her little arms are too short to even reach the sink, even when standing on a stool!
These are some of my must-have hygiene products for potty training:
Image
Title
Price
Prime
Buy
Lift and Lower (2-Pack) Toilet Seat Lifting Handle - Antimicrobial / Germ Free

Prime

Eligible

Buy Now
Babyganics Alcohol-Free Hand Sanitizer Wipes, Mandarin, 20 ct, 4 Pack, Packaging May Vary

Prime

Eligible

Buy Now
Prices pulled from the Amazon Product Advertising API on:
RELATED: From Terrible Twos to Terrific Twos (in one afternoon!)
4. Independence
If you try to potty train your toddler at one or two years old, they'll likely need a LOT of help.
They'll need help with pulling their clothes up and down, you'll need to visit the potty with them (every five minutes), help them wash their hands, etc. etc.
One major advantage of waiting until age three is that they will be able to do much of this by themselves.
5. Time
With all of the above-mentioned benefits, hopefully a three-year-old will catch on more quickly to potty training and learn to use the toilet independently.
My kids caught on relatively quickly to potty training and we dealt with very few accidents. (Which means less mess, too!)
Do you wait till age three to potty train? What benefit would you add to this list?
Once you decide to start potty train, I recommend using this training seat:
Munchkin Grip Potty Training Seat
Potty training seat grips and stays in place

Works with both standard and elongated toilet seats

Flexible, soft-touch splash guard to prevent accidents

Contoured to hold child securely in place

Feet for convenient stand-up storage
Prices pulled from the Amazon Product Advertising API on:
Product prices and availability are accurate as of the date/time indicated and are subject to change. Any price and availability information displayed on [relevant Amazon Site(s), as applicable] at the time of purchase will apply to the purchase of this product.
READ NEXT:
Like this article? Please share or pin it for later. You can also stay in the loop and follow me on Facebook, Instagram or Pinterest.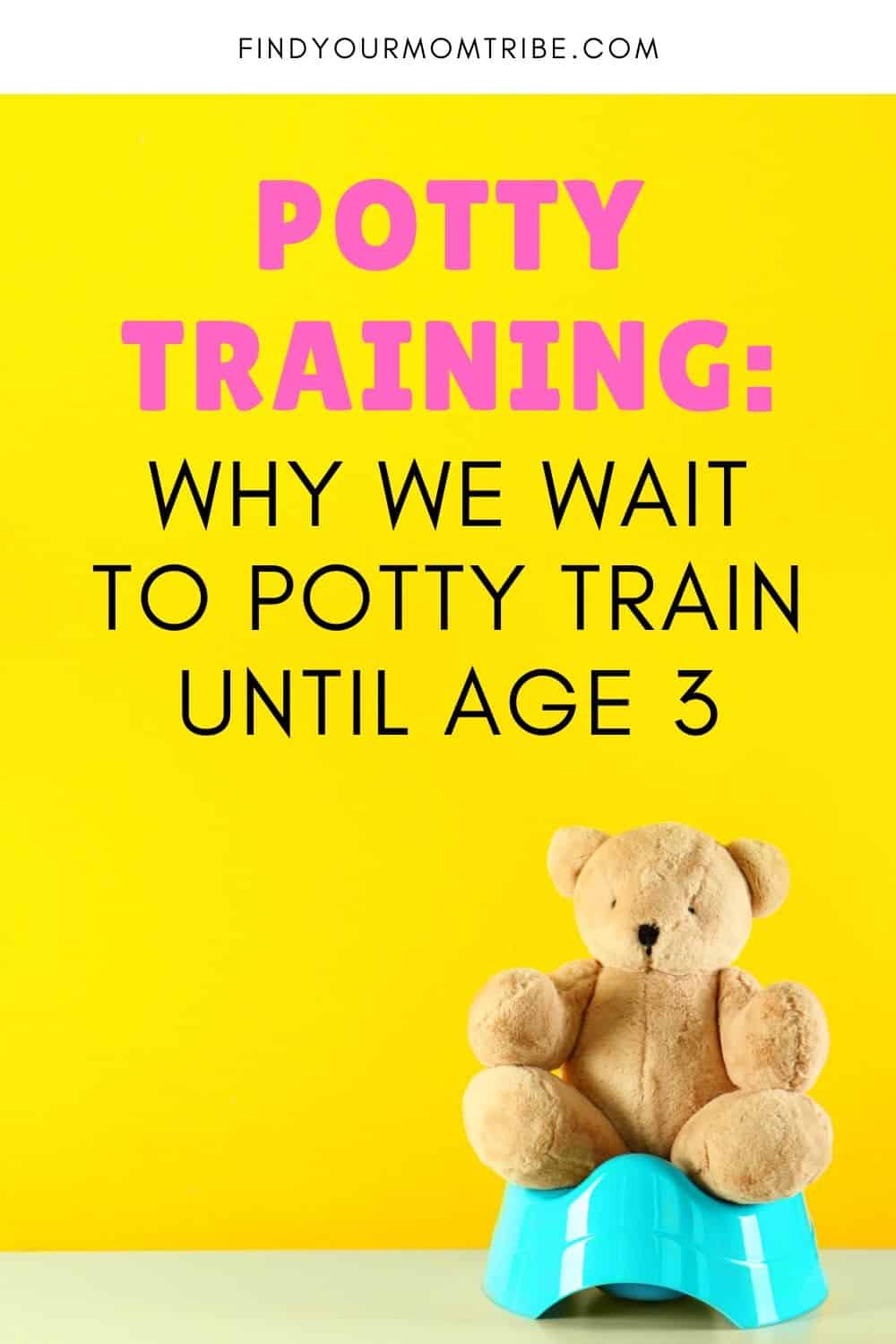 We love honesty! Find Your Mom Tribe is an Amazon Associate and we earn from qualifying purchases through affiliate links at no extra cost to you. Please see our full Amazon Affiliate disclosure for more information.