Let's be honest, having a baby is magical regardless of the season it is being born into, but what might surprise you is the fact that winter is a beautiful time for your newborn baby to start their life.
There are both pros and cons to having a baby at this time of year, but most moms with winter babies love the experience. They love it because the pros outweigh the cons.
Having a baby in the winter season is as good for you as it will be for your baby.
Sure, there are some things you need to be careful with, but it's a journey you'll most definitely enjoy.
Read on to get completely prepared for your new winter miracle.
Why Winter Babies Are Wonderful
The moms are in consensus: spending winter with your new baby is the best.
Whether your due date is before or after the holidays, you'll have a wonderful time with the latest addition to your family.
1. Cuddles, Comfort, and Christmas Cards
Babies sleep for the first year of their lives. Luckily, winter is perfectly designed for that activity.
You can have great bonding moments with your baby at any time of year, but their first winter is always special.
You and your baby can curl up on the couch with a soft blanket and enjoy some real mother-child bonding while the snow falls outside your window.
Winter babies are always the stars of yearly Christmas cards and holiday photo shoots.
They'll only be this size once, so go ahead and splurge on that adorable holiday onesie or cute winter outfit.
Prices pulled from the Amazon Product Advertising API on:
Product prices and availability are accurate as of the date/time indicated and are subject to change. Any price and availability information displayed on [relevant Amazon Site(s), as applicable] at the time of purchase will apply to the purchase of this product.
Remember to schedule the photo shoot early in the day; new babies get tired very quickly.
Related: Winter Maternity Photoshoot: Everything You Need To Know
Your baby will spend the entire winter season growing big and strong.
By the time spring rolls around and cabin fever has set in, your little one will be ready to go outside and interact.
So enjoy the cuddles now, and get ready to play when the weather warms up.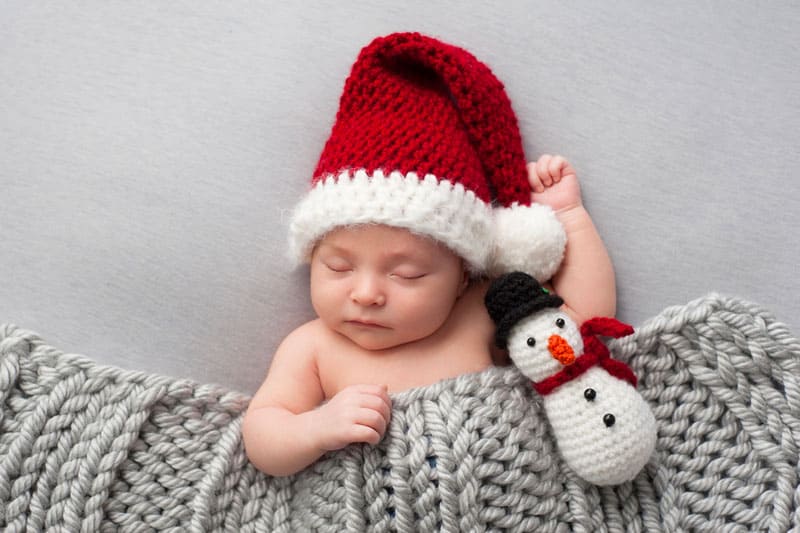 2. Babies Born in Winter Develop Faster
All sweetness aside, there is real evidence suggesting that winter babies develop more quickly than summer babies.
The development starts in the womb; babies with winter due dates tend to have greater birth weights and a far lower rate of premature birth.
Babies born in the winter start crawling an average of four weeks earlier than babies born in the summer.
When you're less than a year old, a one-month head start is a big advantage, so look forward to those improved motor skills.
Winter babies also see advantages later in life. In elementary school, they're usually ahead of the other kids in their age group.
And when they get older, they're less likely to develop mood disorders.
There are advantages to every due date, but if your baby is born in the winter, it's fine to celebrate their unique head start.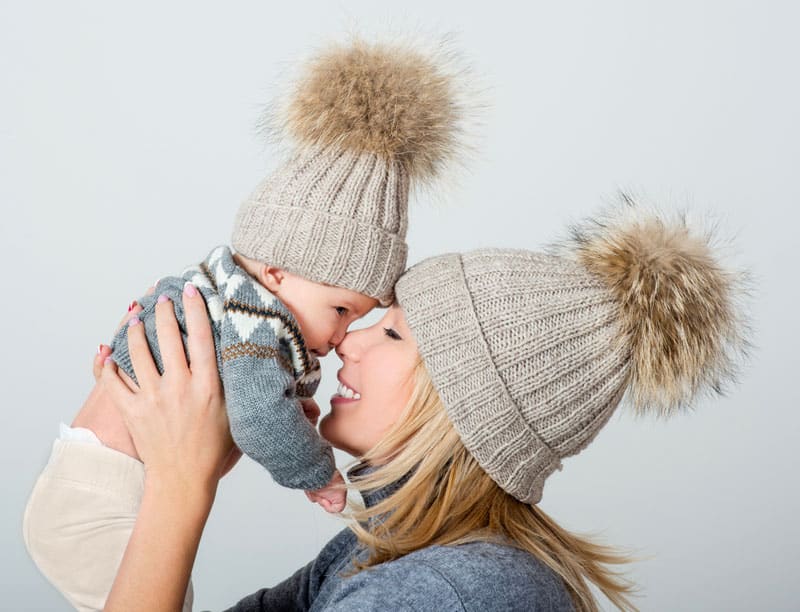 3. Can a Winter Due Date Affect My Baby's Personality?
There's only one major downside to having a baby in the winter, and that's the chance of developing seasonal affective disorder or SAD.
This mood disorder is most common in young adults, and the symptoms start to set in when the days grow shorter.
Babies who are born in the wintertime may have a different circadian rhythm than babies born at a different time of year.
Winter babies start their life with short days and early bedtimes.
Later in life, this can result in reduced energy levels and a preference for staying indoors.
You can combat all of these problems by making sure that your baby has a healthy and normal schedule.
Daytime walks will increase their vitamin D exposure and help prevent SAD symptoms.
After the sun goes down, keep the lights on for a few hours; this will help your baby adjust to longer days in the summertime.
Caring for a Baby in the Winter Time
The winter months can be challenging for babies and even more so for newborns.
Try these tips to keep your baby warm, snug, and dry.
4. Dressing Baby for Cold Weather
Newborn babies are particularly susceptible to the cold.
If the weather is bad, you should keep your baby inside and avoid traveling.
Still, all babies have to brave the cold eventually.
Dress your baby in warm layers until they're ready for the current weather conditions.
Start with a comfortable and breathable outfit. A thin cotton onesie makes a great base for winter layering.
Next, add layers appropriate to the weather outside. The general rule of thumb is that your baby should wear the same number of layers as you, plus one. Layers might include long-sleeved shirts, sweaters, leggings, and warm pants.
Remember to cover your baby from head to toe. Socks and booties are essential for winter weather. Your baby should also have warm mittens and a snug skullcap or beanie.
A full-body snowsuit makes an excellent final layer for your newborn. Choose a waterproof snowsuit that retains heat well.
The main advantage of layering is that you can adjust your baby's outfit as needed.
Overheating can be a serious concern, so remember to take off layers if the weather warms up. If you need an extra layer for your little one, try using a small blanket.
Hudson Baby Unisex Baby Plush Mink Blanket
Cozy, comfortable soft plush blanket (one layer mink / one layer dot mink)

Soft and gentle on babys skin

Optimal for everyday use

Affordable, high quality plush blanket
Prices pulled from the Amazon Product Advertising API on:
Product prices and availability are accurate as of the date/time indicated and are subject to change. Any price and availability information displayed on [relevant Amazon Site(s), as applicable] at the time of purchase will apply to the purchase of this product.
Depending on how many layers your baby is wearing, you may want to remove a few before strapping them into the car seat.
An extremely thick snowsuit or a loosely wrapped blanket can get in the way of the straps and put your baby at risk of sliding out.
Strap-on car seat buntings are equally dangerous.
Always check that your baby is secure before you start the car.

5. Getting Some Fresh Air
Fresh air and vitamin D are important for a developing baby's health.
Unless it's storming outside, plan to take your baby for a short walk at least once every few days.
Choose a time of day when the sun is out and the temperatures are just a little warmer.
Babies have sensitive skin.
Even if it's cloudy outside, you should still apply a baby-safe sunscreen before your afternoon walks.
Sunscreen is actually more important in the winter when the risk of UV exposure is at its highest.
Babies get tired easily, so keep your walks short. A 15-20 minute session will give your baby plenty of air and sunlight.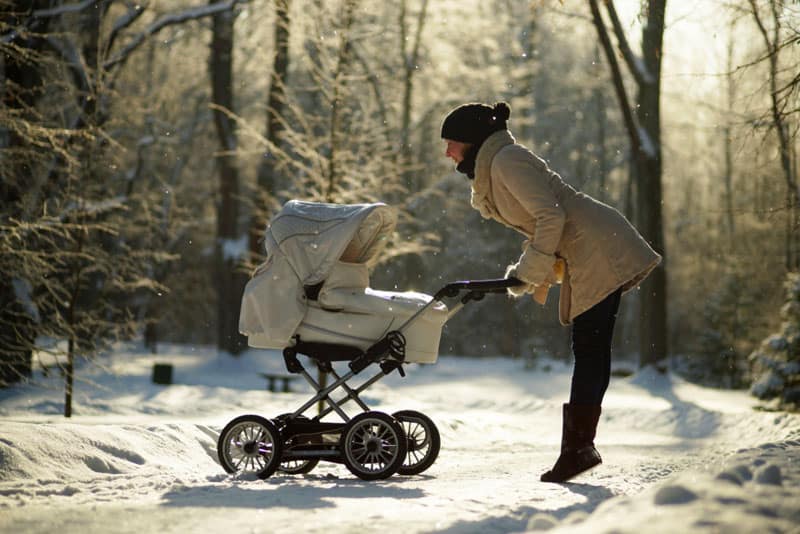 6. Keeping Baby Warm at Night
Your baby needs to stay warm while they're sleeping.
Unfortunately, many doctors recommend against covering your baby with a pile of quilts and blankets, as this can lead to accidental suffocation or dangerous overheating.
Start by dressing your baby in the right kind of pajamas. The best choice are onesies with feet and a matching skull cap.
Prices pulled from the Amazon Product Advertising API on:
Product prices and availability are accurate as of the date/time indicated and are subject to change. Any price and availability information displayed on [relevant Amazon Site(s), as applicable] at the time of purchase will apply to the purchase of this product.
Layering is an option for particularly cold situations, but check on your baby frequently to make sure they aren't overheating.
Swaddling is always an option for an extra bit of nighttime warmth.
Remember to wrap the blanket tightly, but not too tightly—you want to restrict movement without causing harm.
Next, think about the temperature of your baby's bedroom.
72 degrees Fahrenheit is a good average temperature, but be aware that many old houses are drafty and have inconsistent temperatures overnight.
If you want to warm up your baby's crib before bedtime, try using a hot water bottle.
Microwaveable hot water bottles are easy to use and don't require electricity.
Remember to remove the bottle before you put your baby to bed.
Remember to check on your baby throughout the night to make sure they're comfortable.
Touch their cheeks and palms to asses their temperature, and make adjustments to help them warm up or cool down.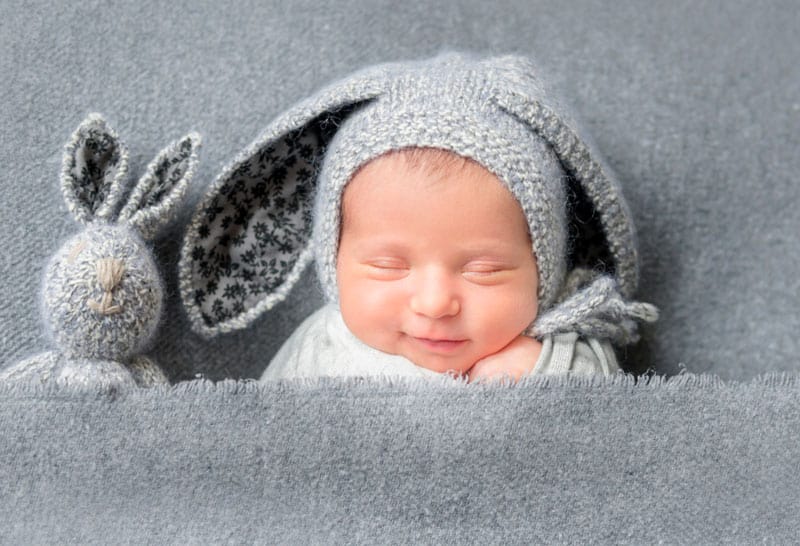 7. Staying Warm at Bathtime
There's one part of a baby's life that is definitely more difficult in the winter, and that's bathtime.
Babies already have a hard time regulating their internal body temperatures.
When bathtime rolls around, it's important to make sure that they don't get too cold.
In the winter, you should always bathe your baby in a warm bathroom.
If your house is drafty, you might want to run the shower for a few minutes to build up some steam.
Use bathwater that is warm but not too hot. Remember, babies have sensitive skin; you don't want to overheat or burn them.
Finally, have a warm towel ready for immediately after the bath. Dry off your baby and get them dressed or swaddled as quickly as possible.
Don't go outside for an hour or two—your baby needs time to warm up again.
RELATED: Best Baby Washcloths & Towels: 11 Top Choices For Your Little One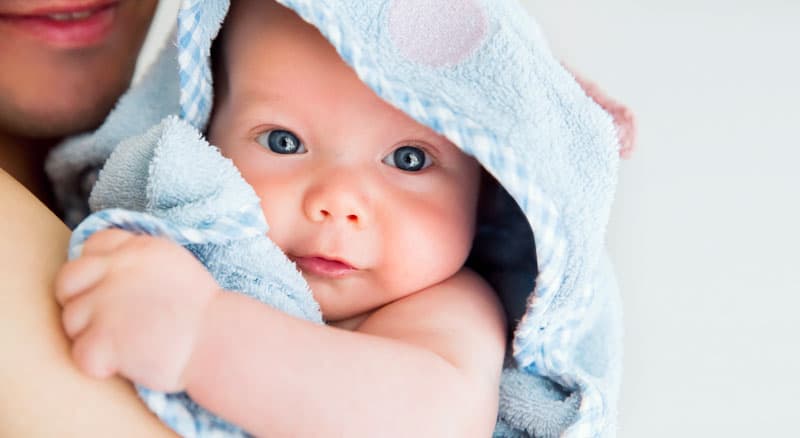 8. Avoiding Cold and Flu
Everyone is more likely to get sick in the winter months, and babies are no exception.
Babies have weak immune systems, so take steps to keep your newborn safe during the first few months of their life.
The easiest way to keep a new baby from getting sick is to prevent them from getting exposed to germs.
This is a great excuse for moms to stay home and avoid socializing until your baby is a little older and stronger.
If you feel like letting someone hold your little one, make sure they have recently washed their hands.
Speaking of hand washing, remember to wash yours as often as possible. Take extra care between feedings and diaper changes.
You should also clean your baby's toys and belongings with antibacterial wipes in between uses.
Pacifiers, bottles, teethers and items that might go near your baby's mouth should be washed in the sink with gentle dish soap.
Keeping baby bottles clean as possible can sometimes be a challenge, which is why I always recommend using a baby bottle sterilizer.
You can also use it to clean pacifiers, teethers, toys, or breast pump parts, and make them completely free of germs and safe for everyday use.
Here are my top choices:
Image
Title
Price
Prime
Buy
Papablic Baby Bottle Electric Steam Sterilizer and Dryer

Prime

Eligible

Buy Now
BABY JOY Baby Bottle Electric Steam Sterilizer, 3-in-1 Modular Electric Dryer Machine, Milk Warmer with Large Capacity, Temperature Control, LED Monitor

Prime

Buy Now
Prices and images pulled from the Amazon Product Advertising API on:
Visit your pediatrician frequently during the first year of your baby's life.
This is the time when their immune system is at its weakest, and even light symptoms could be a sign of something more dangerous.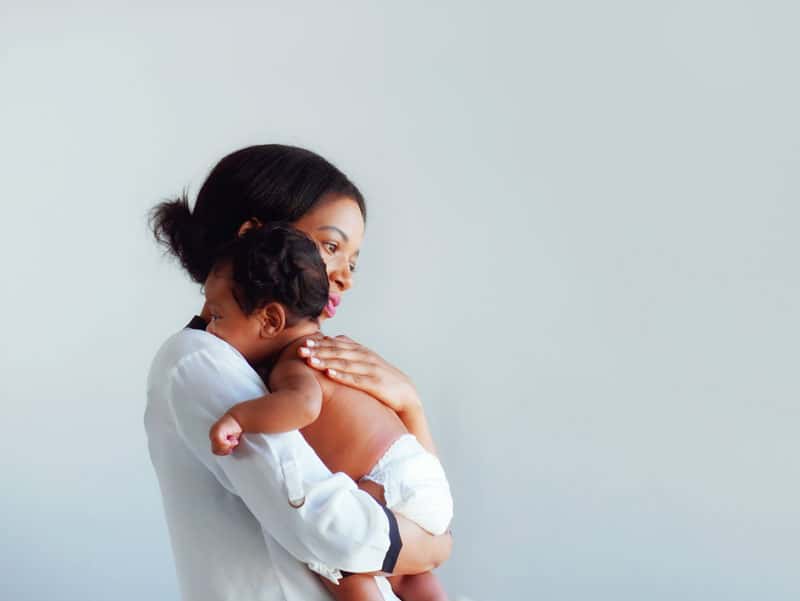 9. Preventing Dry Skin
Dry skin is a problem for everyone in the winter, but it affects newborns most of all.
Babies are already susceptible to skin conditions during the first year of their lives.
Lotions, lip balms, and other products can be used to relieve immediate symptoms.
However, you should always use gentle products that were designed for a baby's sensitive skin.
If constantly-running heaters have dried out the air in your home, try adding a humidifier to your nursery.
Prices pulled from the Amazon Product Advertising API on:
Product prices and availability are accurate as of the date/time indicated and are subject to change. Any price and availability information displayed on [relevant Amazon Site(s), as applicable] at the time of purchase will apply to the purchase of this product.
This will reduce chapped lips, dry rashes, and other skin problems that your newborn might be suffering from.
You can also prevent dry skin by giving your baby fewer baths.
Newborns don't need to bathe as often as older kids do. When it comes time for a bath, use a gentle soap or skip the soap altogether.
Heat rash can occur when your baby is too warm. This rash looks like a series of dry, itchy bumps on your baby's skin.
Heat rash is usually caused when sweat or moisture builds up under your baby's layers.
Combat it by dressing your newborn in breathable, moisture-wicking clothes and by changing their layers frequently.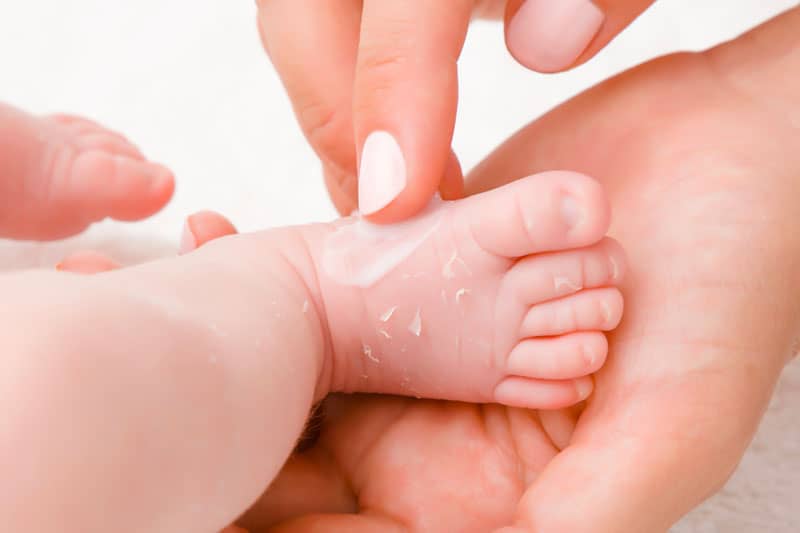 How Winter Births Impact New Moms
If you're busy planning for a new baby, you're probably not thinking about yourself.
However, the time of year that a baby is born can have both positive and negative effects on the mother that you should be prepared for.
10. Skipping Postpartum Depression
A 2017 study showed that women who give birth in the wintertime are less likely to experience postpartum depression.
The main reason for this is the increase in social exposure.
Most people spend the winter months socializing with friends and family, which gives them plenty of time to hang out with new moms.
In comparison, women who have summer babies often feel stranded indoors.
This sense of isolation can cause a landslide of symptoms that lead to postpartum depression.
RELATED: Postpartum Anxiety: One mom's story + tips for relief
Postpartum depression can affect new moms at any time of year.
Take care of yourself after you have your baby, and talk to your doctor if you can't shake the baby blues.
11. Fighting Seasonal Affective Disorder
Seasonal affective disorder is a type of depression that only occurs around the winter months.
Young women are particularly susceptible to SAD, so new moms should keep an eye on their mood changes.
One great way to fight SAD is to get plenty of vitamin D. Both you and the baby will feel better with some sunlight and fresh air.
If the winter weather is too harsh for your little one, pull back the curtains, and let some natural light into the room.
12. Taking Time for Yourself
When you're a new mom, the holidays can be exhausting. Stress can compromise your immune system, so it's important to take care of yourself.
If you have a winter due date, there's nothing wrong with toning down the holiday celebrations.
Go ahead and let someone else host while you focus on your new baby girl or boy.
Visiting family members make great babysitters, so take advantage of the chance to get out of the house.
Take the new dad out for a wintery date at least once over the season—you'll both feel better for it.
In the end, what matters the most is that you've brought a new life into this world. Take it easy, and enjoy the whole process.
Keep both of you warm and cozy, and I'm sure everything is going to be okay.
Enjoyed this post? Share or pin it for later! Like this article? You can also stay in the loop and follow me on Facebook, Instagram or Pinterest.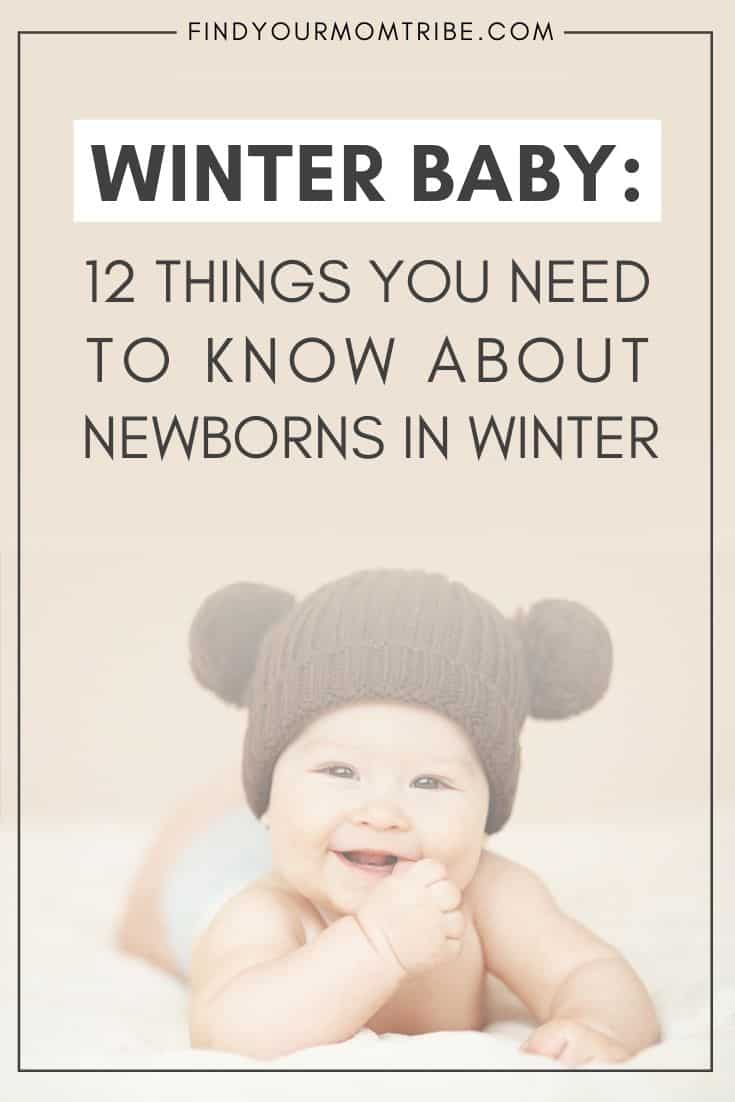 This post contains affiliate links. Please see our full disclosure for more info.